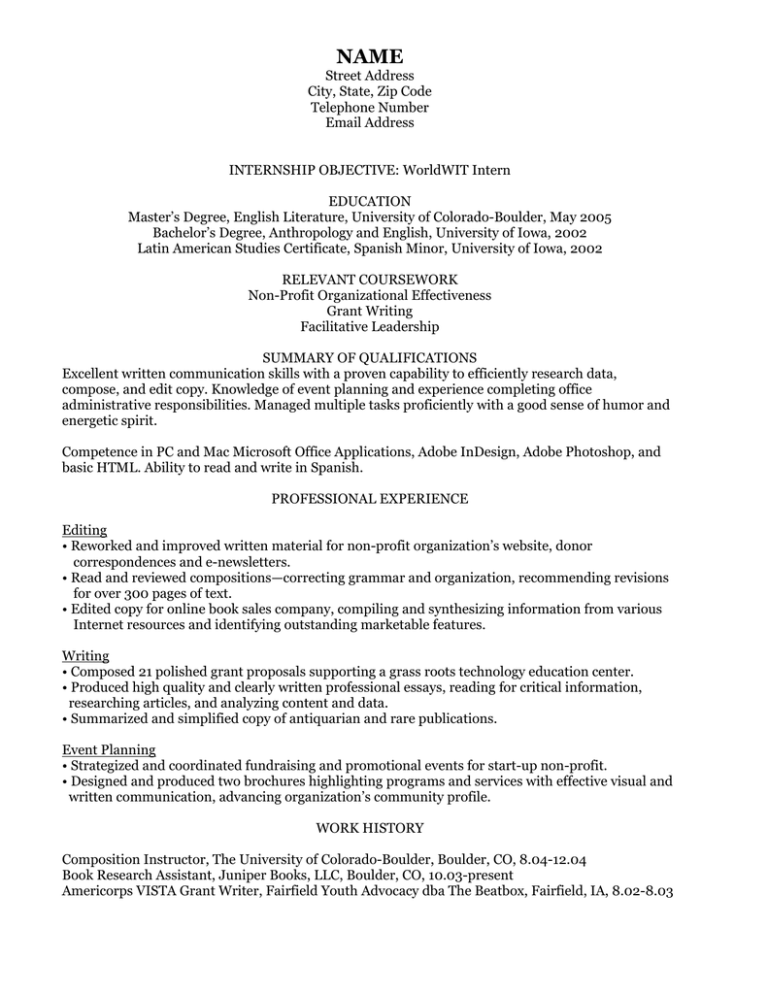 NAME
Street Address
City, State, Zip Code
Telephone Number
Email Address
INTERNSHIP OBJECTIVE: WorldWIT Intern
EDUCATION
Master's Degree, English Literature, University of Colorado-Boulder, May 2005
Bachelor's Degree, Anthropology and English, University of Iowa, 2002
Latin American Studies Certificate, Spanish Minor, University of Iowa, 2002
RELEVANT COURSEWORK
Non-Profit Organizational Effectiveness
Grant Writing
Facilitative Leadership
SUMMARY OF QUALIFICATIONS
Excellent written communication skills with a proven capability to efficiently research data,
compose, and edit copy. Knowledge of event planning and experience completing office
administrative responsibilities. Managed multiple tasks proficiently with a good sense of humor and
energetic spirit.
Competence in PC and Mac Microsoft Office Applications, Adobe InDesign, Adobe Photoshop, and
basic HTML. Ability to read and write in Spanish.
PROFESSIONAL EXPERIENCE
Editing
• Reworked and improved written material for non-profit organization's website, donor
correspondences and e-newsletters.
• Read and reviewed compositions—correcting grammar and organization, recommending revisions
for over 300 pages of text.
• Edited copy for online book sales company, compiling and synthesizing information from various
Internet resources and identifying outstanding marketable features.
Writing
• Composed 21 polished grant proposals supporting a grass roots technology education center.
• Produced high quality and clearly written professional essays, reading for critical information,
researching articles, and analyzing content and data.
• Summarized and simplified copy of antiquarian and rare publications.
Event Planning
• Strategized and coordinated fundraising and promotional events for start-up non-profit.
• Designed and produced two brochures highlighting programs and services with effective visual and
written communication, advancing organization's community profile.
WORK HISTORY
Composition Instructor, The University of Colorado-Boulder, Boulder, CO, 8.04-12.04
Book Research Assistant, Juniper Books, LLC, Boulder, CO, 10.03-present
Americorps VISTA Grant Writer, Fairfield Youth Advocacy dba The Beatbox, Fairfield, IA, 8.02-8.03
NAME
Street Address
City, State, Zip Code
Telephone Number
Email Address
CAREER OBJECTIVE: Req. # 413631 – COMMUNICATIONS/WEB INTERN
EDUCATION
Master's Degree, English, University of Colorado – Boulder, 2006
Bachelor's Degree, English, University of Akron, 2001
Minor Certificates, Professional and Creative Writing, University of Akron, 2001
SUMMARY OF QUALIFICATIONS
Wrote professional, engaging articles for university newspaper in a variety of styles including news
stories and human interest features. Displayed strong attention to detail and adherence to deadlines
with fast and thorough editing of manuscripts and newspaper copy. Proven dedication to meeting
service-level agreements by training and working effectively with team members. Demonstrated
strong time-management and organizational skills by simultaneously answering tape library
requests, printing large volumes of reports, and processing printed output for delivery.
PROFESSIONAL EXPERIENCE
Writing & Editorial
ƒ
ƒ
ƒ
ƒ
Wrote and edited features for university newspaper using Associated Press guidelines.
Designed, edited, and published university literary magazine of prose and poetry.
Proofread and edited manuscripts for university press using Chicago Manual guidelines.
Wrote procedures for data center operations that improved department productivity.
Organization & Customer Service
ƒ
ƒ
ƒ
ƒ
Printed, processed, and delivered forms output in fast-paced data center environment.
Monitored IBM computer mainframe activity and maintained library of 80,000 data tapes.
Trained new employees to work independently ahead of previous training deadlines.
Performed clerical duties such as answering phones, updating correspondence files, mailing
product catalogs, coordinating mass mailings, and taking customer book orders.
WORK HISTORY
Information Services Representative, American Greetings, Cleveland, OH, 10/95 – 8/04
Intern, University of Akron Press, Akron, OH, 8/00 – 5/01
Editor-in-chief, The Akros Review, Akron, OH, 8/00 – 5/01
COMPUTER SKILLS
Proficiency with PC computer applications including Word, Excel, Outlook, Internet Explorer,
and Windows XP. Introductory experience with PowerPoint and HTML web page design.