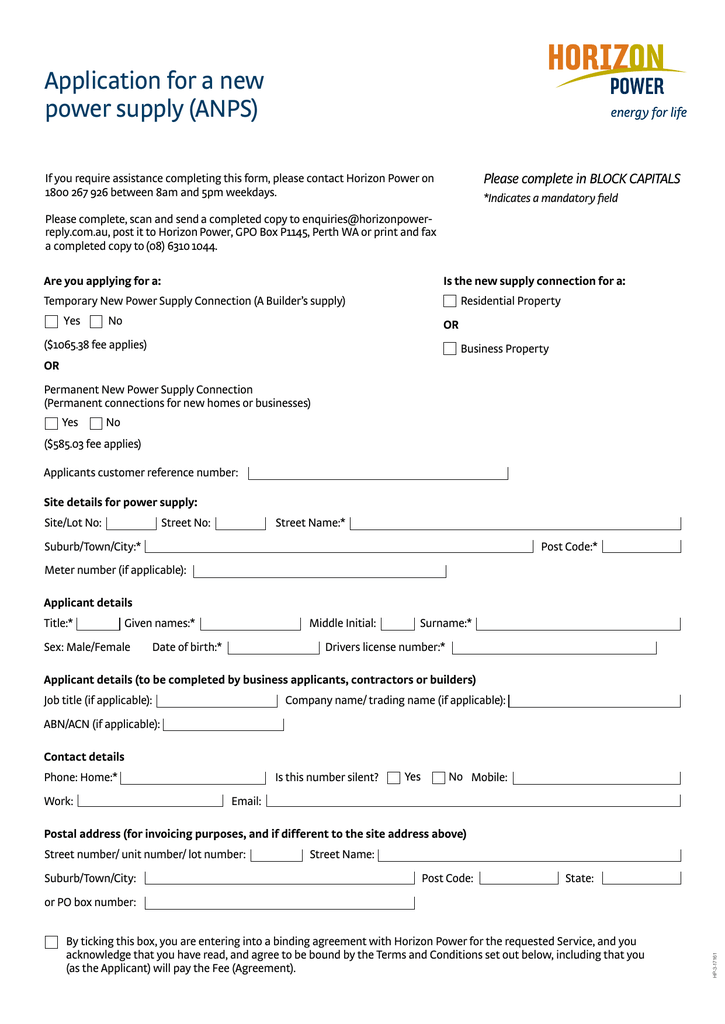 Application for a new
power supply (ANPS)
Please complete in BLOCK CAPITALS
If you require assistance completing this form, please contact Horizon Power on
1800 267 926 between 8am and 5pm weekdays.
*Indicates a mandatory field
Please complete, scan and send a completed copy to [email protected], post it to Horizon Power, GPO Box P1145, Perth WA or print and fax
a completed copy to (08) 6310 1044.
Are you applying for a:
Is the new supply connection for a:
Temporary New Power Supply Connection (A Builder's supply)
Yes
No
Residential Property
OR
($1065.38 fee applies)
Business Property
OR
Permanent New Power Supply Connection
(Permanent connections for new homes or businesses)
YesNo
($585.03 fee applies)
Applicants customer reference number:
Site details for power supply:
Site/Lot No:
Street No:
Street Name:*
Suburb/Town/City:*
Post Code:*
Meter number (if applicable):
Applicant details
Title:*
Given names:*
Sex: Male/Female
Middle Initial:
Date of birth:*
Surname:*
Drivers license number:* Applicant details (to be completed by business applicants, contractors or builders)
Job title (if applicable): Company name/ trading name (if applicable):
ABN/ACN (if applicable):
Contact details
Phone: Home:* Work:
Is this number silent?
YesNo
Mobile:
Email:
Postal address (for invoicing purposes, and if different to the site address above)
Street number/ unit number/ lot number:
Suburb/Town/City:
Street Name:
Post Code:
State:
By ticking this box, you are entering into a binding agreement with Horizon Power for the requested Service, and you
acknowledge that you have read, and agree to be bound by the Terms and Conditions set out below, including that you
(as the Applicant) will pay the Fee (Agreement).
HP-3-17161
or PO box number:
Notes
1. Additional charges will apply if it is necessary to relocate Horizon Power electricity infrastructure assets in order to undertake
the Works. The standard fees will not apply as a quotation to perform the works will be required. For further information,
please contact your Horizon Power representative at your local depot.
2. Additional charges may apply if it is necessary for Horizon Power to undertake works outside the normal business hours of
your local Horizon Power depot. The standard fees will not apply as a quotation to perform the works will be required. For
further information, please contact your Horizon Power representative at your local depot.
3. To minimise delays, Horizon Power recommends that the Preliminary Notice be submitted at the same time as this Form is
submitted. Horizon Power will not commence the Works until we have received the Preliminary Notice. A Preliminary Notice is
required when an electrical contractor is to carry out electrical work.
4. Horizon Power will not undertake demolition works until the customer's account is finalised and a Horizon Power
"Disconnection for Demolition notice has been issued to the customer by leaving it in the meter box.
5. Horizon Power will not energise a reconnection until we have received a compliant Completion Notice from the Electrical
Contractor.
Terms and conditions
1. Terms and conditions
These Terms and Conditions will form part of the Agreement unless Horizon Power notifies you in writing of any excluded
Terms and Conditions.
2. Payment of fee
You must pay the Fee within 30 days of the date of Horizon Power's invoice.
3. Credit Check
3.1 Horizon Power can enquire as to your credit status. You consent to Horizon Power making these enquiries.
Horizon Power can decline to perform the Works if we do not receive an acceptable credit reference.
Horizon Power will pay the costs associated with the credit check.
3.2You acknowledge and agree that you will have no claim, right or cause of action against Horizon Power because we
decline to perform the Works in the circumstances described in clause 3.1.
4. Commencement and Completion of Works
Horizon Power will use its best endeavours to complete the Works as soon as practicable from the time we process your Form
and (if applicable) the Preliminary Notice. However, Horizon Power does not guarantee that it will complete the Works by a
specified date.
5. License to access Site
By entering into this Agreement, you grant Horizon Power or you will ensure Horizon Power is granted an unconditional
license to access the site for the purpose of undertaking the works from the date we process your form and (if applicable)
the Preliminary Notice until the date the works have been completed.
6. Site conditions:
You must ensure that:
6.1 the site is safe and free from any obstruction or objects which may pose or give rise to a threat to the safety of
Horizon Power's employees or contractors;
6.2 that Horizon Power is able to safely access the site from the date we process your form and (if applicable) the
Preliminary Notice until the date the works have been completed.
7. Notification of other utilities and government authorities
You must notify the appropriate service utilities as well as the local government of the works to be undertaken at the Site.
HP-3-17161
8. Force Majeure
Horizon Power will not be liable to you for any loss, damage or expense (whether direct or Indirect Damage) caused by or
attributable to Force Majeure.
9. Liability of the Parties
9.1 Horizon Power's liability to you is limited to the liability under the Energy Operators (Powers) Act 1979 (WA)
9.2 Subject to clause, damages under this Agreement are limited to damages for direct and foreseeable loss attributable to
breach or default under this Agreementand neither Party will be liable to the other for any Indirect Damage.
10. Variation
10.1 This Agreement may only be varied by written agreement signed by both Horizon Power and you.
10.2 No variation will void this Agreement.
11. Application of Acts and By-Law
Nothing contained in these Terms and Conditions shall in any way limit the operation or effect of the Electricity Corporations
Act 2005 (WA), the Electricity Industry Act 2004 (WA), the Energy Operators (Powers) Act 1979 (WA), the Electricity Act 1945
(WA) or any regulations, by-laws or orders made under these Acts.
12. Governing Law and jurisdiction
This Agreement is governed by the Law applicable in Western Australia. By entering into this Agreement, you agree that any
disputes will be exclusively determined by the courts of Western Australia.
13. Additional Charges
13.1 Work is limited to the Works necessary to perform the Service that you have requested, unless Horizon Power otherwise
advises you in writing.
13.2 If you cancel the requested Service, or you change the Service you want Horizon Power to undertake, you may be charged
an administration fee of $345.00 (inclusive of GST).
13.3 If it is necessary for Horizon Power to relocate its electricity infrastructure assets when undertaking the Works, then you
will be charged an additional fee following a quotation for works for the relocation of the assets.
Definitions
Agreement means the agreement between you and Horizon Power for the performance of the requested Service, together with
the Terms and Conditions.
Fees means the fees specified for the Service, as outlined in the Form and in the Fees and Charges section of Horizon Power's
website.
Force Majeure means any cause or event which is not reasonably within the control of Horizon Power.
Form means the Application and Agreement for Network Services form, completed and submitted by you.
Indirect Damage means any one or more of:
(a) Any consequential loss, consequential damage or special damages however caused or suffered by the person, including any:
(i) (ii)
(iii) (iv) Loss of (or loss of anticipated) opportunity, use, production, revenue, income, profits, business and savings; or
Loss due to business interruption;
Increased costs; or
Punitive or exemplary damages.
Whether or not the consequential loss or damage or special damage was foreseeable; or
(b)In respect of contractual damages, damages which would fall within the second limb of the rule in Hadley v Baxendale [1854]
9 Exch. 342;
(c)Any liability of the person to any other person, brought against the person by any other person, and the costs and expenses
connected with the claim.
Party means you or Horizon Power.
Site means the address specified on the Form where Horizon Power will undertake the Works.
Service means the Service you have selected on the Form and requested Horizon Power to undertake at the Site.
Works means the electricity infrastructure works that Horizon Power will undertake to complete the necessary Service.
HP-3-17161
You mean the person, corporate entity or electrical contractor who has completed and submitted the Form.