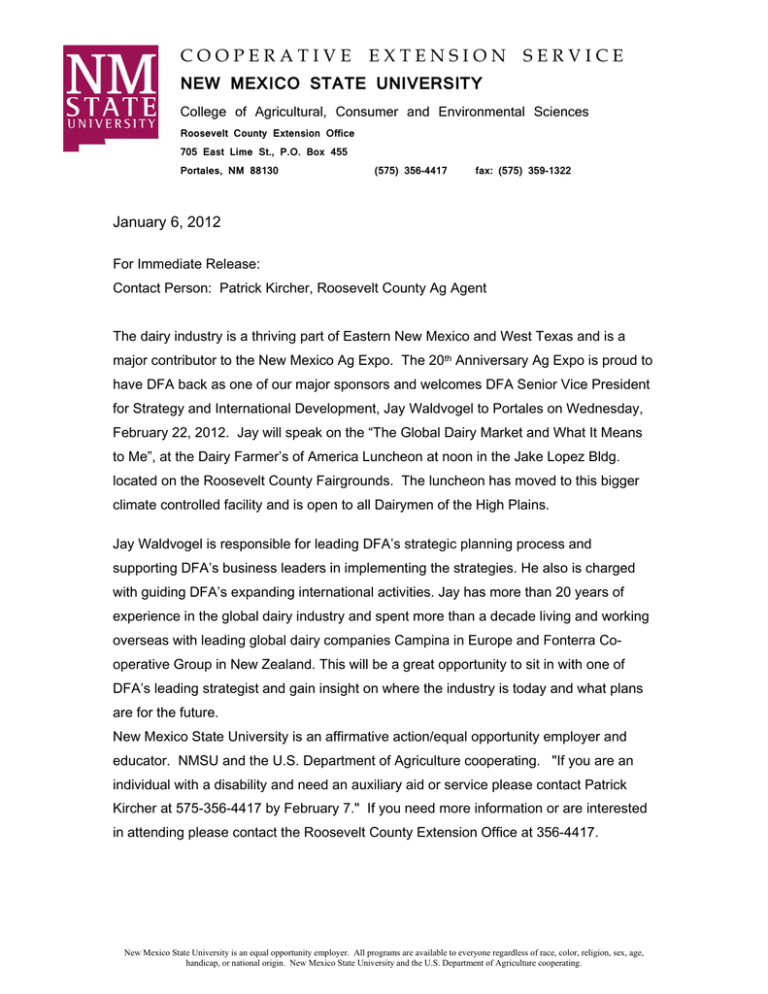 COOPERATIVE
EXTENSION
SERVICE
NEW MEXICO STATE UNIVERSITY
College of Agricultural, Consumer and Environmental Sciences
Roosevelt County Extension Office
705 East Lime St., P.O. Box 455
Portales, NM 88130
(575) 356-4417
fax: (575) 359-1322
January 6, 2012
For Immediate Release:
Contact Person: Patrick Kircher, Roosevelt County Ag Agent
The dairy industry is a thriving part of Eastern New Mexico and West Texas and is a
major contributor to the New Mexico Ag Expo. The 20th Anniversary Ag Expo is proud to
have DFA back as one of our major sponsors and welcomes DFA Senior Vice President
for Strategy and International Development, Jay Waldvogel to Portales on Wednesday,
February 22, 2012. Jay will speak on the "The Global Dairy Market and What It Means
to Me", at the Dairy Farmer's of America Luncheon at noon in the Jake Lopez Bldg.
located on the Roosevelt County Fairgrounds. The luncheon has moved to this bigger
climate controlled facility and is open to all Dairymen of the High Plains.
Jay Waldvogel is responsible for leading DFA's strategic planning process and
supporting DFA's business leaders in implementing the strategies. He also is charged
with guiding DFA's expanding international activities. Jay has more than 20 years of
experience in the global dairy industry and spent more than a decade living and working
overseas with leading global dairy companies Campina in Europe and Fonterra Cooperative Group in New Zealand. This will be a great opportunity to sit in with one of
DFA's leading strategist and gain insight on where the industry is today and what plans
are for the future.
New Mexico State University is an affirmative action/equal opportunity employer and
educator. NMSU and the U.S. Department of Agriculture cooperating. "If you are an
individual with a disability and need an auxiliary aid or service please contact Patrick
Kircher at 575-356-4417 by February 7." If you need more information or are interested
in attending please contact the Roosevelt County Extension Office at 356-4417.
New Mexico State University is an equal opportunity employer. All programs are available to everyone regardless of race, color, religion, sex, age,
handicap, or national origin. New Mexico State University and the U.S. Department of Agriculture cooperating.