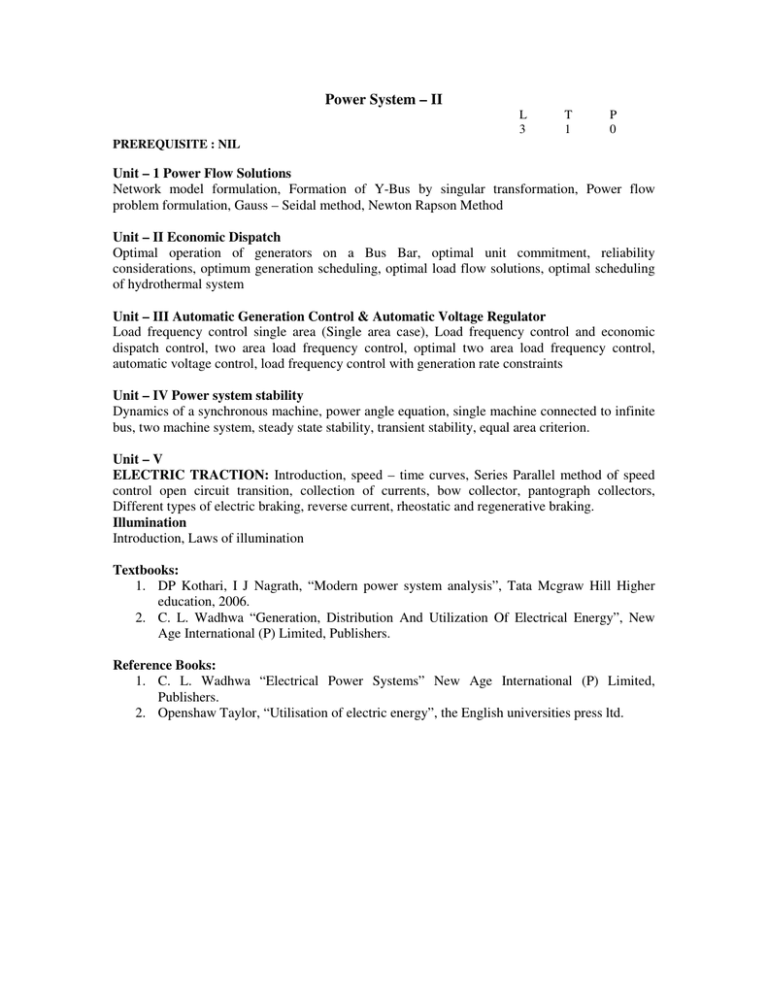 Power System – II
L
3
T
1
P
0
PREREQUISITE : NIL
Unit – 1 Power Flow Solutions
Network model formulation, Formation of Y-Bus by singular transformation, Power flow
problem formulation, Gauss – Seidal method, Newton Rapson Method
Unit – II Economic Dispatch
Optimal operation of generators on a Bus Bar, optimal unit commitment, reliability
considerations, optimum generation scheduling, optimal load flow solutions, optimal scheduling
of hydrothermal system
Unit – III Automatic Generation Control & Automatic Voltage Regulator
Load frequency control single area (Single area case), Load frequency control and economic
dispatch control, two area load frequency control, optimal two area load frequency control,
automatic voltage control, load frequency control with generation rate constraints
Unit – IV Power system stability
Dynamics of a synchronous machine, power angle equation, single machine connected to infinite
bus, two machine system, steady state stability, transient stability, equal area criterion.
Unit – V
ELECTRIC TRACTION: Introduction, speed – time curves, Series Parallel method of speed
control open circuit transition, collection of currents, bow collector, pantograph collectors,
Different types of electric braking, reverse current, rheostatic and regenerative braking.
Illumination
Introduction, Laws of illumination
Textbooks:
1. DP Kothari, I J Nagrath, "Modern power system analysis", Tata Mcgraw Hill Higher
education, 2006.
2. C. L. Wadhwa "Generation, Distribution And Utilization Of Electrical Energy", New
Age International (P) Limited, Publishers.
Reference Books:
1. C. L. Wadhwa "Electrical Power Systems" New Age International (P) Limited,
Publishers.
2. Openshaw Taylor, "Utilisation of electric energy", the English universities press ltd.