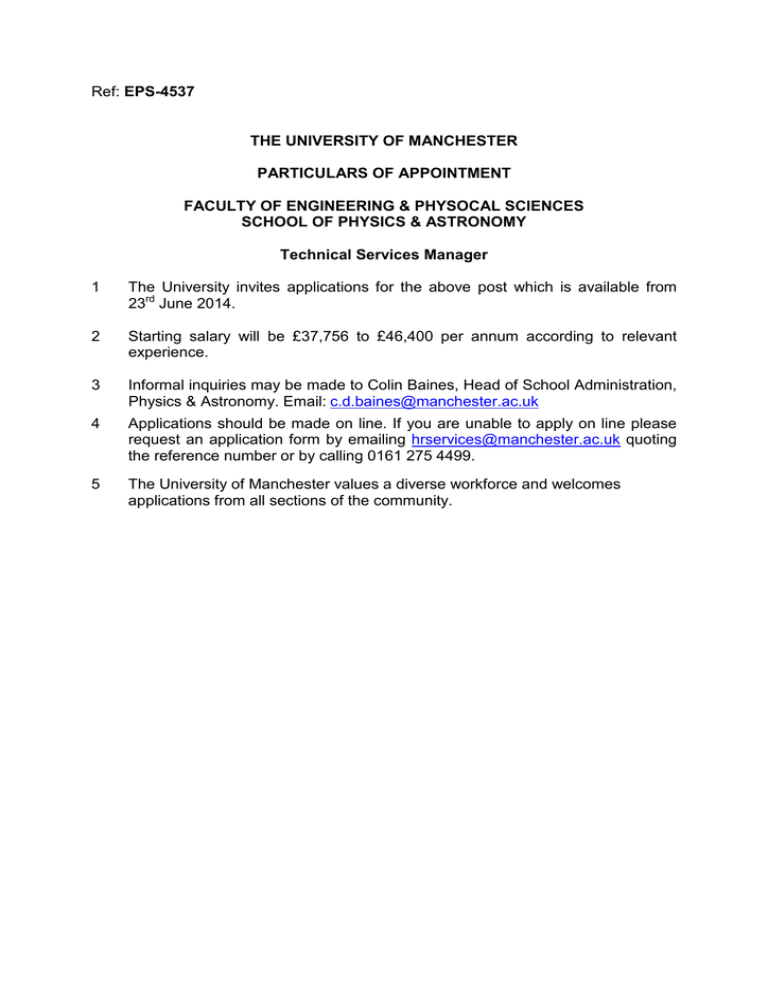 Ref: EPS-4537
THE UNIVERSITY OF MANCHESTER
PARTICULARS OF APPOINTMENT
FACULTY OF ENGINEERING & PHYSOCAL SCIENCES
SCHOOL OF PHYSICS & ASTRONOMY
Technical Services Manager
1
The University invites applications for the above post which is available from
23rd June 2014.
2
Starting salary will be £37,756 to £46,400 per annum according to relevant
experience.
3
Informal inquiries may be made to Colin Baines, Head of School Administration,
Physics & Astronomy. Email: [email protected]
4
Applications should be made on line. If you are unable to apply on line please
request an application form by emailing [email protected] quoting
the reference number or by calling 0161 275 4499.
5
The University of Manchester values a diverse workforce and welcomes
applications from all sections of the community.
Job title:
Starting salary:
Probation period:
Based at:
Responsible to:
Technical Services Manager
£37,756 to £46,600 per annum
9 months
The University of Manchester
Colin Baines
Head of School Administration
JOB DESCRIPTION
Overall purpose:
• To have management responsibility for School technical staff and the recruitment,
coordination and direction of their work for the efficient operation of the School.
• To be responsible as the School Safety Advisor for providing advice, assistance and
direction to members of the School in matters relating to Health and Safety and to ensure
the School's compliance with legislation and University of Manchester policies and
procedures in this area.
• To act as facilities manager for the school, dealing with all day to day issues relating to the
building infrastructure and equipment from a school perspective.
Main responsibilities
Technical Services Management
• To be responsible for the administration of payments to part time teaching assistants;
including organising contracts, checking and authorisation of monthly claim forms,
providing reports and expenditure projections / models as required.
• To be responsible as budget holder and signatory for various school expenditure accounts,
including Health and Safety, Teaching laboratories and building maintenance.
• To attend School Senior Administration Team meetings to report on technical
support/health and safety/ building infrastructure matters. Also to represent the School on
relevant University committees and working groups.
• To be responsible for the production of job descriptions, person specifications, and related
documents for recruitment of technical support staff, including participating in the selection
process. Reviewer for annual PDR's for all technical support staff.
• To be responsible for the supervision of technical staff work on various School sites, to
maintain holiday, sickness, absence and timekeeping records for those members of staff, to
make recommendations on their training and career development and assist in the
resolution of disciplinary matters.
• To plan and arrange technical support to be available at the required level to maintain the
Department's range of activities and to respond to unplanned absences of technical staff by
temporary arrangements following the assessment of priorities.
Health and Safety
• To be responsible for providing Health and Safety information, advice and assistance to
staff, students and visitors in the School including, risk assessment, COSHH assessments,
manual handling, visual display unit/workplace assessments, PUWER regulations, accident
investigation, safe use and storage/transportation of gases and laser hazards.
• To act as the Secretary of the School Health and Safety Committee, liaise with the
Committee Chairperson, arrange meetings and safety inspections, produce and circulate
agenda, minutes and inspection reports, investigate and report on accidents and initiate
actions where necessary.
• To liaise as appropriate with the Faculty Health and Safety Advisor, University Health and
Safety Services, University Laser Safety Officer, University Radiological Protection Service,
HSE Inspectorate and other appropriate contacts in connection with the duties of the post
and the achievement of the Health and Safety goals of the School.
• To present induction talks on health and safety to students, staff and visitors in the School
and to provide safety instruction and training on operational techniques and procedures as
required.
• To maintain records in connection with Health and Safety including Accident and Safety
Inspection Reports, Lifting and Slinging records, Pressurised Vessel reports, Health and
Safety Training and Radiological exposure records.
• To maintain awareness of the current requirements of legislation, codes of practice and
University Policies and Procedures in the areas of activity in which the School is engaged.
• To review health and safety practices and produce recommendations in particular areas of
School activities as required.
• To undertake any additional duties appropriate to the grade and experience of the
potholder.
• To undertake appropriate training and development activities.
Buildings Management
• To act as facilities manager, liaising with consultants, architects, contractors and Estates
staff for all building infrastructure projects. Authorisation and issue of swipe cards for
safety and security reasons.
• To plan and arrange the re-location of equipment, facilities, services and technical
personnel within premises occupied by the School.
PERSON SPECIFICATION
Essential
• Either hold a Degree/HND/HNC/ Level4 NVQ or equivalent, or a recognised apprenticeship
in a relevant subject area plus a significant period of relevant post qualification work
experience. Or an extensive period of work experience in a relevant technical or scientific
role.
• Possess the NEBOSH General Certificate.
• Several years of experience in the supervision of several staff involved in teaching
laboratory, research and infrastructure technical support activities.
• Extensive practical experience of the knowledge and skills required by a Departmental
Safety Advisor.
• Experience in the operation of teaching laboratories and infrastructure technical operations.
• The ability to work independently and to use his/her own initiative.
• The ability to communicate at all levels both orally and in writing.
• Good knowledge of and working experience of University Estates / Human Resources
procedures.
• Knowledge and several years' experience of Science Department organisation and
operations.
Desirable
• Possess or be working towards a NEBOSH diploma or equivalent qualification.