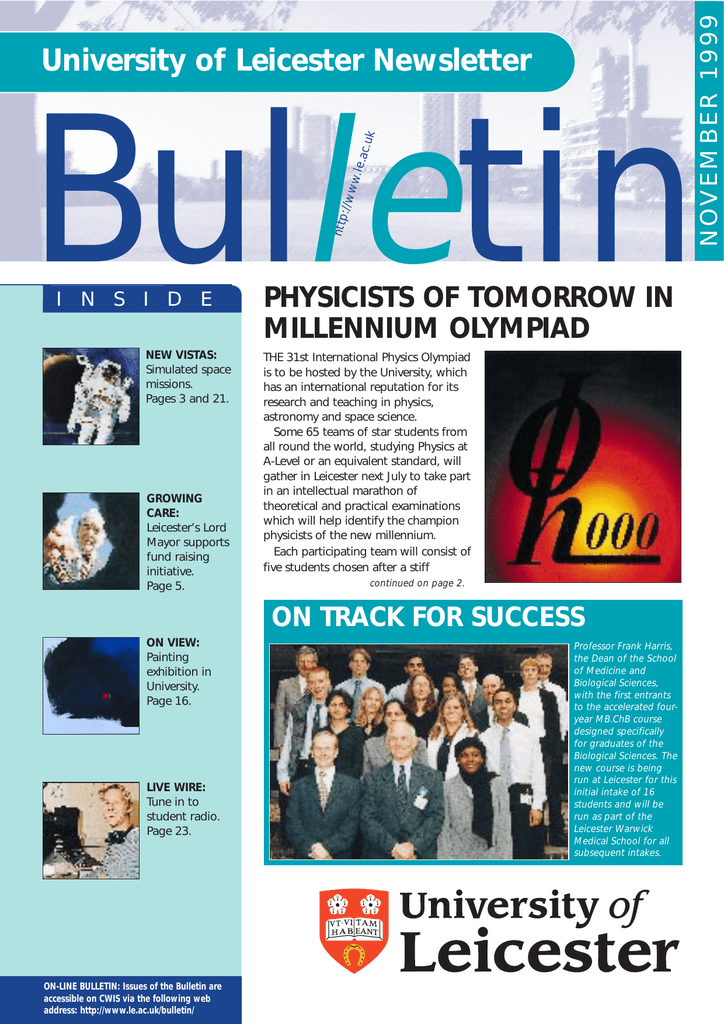 http
://w
ww.
le.a
c.uk
Bulletin
I N S I D E
NEW VISTAS:
Simulated space
missions.
Pages 3 and 21.
GROWING
CARE:
Leicester's Lord
Mayor supports
fund raising
initiative.
Page 5.
PHYSICISTS OF TOMORROW IN
MILLENNIUM OLYMPIAD
THE 31st International Physics Olympiad
is to be hosted by the University, which
has an international reputation for its
research and teaching in physics,
astronomy and space science.
Some 65 teams of star students from
all round the world, studying Physics at
A-Level or an equivalent standard, will
gather in Leicester next July to take part
in an intellectual marathon of
theoretical and practical examinations
which will help identify the champion
physicists of the new millennium.
Each participating team will consist of
five students chosen after a stiff
continued on page 2.
ON TRACK FOR SUCCESS
ON VIEW:
Painting
exhibition in
University.
Page 16.
LIVE WIRE:
Tune in to
student radio.
Page 23.
ON-LINE BULLETIN: Issues of the Bulletin are
accessible on CWIS via the following web
address: http://www.le.ac.uk/bulletin/
Professor Frank Harris,
the Dean of the School
of Medicine and
Biological Sciences,
with the first entrants
to the accelerated fouryear MB.ChB course
designed specifically
for graduates of the
Biological Sciences. The
new course is being
run at Leicester for this
initial intake of 16
students and will be
run as part of the
Leicester Warwick
Medical School for all
subsequent intakes.
NOVEMBER 1999
University of Leicester Newsletter
Bulletin News
Volume 32 • Number 2
November 1999
Bulletin News ......................1-11
Business .............................11-12
International............................13-16
Out & About ..................16-17, 20
Artstop...............................18-19
Feature ....................................21
Student Pages ...................22-23
Graduate Relations ................24
Cuttings ..................................25
Books .................................26-28
People ................................28-30
Notices ...............................30-33
Sport .......................................34
Crossword...............................35
Photostop ...................Back Page
Research Grants Supplement
YOUR BULLETIN
We wish to encourage members of the
University to submit items for the Bulletin –
feel free to email stories or suggestions to
[email protected]
The Bulletin is edited in the Press and
Publications Office. The Editor reserves the right
to amend or abbreviate copy without notice.
Editor:
Ather Mirza (3335)
[email protected]
Deputy Editor:
Barbara Whiteman (2676)
[email protected]
Journalists:
Jane Pearson and
Judith Shaw
Design and layout: Paula Curtis, Graphics
Studio
Pictures:
Central Photographic Unit
Cartoons:
Barbara Whiteman
Printed by:
Central Reprographic Unit.
Advertisements: Up to 30 words should be
accompanied by cheques, payable to University
of Leicester, at the following rates:
House sales and lettings: £5.00
Other sales and service: £2.00
Free adverts are carried if space permits.
Please send adverts to Pat Bone
([email protected]), Press and Publications
Office.
Prices for display advertisements are available
on request from Chris Walters, LUSU Marketing
Officer (1150).
The University of Leicester does not
necessarily adopt or endorse the products and
services advertised in Bulletin. The Editor
reserves the right to refuse/amend any advert
without notice.
Email:
[email protected]
Newsline:
0116 252 3335
Advertising:
0116 223 1168
Address: University of Leicester,
University Road, Leicester, LE1 7RH
The closing date for the next issue is
Wednesday 10 November.
www
2
This icon indicates that a fuller
version of the story can be found
on the University's web pages:
http://www.le.ac.uk/press/press/
Bulletin
University of Leicester
November 1999
PHYSICISTS OF TOMORROW IN MILENNIUM OLYMPIAD continued
competition in their own country.
The Olympiad has four rounds, the
first three of which determine the
make-up of each national team.
More than 10,000 sixth-formers
entered the first round in Britain a
year ago, from which emerged the
team which competed in the 1999
finals in Padua, Italy, in July, gaining
three silver and two bronze medals.
Next year's Olympiad, in Leicester,
will run from 9-15 July 2000 and
will not be all work for the visiting
students. At the opening ceremony
at the De Montfort Hall they will be
welcomed by the Lord Mayor of
Leicester and the University ViceChancellor, and entertained by the
prestigious Leicestershire Schools
Symphony Orchestra.
Throughout their stay the
students will have the opportunity
to explore some of the beauty spots
in the heart of England, including
Oxford and Cambridge and
Shakespeare's birthplace at
Stratford on Avon. They will also be
able to let their hair down at the
region's most exciting leisure park,
Alton Towers and – closer to home –
in the Leicester Students' Union
Disco, or can relax at the health club
alongside the campus
Leicester being the site of the new
National Space Science Centre,
Olympiad finalists will be able to
test their skills and initiative in
simulated space missions in the
Challenger Learning Centre, located
next to the Space Research Centre,
and an integral part of the NSSC.
Dr Brin Cooke, Senior Lecturer in
the Department of Physics and
Astronomy, explained how the
University came to be chosen to
host the 'millennium Olympiad'.
"Having agreed on a bid from the
UK, which previously hosted the
Olympiad in London in 1986, the
Olympiad Committee visited
Leicester and felt the location and
the campus facilities were
particularly suitable to welcome
such a large group of international
students. They also remarked on
the enthusiasm of the departmental
staff to hold the event here. Now
that enthusiasm has to be
translated into making the event an
outstanding success."
Dr Cooke acknowledged that the
timetable for the Olympiad week is
very tight and leaves little room for
breakdown or error in equipment.
Computers, in particular, need to
handle over 20 different languages
for the examinations, and foreign
language students and staff at the
University will be called on to assist
in the translation of papers and to
help non-English-speaking visitors
make the most of their stay in the
UK.
Professor Ken Pounds, Head of
the Department of Physics and
Astronomy added: "I am naturally
delighted that Leicester has been
chosen as the host for the 31st
International Physics Olympiad. We
are very much looking forward to
welcoming this group of 300 of the
brightest young scientists from
around the world."
• Further information on the
International Physics Olympiads
is available on the Olympiad2000 Web site,
http://www.star.le.ac.uk/IphO2000/
CHECK IT OUT!
All issues of Bulletin from January 1997 to date are accessible via the
following web address: http://www.le.ac.uk/press/bulletin/
Bulletin
University of Leicester
November 1999
Bulletin News
MINISTER PRAISES SPACE CENTRE
LORD Sainsbury, the Minister of
Science and Innovation, has
renewed his support for the
National Space Science Centre.
Speaking at an exhibition
organised by the Space Centre in the
House of Commons last month, Lord
Sainsbury encouraged British
industrialists to give their full
backing to the project, which is
being built in Leicester with the
support of the Millennium
Commission.
The Minister, who previously
endorsed the project at an event for
regional businesses in
Loughborough last February, spoke
warmly of the University of
Leicester's long-standing
contribution to international space
research programmes. The University is
one of the founders of the National
Space Science Centre, and its current
research will be prominently featured
in it. The main Space Centre building is
now under construction at Abbey
Meadows.
Lord Sainsbury was also extremely
enthusiastic about the potential of the
Challenger Learning Centre - one of
the core components of the National
Space Science Centre. This has opened
recently on Victoria Park Road, close to
the University's Space Research Centre.
The Challenger Learning Centre (see
Feature, page 21) is regarded as every
teacher's dream: an educational facility
where children learn because they
MYSTERY TOURS
Leicestershire and is now on his
fourth publication entitled "A Diary
of a Ghosthunter." The paranormal
investigator explains, "I felt there
was a gap in the market when it
came to promoting this issue. All of
my books have proved very good
sellers."
According to Andrew the popular
image of a ghost as a transparent
figure is incorrect as his sources
explain that ghosts are solid figures.
"I've yet to actually see a ghost and
so I am therefore quite sceptical.
However I have seen some strange
things such
as weird
light effects
which defy
explanation,
vaporous
mist,
shadows
and blinding
light.
"There are
certain tools
which prove
that some
kind of
paranormal activity exists. For
example certain cameras are highly
sensitive when determining an
apparition from a living person. An
ex-colleague of mine said whilst on
holiday in India he took a picture of
a man on a bed of nails. The picture
came out perfectly, apart from the
HALLOWE'EN may have turned
people's thoughts towards the eerie
and the occult, but for one member
of the University of Leicester, ghost
hunting has almost become an
occupation!
Andrew Wright, a porter at the
University, is a leading paranormal
investigator, and has recently come
back from a successful ghost hunt in
Ireland.
Andrew claims to be unique in his
field. He explains: "I'm the only
paranormal investigator in England
who provides guided ghost tours.
"Most paranormal investigators
tend to be very secretive. I tend to
describe my tours as walking lectures.
Paranormal activity usually occurs
around the older parts of Leicester so
my tours are usually around old
churches – I go to the Guildhall as
well as Tudor period and 15th century
parts of Leicester."
Andrew's 20-year interest stems
from childhood. "I was brought up in
a pub. A lot of pubs have a history of
ghost-like activity and my home was
no exception. Because I grew up
around a ghost, as a child, I regarded
the idea of ghosts as quite normal. I
never actually saw the ghost –
however my mother did regularly!"
Andrew has written three local
guides explaining the history of
different ghost spots in and around
want to, while participating in
simulated space missions.
Nigel Siesage, Principal Assistant
Registrar at the University, who is
responsible for educational activities
for the Space Centre, commented:
"Lord Sainsbury had clearly been
inspired by the concept of the
Challenger Learning Centre, not just
as an enjoyable activity for children,
but for its real potential for
improving scientific understanding with consequential benefits for the
economy. His strong endorsement is
very gratifying, not just for the
Space Centre but also for the
University, which was instrumental
in obtaining the rights to develop
the first Challenger facility outside
North America here in Leicester."
GHOSTLY FIGURES: Andrew Wright.
fact that the man who had
been lying on the bed of nails
was not visible in the picture
at all!"
Andrew is now in search of
something else - others who share a
similar eerie interest to his own. He
is planning to build up a team of
ghost hunters to conduct
investigations locally, nationally and
possibly internationally.
Cecily Henry
3
Bulletin News
Dear Friends,
JANET and I left Leicester with many
happy memories of our 12 years in
the University. Of these none is more
vivid than that of the tremendous
warmth of the farewell event and our
awareness of the wonderful
generosity of so many colleagues and
friends in producing the splendid gifts
which we received. The oak table will
be perfect in our dining room (once
the builders have gone and we can
gain full access again), and the silver
salver will look just right on the table.
We will enjoy finding just the right
place on which to hang the Bryan
Organ sketches. Janet joins me in our
profound thanks to all those who
contributed so generously to these
gifts which we shall enjoy very much
in retirement and which will be such
delightful mementoes.
We were both delighted that so
many colleagues and friends, from
inside and outside the University,
came to the farewell event in the
Charles Wilson Building, and the card
which so many signed on that
occasion will help us to recall those
memorable years. As we both said at
that time we enjoyed our time in
Leicester in many different ways. For
my part I saw the University grow
extremely rapidly and also adapt
very considerably in response to the
huge changes which have occurred
in the framework within which
Higher Education exists. The
University achieved these changes
while retaining a very firm hold on
the fundamental and eternal values
of universities. Furthermore the
University of Leicester has managed
to remain a co-operative, collegial
and friendly place.
Both Janet and I will treasure the
memories of the warm and friendly
welcome we received when we
arrived in 1987, and the many
friendships which have developed in
the years since then – and which we
look forward to continuing to enjoy
in the future. For Cambridge is not
too long a drive from Leicester via
the A14 (at any rate at certain times
of the day). So we look forward to
maintaining those friendships – either
in Cambridge or Leicester.
We are very grateful for all the
support we received in Leicester and
for the warm friendship of so many
friends and colleagues. We thank all
MOTHER'S MILK COULD HELP
PREVENT ONSET OF ASTHMA – STUDY
CHILDREN who are exclusively breast fed for at least the first four months are
less prone to developing asthma or related ill health, a study involving
Professor Paul Burton discovered.
Professor Burton, Professor of Genetic Epidemiology at the University, was
involved in a study of over 2,000 children in Perth, Australia, where he was
formerly Head of Biostatistics and Genetic Epidemiology at the TVW Telethon
Institute for Child Health Research.
The study, published in the British Medical Journal, found:
• introduction of milk, other than breast milk, before four months of age
was a significant risk factor for asthma.
• children were also more likely to suffer from wheeze.
• they were more likely to suffer from sleep disturbance brought about
by wheeze.
Professor Burton and his co-authors of the study said: "There is a significant
reduction in the risk of childhood asthma at age six years if exclusive breastfeeding is continued for at least the first four months of life. These findings
are important for our understanding of the aetiology of childhood asthma,
and suggest that public health interventions to optimise breast
feeding practices may help to reduce the community burden of
www
childhood asthma and its associated traits."
4
Bulletin
University of Leicester
November 1999
of you for that and also for the
splendid gifts which we were
overjoyed to receive.
Our very best wishes to the
University of Leicester and to all
those in and involved with the
University for an enormously
successful future.
Ken Edwards
SECURITY
PACKAGE
STUDENTS moving into private rented
accommodation for the first time can
feel quite vulnerable, particularly since
student lodgings are known to be
targeted by burglars.
The University is working with local
police to educate students living in
Highfields and Clarendon Park as to
how to make their homes more
secure. As part of this initiative they
will receive free security timers to turn
on lights, making houses look
occupied in the evenings.
The anti-burglary packages will go
to approximately 400 students and
have been sponsored by Banks'
Brewery and B & Q.
During Freshers' Week Police
representatives visited the University
to give security advice to new
students who had moved away from
home for the first time.
Bulletin
University of Leicester
November 1999
Bulletin News
UNIVERSITY WELCOMES LORD MAYOR
THE Lord Mayor and Lady Mayoress of Leicester,
Councillor Phil Swift and Mrs Marilyn Hall, enjoyed
a lively programme of talks during the annual Lord
Mayor's visit to the University in October.
The Vice-Chancellor, Professor Robert Burgess,
welcomed the visitors and escorted them to the
Ethnicity Research Centre in the Department of
Sociology. There they gained an insight into some
of the research highlights of the Centre in a series
of presentations entitled Homeworking – New
Wine and Old Bottles, Asian Elders in Leicester and
From Schools to Work.
The University is famed throughout the country
for its football research, and the distinguished
guests also paid a visit to the Sir Norman Chester
Centre for Football Research before moving on to
the School of Social Work.
KEEPING IN TOUCH: The Lord Mayor and Lady Mayoress of Leicester taking a
Researchers there explained their work on aspects look at research in the Department of Sociology with Dr Sally Westwood and
Dr James Fulcher.
of children in need, a subject particularly close to
the Lord Mayor's heart, since his annual appeal is
partnerships with employers and community care, after
on behalf of the Leicester Children's Holiday Centre at
which the Lord Mayor and Lady Mayoress had lunch with
Mablethorpe. Other topics included social exclusion,
senior officers from the University.
PLANTING HOPE
Pictured (left to right): Mr Barrie Frankland, Superintendent of the Gardens; Ms Natasha
Semenchuk, fund-raising officer; The Lord Mayor, Councillor Phil Swift; and the Lady
Mayoress, Mrs Marilyn Hall.
• For details of this appeal, contact Natasha or Sarah at the Marie
Curie Fund-raising Office on 0116 277 4800.
THOUGHTS of spring came early at a
special ceremony in the University
arboretum in Knighton.
The city's Lord Mayor, Councillor Phil
Swift, planted the first of 20,000
daffodil bulbs in aid of the Marie Curie
Cancer Care's new fund-raising
initiative. In six months the bulbs will
create a 'Field of Hope' in the
arboretum which will be a tangible
expression of support for people with
cancer. Each cluster of four bulbs will
be sold for £1.
The Lord Mayor told University staff,
health care workers and Marie Curie
supporters of the charity: "This is a
unique and wonderful idea. Thanks to
everyone who is working hard to make
it possible. I look forward to a beautiful
show of flowers in the spring."
THINK POSITIVE
THE University took advantage of World Mental Health Day
to make students and staff aware of the issues
surrounding mental health, in a series of eye-catching
displays across the campus.
World Mental Health Day aims to increase understanding
of mental health issues and to reduce the stigma and
discrimination experienced by people with mental health
problems. The two key themes for 1999 are Positive
Images, Positive Steps and Challenging Stigma.
Carol Whitehouse, of the Educational Development and
Support Centre at the University, said: "This campaign will
challenge attitudes to mental health problems across the
University and encourage us to take positive steps towards
the mental well-being of ourselves and others."
5
Bulletin News
Bulletin
University of Leicester
November 1999
ISLAND PRIME MINISTER AT UNIVERSITY
THE Right Honourable Dr Denzil
Douglas, Prime Minister of the Island
Federation of St Kitts and Nevis, paid
a flying visit to the University
recently.
Dr Douglas, who met the ViceChancellor Professor Robert Burgess,
also visited the Scarman Centre,
where he discussed research and
training in security and risk
management.
Simon Bennett, lecturer in Security
and Risk Management at the
Scarman Centre, said: "We hope the
Prime Minister's visit has prepared
the ground for further co-operation
between the Island Federation, the
British Emergency Management
Agency and the Scarman Centre's
Disaster Management Team. It is
hoped that both the Island
Federation and BEMA will avail
are to survive and prosper. The
themselves of the world-renowned
Scarman Centre has the expertise to
educational and training services in
help vulnerable communities".
risk, crisis and
disaster
management
offered by the
Scarman
Centre. Given
that natural
weather
hazards are set
to increase
both in
frequency and
magnitude,
disaster
preparedness is
MEETING: (left to right) Dr Martin Gill (Centre Director), Rt Hon Dr Denzil
essential if
Douglas, Prime Minister of the Island Federation of St Kitts and Nevis,
vulnerable
Andrew Willis (Deputy Director), His Excellency, the High Commissioner
communities
of the Island Federation of St Kitts and Nevis, Mr Aubrey Hart.
UNIVERSITY OF LEICESTER
SPEAKERS AT ROYAL
BRITISH INSTITUTION
THE bicentenary of one of the great British institutions
features two University of Leicester professors among its
distinguished guest lecturers during the twelve months
of its 200th anniversary celebrations.
Professor Gabriel Dover of the Genetics Department is
the originator of the molecular drive theory of evolution,
based on the
molecular
evolution of
genes and
genomes. He
is currently
writing a
book
'addressed' to
Charles
Darwin
entitled Dear
Mr Darwin –
on modern
evolutionary
processes – to
Professor Gabriel Dover.
6
be published in
March by
Weidenfeld and
Nicolson. The
book takes the
novel form of a
conversation
between the
author and
Darwin.
His talk on
Evolution Beyond
Darwin on 13
October at the
Royal British
Institution in
Professor John Holloway, Department of
London's
Chemistry.
Albemarle Street
is in the Public
Lecture series.
Also taking part in the Royal British Institution's
bicentenary programme is Pro-Vice-Chancellor, Professor
John Holloway. On 25 November, he will deliver the
Science Events for Schools national Chemistry Week
Lecture: Fluorine. The Tyrannosaurus Rex of the
Elements. Last year, Professor Holloway gave one of the
famous Friday Evening Discourses to members of the
Royal Institution.
Bulletin News
Bulletin
University of Leicester
November 1999
VITAL STUDY HIGHLIGHTED IN
PRESTIGIOUS PUBLICATION
A UNIVERSITY professor has been
featured in a prestigious
international publication that
highlights the achievements of a
noted group of scientists.
The British Council publication,
which celebrates the first ten years
of its Academic Research
Collaboration (ARC) programme in
Germany includes a collaborative
study by Professor Peter Williams, of
the Department of Microbiology and
Immunology, and Dr Rolf Reissbrodt,
of the Robert Koch Institute in
Wernigerode, among eleven "success
stories" chosen from more than
1000 funded projects.
Food-poisoning scares owing to
salmonellae frequently hit the
headlines. The impact of the disease
is especially serious when facilities
with large canteens, such as old
people's homes, are hit.
In Germany and the United
Kingdom together there are
approximately 250,000 reported
cases annually, imposing a
tremendous personal and economic
burden both on individuals and on
the health services of these
countries.
Salmonellae are bacteria that
people usually contract from
contaminated food, especially
poultry and eggs. The salmonellae
may remain undetected in eggs for
several weeks, only entering the food
chain when the contaminated eggs
are processed into mayonnaise,
uncooked desserts and the like.
Identifying salmonellae using
conventional methods takes at least
five days, which can affect the
freshness of products.
The research teams in the United
Kingdom and Germany, headed by
Professor Williams and Dr Reissbrodt,
have examined how the
salmonellae can survive
dormancy within eggs. Also, www
they have designed a rapid
and sensitive test to detect
contamination.
The two institutes continue to
collaborate, and they have had a
number of publications placed in
international journals. Robert
Kingsley, a PhD student working on
the salmonellae project, has since
become involved in research on a
similar scheme in the USA.
100 MILE SPONSORED SWIM FOR CHARITY!
JOHNATHAN Young, Warden of College Hall and a
member of academic staff in the Geography
Department, has just completed a 100 mile sponsored
swim for a Leicester-based group of mentally and
physically disabled children who will be going to
Lourdes for a ten day holiday in July 2000.
Starting last Christmas, the bulk of the marathon swim
was completed by daily sessions of one mile at
Aylestone Leisure Centre at 7.30 am. However, three
individual 'legs' were completed on Waikiki Beach,
Hawaii; the shimmering turquoise lagoon of the Aitutaki
Atoll in the Cook Islands; and a toad-infested hotel
swimming pool in Fiji! A total of 6,600 lengths were
swum in about 75 hours, and £314 was raised from
generous sponsors. Unfortunately, there has been very
little reduction in the initial 20-stone body weight of the
participant, which had been the secondary objective of
the exercise.
KNOTTY
PROBLEM WITH
WEEDS
AS Japanese knotweed is once again
in the news, the University's experts
continue to study the plant. Dr John
Bailey and Ms Catherine Pashley, of
the Department of Biology, have just
returned from a trip to Japan,
hunting down the origin of the
knotweed clone which is plaguing
Britain. This will then enable them to
develop biological control
programmes that can use natural
predators to destroy the weed,
avoiding excessive use of herbicides.
SEARCH: Dr John Bailey with the Japanese Knotweed plant.
7
Bulletin News
Bulletin
University of Leicester
November 1999
UNIQUE LEICESTERSHIRE FIND
JOANNA Sturgess of the University of
Leicester Archaeological Services,
struck treasure when she was
watching topsoil stripping for a
quarry extension in the Soar Valley,
Leicestershire.
The quarrying uncovered a burial
mound which, when excavated,
revealed amber, jet and shale beads
of Bronze Age date, c2000 BC. The
beads, which are extremely rare,
appeared to be part of a burial,
though no bones remain in the site.
With funding from the Wanlip
Gravel Co and English Heritage,
Joanna Sturgess was able to lead an
excavation which made more
discoveries. Next to the burial mound
they found a circular building from
the Iron Age, c100 BC, which may
have been a shrine or temple.
Much later still, around AD
600, more burials had been laid
in the mound accompanied by
iron weaponry, showing that the
area was still respected and
considered sacred as late as the
Anglo Saxon period, some 2,600
years after the original burial.
While the re-use of burial
monuments is not unknown in
Britain this is the first time such a
site has been found in this
county.
Dr Patrick Clay, Assistant
Director of ULAS said: All in all
this is a very exciting discovery
for us. We are not able to
disclose the location of the site
as yet for health and safety
reasons, but our work at the
quarry is now finished."
DISCOVERY: Part of the Soar Valley excavation site
which revealed signs of sacred significance for
more than 2,500 years.
SECURITY JOURNAL TAKES NEW LOOK AT CRIME
THE latest issue of the Security Journal has been
launched. Co-edited by Scarman Centre staff, the Journal
includes worrying independent evidence that
opportunities to control crime are being missed.
Dr Martin Gill, Centre Director and Journal editor notes:
"Once again good research is showing that there is quite
a lot we can do about crime and that we don't
www
necessarily have to leave things to the police.
These findings should be heeded by all local authorities."
Issues discussed in this edition include
• Street lighting reduces crime.
• Security guards don't want to make arrests.
• Hate crimes at work deserve special attention.
DANGERS OF POLLUTION WEIGHED UP
LABORATORY studies have clearly
shown that several man-made
chemicals and also some naturally
occurring substances can disrupt the
endocrine system, producing effects
that could influence reproductive
performance.
A new report, The Ecological
Significance of Endocrine Disruption:
Effects on Reproductive Function and
Consequences for Natural
Populations has been published by
the Medical Research Council
Institute for Environment and Health
at the University.
Since the early 1990s concerns
have increased that some man-made
chemicals found in the environment
may be capable of disrupting many
of the normal endocrine functions of
animals and humans. Evidence of
8
impaired reproductive functioning
has been noted in many wildlife
species throughout the world. These
include mammals, birds, reptiles, fish
and invertebrates, particularly those
living at sites of chemical spillage or
close to sources of effluent
discharge.
Such changes have led some
researchers to suggest that the
association between the changes
seen in animals and the presence of
chemicals is causal, and that this
may not only represent a significant
hazard to wildlife populations and
ecosystems but could also have
implications for human health.
The IEH report incorporates the
output of a workshop held at the
University in 1997, attended by
leading UK and international experts
in the field. Its main findings are:
• There has been a world-wide fall
in marine gastropod populations
as a result of the masculinisation
of females exposed to organotin
anti-fouling paints, but this is, at
present, the only definitive
example of chemical induced
endocrine disruption that has led
to population decline.
• Reproductive abnormalities do
occur in individuals from various
other wildlife species, but in
most cases the impact on
population stability is unknown.
• The link between reproductive
abnormalities and exposure to a
specific chemical is variable, with
very few examples of definitive
associations having been
established to date.
Bulletin
University of Leicester
November 1999
Bulletin News
STUDENT MAKES MARATHON EFFORT FOR CHARITY
A UNIVERSITY student is making a
marathon effort to raise money for
a Leicestershire charity.
FEET OF ENDURANCE: Ian Smith, Chemistry
postgraduate student, training on Victoria
Park for the New York Marathon.
Chemistry postgraduate Ian
Smith aims to raise funds for The
Laura Centre by taking part in the
New York Marathon on 7
November.
He said: "A couple of years ago I
and a fellow Chemistry PhD
student, Barry Pollard, undertook
to cross the country on foot in aid
of Rainbows children's hospice in
Loughborough. We covered nearly
200 miles in 11 days, and raised
over £900. Since then I have
helped out with a number of fundraising events for Rainbows. It was
at one such event, the 'Walk of
Life', that I heard of the intention
of Rainbow's sister charity, The
Laura Centre, to send a team of
runners to the New York
Marathon."
Ian added: "Having never run a
marathon before, I hadn't a clue
what the training held in store. It
came as a bit of a shock – night
after night of blood, sweat and
tears, and a night down the pub is
but a distant memory.
"To help me towards my target
of £1,500 for the Laura Centre,
University of Leicester Rag is
arranging a balloon race, which
will take place during Rag Week
(1–5 November) with lots of
goodies for the owners of the
balloons which travel the furthest.
"Tickets went on sale on the Rag
stand during Freshers' Week, and
are also available at the Rag Office
until race day at a cost of £1. There
is also a collection tin in the
Charles Wilson coffee shop, and I'd
ask people please to contribute to
this worthy cause. Every penny will
be very gratefully received."
Last year, University of Leicester
Charities Appeal raised a total of
£55,000 for charity.
MENTORS OFFER SUPPORT TO STUDENTS
THE Students' Union, the
Educational Development and
Support Centre and the Centre for
American Studies, and the
Departments of History and
Economics have collaborated to
pioneer a new system of support
for students at the University of
Leicester.
It is a Student Academic
Mentoring Scheme which aims to
match up small groups of first-year
students with second- or third-year
students. The senior students will
then act as mentors to their juniors
and help them through the
difficulties and problems that they
may face in their first year.
The scheme is intended to
complement the personal tutor
system with a ready and accessible
source of friendly advice and
guidance for students. It aims to
make the transition to university
studies easier than ever before.
Max McLoughlin, Student
Development Officer, explained:
"During the summer vacation
information was sent out to
returning second- and third-year
students to let them know about
the scheme and to seek their
involvement.
"The numbers we had back gave
us enough confidence that the
scheme can work and will be of real
value to those students it effects.
By the end of week two over 75
students had received training and
will be matched up to their mentees
by the start of the fourth week With
training provided and continuous
support available it is a great
opportunity for such students to
gain useful transferable skills and to
contribute to the well being and
success of their department."
•Further information regarding the
scheme is available from Max
McLoughlin at the Students' Union
on [email protected]
FIT TO BE AT
LEICESTER
IT has been reported in the Metro
(London) that the University's male
students are amongst the fittest in
the land.
In a survey of more than 7,000
undergraduates from 109
universities Leicester ranked fourth
in the "Fittest Men" category,
beaten only by the Universities of
Lancaster, Dundee and London.
The survey appears on the Red
Mole student website.
9
Bulletin News
Bulletin
University of Leicester
November 1999
STEP AHEAD
Herabans Kaur introduces the
Leicestershire Widening
Participation into Higher
Education Project.
OPENING DOORS
ALTHOUGH more and more
people are entering higher
education, the socio-economic
profile has not changed
significantly. Widening
participation for those who
have not traditionally been
engaged in lifelong learning is
TRANSITION: Induction Day for applicants from the local area holding the University of Leicester as a
a major thrust of Government
firm choice.
policy.
colleges, the TEC, the Life Long
Leicestershire Progression Accord. It
The three local Universities of De
Learning
partnership,
the
Careers
and
will draw on expertise to raise
Montfort, Leicester and
Guidance
Service,
the
City
Cluster
awareness both within and outside
Loughborough have been successful
and
others.
A
Project
Officer
has
the universities to bring more local
in obtaining funding from the Higher
been
appointed
to
oversee
the
students in touch with higher
Education Funding Council for
strategies
for
widening
participation
education and encourage them to
England aimed at widening the
and
to
ensure
the
outcomes
are
met.
stay on at school or college and
participation of local students in
Janet
Graham,
Director
of
progress to university".
Higher Education. The Project will
Admissions
and
Student
Recruitment,
More information about the
strengthen links between schools
who
is
the
Project
Co-ordinator,
said,
project
can be obtained from
and colleges and the Universities and
"This
project
will
build
on
the
Herabans
Kaur (Hari) on 0116 252
promote education to new groups of
successful
links
already
established
in
5349
or
email
on
people. The project is concentrating
the
city
and
county,
such
as
the
[email protected]
on informing students and parents
about university life to dispel
anxieties in families that have not
• To provide support for schools in
traditionally considered higher
raising enjoyment and
education.
THE
recent
launch
of
the
Leicester
achievement in mathematics.
It will focus attention on:
Rutland
and
Leicestershire's
Maths
•
To encourage more people to
• engaging students at an early
Year 2000 is all set to prove that
take maths courses post-16,
age to raise their aspirations and
maths can be fun.
including all levels from basic
motivation to learn
Rose Griffiths, of the School of
skills to degrees and teacher
• easing the transition of students
Education, said: "Maths is essential
training.
into higher education and
in our modern society. The year's
• To show people that maths is
• supporting those students whilst
events will be practical and fun and
important in most people's lives
studying.
give everyone a chance to see how
The target group is made up of
and in most workplaces.
vital maths is to us all."
academically able students whose
• To show that maths has been
The programme has been devised
families have no prior knowledge of
used throughout history and is
by the three LEAs, education library
Higher Education and who may feel
used all over the world, to solve
services, public libraries, museums
that university is not for them.
human problems.
Leicestershire TECs Education
Students who will benefit from the
Rose Griffiths would be glad to hear
project are those attending schools
Business Partnership, as well as the
from other members of the
and colleges in disadvantaged areas
Universities of Leicester, De Montfort
University who would like to join in
of Leicester and Leicestershire, often
and Loughborough.
Maths 2000, including people
where there are higher than average
Maths 2000 aims:
holding events that are already
levels of unemployment.
• to encourage parents to make
running and that could be slotted
The project is a collaborative
the most of mathematical
into the programme. Her telephone
partnership between the universities
opportunities
with
their
children.
number is 0116 252 3670.
of Leicester, Loughborough and De
Montfort working with schools,
FUN WITH MATHS
10
Bulletin
University of Leicester
November 1999
Bulletin News
United States and further
www
afield.
The programme is funded by
over the next two years, will look at
the British Economic and Social
the responses to global crime from
Research Council (ESRC) which has
governments, law enforcement
awarded a grant to Adam Edwards,
agencies and international bodies,
Lecturer in Politics and Criminology
and will involve academics and
at the Scarman Centre.
practitioners from Europe, the
Mr Edwards said:
"Transnational organised
CRIME SEMINAR: Some
crime is an issue of great
of the experts attending
concern for politicians,
the Scarman Centre
the media and policy
seminar on Global Crime
in September 1999.
makers, yet there is little
Picture includes Dr Wyn
consensus over the
Rees (Politics), Ms Estella
character or extent of
Baker (Law), Professor
the supposed threat.
John Benyon (Scarman
This seminar series aims
Centre) and Mr Adam
Edwards (Scarman
to explore the issues in
Centre) with participants
detail from a variety of
from Interpol, National
perspectives and to
Crime Squad, Greater
examine different policy
Manchester Police,
approaches to tackling
Customs and Excise and
from other universities.
the problem."
RESPONSES TO GLOBAL CRIME
EXPERTS on crime prevention met
recently at the University for the first
in a series of seminars on the
growing problem of international
crime.
The seminars, which will take place
Business Bulletin
STEP TO SUCCESS
A THIRD-year Engineering student
has won an award in the Shell
Technology Enterprise Programme's
(STEP) Most Enterprising Student
competition.
Mark Thompson won his prize of
£750 in the Best Project in a
Manufacturing Company category
for a project he carried out while on
placement with Dunlop Industrial
Hose in Cramlington,
Northumberland. He also won £300
in the regional final and £150 in the
local final.
His task was to look at production
methods, identify any inefficiencies
and suggest solutions. Acting on his
recommendations, the company has
successfully introduced
improvements, resulting in estimated
savings of a possible £24,000 per
annum directly resulting from his
STEP project, with a further £45,000
in the solution of major Health and
Safety issues.
far, as the competition was of a very
The STEP scheme matches the
high standard," adding modestly,
expertise acquired by
"There were a lot of equally valid
undergraduate and HND students
projects, I was just lucky."
with opportunities in the small
He received his prize from Lord
business sector, placing second-year
Dearing at the formal award ceremony.
students with small and mediumsized companies for a period of up
to eight weeks.
It is funded by
Shell UK Ltd, the
Department of
Trade and
Industry, with
local support
from
Government
Offices, Training
and Enterprise
Councils,
Business Links
and Local
Authorities.
Speaking of his
award, Mark
Thompson said:
WINNING WAYS: Mark Thompson (left) receiving his certificate and
"I was pleasantly
champagne from Kerst Hoost, a judge at the STEP regional finals.
surprised to get so
11
Business News
SCIENTIFIC
ACHIEVEMENT AND
BUSINESS ACUMEN
BRITISH scientists have a worldwide
reputation for excellence and now
university researchers are making
their mark on the world of
commerce.
Two teams from the University have
shown their skill in a national
competition to develop a product
from concept to the market.
Microbiology researchers have
masterminded "Envirogene" – DNA
libraries used to identify and produce
new enzymes for use in industry and
the home. And in the University's
Space Research Centre, "Beta 2000" is
an electronic imager for
autoradiography, based on a low
noise large area microchannel plate
detector originally developed for X-ray
Astronomy.
Both teams are through to Round II
of the Bioscience Business Plan
Competition set up by the
Biotechnology and Biological Sciences
Research Council (BBSRC) in
conjunction with the Medical
Research Council (MRC) to encourage
the commercialisation of research.
The contest is the first national
business plan competition in the
world devoted to biosciences. It is
being run with support from Glaxo
Bulletin
University of Leicester
November 1999
Wellcome and the Gatsby Charitable
Foundation who are contributing to
the educational aspects of the
competition.
In Round I, participants had to
provide a short summary of their idea
and of the business opportunity they
wish to build. They were able to
attend workshops to discuss key
strategic business issues with leading
figures from the biotechnology
industry.
Sixteen ideas, from an initial 59
entries, were awarded a place in
Round II with up to £4,000 to cover
the costs incurred in working up a full
business plan.
In addition, teams will have access
to a network of mentors – business
consultants, venture capitalists,
lawyers, technology transfer specialists
and patent agents. This mentoring
programme will complement entrants'
other business planning resources and
contacts to maximise the expertise
that goes into developing the business
plan.
The full business plans will be
judged upon clarity, quality of the
idea, quality of the management
team, the integrity and breadth of
intellectual property, benefits to
potential customers, market potential,
competitor analysis, finance strategy
and appropriateness of the action
plan. They have to be submitted by
January 7, 2000.
The most successful teams will then
be short-listed with the Competition
finals taking place in the spring.
The costs of participation are being
met by the competition sponsors with
the ultimate winners receiving a prize
of £20,000 and two runners-up each
receiving £10,000 to assist with
further development of their business.
"The BBSRC panel of judges
reported that all of the 16 entries
selected for the final round were
'cracking' ideas and viable
commercial propositions," said Dr
Sean Heaphy representing
Envirogene, whose colleagues include
Bill Grant, Susan Grant and Helen
Rees.
"The full business plan, even if it is
not the winner of the competition,
will be seen by venture capitalists and
business angels with the resources to
invest in the company and bring the
product on to the market," he said.
The commercial benefits from the
Space Research Centre team's work
are already apparent according to
Professor George Fraser who
submitted Beta 2000 with
departmental colleague, Dr John Lees.
"We have already built a prototype
of the imager and have been talking
to a number of companies about its
commercialisation. Colleagues in the
MRC Centre for Mechanisms in
Human Toxicology at Leicester have
licensed results obtained with our
detector to a major pharmaceutical
company," he said.
KNOWLEDGE-BASED COMPETITION
PROFESSOR Peter Jackson, Director
of the University's Management
Centre has spent the past four
months talking to managers about
the sources of competitive success
and the role of distance learning
education in helping them to learn
how to compete.
The seminars have been held in
North Wales, Leeds, Derby, Coventry
and London, where they have
introduced more than 500
managers to the distance learning
programmes offered by the
Management Centre.
Presentations were given to the
same seminars by Rdi (Resource
Development International), who
work closely with the Management
12
Centre in developing resource
centres around the world.
During 1999 Rdi obtained
funding from the DTI
International Secondment
Programme, which enabled
them to work alongside the
INEX Corporation and the
University of Maryland in the
USA.
This has enabled Rdi and the
Management Centre to access
state of the art IT supported
distance learning education
materials. The next generation
of programmes originating in
the Management Centre will
incorporate many of these
features.
PREPARATION FOR THE FUTURE: Steve Kingswell
(Rdi), Professor Jackson, and Brian Hadley (Rdi).
Bulletin
University of Leicester
November 1999
International Focus provides stories with an
international dimension. Any stories or ideas
should be sent to Jane Pearson, Press and
Publications Office, ext 2440, fax 2485, e-mail:
[email protected]
WELCOME TO
INTERNATIONAL
STUDENTS
Cecily Henry is a student of Brunel
University on work placement in the
Press and Publications Office.
Recently she met some of Leicester's
new international students at the
reception held by the Lord Mayor,
and discovered how they are
settling in.
MOVING out of home to go to
university can be seen as one of the
most nerve-wracking times of a
person's life.
Just imagine – the uncertainty of a
new environment, not knowing if
you are going to find the kind of
loyal friends you left behind in your
home town, and the apparent
unavailability of immediate support
from your family, all of which renders
you to feelings of doubt,
despondency and apprehension.
If the situation depicted above
seems traumatic enough, then think
about what international students
have to go through when deciding to
take up their studies in a new
country. Not only do they have to
leave their family and friends behind,
(with access to relatives not being
quite as easy as a coach or train ride
away – as it is for home students),
but certain language barriers may
hinder their integration. Unfamiliar
cultural practices and customs
familiar to those who already live in
this society may be confusing. Even
the fact that the British weather
system follows an inconsistent
pattern may be hard to grasp.
With ten per cent of the
University's student intake made up
of international students, the
University recognises the importance
of the rich cultural diversity they
bring to Leicester. It also recognises
the problems faced by international
students and to help ease them into
International Focus
their new
environment,
they are given
the chance to
take part in the
annual
orientation
course lasting
three days at
the start of the
autumn
semester.
People from
diverse cultures
and
backgrounds
International students packed the City Rooms in Leicester at the Lord
are registered on Mayor's reception.
this year's
success due to the positive feedback
programme, including people from
I've received from the students who
Botswana, France, Hong Kong,
enrolled on the course."
Ireland, and the USA. Many of the
Some students had already
orientation programme activities
experienced education within Britain
were of a factual nature and sought
and were therefore already familiar
to provide information on the types
with British student life. For example,
of support systems and services
one student from Hong Kong had
available to the students which they
studied Design in Kent before
are able to access through the
deciding to take up a degree in
University and other local companies.
Museum Studies in Leicester whilst
For example the students were
another student from Ghana had
introduced to the University's Library
just finished a college course in
and its system and were also shown
Cambridge.
the process of how to open a bank
Even if students were familiar with
account. If necessary, those whose
Britain and its customs already, all
first language is not English were
the students on the course were new
given assistance in this area also.
to Leicester and were therefore
Not everything involved a
greeted with a warm welcome to the
download of important information
city by the Lord Mayor of Leicester,
for students to take in. Events were
Councillor Phil Swift, at the City
also organised in the evenings at the
Rooms, within the city centre. "The
Students' Union Building. On one
Lord Mayor's welcome is an annual
particular night the students
event within the orientation
watched and marvelled at the
programme and is a good way to
graceful sights of Scottish dancing.
help students integrate into Leicester
The main aim of the orientation
by making them feel welcome,"
programme is to ease international
Rosemary Gibson explains.
students into the British student way
So we've seen how the University
of life. Rosemary Gibson,
caters for international students
International Student Welfare Officer,
when they arrive, but what actually
explains: "The orientation
prompts somebody from Africa,
programme has been running for
Asia, the USA and so forth, to come
over ten years. However up until
to Leicester in order to pursue a
three years ago the course ran for
higher education course?
either half or one day. The course
"I was informed of the University
aims to welcome international
of Leicester's excellent reputation as
students to the University, helping
an educational institution," said
them to integrate into their new
Thomas, a postgraduate from
environment and make new friends.
Indonesia.
I believe the programme was a
continued on next page
13
International Focus
WELCOME TO INTERNATIONAL STUDENTS
"I actually met a guy from
Leicester at my university back home
who told me that Leicester was a
great place to live," remarked Jo, an
Archaeological exchange student
from Ohio, USA.
"I heard Leicester was a
happening place to be!"
commented Adam from Ghana. One
student fell in love with a particular
part of Leicester's heritage; Valerie
an undergraduate from California,
was drawn to Leicester after finding
out about its '700 year old market
square...'.
Of course with any
major transition
there is always that
one thing people
tend to miss from
home. B J from
Bangkok said that
she missed her home
country's warm
weather, whilst
Raphael and
Guillaune, both from
France, found it hard
trying to adjust to
the British cuisine!
Bulletin
University of Leicester
November 1999
CONTINUED
INTEREST: Two international students satisfy their curiosity about
the Lord Mayor's regalia.
HOT SPRINGS AND TEXANS IN LAS VEGAS
Four geophysics students took part
in a seven-week adventure in the
United States as part of a CD-ROM
seismic project. Duncan Ansell
describes the international exercise
in which he took part with fellow
students, Lee Bailey, Helen Basford
and Chris Purcell.
THE Continental Dynamics – Rocky
Mountain project is a geological
and geophysical investigation with
the goal of understanding the
lithosphere of the North American
southwest. Our role was to
contribute to the collection of
seismic refraction data on a seismic
line which stretched for around
1000km, from New Mexico in the
south to southern Wyoming in the
north.
Many groups of people were
involved in the project, some from
the Geophysical Institute of the
University of Karlsruhe, Germany.
The largest group however, of
which we were a part, was from
the University of Texas at El Paso
(UTEP).
The first day saw the majority of
our team meeting early in the
morning at UTEP to load the
equipment onto the truck and into
our individual trucks and vans. After
much packing, repacking,
consultation and a lesson in how to
operate those ratchet things that tie
14
equipment down, the convoy began
record at the precise moment that a
to roll.
shot goes off (providing that the
The destination of the day and
shot goes off at the precise moment
our base for several days was Las
it was meant to).
Vegas, New Mexico. Billing itself as
All we had to do was carefully
the "original" Las Vegas, this small
deploy Texans at the correct receiver
town in central New Mexico had an
locations, marked out by wooden
uneasy time living up to its bigger
stakes and flagging, then collect
and slightly more spectacular
them in after they'd recorded the
Nevada brother. Nevertheless it
shots. Sounds easy?
managed to provide the crew with
After a month of cow
entertainment and sustenance for
confrontation the wooden marking
the four or so days that we were
stakes were often the worse for
there.
wear, so a large amount of time
Maybe now would be a good
was devoted to driving backwards
time to explain how the experiment
and forwards looking for often
was to work. In a way it was unlike
invisible stakes.
any before
because it was
to be the first
large-scale field
deployment of
the newly
designed Texans
(small
mysterious
cylindrical green
seismic
recording
machines). The
Texans are
digital recording
devices with very
accurate clocks
inbuilt so that
they can be
A HARD WORKER: Duncan Ansell digging a hole for a Texan,
programmed to
New Mexico.
Bulletin
University of Leicester
November 1999
International Focus
found ourselves
in the wide open
plains of wild
and desolate
southern
Wyoming, and as
if to prove it our
base was to be
the Bear Trap
Cabins in
As thanks for our hard work
Professor Randy Keller took us all
out for a meal – thanks Randy. The
outcome of the experiment is still
being worked on, although from
talking to Cathy Snellson, whose
PhD covers this project, it became
clear that timing errors had crept
into the data and sorting the
problem out may take some time.
TAKING A BATH: Fellow seismic project workers enjoying a
hot spring in New Mexico.
Other than this all went smoothly
apart from a 150-mile detour due
to lack of map reading
concentration, but the less said
about that the better. Chris and
Raquel got their van stuck in mud
and had to abandon it. Helen and
her partner Matt saw a herd of
buffalo (which made me jealous),
and their truck narrowly escaped
falling down a 5ft ditch (which
didn't). Little of note happened to
Lee and Mike and they proclaimed
themselves the best deployers in the
West. Retrieving the Texans after the
shots was far quicker than
deploying them, and all in all the
first deployment went well.
It appeared that Las Vegas, New
Mexico could hold us no longer,
fortunately it was time to move on
to pastures new. Eventually we
Riverside.
The
schedule for
the next few
days was
more or less
a rerun of the
first
Arlene Perez burying equipment under the huge skies of Wyoming.
deployment
and in our spare time we made use of
Finally we would like to express
the local Hot Springs (there had also
our appreciation to the John
been Hot Springs in Las Vegas). I sense
Whitaker Award Fund the University
a theme here, maybe the next seismic
of Leicester Geology Department
line will run through a series of
and to Professor Randy Keller at
vineyards or coincide with local beer
UTEP for their support. This handsfestivals. I was lucky enough to be one
of the few people who went to see the on experience has been of great
value, furthermore the enjoyment of
northernmost shot in a lake in a
the whole trip and the new friends
disused uranium mine; 6,000lb of
that we made whilst in America will
explosive in 50ft of water creates a
not be forgotten.
very spectacular water fountain.
Duncan Ansell
PORK PIES AND STILTON PROVIDE FOOD FOR THOUGHT
A TASTE of Stilton was high on the agenda when
Leicestershire hosted a group of visitors from cheese-rich
Holland.
Katya Bossaers, Jan Brugman and Fred Vogelzang are
officials in the Dutch Department of Culture who aim to
introduce degree courses modelled on those pioneered by
the Department of English Local History at the University.
During their visit they also met members of local history
societies at Melton Mowbray, where every month around
ninety people meet to talk about the town's past.
"No visit to Melton is complete without sampling pork
pies and Stilton", said Dr Graham Jones, of the
Department of English Local History. "Regional foods tell
the historian a lot about the character of the landscape
and its people."
"We're proud that the 'Leicester School' approach has
become internationally-known," said Dr Jones. "Earlier
this year we had a similar visit from Professor Renzo
Dionogi, vice-chancellor of the University of Insubria in
Italy.
"All across Europe, regions are rediscovering their
identities as the EU develops, and the University of
Leicester is a world-leader in teaching regional culture
and history."
15
International Focus
Bulletin
University of Leicester
November 1999
RADAR TO MONITOR WEATHER CONDITIONS IN SPACE
THE Japanese are known throughout
the world for their technical
expertise. So the Department of
Physics and Astronomy, took it as a
compliment when the
Communications Research
Laboratory from Japan asked them
for a scientific radar system for a site
in Alaska.
The new radar forms part of
SuperDARN, a range of systems to
the south and west of the magnetic
Ionospheric scatter observed by the Finland
CUTLASS radar over the Arctic.
North Pole and surrounding the
magnetic South Pole, the best
sites to monitor the energy
entering the Earth's atmosphere.
Their purpose is to measure the
interaction between the solar
wind and the Earth's ionosphere.
Dr Mark Lester, a member of
the Radio and Space Plasmas
Physics Research Group in the
Department of Physics and
Astronomy, explained the benefits
the radar systems bring. "We are
about to enter a period of
increasing solar activity – activity
emanating from the sun which
Dr Mark Lester with the equipment destined
affects the space surrounding Earth. for Japan.
This increase in activity, known as
drilling, as well as navigational and
solar maximum, occurs every eleven
communications satellites might
years and can disrupt equipment
be affected. This could cause
mounted in space as well as groundmajor power cuts, as it did in
www
based systems. Since the last solar
Quebec in March 1989.
maximum more and more
Satellites may be lost which
technology has come to rely on
could affect a range of man's activities
spacecraft and performance can be
from scientific research to the
disrupted or even lost as a result of
transmission of television across
this solar activity.
the world."
"For instance, power lines and oil
Out & About
IN-DEPTH STUDIES
FRIDAY 26 November sees the
opening of an exhibition of new
work by Beat Mundwiler who has
recently come to live in Leicester.
Appropriately enough, it will be held
in the Music recital room on the
tenth floor of the Charles Wilson
Building (Beat is also a cellist – as
well as a biologist).
Born in Zurich, he followed a
16
course in sculpture at the Art School
in Biel and Bern, Switzerland, he
shifted his interest to biology, gaining
a Master's degree from the University
of Bern in 1993. Subsequently he
worked for several years as a
zoologist in the fields of ethology and
behavioural ecology, partly on work
connected with animal welfare.
Painting meantime became a hobby.
Since moving to Leicester (where his
wife Sarah Kraak is a postdoctoral
student in the Department of
Biology) he has taken up painting
once more. All the work in the
exhibition has been completed
over the past three months.
Describing his philosophy of
art, Beat sees his painting not as
a picture of the outer world but
as a representation of an inner
process – one that starts in chaos
and ends, somehow, in a crystallic
state. He adds: "To reflect an
inner world by means of the
outer world is problematic; so too is
one's attempt to represent colours,
since colours can only be represented
by themselves." For this reason, he
considers colour to be a crucial aspect
of his paintings. Beat also feels that it
is not possible to represent a process in
time by an isolated painting. Choosing
a different medium like a 'happening',
installations or a film would be a more
complete representation. He looks
forward to leaving the field of pure
painting for three-dimensional work.
The exhibition will be officially
opened at 5.30 pm on Friday 26
November. Thereafter it can be viewed
by prior arrangement with the
University's Music Department. If you
would like an invitation, please contact
the Department on 0116 252 2781, email [email protected]
• One of Beat Mundwiler's paintings
is shown in Bulletin's centre-page
feature, Artstop.
Bulletin
University of Leicester
November 1999
LEADING
EDGE TOPIC
ORGANISED in part by members of
the University's School of Education,
a Conference, The Realm of the
Middle Manager in the Improvement
of School Practice, was held at the
University of Nottingham on 9 June.
With the objective of facilitating a
dialogue between theory and
practice, through presentations by
and discussions with people who are
working in different types of
educational institutions and arenas
within the sphere of school
education, the event attracted a
national audience.
One of a series of BERA National
events for 1999, the Conference was
promoted by the Special Interest
Groups (SIGs) in Leadership and
Management in Schools and Colleges
(co-ordinator Hugh Busher, from the
University of Leicester's School of
Education) and School Improvement
(co-ordinator Alma Harris, from the
University of Nottingham's School of
Education).
Howard Green from the Teacher
Training Agency began the day by
focusing on why subject leaders
were such important figures in
processes of improving schools and
the learning opportunities of pupils.
Lesley Saunders, head of the School
Improvement Research Centre at the
NFER, led a thought-provoking
debate in the afternoon about how
SEASON'S
GREETINGS
THE Departmental Staff Common
Room Association will be holding its
annual 'GetTogether' for
members at
lunchtime on
Tuesday 14
December.
Wine and
mince pies will
be available.
Out & About
one might
evaluate the
value-added
effectiveness of
subject
departments in
secondary
schools. Paul
Hammond
pointed out the
importance to
heads of
department of
the internet as a
means of sharing
ideas. He runs a
regularly-updated TEACHER TRAINING: No 2 University Road, part of the School of
Education.
website at
thought provoking. It led some to
www.hod.org.uk.
query who within a school might be
Discussing their research findings
considered middle managers, while
were Justin Dillon (King's College
others were led to reflect on issues
London), Des Rutherford
and relationships within their own
(Birmingham University), Derek Bell
institutions. Some said they became
(Hope University College, Liverpool),
more acutely aware of the current
Alma Harris (University of
range of issues being debated in this
Nottingham), Hugh Busher
topic. It also raised a number of
(University of Leicester), Glyn
questions about what else needed
Kirkham (Nottingham Trent
researching to elaborate current
University). Although papers mainly
understanding about the work and
focused on secondary schools, Derek
workings of middle managers as
Bell discussed the work of middle
leaders in the development of
managers/subject leaders in primary
teaching and learning in schools.
schools. It was interesting to notice
the similarities and correspondences
Dr Hugh Busher
between the work of subject coordinators in both types of schools.
Participants found the conference
A GLIMPSE INTO
THE AGE OF
RICHARD II
RICHARD II's reign saw artistic
innovation, royal propaganda and a
debate about the purpose of art. Those
attending a Saturday School at the
Department of Adult Education's
Vaughan College on 20 November
(10.00 am to 4.00 pm) will have a
chance to enjoy the art and explore the
issues of this creative and fascinating
period of history, guided by tutor
Miriam Gill.
• The fee, £17.00/£14.25/£11.75,
includes lunch and refreshments.
Phone 0116 251 7368 for booking
details.
17
ARTS AND ENT
IN THE
Artstop
LEG IT...
THEATRE ON CAMPUS
Leicester University Theatre will once again be entertaining the public with
their production of Jim Cartwright's Road (17, 18 and 19 November, 7.30 pm,
Attenborough Theatre). The play
revolves around a popular young
man's encounters during the course
of one night with other residents of
his road. Set in the 1980s it
portrays a surreal vision of the
urban landscape. The production
should provide an enthralling and
thought-provoking evening. Tickets
are available from the Students
Union Shop, the University
Bookshop and front of house,
normally situated outside the
IN COLOUR: Beat Mundwiler's paintings in
University exhibition (see page 16).
Queen's Hall.
Also this month
LUT are teaming up with RAG to produce a vibrant retelling of Aladdin. The two societies, plus some
'volunteers', are working hard to modernise the
original 1945 pantomime script, though there should
be room for the traditional cross dressing and the all
important panto-cow! In Queen's Hall on 29 and 30
November, this promises to be a hugely entertaining
show. Tickets are available from the RAG Office (all
proceeds going towards World Aids Day).
MUSIC HO!
MORE, PLE
Leicester's Haymarket The
adaptation of William Gol
Pilot Theatre Company on
and exhilarating', this dist
antidote, the Christmas m
December
and runs
until 5
February
2000. It's
hard to believe
that this sugary
confection 'set in
the vibrant and
colourful street of
Dickensian London',
changed the face of
English musicals when it
was first staged 40 years ago.
A
bo
del x o
igh f
ts
Variety is the keynote here. At De Montfort
Hall you can choose from the London
Community Gospel Choir on 30 November
and the Philharmonia Orchestra with
flamboyant conductor Carl Davis in An
Evening of Russian Favourites on 5 December.
Leicester Jazz House pays Homage to Duke Ellington
at the Y
Theatre on 6
December. At the
University there are
the Swingle Singers
at the Richard
Attenborough Centre
on 27 November and
the popular Emma
Kirkby singing the
music of John
Dowland at the Fraser
Noble Hall on 3
December.
18
....to N
Museu
Satellit
it in Fa
Novem
....to
where t
make t
visit t
before
The hig
Poulenc
this yea
in the r
Rigolet
16-20 N
TERTAINMENTS
REGION
ottingham's Castle
m and Art Gallery, where
tes of Fashion and Making
ashion are on display till 21
ber.
Birmingham's Hippodrome,
the Welsh National Opera
heir last
to the Hippodrome Theatre
major refurbishments next year.
ghlight is the new production of
c's The Carmelites, seen earlier
ar at the London Coliseum. Also
repertoire are Don Giovanni and
tto. The dates:
November.
EASE SIR
eatre season continues with a stage
ding's Lord of the Flies, presented by the
n 16 to 20 November. Described as 'terrifying
turbing tale is followed by the perfect
musical. Lionel Bart's Oliver opens on 3
Artstop
SOLO PERFORMANCES
VENETIAN-born Ennio Marchetto
brings his hilarious one-man
show to Northampton's
Derngate on 28 November.
Using his body, a soundtrack
and coloured paper, this master
of 'human origami' sends up
numerous cultural icons from
Mona Lisa to Madonna.
Antonio Venturino adds a
touch of commedia dell'arte to
Leicester's Haymarket
Theatre Studio in Dario Fo's
one-man show Mistero Buffo
between 30 November and 4
December.
DON'T FORGET
THE CHILDREN
How could we? So
Noddy comes to De
Montfort Hall on 811 December. ...And
at the Haymarket
Theatre, the Pippin
Club continues to
delight youngsters on
Saturdays. There they
can enjoy The Little
Mermaid on 20
November and The
House with a Tale to
Tell on 27 November.
19
Out & About
Bulletin
University of Leicester
November 1999
FIRST PERFORMANCE FOR LEICESTER
Anthony Pither, the University's Director of Music
spent a creative summer writing a horn concerto. He
tells the story of the concerto's development...
THE most challenging projects seem to come upon one
unawares.This happened just after a performance of my
recent piece, Pater Noster, a work scored for a chamber
ensemble of twelve players. Perhaps it was the fact that
the horn part was rather modest that prompted Roger
Swann to ask me to write him a concerto. Roger is
acknowledged as Leicester's No 1 horn player – what is
more, he seeks out performances of new music whenever
he can.
Maybe after attending the premiere of Oliver Knussen's
recent Horn Concerto, he decided to ask a Leicester
composer for a work of his own.
I agreed almost immediately and suddenly found myself
creatively employed during July this year. Less
straightforward was coming to terms with the notion that
my next piece would in some way gain inspiration from a
Beethoven piano sonata, his penultimate, in A flat major,
opus 110.
Back in 1992 I had constructed a string quartet out of
the Beethoven sonata immediately preceding opus 110 –
opus 109 in E major. There were drawbacks – at best
challenges – in taking this almost perverse decision: a
sonata is not easily transformed into a concerto, and, in
the early stages of composition, I seemed to be writing a
symphony (a genre which does relate to a sonata) rather
than a concerto. Then there was the problem of finding
orchestral
equivalents to
Beethoven's
piano textures,
epitomised by
the whirlwind
climax at the
end of his
sonata.
The concerto
is scored for the
orchestral
forces used by
Beethoven in
his piano
concertos:
double
woodwind with
plenty of solo
work, two
horns and
trumpets, and
strings. The
SOLOIST: Roger Swann.
20
timpani part includes the
use of a particularly small
instrument to reach notes
at the top of the bass clef.
Such is the magnetism
of Beethoven, for which I
can blame my classical
training, and my mother –
for having 78s of
Beethoven's Third Piano
COMPOSER: Anthony Pither.
Concerto in the house.
Hearing that music for the
first time was my moment of truth.
• Roger Swann and the Proteus Chamber Orchestra,
conducted by the composer, will give the premiere of
the horn concerto at a concert which will be held on
Saturday 20 November in the Fraser Noble Building as
part of the University's autumn music programme. For
details of how to book tickets for this concert, phone
the Department of Music on 0116 252 2781.
Bulletin
University of Leicester
November 1999
Feature
MEETING THE
CHALLENGE
HAVE you got what it takes? Could
you meet the challenge of navigating
a Voyage to Mars, making decisions in
space that could mean the difference
between life and death, solving a
problem with the air supply before it
runs out completely? Would your
communication skills withstand the
pressure of keeping eight teams on a
space station and in Mission Control
in touch with each other, or allow you
to explain a complex procedure to
avert the latest crisis?
That's exactly what schoolchildren
and corporate groups from around
the country have been finding out
right here in Leicester since the
National Space Science Centre's
Challenger Learning Centre opened its
doors for the first time in October.
Challenger is the National Space
Science Centre's flagship educational
facility and is the first part of the
Space Centre, Leicester's £46.5m
Landmark Millennium Project backed
by the University, to open in the city.
It is open 18 months ahead of the
original schedule, and for that period
of time will be based on Victoria Park
Road, behind Wyggeston and Queen
Elizabeth I College. Early in 2001 the
Learning Centre will be transferred to
the main Space Centre site at Abbey
Meadows in the north of the city.
The Challenger Learning Centre will
receive its official opening on 7
December, when David Blunkett MP,
Secretary of State for Education, will
be in Leicester to perform the official
opening duties. Astronaut Jeff
Hoffmann, who was photographed in
space with the National Space Science
Centre logo some time ago, will also
be present at the launch.
Challenger Learning Centres were
founded in America after the shuttle
disaster of 1986, as a living memorial
to the crew. The vision of the
Challenger Organisation was clear – to
continue the crew's educational
mission. There are now well over 30
Learning Centres in America and
Canada, where they have become a
proven educational tool. Now, after a
MISSION POSSIBLE: Children on a space adventure at the Challenger Centre.
decade of development in those
countries, education experts at the
University of Leicester have adapted
the existing programmes to conform
to the British National Curriculum,
especially for the National Space
Science Centre's Challenger Learning
Centre – the first Learning Centre
outside North America.
At Challenger, groups take part in
realistic simulations of space missions,
becoming scientists, engineers and
researchers based on a space station
or in mission control. The realistically
themed mission control and space
station areas, in reality next door to
each other within the Challenger
building, appear to be light-years away
from each other, as the crew is
"launched" into space via a specially
designed shuttle loading bay, complete
with realisitic audio launch sequence.
The mission uniforms, communications
headsets and electronic workstations
ensure students become completely
immersed in the mission, as the teams
analyse planetary samples, solve
problems, locate stars and comets,
scan computer databases, manoeuvre
robots and construct space probes
with the aim of successfully
completing their mission. Maybe they
need to select a landing site on a
distant moon or planet for establishing
a permanent base, or launch a probe
to rendezvous with a comet. Whatever
the mission, it's guaranteed not to be
plain sailing, as surprises and
emergencies are encountered along
the way.
Each mission lasts around two
hours and is led by two of the Space
Centre's specially trained Flight
Directors. The Flight Directors are all
experienced teachers, and it is they
who guide the team through the
mission, briefing the crew prior to
the mission's start, helping younger
children to solve problems and
throwing extra problems into the
mission for more able students. Two
mission scenarios are run at the
Leicester Learning Centre, each aimed
at groups of different ages. The
youngest groups Rendezvous with a
Comet, whilst older children are off
to man a space station on Mars in
2070.
The missions' main target is 9-14
year olds in key stages two and three,
but the Voyage to Mars mission is
also already being successfully run in
Leicester for older students and for
groups of adults.
By the time we finally count in the
New Millennium Year, more than
2000 people in schools groups,
corporate missions and even birthday
parties, will already have had the
Challenger Experience and thousands
more will benefit from the Centre
across the city, county and country in
the future.
Further information about the
Challenger Learning Centre is
available from the National Space
Science Centre on 0116 253 0811.
Jo Higgins
National Space Science Centre
21
Student Pages
by Max McLoughlin, Student Development Officer
A CLEAR IMAGE
"CLUTTERED", "confused" and
"difficult to reproduce". These were
some of the more
polite responses
the Students'
Union
received
when we
asked what
students and
staff thought of our
logo. The best thing about the logo
was that most people did not realise
that it was the Students' Union logo!
We deduced from this that we were
shielded to some extent from
negative interpretations.
The results of this investigation
made it clear that we should replace
this image with something that
symbolised the positive values
of the Union, promoting a
consistent message of
all the Union activities
in contact with
students, staff or
those outside the
University.
The task of devising a new
logo was given to the Marketing
Committee, which comprised of an
elected group of students coordinated by Lena Topping
OPEN AFTERNOONS AT THE STUDENT
EMPLOYMENT CENTRE
WITH the appointment of a
permanent member of staff in the
Students' Union Student
Employment Centre (SEC), the
Centre has high aspirations for the
future. Gemma Smith, who brings
with her experience from a similar
environment at Coventry University,
is aiming to make the SEC the first
point of call, not only Leicesterbased businesses, but also
University departments.
Around 2,000 students, looking
for part time work during term
time and the vacations, are
registered with the SEC. Many
people on the database have
existing experience in a wide range
of areas and the Centre is in a
position to match the jobs
advertised to
candidates.
The SEC has five
year's experience
placing students
within the University
as well as with companies such as
Next, Alliance and Leicester,
Debenhams and the Jarvis Grand
Hotel. With employment often the
only way for many students to
'make ends meet', it is increasingly
possible to help find reliable part22
time help
for
employers.
The Centre
intends to
build its
client base
through
local
business
networking ALL SET TO MATCH JOBS TO
events, pro- CANDIDATES: Gemma Smith.
active
marketing, sponsorship initiatives
and by offering a consistently high
standard of service that is completely
free of charge.
To promote the SEC and illustrate
exactly how it can help with
staffing requirements,
we are holding two
open afternoons on
17 and 18 November,
between 4 pm – 5.30
pm for University
heads of department
and members of staff involved
with recruitment. For further
information please contact Gemma
Smith on 0116 252 1151. The SEC is
open daily between 10 am and 4
pm, and is located on the ground
floor of the Students' Union building.
Bulletin
University of Leicester
November 1999
(Ex Vice President for Communication),
and Chris Walters, Marketing Officer.
The final version of the new logo is
shown below left.
The logo is clean, crisp and easily
identifiable. It is easier to use than the
old logo and can be reproduced in a
variety of sizes without a loss of
quality. And finally, from a marketing
point of view, this symbol, as a visual
representation of the Students' Union,
will help to communicate a consistent
message about the Union and all of its
services to everyone who comes into
contact with us. Together with the
Union staff who offer a very good
level of service in a wide range of
areas, this logo will help to positively
promote all aspects of the Students'
Union.
LEICESTER LAW
STUDENTS ON
THE CASE
THE Leicester University Student Law
Society Careers Fair in the Charles
Wilson Sports Hall on 9 November
1999, promises to be the most
successful fair ever hosted by the
University.
The exhibitors include a selection of
the largest and most successful law
firms in London as well as the crème
de la crème of the regional firms. The
requests for invitations by top firms
surpassed the Society's expectations
and undoubtedly reflect their interest
in Leicester graduates.
It will be the first legal careers fair
to be held by a university during the
1999/2000 academic year, and, for
the first time ever, it will be open to
all.
Although a number of other
universities host a similar event
where it is normal for staff to be
involved, at Leicester the Student
Law Society has planned the Fair. The
level of interest attracted suggests
that this Careers Fair will set a
precedent for the years to come and
help to build on the University's
position as one of the top law
faculties in the country.
Student Pages
Bulletin
University of Leicester
November 1999
LUSHFM LIVE IN LEICESTER!
On 1 November, the University's
very own radio station went out
on FM all across the city. Adam
Mitchenall, LUSHFM Station
controller, gives a brief
introduction to the
station...
IT hardly seems like
three years since
the University's
student radio first
graced the
airwaves. Since our
first FM licence in
November 1997, we
have moved from College
Hall to the top of the Percy Gee
building into a new office and
studio, and we are still growing,
with the arrival of a new FM
transmitter of our own, plus an
audio editing station.
We broadcast twice a year on FM –
the first licence commencing on 1
November, and the second around
March time next year. Promotions are
already under way. A LUSH Mega and
Reagans will be coming soon, as
well as some events to be held in
the halls of residence, and a trip
into the city in the LUSH bus,
where we will spread the word
of our radio station.
As for 1 November, you'll be
able to hear us on 106.6 FM,
with a wide range of features and
competitions together with favourite
chart tunes during the daytime, and
in the evening there will be specialist
music shows playing the Beatles to
Bhangra – so make sure you're
SOUNDS GREAT: Adam Mitchenall, LUSHFM
listening!
Station controller.
ORGANISED CHAOS OR
ANOTHER DAY IN THE
UNION?
THE Students' Union Societies Freshers' Fair was bigger
and bolder than ever before this year, with almost 100
societies vying for the attention of new first-years and
returning students to Leicester. Taking place in the
Students' Union's Queen's Hall on the first Monday and
Tuesday of term, the fair provided the most hectic two
days that the Union will see all year.
Whether you see it as a fine example of organised
chaos, the linchpin of Students' Union life, or just a
nightmare, there is no denying the buzz and excitement.
Notable successes of the week came from Contact SCA,
who used the Millennium Volunteer status to great
effect, signing up a staggering 200 students. The
Debating Society scored highly in the stakes for
potential members with such debates as Sex versus
Chocolate. The long-established LUT (Leicester University
Theatre) signed up a record 250 members and newlyestablished societies, including The United Nations
Society and the Welsh Society got off to a solid start.The
Law Society's membership numbers rose to 627!
A change of location for the sports clubs from the
ever-so-sporty Sports Hall to the not-so-sporty Union
Venue did not help. All but football scored fewer
memberships than last year. Not disheartened by the
drop in membership, the Sports Executive hopes to
improve membership next year.
Max McLoughlin
23
Graduate Relations
GRADUATE SAILS TO SUCCESS!
A UNIVERSITY of Leicester graduate, Catherine Josling,
has been awarded two prestigious prizes:
• The British Commission Prize for Undergraduate
Achievement in Maritime History, a national prize
awarded by the British Commission for Maritime
History, and
• The H J Dyos Prize, an internal prize awarded by the
Faculty of the Social Sciences.
The two prizes were awarded to mark Catherine's
attainment of excellence for her dissertation, entitled
Southampton Docks 1892-1950. The Influence of the
Ocean Passenger Liner Trade.
Catherine is the only person ever from Leicester to have
won this British Commission Prize. She shares the H J
Dyos Prize with Paul Wright who graduated this summer
in Economic and Social History.
Bulletin
University of Leicester
November 1999
Catherine explained that the
inspiration for her dissertation topic
stemmed from her Southampton
origins.
On being awarded the two prizes,
Catherine said, "I feel extremely elated.
It shows all my hard work has paid
off."
Her dissertation supervisor, David
Catherine Josling.
Williams, commented, "I'm delighted
that Catherine has received these awards. She has done
exceptionally well to achieve both internal and external and
national recognition."
Catherine graduated in the summer in Geography with
Economic and Social History and is now taking part in a
graduate scheme, working at Sunlife Insurance Company in
Edinburgh.
Cecily Henry
MORE IN STORE FOR LEICESTER GRADUATE
IN THE BEST SEATS
LEICESTER graduates who have gone
on to become successful politicians
manage to keep actively involved
with the University despite heavy
work schedules.
In June of this year the Rt Hon
Michael Jack returned to the
campus to visit his old Department,
Economics, and, on 1 July, Mrs
Linda Perham MP sponsored a
graduate reception at the Palace of
Westminster.
Pic: Graham Turner.
WENDY Kneale is HMV's brightest star and manager of one of its biggest
stores. An English graduate, Wendy was bound for an M & S training
scheme when she realised the St Michael label didn't suit her. Instead, she
was drawn to HMV, which, in just 18 months, trained her and gave her a
store to manage in Cambridge. Rapid promotion took her to Bromley, then
to Dublin, to manage the Grafton Street store.
"I loved Ireland, but it was tough. The Irish way of working is very
different, very laid-back. But I learned a lot about team working from them
and their knowledge of music is amazing." In the end, however, the
opportunity to manage HMV's Trocadero store in London's West End was
irresistible.
HMV, which has 100 stores in the UK and 200 more around the world,
recruits 24 graduates a year with the aim of putting them in charge of a
store within 24 months. Wendy admits she'll be looking for another move in
the next six months, but there's enough at HMV to hold her interest.
Reproduced by kind permission of The Guardian.
RECORD PROGRESSION: Wendy Kneale.
MP Factfile
Mr Bruce J Grocott MP
BA Social Sciences (Politics) 1962
Labour MP for Telford since 1997
Rt Hon Mr Michael Jack MP
BA Social Sciences (Economics)
1967
Conservative MP for Fylde since
1987
OPEN HOUSE: Mrs Linda Perham MP, sponsor, with
Dr Ken Edwards.
24
Mrs Linda Perham MP
BA Classics 1969
Labour MP for Ilford North since
1997
Mr Philip Sawford MP
BA Applied Sociology 1985
Labour MP for Kettering since
1997
Dr Betty Boothroyd MP
Honorary Doctor of Laws 1993
Speaker of the House of Commons
since 1992
Mr Michael J Foster MP LLM Law &
Employment Relations 1993
Labour MP for Hastings and Rye
since 1997
Bulletin
University of Leicester
November 1999
WHAT THE
PAPERS SAY
Hundreds of cuttings pour into the
University's Press Office from
around the world chronicling the
activities of staff and students.
Cecily Henry, on work experience
with the Press Office, reviews a
selection of newspaper cuttings
from recent weeks.
WITH the Millennium just around the
corner, many people are wondering
just what Y2K and beyond will bring.
World peace? Technological
advancements? Increased crime?
The idea of world peace seems
idealistic, but science and technology
will almost certainly play a part in
shaping the new Millennium, and
unfortunately, as with this century, it
is likely that crime statistics will
continue to rise in the next century.
Many technological breakthroughs
aiming both to solve and tackle
crime, including the 1988 discovery
of DNA – first discovered at this
University by Professor Sir Alec
Jeffreys – have been praised.
Professor Sir Alec Jeffreys' findings
resulted in the prosecution of Robert
Melias on two counts of rape. Today
cuttings (the latest arriving here from
the Houston Chronicle, 12
September) bear out the fact that
this technique has been adopted the
world over to discover whether
someone is guilty or innocent of a
particular crime.
The Independent (18 October),
examines Lawless and Immoral:
Policing a County Town by Brian
Davies. Published by Leicester
Cuttings
University Press (a partnership
between the University and Cassells
Publishers), the book highlights the
suggestion that petty crime was
better dealt with in the Victorian era
than it is today.
Using police reports produced in a
small Lincolnshire village
constabulary, the book also casts
doubt over the popular idea of
teenage rebellion having its origins
within this century. The rebellious
attitudes of the young have a much
older history than it first seems. What
is different though is the fact that
modern technology is enabling
young rebels to take their deviant
acts to a different level. The
traditional acts of deviancy, harmless
for the most part, remain for the
majority of rebellious youth.
However, many are now turning to
less traditional and more dangerous
means (such as joy riding and the use
of fire arms) to fulfil their rebellious
desires. Teenage rebellion is no
longer a harmless phase as it was in
yesteryear.
The fact that criminals are now also
reaping the benefits of technological
advance does not stop at youth
crime. There is now fear that terrorist
organisations will undertake more
sophisticated and lethal means of
attack than they currently use –
biological or chemical weaponry. The
threat of terrorists using weapons of
mass destruction is so serious that
President Clinton has invested nearly
$3 billion in preparation for a
possible biological or chemical attack
on at least one US City in the next
five years.
Before we resort to global moral
panic we should weigh up all the
LUP (Leicester University Press)
The University is one of the very few in Britain to
contribute to scholarship and the advancement of
knowledge by supporting a University Press. The
University controls the editorial quality of the Press's
output through the Editorial Advisory Committee.
Cassells, which owns LUP, is responsible for
production, publicity, sales and distribution. The
Press has published since 1951. It has developed
special, though not exclusive, interests in certain
subjects: history, archaeology, politics, international relations, museum studies,
and law.
• Enquiries to: Cassell plc (0171 420 5555, email: [email protected]).
evidence and the realities of the use
of such lethal weaponry. As reported
in The Times (18 October), Andrew
Silke, a lecturer in Forensic
Psychology within the University, has
questioned the idea of a vast number
of terrorists using weapons of mass
destruction in order to strike fear into
their victims. These types of weapons
are too expensive for the majority of
terrorist groups to produce and also
require highly skilled scientists to
undertake these projects.
One terrorist group renowned for
its use of weapons of mass
destruction, Aum, has shown that
many of its past attempts at using
these weapons in an attack have
failed. Most of the time they either
killed no-one, or group members
themselves were killed. The other part
to this reality is that these types of
'glitches' are likely to be improved as
terrorists improve their techniques
and other groups are likely to follow
suit.
Making a 'quick getaway' from
crime now to the subject of cars, the
latest trend in prejudicial thinking.
Just as we think one form of
discrimination is being effectively
tackled by new laws, a new prejudice
seems to develop. According to a
recent study conducted by Graham
Davies, a Professor of Psychology
within the University, people have
stereotyped views of cars dependent
on their make, colour, and owner. If a
young or middle-aged male who
drove a fairly high-powered car
(maybe red or black in colour), got
into an accident with another vehicle
of an older make and whose driver
was older, then the young/middleaged male driver is more likely to be
blamed for the accident. (Evening
Standard, 29 September and
Cambridge Evening News, 30
September).
It doesn't seem as though
discrimination or crime will stop
raising their ugly heads anytime
soon, but who knows, maybe
somewhere within the new
Millennium alongside the search for
further technological advance there
may well be an invention to eradicate
all forms of discriminative thought
and criminal activity. Only then may
the idea of world peace have the
chance to be put into practice.
25
Books
THE EXPLOITATION OF PLANT
RESOURCES IN ANCIENT
AFRICA
Edited by Dr Marijke Van der Veen
(School of Archaeological Studies)
New York, Kluwer Academic/
Plenum Publishers, July 1999
£64.75 (hardback)
Available from the Bookshop
ISBN 0 306 46109 9 (hardback)
This book brings together the most
recent evidence for the exploitation
Bulletin
University of Leicester
November 1999
of plant resources in ancient Africa.
It presents case studies from the
West African Sahel, Ethiopia,
Uganda, Egypt and Sudan, which
range in date from 8000 BP to the
present day. The volume addresses
topics such as the role of wild plant
resources in hunter-gatherer and
farming communities, the origins of
agriculture, the agricultural
foundation of complex societies,
long-distance trade and exchange of
food and crops, and the human
impact on local vegetation – all key
issues of current research in
archaeology, anthropology,
agronomy, ecology and economic
history.
Early publications concerned with
the origins of African plant
domestication relied almost
exclusively on inferences made from
the modern distribution of the wild
progenitors of African cultivators;
there existed virtually no
archaeological data at that time.
Even as recently as the early 1990s
direct evidence for the transition to
farming and the relative roles of
indigenous versus Near Eastern crops
was lacking for most of Africa. This
has now changed; the present
WHAT IS PSYCHOLOGY?
Dr Andrew M Colman (Department of Psychology)
Routledge (third edition), £30.00 (hardback), £9.99
(paperback)
Available from the Bookshop
ISBN 0 415 16901 1 (hardback), ISBN 0 415 16902 X
(paperback)
This is the latest edition of a book that has remained in
steady demand for many years.
A clear and lively introduction to psychology, it is
illustrated throughout with cartoons by Angela Chorley,
Graphics Unit Manager at the University of Leicester.
This book assumes no prior knowledge of the subject,
and is aimed at a wide readership audience of intending
students of psychology, including A-level students and
people considering to study psychology at university. It
has also been used in adult education classes and as
background reading for first-year students studying at
university or college. Furthermore, even though this book
is sometimes hard to grasp as it tends to present less
popularized version of psychology, it also finds a market
among general readers.
Earlier editions were very favourably reviewed. This third
edition is not only updated but also considerably
improved, with almost every chapter rewritten. Examples
26
volume presents lots of exciting new
evidence through a wide range of
case studies.
All the evidence is very recent and
for the first time all this
archaeobotanical evidence is brought
together in one volume. While the
volume does not pretend to be
comprehensive in its coverage of the
entire continent- the evidence is still
patchy for that – it does bring most
archaeobotanical data from Africa
collected over the last five to ten
years.
These data were collected as part
of current and recently completed
international and interdisciplinary
research projects, and all articles
include extensive bibliographies
referring to previously published
work.
Consisting of 20 chapters written
by scholars from eight different
countries, the book is the result of a
conference held in Leicester in 1997.
The publication was facilitated by
a grant from the University of
Leicester Research Fund.
• Dr Van der Veen is a Lecturer in
Archaeology at the University of
Leicester.
throughout illustrate
fundamental ideas,
with a self-assessment
quiz focusing readers'
minds on a number of
intriguing
psychological
problems. The
differences between
psychology, psychiatry
and psychoanalysis are
explained, and
professions and
careers associated with
psychology are
explored. The
bibliographic
references have been
substantially extended
and updated, and suggestions for further reading and
useful Internet sites are included.
• Dr Colman is a Reader in Psychology at the University
of Leicester. His previous publications include the
Companion Encyclopaedia of Psychology (1994).
Books
Bulletin
University of Leicester
November 1999
The Rise of The Fiscal State in Europe c.1200-1815
Edited by Professor Richard Bonney (Department of
History)
Oxford University Press, June 1999, £65.00 (hardback)
Available from the Bookshop
ISBN 0 19 820402 7 (hardback)
In this volume, an international team of scholars builds up
a comprehensive analysis of the fiscal history of Europe
over six centuries. It forms a fundamental starting point
for an understanding of the distinctiveness of the
emerging European states, and highlights the issue of
fiscal power as an
essential
prerequisite for
the development
of the modern
state.
This study
underlines the
importance of
technical
developments by
the state, its
capacity to
innovate, and,
however imperfect
the techniques,
the greater detail
and sophistication
of accounting
COUNSELLING SKILLS IN SOCIAL
WORK PRACTICE
Janet Seden
Open University Press, August
1999, £40.00 (hardback), £12.99
(paperback)
Available from the Bookshop
ISBN 0 335 19969 0 (hardback), ISBN 0
335 19968 2 (paperback)
• Is there a place for counselling
skills in modern social work?
• If so, how can such skills be
employed in practice?
This is a no-nonsense guide to the
application of counselling skills to
social work practice. It is written
from the author's first-hand
experience of working in the field
and teaching counselling skills to
social work students. The book is
packed full of useful hints and tips
for trainees and busy practitioners,
and illustrated throughout with
examples of good practice.
practice towards the end period. New taxes had been
developed, new wealth had been tapped, new
mechanisms of enforcement had been established. In
general, these developments were made in western
Europe; the lack of progress in some fiscal systems,
especially those in eastern Europe, is an issue of historical
importance in its own right and lends particular
significance to the chapters on Poland and Russia. By the
eighteenth century, 'mountains of debt' and high debtrevenue had become the norm in western Europe, yet in
the east only Russia was able to adapt to the western
model by 1815. The capacity of governments to borrow,
and the interaction of the constraints on borrowing and
the power to tax had become the real test of the fiscal
powers of the 'modern state' by the 1800-15.
Britain emerged as the sole economic superpower at the
end of the Napoleonic wars. The British combination of
sophisticated credit structures and its capacity for
sustaining fiscal increases over time, both in political and
in economic terms, was at the time unique; but elements
of the modern 'fiscal state' were present in the fiscal
systems of other countries, though in a less developed
form. Subsequently, Britain was displaced as an economic
superpower and other states learned how to develop as
truly modern 'fiscal states'.
• The book is a companion volume to Economics
Systems and State Finance, edited by Richard Bonney
and published by Oxford University Press and
European Science Foundation in 1995.
The examples are drawn from reallife situations in a range of local
authority, criminal justice and
voluntary sector agencies, and have
been reworked and rewritten for the
book. They include work with adults,
children and families and
demonstrate the practical use of the
various counselling skills described.
The author argues that relationships
remain the heart of good social work
practice and that interpersonal
transactions are highly significant in
creating and maintaining an
effective outcome.
Counselling Skills in Social Work
Practice is recommended to all social
work students and qualified social
care professionals seeking to
improve their practice.
• Janet Seden is a Lecturer in
Health and Social Welfare at the
Open University and is also a
sessional counselling tutor at the
University's Vaughan College.
She qualified as a probation
officer, worked in social services,
and lectured at the University of
Leicester before joining the Open
University. She is a practising
counsellor, trainer and supervisor.
27
Books
Bulletin
University of Leicester
November 1999
ALTON TOWERS – A GOTHIC WONDERLAND
Father Michael J Fisher
Published by M J Fisher, May 1999, £14.95 (paperback)
Available from the Bookshop
ISBN 0 9526855 2 3 (paperback)
Alton Towers is known to millions as the picturesque
backdrop to one of Europe's most popular theme-parks.
Yet the story of this great house has lain hidden in archive
repositories and picture collections – until now.
Michael Fisher brings to life the amazing history of Alton
Towers from its
origin as a mere
hunting lodge to
its completion as
the largest
privately-owned
house in Europe,
crammed with
costly furniture
and works of art.
Researched from
original sources,
the text is
illustrated with
nineteenthcentury drawings
and photographs
of this 'Gothic
Wonderland'
created by the
15th and 16th
Earls of
Shrewsbury.
A key figure to
completion of Alton
Towers was the great
architect and designer A
W N Pugin, who worked
for the 16th Earl from
1837 to 1852. The
extraordinary relationship
between Earl and
architect is explored
through their
correspondence; yet
CLEAR PICTURE: Historian Michael J
another original feature of Fisher.
this book which explores
the achievements and limitations of Pugin as a domestic
architect.
• Father Michael Fisher is a History graduate of the
University of Leicester and former research scholar at
the University of Keele. He is currently based at the
twelfth-century church of St Chad, Stafford, and has
written several other books on historical and
architectural themes relating to the Staffordshire,
including Dieulacres Abbey (1989) and A Vision of
Splendour (1995).
LET THE BULLETIN COVER YOUR BOOKS!
The Bulletin welcomes news of recently-published books written
or edited by the University staff. The book cover, together with
any other relevant details, should be sent to Barbara Whiteman,
Press & Publications Office (2676, [email protected]).
People
APPOINTMENT
Professor Rob Stammers, B.Sc.,
Ph.D., C.Psychol., F.B.Ps.S., F.Erg.S.,
Professor of Occupational
Psychology, from 1 October 1999.
Rob Stammers comes to Leicester
from Aston University where he was
a Reader in the Psychology Institute.
His undergraduate and postgraduate
education was at the University of
Hull. He joins the Centre for Applied
Psychology with a brief to set up
postgraduate courses and research in
Occupational Psychology.
His research specialities are
Occupational Training and
Ergonomics. In Ergonomics, which is
the study of human interaction with
28
technology, his main interests are in
large scale systems. He is currently
involved in a European project on
the training of Ergonomists. In
training, his research has focused on
task analysis and factors that
influence simulator effectiveness.
With the continued concerns over
the shaping of technology to fit
human capabilities, Professor
Stammers is keen to build up
contacts with those concerned with
the design and implementation of
new systems. The objective of such
work is to maximise the potential
for producing systems that are
compatible with the user's physical
and psychological characteristics.
People
Bulletin
University of Leicester
November 1999
RETIREMENTS
TRIBUTES TO
INTERNATIONAL IMPACT OF
LEICESTER GEOLOGISTS
THREE senior members of the
Department of Geology, Professor
John Hudson, Professor Aftab Khan
and Dr Allan Mills, retired on 30
September after a total of almost 100
years of service. All three are wellknown figures in the University.
John Hudson has been Head of
Department and has led a wide range
of research activities, from global
climate issues to Jurassic fossils to the
hazards of radon gas. He has also
acted as departmental Teaching
Director, and is perhaps particularly
linked with the development of
undergraduate field courses in Arran
and the Alps.
Aftab Khan, who twice served as
Head of Department, and also as
Dean of the Faculty of Science and as
Public Orator, brought the subject of
Geophysics to the University both as
a research field and a degree course.
Aftab's major research has been in
seeking to use geophysics to
understand the structure and origin
of the East African Rift Valley, where
he was the instigator of a major
international programme (the Kenya
Rift International Seismic Project,
KRISP). His international connections
have also led to the setting up of
field courses for undergraduates in
the Troodos complex, Cyprus.
Allan Mills, who held a joint
appointment between the Geology
and Physics and Astronomy
Departments, is renowned for his
demonstration lectures and for his
research and teaching on planetary
geology and the measurement of
time. He also designed the
Astronomical Clock on the Rattray
Lecture Theatre and the sundials on
the front of the Bennett Building.
A series of celebratory events was
organised by the Department and its
Alumni Society (LGAS) on 17-18
September. A symposium
emphasising the international
influence and impact of the retirees'
research was held in the Bennett
Building on Friday 17 September,
with speakers
including close
research
associates and
former research
students. Some of
the talks were
heavily scientific,
others lightly
anecdotal, but
most were a
mixture of both.
Among the
presenters were
Professors of
CLOCKING UP 100 YEARS OF SERVICE: (left to right) Professor John
Geology from
Hudson, Professor Aftab Khan and Dr Allan Mills.
other UK
and also on the Saturday morning,
departments, company directors,
when the Department of Geology
astronomer Heather Couper and
was opened to visitors. This proved
broadcaster Nigel Henblest.
to be a very relaxing and enjoyable
On the Friday evening a retirement
occasion, and also resulted in the
dinner attended by nearly 120
recruitment of a number of new
friends and colleagues was held in
members to the Alumni Society.
the Charles Wilson Building, with
LGAS, with full support from all of
presentations to each of the retirees
the
retirees, has used this occasion
and their wives. The retirement
to
launch
an Alumni Research Fund
speeches presented by the three
to
support
postgraduate research in
were admirably characteristic. Allan
the
Department
of Geology. The
Mills gave a short and erudite
long-term
aim
is
to be able to
demonstration lecture, John Hudson
finance
a
research
studentship from
spoke on his heartfelt view of the
this
money.
importance of education, and Aftab
As to the three gentlemen
Khan presented a witty speech on
themselves,
they will undoubtedly
the joys of his career, of his
continue
to
pursue
their research as
experiences in education and of
if
little
has
changed,
proving the old
retirement.
adage
that
'old
academics
never die,
Alumni and friends had the
they
just
move
into
smaller
rooms'.
opportunity to talk to the retirees
and to each other during the evening
Professor Richard J Aldridge
OBITUARY
The University has learnt, with regret, of the death of the following
graduate:
THE VERY REV R WISE
The Very Rev Randolph Wise, Dean Emeritus of Peterborough, died on 8
September 1999. A respected Anglican priest, he was a student in the
Department of English Local History from 1992, graduating with an MA
degree in 1994.
After wartime Royal Navy duties, he trained for the Ministry at Queen's
College Oxford, completing his training at Lincoln Theological College. His
career commenced with a curacy in Walworth, and included serving as vicar
of Stocksbridge and Rector of Notting Hill. He was Dean of Peterborough
from 1981 to 1992.
During his retirement at Oakham, he was chairman of Oakham School
governors, and acted as Vicar of Oakham for a year without taking a fee. He
is survived by his wife and four daughters.
29
People
Bulletin
University of Leicester
November 1999
FAMILIAR WITH TIMES TABLES
MEMBERS and graduates of the University of Leicester
featured prominently in the recent Sunday Times Power
List 1999. Graduate Carol Galley headed the rankings with
three entries. At 25th in the main list of the top 100 most
powerful people in Britain, she was one of only seven
women included. Co-head of Mercury Asset Management,
Carol was placed 7th in the Top Twenty in Finance. She
was given the honorary degree of Doctor of Laws by the
University in 1997.
Dr Tom McKillop, one of the University's Pro-Chancellors,
was ranked 50th most powerful person in Britain. Dr
McKillop is Chief Executive of chemicals giant AstraZeneca,
Britain's fifth largest company. In the Science and
Technology ratings he was in second place, only losing out
to Professor Sir Robert May, the government's chief
scientific adviser.
Professor Liam Donaldson was 78th in the top 100 list.
Now Britain's chief medical officer, he gained a PhD in
Community Health at Leicester in 1983. He was Lecturer
and Senior Lecturer in Epidemiology between 1978 and
1986. Professor Donaldson was also placed 6th among the
Top Twenty in Medicine.
Recent honorary graduates were also prominent,
including Sir Richard Sykes, Chairman of Glaxo Wellcome,
28th overall, and
in first place as
the most powerful
man in Medicine.
Dr Philip
Campbell, Editor
of Nature, and Sir
Harold Kroto
made the Science
and Technology
top twenty. Sir
Donald Irvine,
President of the
General Medical
Council, was in
the Medical List,
and Tony O'Reilly,
AHEAD: Carol Galley.
formerly of Heinz
but now Chairman
of Independent Newspapers, described as 'the richest man
in Ireland', was included in the Media top twenty.
Notices
SCIENCE FUTURES – A
SERIES OF SCIENTIFIC
EVENTS
Sponsored by the Royal Society
Millennium Commission
NOVEMBER:
Blade Runner – the film (followed
by a discussion) (tickets £4)
Sunday 21 November, 6.00 pm
Leicester Phoenix Arts Theatre
Killers in the Mind
by Nancy Rothwell
Monday 22 November, 7.30 pm
Leicester New Walk Museum
Professor Nancy Rothwell is Professor
of Psychiatry at Manchester University,
investigating the relationship between
the brain and the body's response to
disease.
DECEMBER:
Lucifer's Legacy: What's the
Matter with Matter?
by Frank Close
Tuesday 7 December, 7.30 pm
Leicester New Walk Museum
NEW WALK MUSEUM: Leicester's first public
museum, opened in 1849, is the venue for
two forthcoming Science Futures events.
30
Professor Frank Close, now at CERN
(The European Laboratory for Particle
Physics) is the author of The Cosmic
Onion and gave the 1993 Royal
Institution Christmas Lectures.
• Admission is by ticket –
available free unless indicated
from: Jean Collins, Space
Research Centre, University of
Leicester (telephone 0116 252
2675, fax 0116 252 2464, or
email
[email protected],
or at the door.
On the Sunday following each
lecture, there will be 'Tea at
the Phoenix' – an informal
discussion hosted by the BAAS.
These discussions are a chance
to reflect on the substance of
the previous lecture, an
opportunity to put views and
comments, whilst enjoying a
glass of wine or a cup of tea.
The discussion session is free.
Refreshments will be on sale.
Everyone is welcome.
Notices
Bulletin
University of Leicester
November 1999
UNIVERSITY
SUPERANNUATION
SCHEME
For the attention of USS
members:
A copy of the USS Report and
Accounts for the year ended 31
March 1999 is now available for
inspection in the Superannuation
Office.
A copy of the Members' Annual
Report (previously called the
Trustee's Annual Report), which
incorporates the basic details,
will be sent to all USS members
within the next few weeks.
ADVERTISE IN THE BULLETIN FREE OF CHARGE!
FREE ADVERTISING
Space permitting, Bulletin will in future publish small advertisements FREE OF CHARGE. Simply
complete the form below and return it to Pat Bone, Press & Publications Office (email:
[email protected], 0116 252 2415) by the closing date for the preferred issue. Bulletin will make
every effort to publish all advertisements received by the deadline, but cannot guarantee their
inclusion.
PAID ADVERTISING
Small adverts (up to 30 words) are GUARANTEED a space at the following rates:
House sales and lettings: £5.00 / Other sales and services: £2.00
Prices for display adverts are available from Chris Walters on ext 1150.
Tick box for type of advertisement:
PROPERTY ❏
SOCIAL
❏
WANTED
❏
CARS/BIKES ❏
SERVICES
❏
HOUSEHOLD ITEMS ❏
MISCELLANEOUS
❏
A.O.B.
Your advertisement: (maximum 30 words)
A member of the University has written to
say that he found last month's A.O.B.
offensive. Bulletin regrets any offence that
may have been caused.
..........................................................................................................................................................
DEATH NOTICES
Information about the death of a
member of the University's staff
or a student (past or present)
should be given to Vivienne Paul,
the Registrar's Secretary, who will
ensure that the details are
disseminated throughout the
University via CWIS. Her telephone
number is 0116 252 2411.
UNIVERSITY OF LEICESTER
CHARITIES APPEAL
This year's RAG Week is from 1 to 7
November. The aim is to raise as
much money as possible for local and
national charities. In 1998, RAG Week
raised in excess of £5,000. A number
of high-profile events will take place
in and around the main campus of
the University. Events include:
Wednesday November 3
Three Legged Pub Crawl, starting at
7.00 pm and 7.30 pm (three routes
around the city). This event raised in
excess of £3,000 last year and the aim
is to beat that sum this year.
Thursday November 4
Comedy Evening, 9.00 pm, Elements
Bar, University of Leicester Students'
Union.
..........................................................................................................................................................
..........................................................................................................................................................
(for information only):
Name and department:
..........................................................................................................................................................
Daytime telephone number:
Evening telephone number:
..........................................................................
......................................................................
• The Editor reserves the right to refuse or edit advertisements.
Friday November 5
(evening) Firewalk in the
main site car park.
Saturday November 6
Collection in Dublin for the World
Wildlife Fund.
• The Rag Office - on 0116
223 1153 - will be pleased
to supply full details of this
year's events.
KEEP BULLETIN ON TARGET
University sections are requested to inform the Press and Publications Office (0116 252 2415)
of any change in the number of Bulletin copies required. Please remember to include in any
revised total the appropriate number of copies for clerical/technical staff.
31
Small Ads
Bulletin
University of Leicester
November 1999
LEICESTER INTERVARSITY CLUB
Leicester IVC is an informal club whose members organise a wide range of
activities including speakers, meals, walks, badminton, cinema, and theatre
trips. For more information contact Jan on 0116 273 5306.
HOUSE SHARE
Professional wanted to share fully-furnished house with two others. N/S
preferred. All mod cons and c/h. Off Uppingham Road, near to local shops and
regular bus routes into city centre. £180 pcm + bills Contact: Pramod Morjaria
on 0116 276 4405 (home), 0116 251 6688 (work).
ROOM TO LET
ANSTEY HOUSE
Room to let in large house,
sharing with two others.
Situated in Anstey Lane, 10
minutes from City Centre, bus
stop right outside house.
£200 pcm all inclusive.
Contact 0116 299 7907.
Room to let in lovely
Anstey house; with
own living room and
bathroom. N/S
preferred.
Please phone
0116 235 9498.
Dates for Your Diary
INAUGURAL LECTURES
5.30 pm Lecture Theatre 1, New
Building
Tuesday November 16
Escape from Childhood Emotional
Trauma. Professor P Vostanis, Psychiatry.
Tuesday November 23
Blood Coagulation: From Patients to
Proteins and Back.
Professor K Pasi, Pathology.
Tuesday November 30
Keeping Eye-Strings from Breaking and
Cracking.
Professor I Gottlob, Ophthalmology.
Tuesday December 7
Title to be advised. Professor C Pollock,
Engineering.
NOVEMBER
Tuesday November 9
University of Leicester Chaplaincy: Food for
Thought. Lunch and discussion led by Jan
Chown, Glen Parva Prison. The Gatehouse.
12.30 pm.
Tuesday November 9
Lunchtime Soundbites: Guthlaxton Big Band
play standards, Jazz/Rock fusions. 12.45 –
1.45 pm. Richard Attenborough Centre.
Sandwiches, soup and refreshments on sale
from 12.15 pm.
Tuesday November 9
The Leicester Early Modern Seminar: Religious
War and Constitutional Defence:
Justifications of Resistance in English Puritan
Thought, 1603-45. Glen Burgess, University
of Hull. 5.30 pm. History of Art Slide Room.
Everyone welcome. Refreshments will be
served.
Tuesday November 9
British Association – Science Futures. A series
of scientific events sponsored by the Royal
Society Millennium Commission: The
Astrophysics and Cosmology of the 21st
Century. Malcolm Longair. 7.30 pm. Fraser
Noble Building. Admission by ticket available
free from: Jean Collins, Space Research
Centre. Tel: 0116 252 2675, or at the door.
32
Wednesday November 10
Evening Concert: The Lindsays play Beethoven.
7.30 pm. Fraser Noble Building, London Road.
For more information contact the Music
Department on 0116 252 2781.
Thursday November 18
Lunchtime Soundbites: African drumming
from the Gambia. 12.45 – 1.45 pm. Richard
Attenborough Centre. Sandwiches, soup
and refreshments on sale from 12.15 pm.
Thursday November 11
Lunchtime Soundbites: Severn, an acoustic
pop band, playing their own definitive brand
of upbeat pop music. 12.45 – 1.45 pm.
Richard Attenborough Centre. Sandwiches,
soup and refreshments on sale from 12.15 pm.
Thursday November 18
Department of English Local History
Seminar: The Sibthorps of Canwick Hall,
Lincoln, and their estates in four counties,
c.1716-1940. Dr Dennis Mills, Open
University. 2.15 – 4.00 pm. Seminar Room,
Marc Fitch House, 5 Salisbury Road. Please
notify Mrs Pauline Whitmore on 0116 252
2762 if you would like to attend, as there
may be limits on numbers.
Tuesday November 16
Lunchtime Soundbites: Tea for Three! Robert
Calow (clarinet), David Calow (flute), and
Marguerite Beatson (piano) with an
assortment of trios and solos and many
favourites. 12.45 – 1.45 pm. Richard
Attenborough Centre. Sandwiches, soup and
refreshments on sale from 12.15 pm.
Wednesday November 17
Department of Economic and Social History:
Lunch Time 'Brown Bag' Seminar Programme.
Nationalism and National Identity:The
Ordinary People's Response to a State
Ideology. Stavros Bozos. 12.30 pm.
Attenborough 802B. All welcome. Offers to
lead discussion or organise a session during
the Spring Term will be gladly received. Please
contact Huw Bowen Ext 2883, email
[email protected]
Wednesday November 17
University of Leicester Chaplaincy: Staff Lunch.
12.30 pm. The Gatehouse.
Wednesday November 17
Lunchtime Concert: Dana Morgan (flute),
Antony Clare (piano). Copland, Rhene Baton, J
S Bach, Roussel, Jolivet. 12.45 pm. Music
Room, 10th Floor, Charles Wilson Building.
Admission free.
Wednesday November 17
Sociology Department Seminar: Doctoral
Students' Presentations. PhD showcase,
Sociology, University of Leicester. 3.00 pm.
Room 707, Attenborough Tower. Further
information from Dr Virinder S Kalra on 0116
252 5357.
Friday November 19
Centre for Urban History Lecture: The
Twentieth-century Seaside: Themes and
Approaches. John Walton, Central
Lancashire University. 2.15 pm. Seminar
Room, 108 Regent Road. All welcome.
Saturday November 20
Evening Concert: The Blessed Damozel.
University Singers and Proteus Chamber
Orchestra. Debussy, Tallis, Pither, Debussy,
Franck. 7.30 pm. Fraser Noble Building,
London Road. For more information contact
the Music Department on 0116 252 2781.
Sunday November 21
British Association – Science Futures. A
series of scientific events sponsored by the
Royal Society Millennium Commission: Blade
Runner – the film (£4.00) followed by a
discussion. 6.00 pm. Leicester Phoenix Arts
Theatre. Admission by ticket available from:
Jean Collins, Space Research Centre.
Tel: 0116 252 2675, or at the door.
Monday November 22
British Association – Science Futures. A
series of scientific events sponsored by the
Royal Society Millennium Commission:
Killers in the Mind. Nancy Rothwell. 7.30
pm. Leicester New Walk Museum.
Admission by ticket available free from: Jean
Collins, Space Research Centre.
Tel: 0116 252 2675, or at the door.
Bulletin
University of Leicester
November 1999
Tuesday November 23
Lunchtime Soundbites: John Brindle sings
acoustic folk/blues/roots country music.
12.45 – 1.45 pm. Richard Attenborough
Centre. Sandwiches, soup and refreshments
on sale from 12.15 pm.
Tuesday November 23
The Leicester Early Modern Seminar: The
Peerage and Politics, December 1648 – May
1649. Edward Beesley, Rugby School. 5.30
pm. History of Art Slide Room. Everyone
welcome. Refreshments will be served.
Wednesday November 24
Lunchtime Concert: Lucy Willmot (violin),
Lydia Clatworthy (piano). Elgar, Poulenc,
Smetana. 12.45 pm. Music Room, 10th
Floor, Charles Wilson Building. Admission
free.
Thursday November 25
Lunchtime Soundbites: Joyful music for
brass from Leicester Grammar School. 12.45
– 1.45 pm. Richard Attenborough Centre.
Sandwiches, soup and refreshments on sale
from 12.15 pm.
Friday November 26
Centre for Urban History Lecture: Property
Owning Elites in two County Towns. Janet
Smith (CUH). 2.15 pm. Seminar Room, 108
Regent Road. All Welcome.
Saturday November 27
Evening Concert: University Wind Band.
Stuart Johnson, Alun Hoddinott, Colin
Touchin, Alfred Reed, Richard Wagner and
Paul Hart. 7.30 pm. Fraser Noble Building,
London Road. For more information contact
the Music Department on 0116 252 2781.
Saturday November 27
Evening Concert: The Swingle Singers. 7.30
pm. Richard Attenborough Centre.
Tickets: £12/£11/£7.50. For further
information contact 0116 252 2455.
Sunday November 28
Evening Concert: University Sinfonia.
Including Haydn's Cello Concerto in D
major. Sebastian Mellett, cello. 7.30 pm.
Fraser Noble Building, London Road. For
more information contact the Music
Department on 0116 252 2781.
Monday November 29
Joint Lecture – Stanley Burton Centre and
Department of Archaeology: The
Archaeology of the Holocaust: Excavation
at Belzec. Robin O'Neill. 4.45 pm. Lecture
Theatre 3, New Building. Open to the public
and free.
Tuesday November 30
Lunchtime Soundbites: Ad Lib, Clarinet Duo,
Kate Luxmoore and Rosalind Hawley, of Live
Music Now, present a miscellany of music.
12.45 – 1.45 pm. Richard Attenborough
Centre. Sandwiches, soup and refreshments
on sale from 12.15 pm.
DECEMBER
Wednesday December 1
Department of Economic and Social History:
Lunch Time 'Brown Bag' Seminar
Programme. Economic Development in
Early Modern Europe. Peter Musgrave.
12.30 pm. Attenborough 802B.
Wednesday December 1
Lunchtime Concert: James Walker (piano).
Schubert, Sibelius, Delius, Elgar, Tom
Walker. 12.45 pm. Music Room, 10th Floor,
Charles Wilson Building. Admission free.
Wednesday December 1
Evening Concert: The Lindsays play
Beethoven. 7.30 pm. Fraser Noble Building,
London Road. For more information contact
the Music Department on 0116 252 2781.
Wednesday December 1
University of Leicester Chaplaincy:
Ecumenical Bible Study. The Gatehouse.
8.00 pm.
Thursday December 2
Lunchtime Soundbites: Jazz Foundation
Course students in performance. 12.45 –
1.45 pm. Richard Attenborough Centre.
Sandwiches, soup and refreshments on sale
from 12.15 pm.
Thursday December 2
The Geographical Association (Leicester
Branch) joint with the Department of
Geography Meeting (Joint with the Royal
Geographical Society – with the IBG): Under
the Dragon: The Crisis of Tibetan Identity in
the New Millennium. Mr Adrian Abbots
FRGS. 7.30 pm. Bennett Building. Nonmembers welcome. Branch enquiries
(evenings): 0116 221 7207, 01664 565147.
Friday December 3
Evening Concert: The Consort of Musicke.
Emma Kirkby and Anthony Rooley.
7.30 pm. Fraser Noble Building, London
Road. For more information contact the
Music Department on 0116 252 2781.
Saturday December 4
Evening Concert: University Orchestral
Society. Mendelssohn, Richard Strauss and
Shostakovich. 7.30 pm. Fraser Noble
Building, London Road. For more
information contact the Music Department
on 0116 252 2781.
Monday 6 – Friday 10 December
University of Leicester Chaplaincy: Fanfare
for a New Generation.
Tuesday December 7
Lunchtime Soundbites: Umoja Gospel Choir
sing African spirituals a cappella. 12.45 –
1.45 pm. Richard Attenborough Centre.
Sandwiches, soup and refreshments on sale
from 12.15 pm.
Tuesday December 7
The Leicester Early Modern Seminar: John
Milton's Theology of Violence and the
Puritan Revolution. John Coffey. 5.30 pm.
History of Art Slide Room. Everyone
welcome. Refreshments will be served.
A More Comprehensive List of
Events is Available on CWIS
SALAD DAYS
Sunday November 28
University of Leicester Chaplaincy:
Ecumenical worship followed by Gatehouse
Gathering. 6.45 pm.
Dates for Your Diary
33
Sport
Bulletin
University of Leicester
November 1999
REFLECTED GLORY
DO you remember the days when
Portsmouth F C were Football League
Division One champions, when
Pompey stars Jack Froggatt and
Jimmy Dickinson played for
England, and when entry to
a football ground cost 2s
and programmes were
3d? When Preston
North End, Blackpool,
Burnley, Grimsby, and
Wolverhampton Wanderers
were in the First Division? When
legendary managers like Stan Cullis
(Wolves), Matt Busby (Manchester
United), and Matt Gillies (Leicester
City) were in charge? If you do, then
you won't put Brenda Bullock's
book, Reflected Glory, down until
you have read the last page.
Brenda Bullock is a
University of Leicester
graduate (BA French, 1962)
and a life-long football fan,
and her story is a fifty-year
slice of social history. She
brings remarkable insight to a
nostalgic account of the sport in the
50s and of its changing character
since then.
In an age when workingclass girls were expected
to be more interested in
dolls and knitting than
football, Brenda had
difficulty getting
permission to attend
matches. Even then she
remained an outsider in a male
world, going in through the boys'
entrance, and standing on windy and
wet open terraces where there were
no ladies' loos.
Her account is also a loving history
of Wolverhampton Wanderers from
the glory days of
the 1950s when
Wolves won just
about everything,
and a match
versus West
Bromwich Albion
could attract
PERSONAL VIEW:
55,000 spectators
Author Brenda Bullock.
to Molyneux.
Wolves were the
first club to install
floodlights,
enabling them to play
friendly matches against
glamorous foreign clubs
like
Honved from Hungary,
and Spartak and Dynamo
from Moscow. Brenda's
teenage dream was to
marry captain Billy Wright –
dashed when he married
Joy of the Beverley Sisters
in 1958. She subsequently
chose to study at the
University of Leicester
because Derek Hogg was
playing for City – but sadly
he was transferred to West
Brom before she arrived.
Vignettes abound – the
squalor of the mens' loos –
'worse than any brick privy
Brenda Bullock's book is published by
in any back yard at the
Brewin Books, and costs £8.95 (paperback,
turn of the century',
ISBN 1 85858 145 1).
stewed tea and mugs of
34
Bovril from ramshackle refreshment
counters. Supporters wielded bell
and rattle – the only weapons likely
to inflict violence upon neighbouring
spectators, and collected players'
autographs. These were the days of
the W formation when defenders
defended and attackers attacked,
when substitutes were not allowed.
And did you know that the first
cantilever stand was built in
Scunthorpe?
After the 50s the scene began to
change rapidly. With the sixties came
Carnaby Street, the Beatles and the
pill. Football saw all-round inflation:
the abolition of the maximum wage,
massive sponsorship, £million
transfers, replica strip, hooliganism,
Hillsborough and all-seater stadiums
with better facilities. Football
became more a middle-class game,
and players and managers became
media stars with private lives to
match. Eventually the First Division
became the Carling Premiership, with
blanket television coverage. New
grounds were built with names like
the Reebok Stadium, and marketing
off the field became as important as
events on the pitch. Football began
to lose touch with its roots. Things
would never be the same again.
David Johnson
7
8
10
11
Crossword
Bulletin
University of Leicester
November 1999
12
13
15
16
18
20
21
22
24
25
26
28
PRIZE CROSSWORD 38
by Seivador
FOUR PRIZES: First correct entry from draw – a three–course lunch for two in the Carvery, donated by the University of
Leicester Catering Services, second correct entry – a £15 book token, donated by the University of Leicester Bookshop, third
correct entry – a bottle of wine, courtesy of the Bulletin, fourth correct entry – £5 book token, courtesy of the Bulletin.
Entries (in a sealed envelope, clearly marked) to
PRIZE CROSSWORD COMPETITION, PRESS & PUBLICATIONS
OFFICE, FIELDING JOHNSON BUILDING BY NO LATER THAN
NOON ON MONDAY 15 NOVEMBER.
1
2
3
4
7
8
NAME:
--------------------------------------------------------------------
DEPT:
--------------------------------------------------------------------
EXT. NO:
9
10
11
--------------------------------------------------------------------
12
15
Winners of Prize Crossword 37:
Lunch for two in the Carvery, donated by the University of
Leicester Catering Services – Martin Pennington, Careers
Service; £15 book token, donated by the University
Bookshop – John Hayes, University Electrician; a bottle of
wine, courtesy of the Bulletin – Margaret Shear, School of
Education; £5 book token, courtesy of the Bulletin – Jack
Sansom, Safety Office.
6
5
16
19
17
13
14
18
20
21
22
23
24
Clues Across
1.
7.
8.
10.
11.
12.
15.
17.
18.
19.
21.
22.
24.
25.
26.
'Links' is sea-coast playing (10)
Say Victoria Wodehouse to friends (4)
When is activity down 50% _ 35 years? (4-4)
Material burned in anger (7)
Heretic bishop: imprisonment is comprehended by God (7)
Broken piece is tough (5)
How, heartlessly, German's addressed: 'Miss the mark?' (3)
It is back to the old tax (5)
A serial we hear from yesteryear (3)
Cast lay outside, with reserve (5)
Unprofessional fellow taking gold about to run (7)
HG vehicle is for stopping at dentist's (7)
Woman's ending unstressed (8)
Out East, mouse isn't right for this wrestling! (4)
Can mere pen's production be of lasting quality? (10)
Clues Down
1.
2.
3.
4.
5.
6.
9.
12.
13.
14.
16.
20.
23.
25
Hero Damon is in the top honours (8)
Secluded, and so artily disposed (8)
A strike in city brings disaster (8)
Adolescent participant in private enterprise (4)
Mention day of prize-giving (6)
Garden centre runs to rye, perhaps (7)
Eg William for Spooner nursed fame (5, 4)
Calming tones aid reconstruction (8)
Well, description of heretic receiving setback (8)
The German divinity before and behind (8)
Shape of tick turning up in untidy shrub (7)
Move clumsily and look into election returns (6)
A long way off from a loaf: a roll (4)
26
PRIZE CROSSWORD 37 SOLUTION
Across: 1 Life insurance. 7 Chrome. 9 Utopia.
11 Ayer. 12 Aviate. 14 Etui. 15 Die. 16 Dawn.
17 Man. 18 Apse. 20 Demon. 21 Hie. 22 Sue.
23 Garlic. 24 Cat's-paw. 27 Cha. 28 Assegai.
29 Latin-American.
Down: 1 Lackadaisical. 2 Fervid. 3 Inmate.
4 Rut. 5 Nap. 6 Evasive action. 8 Eye. 9 Urban.
10 Open-air. 13 Aide. 16 Dan. 17 Moss.
19 Pelagic. 20 Decant. 21 Hawser. 23 Gas.
25 Torn. 26 Palm.
• Seivador sometimes takes liberties with
punctuation, capital letters and the like.
35
Photostop
AUTUMN
LEAVES
Snapshot
'Autumn has
caught us in our
summer wear'
THIS line from Philip
Larkin's poem captures the
essence of these pictures of
the University's grounds, on
and off campus. The
University's estate includes
the picturesque Harold
Martin Botanic Garden, the
Attenborough Arboretum
and fine Halls of Residence,
set in expansive gardens.
• Philip Larkin was
Assistant Librarian at
Leicester from 1946-50.
36
Name: Mr Anthony Munday
Title: Print Finisher in the Reprographic
Department
About Yourself: I've worked in the
Reprographic Department for four years.
I recently completed my modern
apprenticeship in print finishing at
Leicester College, which lasted three
years and was a day release scheme. At
an awards evening, I received the
Senator Rose Bowl, sponsored by Senator
Print Finishers, for the highest
achievement in print finishing, along
with a cheque for £50. Print finishing is
part of the production process of
magazines such as the Bulletin.
Outside work I enjoy all sorts of sports
and music.
What is the one change you would like to see to make Leicester a
better place?
I'd like to see more car parking spaces on campus for employees.