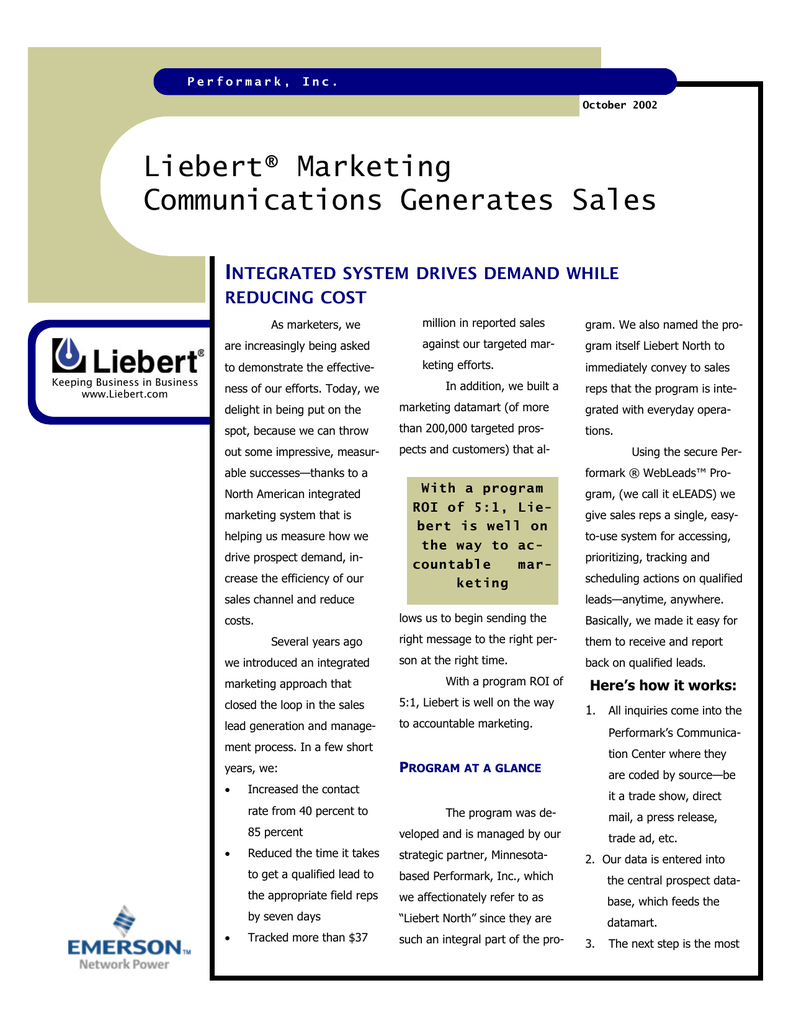 Performark,
Inc.
October 2002
Liebert® Marketing
Communications Generates Sales
INTEGRATED
SYSTEM DRIVES DEMAND WHILE
REDUCING COST
million in reported sales
gram. We also named the pro-
are increasingly being asked
against our targeted mar-
gram itself Liebert North to
to demonstrate the effective-
keting efforts.
immediately convey to sales
As marketers, we
Keeping Business in Business
www.Liebert.com
ness of our efforts. Today, we
In addition, we built a
reps that the program is inte-
delight in being put on the
marketing datamart (of more
grated with everyday opera-
spot, because we can throw
than 200,000 targeted pros-
tions.
out some impressive, measur-
pects and customers) that al-
able successes—thanks to a
North American integrated
marketing system that is
helping us measure how we
drive prospect demand, increase the efficiency of our
formark ® WebLeads™ Pro-
With a program
ROI of 5:1, Liebert is well on
the way to accountable
marketing
sales channel and reduce
costs.
Several years ago
we introduced an integrated
marketing approach that
Using the secure Pergram, (we call it eLEADS) we
give sales reps a single, easyto-use system for accessing,
prioritizing, tracking and
scheduling actions on qualified
leads—anytime, anywhere.
lows us to begin sending the
Basically, we made it easy for
right message to the right per-
them to receive and report
son at the right time.
back on qualified leads.
With a program ROI of
closed the loop in the sales
5:1, Liebert is well on the way
lead generation and manage-
to accountable marketing.
Here's how it works:
1. All inquiries come into the
Performark's Communica-
ment process. In a few short
years, we:
•
•
are coded by source—be
Increased the contact
rate from 40 percent to
•
tion Center where they
PROGRAM AT A GLANCE
it a trade show, direct
The program was de-
mail, a press release,
85 percent
veloped and is managed by our
Reduced the time it takes
strategic partner, Minnesota-
to get a qualified lead to
based Performark, Inc., which
the central prospect data-
the appropriate field reps
we affectionately refer to as
base, which feeds the
by seven days
"Liebert North" since they are
datamart.
Tracked more than $37
such an integral part of the pro-
trade ad, etc.
2. Our data is entered into
3.
The next step is the most
Page 2
critical one: Per-
Traditional Inquiries
Telequalification
formark qualifies
Web Inquiries
Web Qualification
LIEBERT MARKETING COMMUNICATIONS GENERATES SALES
the leads via
phone before
Inquiry Screened
Based on Product,
Budget, &
Timeframe,
sending them on
to our sales
Qualified
Future Potential
Prospects =
Nurture
force. Qualification information
is gathered and
stored in the
datamart. On
Disqualified
Fulfillment of
Literature
Lead Assignment to
Territory Product
Rep
Future Follow-up
average, 20 percent of leads are
Assigned Rep Records
Results & Next Action in
Web Leads
deemed qualified
Result of
Sales Call
Sale
enough to be
sent to a sales
rep.
4.
No Sale
Assigned Rep Can
Provide Lead Quality
Feedback
ROI Reports Generated
from Prospect Database
All Data Captured &
Integrated into Marketing
Datamart
A personalized
fulfillment package is compiled
and mailed by
5.
Performark to inquiries
quote, presentation, trial
based on their need.
evaluations, sale or lost
Each hour, the We-
sale. If sale the value of
bLeads™ system auto-
the sale is recorded.
matically notifies sales
to provide a future email
have a new lead. An em-
alert of a required follow-up
bedded link allows the
activity.
•
7.
Authorized sales and mar-
Identify the lead closure
rate by individual rep or
territory
8.
Using updated data from
the Performark database,
we're able to target promotions to specific prospects in support of the
sales effort.
the contact and qualifica-
keting associates can ac-
tion information.
cess numerous activity and
Within the past six months we
When a sales rep re-
sales reports online directly
have developed a new
ceives an eLEAD the sys-
from the system. These
method of auto-qualifying
tem allows the rep sev-
reports allow for:
prospects from various pages
eral easy to use options:
•
Request the eLEAD system
reps via email if they
rep to connect directly to
6.
•
•
•
Tracking of unit and/or dol-
on the internet (our own site,
Email the lead to another
lar sales from leads gener-
marketing sites, etc.). Now,
rep or reseller
ated
anyone wishing to request
Tracking the effectiveness
more information or respond
into one of many cate-
of various media used to
to a marketing offer from
gory options such as
generate sales leads
select web pages could be
Update the lead status
•
LIEBERT MARKETING COMMUNICATIONS GENERATES SALES
Page 3
qualified, fulfilled, entered
leads which are accurate, active
programs into the sales force
into the database and distrib-
and timely. To do this effec-
requires training and support.
uted to the field – with mini-
tively requires a consistent proc-
The field reps need to know
mal human intervention. Ba-
ess, but also a highly trained
what to expect, what to do
sically the same process is
telemarketing staff on both
and be provided with a con-
Page 3with
followed
product and basic applications.
sistent process that allows
eliminating the phone calls
At "Liebert North" Performark
them to act and report
from Performark's Communi-
maintains a trained team of
quickly, efficiently and easily.
cation Center. Currently over
product and application knowl-
Integrated marketing. Our
50% of our inquiries register
edgeable associates who use a
ability to track, measure and
via the web, which allows us
jointly developed call guide to
analyze numerous marketing
to qualify more prospects and
initiate a conversation with a
activities is greatly simplified
send out more leads at a
prospect, not just read a script.
by centralizing these often-
much lower cost.
Only fully qualified leads are
disjointed activities—
sent on to the sales reps.
regardless of business unit.
WHY THIS PROGRAM IS
Direct distribution. In the
Our Liebert North central
SUCCESSFUL
past, we didn't determine which
hub manages inbound 800
individual rep should receive a
services, outbound calling,
Senior-level commitment
specific lead. We sent leads to
email marketing, sales lead
in both sales and market-
regional or office managers and
management, media effec-
the exception of
ing. Top management
actively supports the pro-
Program Success Factors:
tiveness, fulfillment, datamart development and utili-
gram. The program is a 1. Senior-level commitment in
zation, and lead qualifica-
joint effort by sales and
tion. By consolidating these
both sales and marketing
2. Sales representative input
into the design
efforts we're able to ana-
gram.
3. Qualified leads
ing efforts as needed. For
Sales representative
4. Direct distribution
example, we learned that
input into the design.
5. Field relationships & support we get the highest quality
marketing versus a marketing only driven pro-
We talked with our sales
reps to find out what
6. Integrated marketing
lyze and refine our market-
leads and highest conversion rates from our Web
they wanted in a system be-
crossed our fingers that the
site, so we're shifting addi-
fore developing it. Their key
leads would get distributed. To-
tional attention and dollars to
requirements were: Make it
day, the Performark WebLeads
that tactical tool.
easy; Make it electronic; and
system automatically emails
give me timely leads. We did
qualified leads directly to the
all three.
individual sales representative
Qualified leads. It is criti-
based on product technology
cally important to have a pro-
and location.
gram that filters the leads
Field relationships & sup-
and only sends to the reps
port. Implementing sales lead
Page 4
LIEBERT MARKETING COMMUNICATIONS GENERATES SALES
GLOSSARY
Contact rate
The percentage of leads that are contacted by a sales rep
Conversion rate
The percentage of leads that are converted into sales
CRM
A business strategy to create and manage more valuable customer
relationships using database technologies to provide detailed information about each customer. True CRM requires a customer-driven
approach to all aspects of your business, including service, sales
and marketing, product development and organizational structure.
ROI
Return on investment. Often shown as a ratio = net sales:cost of
the program.
Dave Crago is Marketing Manager of Liebert Corp., a part of Emerson Network Power. Liebert designs, manufactures and distributes control and power-protection systems in more
than 100 countries. For more information on Liebert's North American lead management
program, contact Dave Crago at [email protected] or 614.841.5798.
Liebert is a registered trademark of Liebert Corporation. The Emerson logo is a trademark and service mark of
Emerson Electrical Company.
Performark, Inc (aka Liebert North)
Performark, Inc. is a proven specialist in sales lead management. They develop customized prospect and customer relationship management (CRM) programs to help business–
to–business companies measurably improve their marketing efforts and increase sales.
The company, based in Minneapolis, Minnesota, offers comprehensive sales, marketing
and relationship solutions. For more information, call 800.888.2014 or go to www.
performark.com.
Performark is a registered trademark of Performark, Inc.
WebLeads is a trademark of Performark, Inc. eLEADS is a Performark-approved noun used exclusively by
Liebert, Inc.