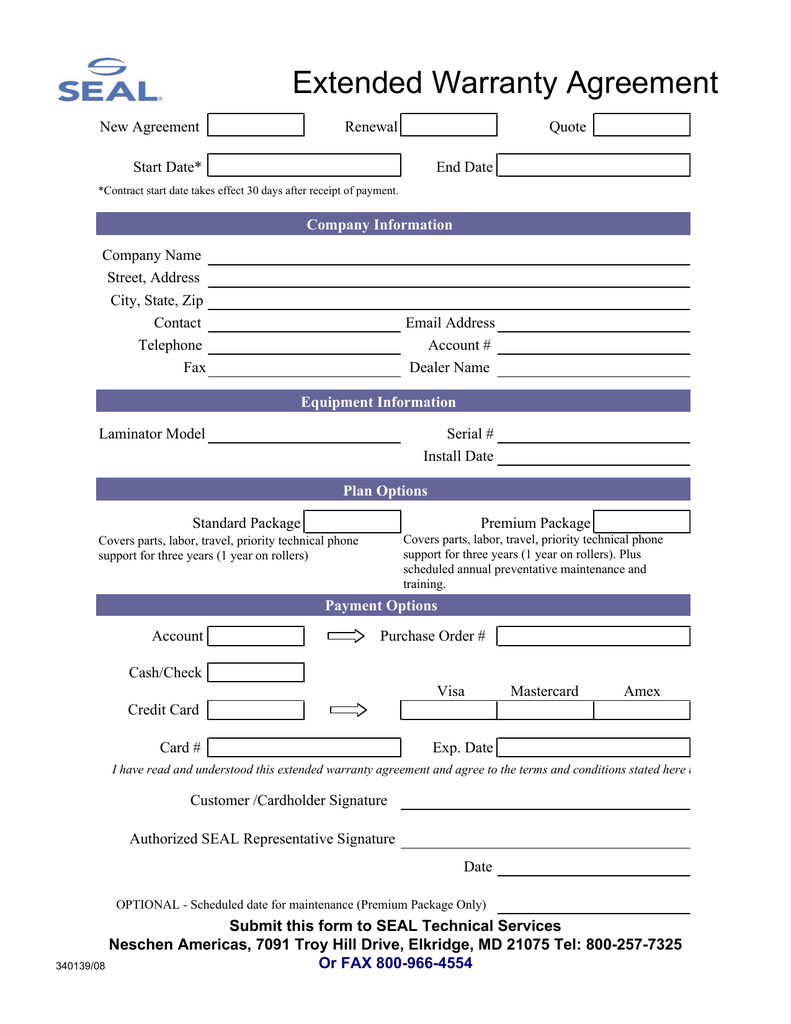 Extended Warranty Agreement
New Agreement
Renewal
Quote
Start Date*
End Date
*Contract start date takes effect 30 days after receipt of payment.
Company Information
Company Name
Street, Address
City, State, Zip
Contact
Telephone
Fax
Email Address
Account #
Dealer Name
Equipment Information
Laminator Model
Serial #
Install Date
Plan Options
Standard Package
Premium Package
Covers parts, labor, travel, priority technical phone
support for three years (1 year on rollers). Plus
scheduled annual preventative maintenance and
training.
Covers parts, labor, travel, priority technical phone
support for three years (1 year on rollers)
Payment Options
Account
Purchase Order #
Cash/Check
Visa
Mastercard
Amex
Credit Card
Card #
Exp. Date
I have read and understood this extended warranty agreement and agree to the terms and conditions stated here i
Customer /Cardholder Signature
Authorized SEAL Representative Signature
Date
OPTIONAL - Scheduled date for maintenance (Premium Package Only)
Submit this form to SEAL Technical Services
Neschen Americas, 7091 Troy Hill Drive, Elkridge, MD 21075 Tel: 800-257-7325
Or FAX 800-966-4554
340139/08
Extended Warranty Agreement
Terms and Conditions
1. EFFECTIVE PERIOD: This agreement becomes effective on the date specified in the agreement, provided Neschen
Americas has received payment. This Agreement shall remain for three years. The customer's obligation to all charges that
have accrued shall survive any termination of this Agreement. The customer also agrees to pay Neschen Americas, upon
written demand, any and all expenses, including reasonable attorney's fees incurred by Neschen Americas in exercising any of
its rights hereunder. Renewal of this Agreement will be at the published rates and is subject to price and provision change
without notification.
2. AVAILABILITY OF SERVICES: Neschen Americas, or an authorized agent, will perform routine service and preventive
maintenance service calls during the normal business hours (8:00 a.m. to 5:00 p.m.) daily except Saturdays, Sundays or
holidays observed by Neschen Americas.
3. SCOPE OF SERVICE: Neschen Americas, or an authorized agent, will provide replacement of broken parts and preventive
maintenance as necessitated by normal use, unless specified otherwise within the agreement. Neschen Americas will not be
responsible for business lost or expenses incurred due to equipment failure caused by delay in or failure to perform its
obligations under this agreement. Neschen Americas' total liability for breach of this agreement shall not exceed the unused
portion of the service term.
4. PRE-AGREEMENT INSPECTION: If the equipment to be covered by this Service Agreement has not been continually
covered by a SEAL Warranty or Service Agreement, Neschen Americas may inspect the equipment prior to issuing Extended
Warranty. Neschen Americas or an authorized agent will inspect the equipment and perform any service and replace any parts
needed to bring the equipment to SEAL specifications, at the customer's expense. The inspection, and any parts and labor
required to complete the work, will be charged to the customer at Neschen Americas prevailing rates and terms. Neschen
Americas reserves the right to refuse Extended Warranty on any equipment that it deems un-serviceable.
5. HOW TO USE THE SERVICE: Call for assistance: If you have a question about your unit or need repair service, call (800)
257-7325 and ask for Technical Service. Preparing for the call: The technician will be better able to service your needs if you
have the following information ready when you call: system serial number, model number, your customer account number and
the date and place of purchase. Explain your problem to the technician: Let the technician know what error message you are
experiencing and when it occurs, what you were doing when the error occurred, and what steps you may have already taken to
solve the problem. Experience shows that many problems can be quickly and efficiently solved over the phone as a result of
close cooperation between user and the technician.
6. EXCLUSIONS: The agreement does not cover: Replacement of consumable supplies. Service necessitated by abuse,
misuse, neglect, disassembly or vandalism. Unauthorized tampering/damage done to machine by someone other than an
authorized Neschen Americas representative. Replacement due to theft. Service due to faulty wired electrical supply, high or
low voltage/amperage, poor ground or interrupted electrical power. Damage caused by casualties such as fire, flood, lightening,
earthquake or other natural causes. Damage through use of supplies for parts other than those meeting Neschen Americas
specifications for the equipment. Services connected with the relocation of the equipment, routine cleaning.
7. TRANSFER OF THE AGREEMENT: Neschen Americas may refuse to honor this Agreement if the equipment is sold to
another party or moved out of the Neschen Americas designated servicing area.
8. TAXES: Any taxes levied or imposed by any government agency shall be the responsibility of the customer.
9. PAYMENT TERMS: Extended Warranty purchases are billed and to be paid in advance.
10. EQUIPMENT PAYMENT DEFAULT: Should a customer default in payment on the original equipment or lease contract or
any other debt owed to Neschen Americas by purchaser under any agreement, Neschen Americas has the right to refuse
service until default is cured.
11. CANCELLATION: After the effective date, customer shall have the right to cancel this agreement upon prior written notice
to Neschen Americas only at the end of the initial or any annual renewal term. This Agreement may not be cancelled except at
Neschen Americas sole discretion if the equipment is moved out of the servicing area. Neschen Americas may elect not to
extend the coverage beyond any then-current year by giving written notice to the customer during the year.
12. RELOCATION OF EQUIPMENT: Customer will be liable for all costs associated with any equipment relocation requested
by the customer. These costs will include all applicable installation and removal charges, special rigging charges, and any parts
and technical representative labor connected with the relocation. Technical representative labor and parts will be charged in
accordance with the hourly rates and parts prices in effect at the time of the relocation.
13. ENTIRE AGREEMENT: The terms and conditions stated on both sides of this Agreement constitute the Agreement in its
entirety and shall not be superseded by any modifications submitted by the customer with respect to Neschen Americas.