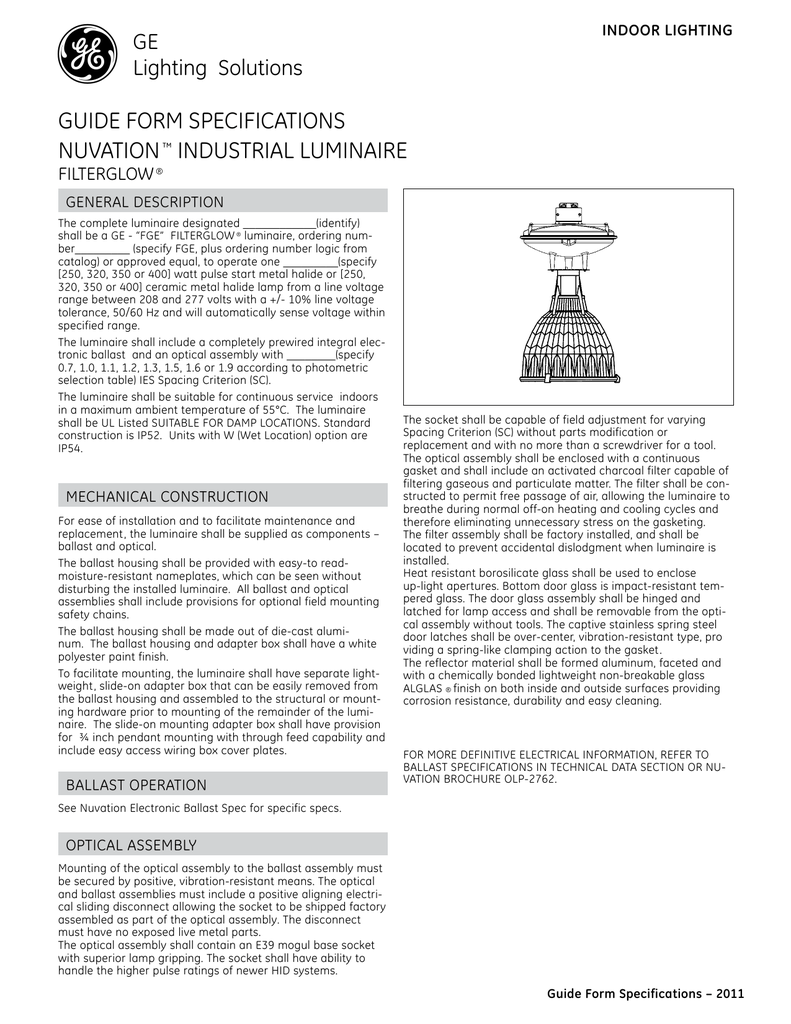 g
INDOOR LIGHTING
GE
Lighting Solutions
GUIDE FORM SPECIFICATIONS
NUVATION ™ INDUSTRIAL luminaire
filterglow ®
GENERAL DESCRIPTION
The complete luminaire designated ____________(identify)
shall be a GE - "FGE" FILTERGLOW ® luminaire, ordering number_________ (specify FGE, plus ordering number logic from
catalog) or approved equal, to operate one _________(specify
[250, 320, 350 or 400] watt pulse start metal halide or [250,
320, 350 or 400] ceramic metal halide lamp from a line voltage
range between 208 and 277 volts with a +/- 10% line voltage
tolerance, 50/60 Hz and will automatically sense voltage within
specified range.
The luminaire shall include a completely prewired integral electronic ballast and an optical assembly with ________(specify
0.7, 1.0, 1.1, 1.2, 1.3, 1.5, 1.6 or 1.9 according to photometric
selection table) IES Spacing Criterion (SC).
The luminaire shall be suitable for continuous service indoors
in a maximum ambient temperature of 55°C. The luminaire
shall be UL Listed SUITABLE FOR DAMP LOCATIONS. ­Standard
construction is IP52. Units with W (Wet Location) option are
IP54.
MECHANICAL CONSTRUCTION
For ease of installation and to facilitate maintenance and
­replacement, the luminaire shall be supplied as components –
ballast and optical.
The ballast housing shall be provided with easy-to read­moisture-resistant nameplates, which can be seen without
disturbing the installed luminaire. All ballast and optical
­assemblies shall include provisions for optional field mounting
safety chains.
The ballast housing shall be made out of die-cast aluminum. The ballast housing and adapter box shall have a white
­polyester paint finish.
To facilitate mounting, the luminaire shall have separate lightweight, slide-on adapter box that can be easily removed from
the ballast housing and assembled to the structural or mounting hardware prior to mounting of the remainder of the luminaire. The slide-on mounting adapter box shall have provision
for ¾ inch pendant mounting with through feed capability and
include easy access wiring box cover plates.
BALLAST OPERATION
The socket shall be capable of field adjustment for varying
Spacing Criterion (SC) without parts modification or
­replacement and with no more than a screwdriver for a tool.
The optical assembly shall be enclosed with a continuous
gasket and shall include an activated charcoal filter capable of
filtering gaseous and particulate matter. The filter shall be constructed to permit free passage of air, allowing the luminaire to
breathe during normal off-on heating and cooling cycles and
therefore eliminating unnecessary stress on the gasketing.
The filter assembly shall be factory installed, and shall be
located to prevent accidental dislodgment when luminaire is
installed.
Heat resistant borosilicate glass shall be used to enclose ­
up-light apertures. Bottom door glass is impact-resistant tempered glass. The door glass assembly shall be hinged and
latched for lamp access and shall be removable from the optical assembly without tools. The captive stainless spring steel
door latches shall be over-center, vibration-resistant type, pro
viding a spring-like clamping action to the gasket.
The reflector material shall be formed aluminum, faceted and
with a chemically bonded lightweight non-breakable glass
ALGLAS ® finish on both inside and outside surfaces providing
corrosion resistance, durability and easy cleaning.
FOR MORE DEFINITIVE ELECTRICAL INFORMATION, REFER TO
BALLAST SPECIFICATIONS IN TECHNICAL DATA SECTION OR NUVATION BROCHURE OLP-2762.
See Nuvation Electronic Ballast Spec for specific specs.
OPTICAL ASSEMBLY
Mounting of the optical assembly to the ballast assembly must
be secured by positive, vibration-resistant means. The optical
and ballast assemblies must include a positive ­aligning electrical sliding disconnect allowing the socket to be shipped factory
assembled as part of the optical assembly. The disconnect
must have no exposed live metal parts.
The optical assembly shall contain an E39 mogul base socket
with superior lamp gripping. The socket shall have ability to
handle the higher pulse ratings of newer HID systems.
Guide Form Specifications – 2011
g
GE Lighting Solutions • 1-888-MY-GE-LED • www.gelightingsolutions.com
1-88 8 - 6 9 - 4 3-5 3 3
GE Lighting Solutions is a subsidiary of the General Electric Company. Evolve and other trademarks belong to GE Lighting Solutions. The GE brand and logo are trademarks of the General Electric Company.
© 2011 GE Lighting Solutions. Information provided is subject to change without notice. All values are design or typical values when measured under laboratory conditions.