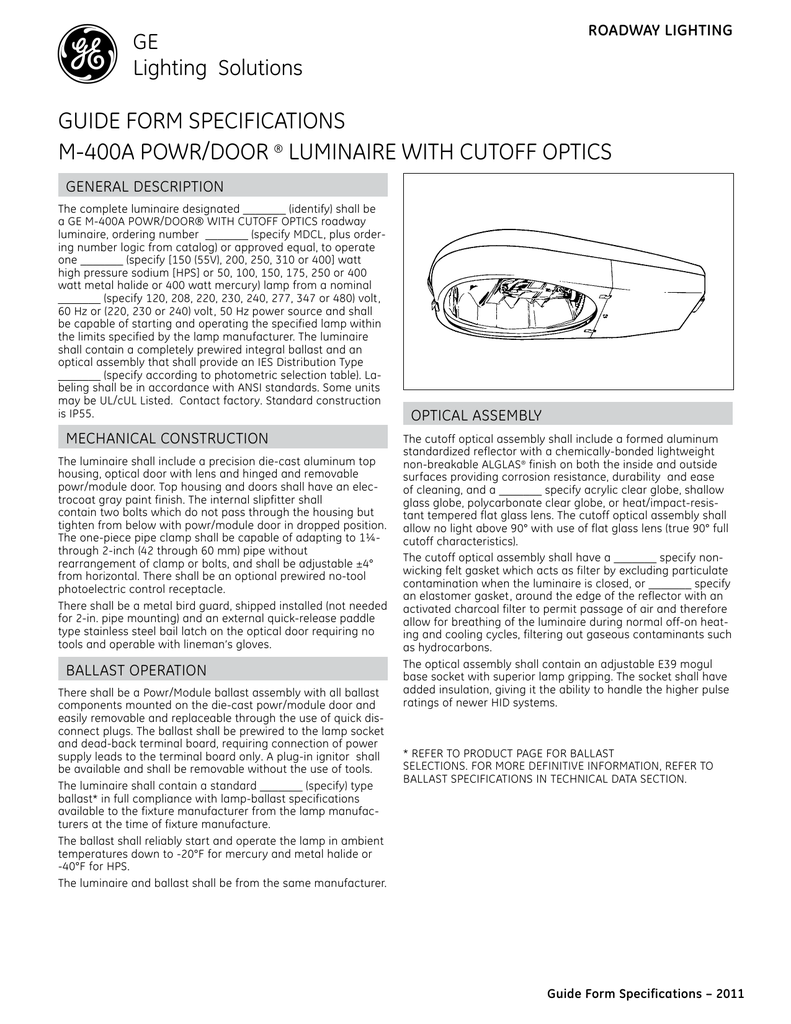 g
ROADWAY LIGHTING
GE
Lighting Solutions
GUIDE FORM SPECIFICATIONS
m-400a powr/door ® luminaire with cutoff optics
GENERAL DESCRIPTION
The complete luminaire designated _______ (identify) shall be
a GE M-400A POWR/DOOR® WITH CUTOFF OPTICS roadway
luminaire, ordering number _______ (specify MDCL, plus ordering number logic from catalog) or approved equal, to operate
one _______ (specify [150 (55V), 200, 250, 310 or 400] watt
high pressure sodium [HPS] or 50, 100, 150, 175, 250 or 400
watt metal halide or 400 watt mercury) lamp from a nominal
_______ (specify 120, 208, 220, 230, 240, 277, 347 or 480) volt,
60 Hz or (220, 230 or 240) volt, 50 Hz power source and shall
be capable of starting and operating the specified lamp within
the limits specified by the lamp manufacturer. The luminaire
shall contain a completely prewired integral ballast and an
optical assembly that shall provide an IES Distribution Type
_______ (specify according to photometric selection table). Labeling shall be in accordance with ANSI standards. Some units
may be UL/cUL Listed. Contact factory. Standard construction
is IP55.
MECHANICAL CONSTRUCTION
The luminaire shall include a precision die-cast aluminum top
housing, optical door with lens and hinged and removable
powr/module door. Top housing and doors shall have an electrocoat gray paint finish. The internal slipfitter shall
contain two bolts which do not pass through the housing but
tighten from below with powr/module door in dropped position.
The one-piece pipe clamp shall be capable of adapting to 1¼through 2-inch (42 through 60 mm) pipe without
rearrangement of clamp or bolts, and shall be adjustable ±4°
from horizontal. There shall be an optional prewired no-tool
photoelectric control receptacle.
There shall be a metal bird guard, shipped installed (not needed
for 2-in. pipe mounting) and an external quick-release paddle
type stainless steel bail latch on the optical door requiring no
tools and operable with lineman's gloves.
BALLAST OPERATION
There shall be a Powr/Module ballast assembly with all ballast
components mounted on the die-cast powr/module door and
easily removable and replaceable through the use of quick disconnect plugs. The ballast shall be prewired to the lamp socket
and dead-back terminal board, requiring connection of power
supply leads to the terminal board only. A plug-in ignitor shall
be available and shall be removable without the use of tools.
The luminaire shall contain a standard _______ (specify) type
ballast* in full compliance with lamp-ballast specifications
available to the fixture manufacturer from the lamp manufacturers at the time of fixture manufacture.
The ballast shall reliably start and operate the lamp in ambient
temperatures down to -20°F for mercury and metal halide or
-40°F for HPS.
The luminaire and ballast shall be from the same manufacturer.
OPTICAL ASSEMBLY
The cutoff optical assembly shall include a formed aluminum
standardized reflector with a chemically-bonded lightweight
non-breakable ALGLAS® finish on both the inside and outside
surfaces providing corrosion resistance, durability and ease
of cleaning, and a _______ specify acrylic clear globe, shallow
glass globe, polycarbonate clear globe, or heat/impact-resistant tempered flat glass lens. The cutoff optical assembly shall
allow no light above 90° with use of flat glass lens (true 90° full
cutoff characteristics).
The cutoff optical assembly shall have a _______ specify nonwicking felt gasket which acts as filter by excluding particulate
contamination when the luminaire is closed, or _______ specify
an elastomer gasket, around the edge of the reflector with an
activated charcoal filter to permit passage of air and therefore
allow for breathing of the luminaire during normal off-on heating and cooling cycles, filtering out gaseous contaminants such
as hydrocarbons.
The optical assembly shall contain an adjustable E39 mogul
base socket with superior lamp gripping. The socket shall have
added insulation, giving it the ability to handle the higher pulse
ratings of newer HID systems.
* REFER TO PRODUCT PAGE FOR BALLAST
SELECTIONS. FOR MORE DEFINITIVE INFORMATION, REFER TO
BALLAST SPECIFICATIONS IN TECHNICAL DATA SECTION.
Guide Form Specifications – 2011
g
GE Lighting Solutions • 1-888-MY-GE-LED • www.gelightingsolutions.com
1-88 8 - 6 9 - 4 3-5 3 3
GE Lighting Solutions is a subsidiary of the General Electric Company. Evolve and other trademarks belong to GE Lighting Solutions. The GE brand and logo are trademarks of the General Electric Company.
© 2011 GE Lighting Solutions. Information provided is subject to change without notice. All values are design or typical values when measured under laboratory conditions.