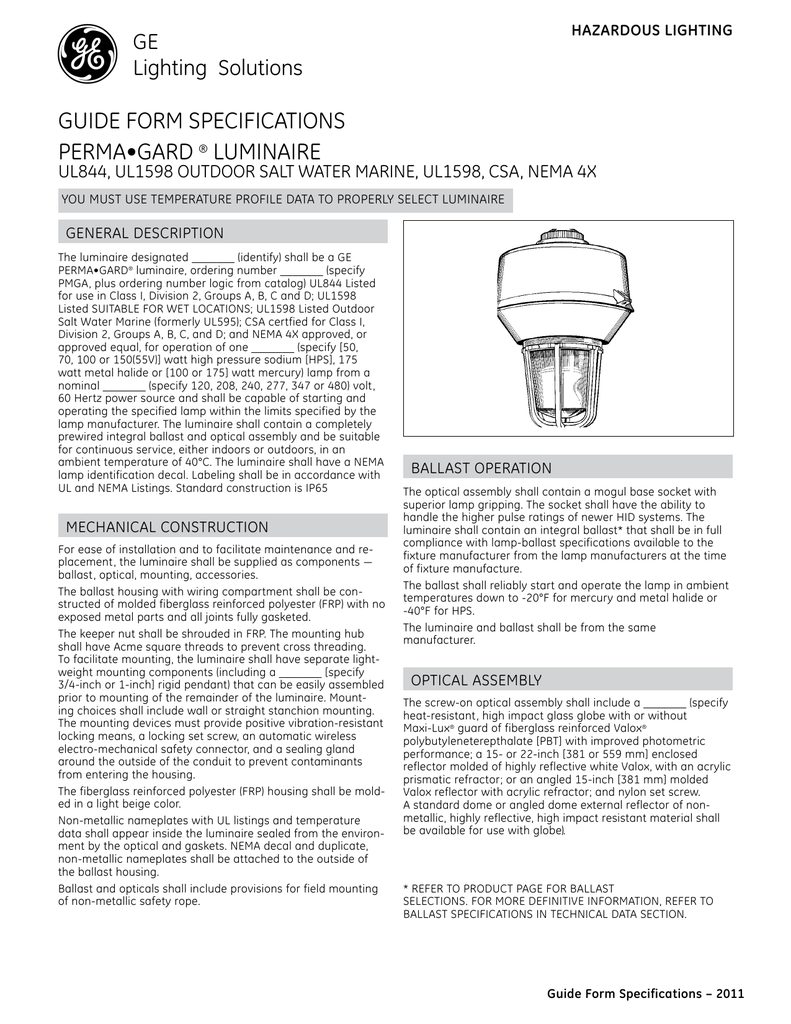 g
HAZARDOUS LIGHTING
GE
Lighting Solutions
GUIDE FORM SPECIFICATIONS
perma•gard ® luminaire
ul844, ul1598 outdoor salt water marine, ul1598, CSA, nema 4x
YOU
MUST USE
TEMPERATURE PROFILE DATA TO PROPERLY SELECT LUMINAIRE
GENERAL
DESCRIPTION
GENERAL DESCRIPTION
The luminaire designated _______ (identify) shall be a GE
PERMA•GARD® luminaire, ordering number _______ (specify
PMGA, plus ordering number logic from catalog) UL844 Listed
for use in Class I, Division 2, Groups A, B, C and D; UL1598
Listed SUITABLE FOR WET LOCATIONS; UL1598 Listed Outdoor
Salt Water Marine (formerly UL595); CSA certfied for Class I,
Division 2, Groups A, B, C, and D; and NEMA 4X approved, or
approved equal, for operation of one _______ (specify [50,
70, 100 or 150(55V)] watt high pressure sodium [HPS], 175
watt metal halide or [100 or 175] watt mercury) lamp from a
nominal _______ (specify 120, 208, 240, 277, 347 or 480) volt,
60 Hertz power source and shall be capable of starting and
operating the specified lamp within the limits specified by the
lamp manufacturer. The luminaire shall contain a completely
prewired integral ballast and optical assembly and be suitable
for continuous service, either indoors or outdoors, in an
ambient temperature of 40°C. The luminaire shall have a NEMA
lamp identification decal. Labeling shall be in accordance with
UL and NEMA Listings. Standard construction is IP65
MECHANICAL CONSTRUCTION
For ease of installation and to facilitate maintenance and replacement, the luminaire shall be supplied as components —
ballast, optical, mounting, accessories.
The ballast housing with wiring compartment shall be constructed of molded fiberglass reinforced polyester (FRP) with no
exposed metal parts and all joints fully gasketed.
The keeper nut shall be shrouded in FRP. The mounting hub
shall have Acme square threads to prevent cross threading.
To facilitate mounting, the luminaire shall have separate lightweight mounting components (including a _______ [specify
3/4-inch or 1-inch] rigid pendant) that can be easily assembled
prior to mounting of the remainder of the luminaire. Mounting choices shall include wall or straight stanchion mounting.
The mounting devices must provide positive vibration-resistant
locking means, a locking set screw, an automatic wireless
electro-mechanical safety connector, and a sealing gland
around the outside of the conduit to prevent contaminants
from entering the housing.
The fiberglass reinforced polyester (FRP) housing shall be molded in a light beige color.
Non-metallic nameplates with UL listings and temperature
data shall appear inside the luminaire sealed from the environment by the optical and gaskets. NEMA decal and duplicate,
non-metallic nameplates shall be attached to the outside of
the ballast housing.
Ballast and opticals shall include provisions for field mounting
of non-metallic safety rope.
BALLAST OPERATION
The optical assembly shall contain a mogul base socket with
superior lamp gripping. The socket shall have the ability to
handle the higher pulse ratings of newer HID systems. The
luminaire shall contain an integral ballast* that shall be in full
compliance with lamp-ballast specifications available to the
fixture manufacturer from the lamp manufacturers at the time
of fixture manufacture.
The ballast shall reliably start and operate the lamp in ambient
temperatures down to -20°F for mercury and metal halide or
-40°F for HPS.
The luminaire and ballast shall be from the same
manufacturer.
OPTICAL ASSEMBLY
The screw-on optical assembly shall include a _______ (specify
heat-resistant, high impact glass globe with or without
Maxi-Lux® guard of fiberglass reinforced Valox®
polybutyleneterepthalate [PBT] with improved photometric
performance; a 15- or 22-inch [381 or 559 mm] enclosed
reflector molded of highly reflective white Valox, with an acrylic
prismatic refractor; or an angled 15-inch [381 mm] molded
Valox reflector with acrylic refractor; and nylon set screw.
A standard dome or angled dome external reflector of nonmetallic, highly reflective, high impact resistant material shall
be available for use with globe).
* REFER TO PRODUCT PAGE FOR BALLAST
SELECTIONS. FOR MORE DEFINITIVE INFORMATION, REFER TO
BALLAST SPECIFICATIONS IN TECHNICAL DATA SECTION.
Guide Form Specifications – 2011
g
GE Lighting Solutions • 1-888-MY-GE-LED • www.gelightingsolutions.com
1-88 8 - 6 9 - 4 3-5 3 3
GE Lighting Solutions is a subsidiary of the General Electric Company. Evolve and other trademarks belong to GE Lighting Solutions. The GE brand and logo are trademarks of the General Electric Company.
© 2011 GE Lighting Solutions. Information provided is subject to change without notice. All values are design or typical values when measured under laboratory conditions.