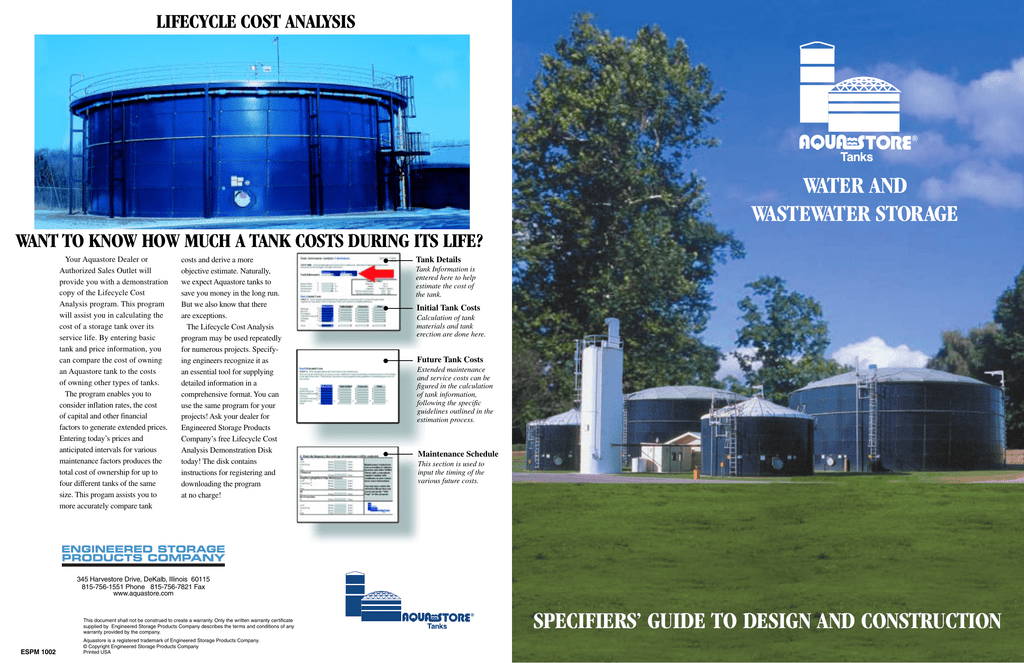 LIFECYCLE COST ANALYSIS
WATER AND
WASTEWATER STORAGE
WANT TO KNOW HOW MUCH A TANK COSTS DURING ITS LIFE?
Your Aquastore Dealer or
Authorized Sales Outlet will
provide you with a demonstration
copy of the Lifecycle Cost
Analysis program. This program
will assist you in calculating the
cost of a storage tank over its
service life. By entering basic
tank and price information, you
can compare the cost of owning
an Aquastore tank to the costs
of owning other types of tanks.
The program enables you to
consider inflation rates, the cost
of capital and other financial
factors to generate extended prices.
Entering today's prices and
anticipated intervals for various
maintenance factors produces the
total cost of ownership for up to
four different tanks of the same
size. This progam assists you to
more accurately compare tank
costs and derive a more
objective estimate. Naturally,
we expect Aquastore tanks to
save you money in the long run.
But we also know that there
are exceptions.
The Lifecycle Cost Analysis
program may be used repeatedly
for numerous projects. Specifying engineers recognize it as
an essential tool for supplying
detailed information in a
comprehensive format. You can
use the same program for your
projects! Ask your dealer for
Engineered Storage Products
Company's free Lifecycle Cost
Analysis Demonstration Disk
today! The disk contains
instructions for registering and
downloading the program
at no charge!
Tank Details
Tank Information is
entered here to help
estimate the cost of
the tank.
Initial Tank Costs
Calculation of tank
materials and tank
erection are done here.
Future Tank Costs
Extended maintenance
and service costs can be
figured in the calculation
of tank information,
following the specific
guidelines outlined in the
estimation process.
Maintenance Schedule
This section is used to
input the timing of the
various future costs.
345 Harvestore Drive, DeKalb, Illinois 60115
815-756-1551 Phone 815-756-7821 Fax
www.aquastore.com
This document shall not be construed to create a warranty. Only the written warranty certificate
supplied by Engineered Storage Products Company describes the terms and conditions of any
warranty provided by the company.
ESPM 1002
Aquastore is a registered trademark of Engineered Storage Products Company.
© Copyright Engineered Storage Products Company
Printed USA
SPECIFIERS' GUIDE TO DESIGN AND CONSTRUCTION
Engineered Storage Products
Company is "specifier friendly."
Aquastore® glass-fused-to-steel tanks
are found in virtually every segment
of the liquid storage market.Common
applications include storing potable
water, wastewater, process water, fire
suppression water and landfill
leachate. We have developed answers
for your specification needs for these
as well as unusual storage applications.
Our engineers provide Aquastore
tank designs to a wide range of
standards, such as AWWA D103
Standard for Bolted Steel Water
Storage Tanks, AISC, Factory Mutual
codes and National Fire Protection
Association Standard 22. Submittal
drawings and design calculations are
available for every tank.
Aquastore sectional bolted tanks
offer several advantages that have
contributed to their success. They are
cost- effective. Compare the lifecycle
cost of a glass-fused-to-steel tank
to a field-welded or concrete tank
and the difference is significant.
Glass coatings do not require periodic
repainting and most graffiti can be
removed in a matter of minutes.
Factory coating eliminates the
weather delays and variables affecting
the quality of field-applied paint. The
unique design and bolt assembly of the
tank can be pre-engineered to allow
for capacity expansion in the future.
Engineered Storage Products utilizes
a variety of sealants with specific
chemical resistant properties suited
to the liquids to be stored. Aquastore
tanks can be erected in remote
locations and can be designed for
relocation. Best of all, their performance is dependable, with minimal
maintenance cost.
This guide provides basic information for specifying an Aquastore tank.
Aquastore storage tanks are available
from independent, authorized
Aquastore dealers who are available
to discuss your design requirements.
1. 100 mph wind speed
2. 25 psf live snow load
3. Seismic zone 0
4. Specific gravity 1.0 @ STP
5. Structure Height Limitations:
Local Soil Conditions & Construction Techniques
AQUASTORE TANK CAPACITIES.
LIFE CYCLE COST
Refer to back page for details of live new life cycle analysis programs
6. AWWA Designates AWWA D103-97
7. Model Number => Model Diameter & Model Height
Model Number 4228 => 42' diameter & 28' height
8. For steel floor option:
Add 0.678' x Capacity Per Foot (gallons) to capacities
listed for tanks
9. No Freeboard Allowance except in the shaded yellow color
are where the freeboard is variable
1. Place CD in drive,
await window "Pack and Go Setup"
2. Hit "OK"
3. Hit "Yes"
4. Window - successful installation - hit "Yes"
Engineered Storage Products Company
345 Harvestore Drive
DeKalb, IL 60115
ph: (815) 756 1551
www.aquastore.com
Two Aquastore potable
water reservoirs and an
Aquastore backwash
storage tank are central
features of this water
treatment plant. This guide
contains information for
specifying any of the
tanks shown.
Suitable for a wide range
of wastewater treatment
applications, Aquastore
tanks are specified as
clarifier, digester, landfill
leachate, trickling filter and
waste treatment tanks.
AQUASTORE. THE NAME TO SPECIFY FOR WATER STORAGE.
The unique modular assembly
allows Aquastore tanks to
be specified and erected
in difficult locations.
The glass-fused-to-steel
coating provides low
maintenance protection.
Finished glass-fused-tosteel sheets are shipped
on protective skids,
containerized or full
box crated.
3" WEB TRUSS INSTALLATION
ONTO SHELL SHEET WITH WIDE BOLT SPACING
HORIZONTAL BOLT LINE
The glass coating on these
two Aquastore storage
tanks used in treating
process wastewater at a
brewery in the Dominican
Republic is suited to
industrial applications.
Aquastore glass-fused-to-steel
coatings were selected for this
wastewater treatment plant. The
complex includes effluent water
storage tanks, equalization tanks,
a clarifier and an aeration tank.
5-1/2" SHORT WEB TRUSS INSTALLATION
ONTO SHELL SHEET WITH WIDE BOLT SPACING
HORIZONTAL BOLT LINE, WIND LOADING
ACCESSORIES.
LADDER AND STEP-OFF PLATFORM KIT
Exterior Face
Base Steel
Exterior A Coat
Cobalt Blue Top Coat
Aquastore's glass coatings
meet ANSI /NSF Standard
61 requirements for indirect
additives, making them
suitable for potable
water storage.
ROOF MANWAY INSTALLATION
20º SLOPED ROOF 14' DIA. PLUS
24" AND 30" ROUND ACCESS DOORS
(W/DAVIT) INSTALLATION GLASS COATED TANKS
Cobalt Blue
White
White
Global Glass™ Cobalt Blue color, 2 coat system for
dry product storage and non-essential or non-aggressive
liquid storage. Standard exterior glass coating.
Vitrium™ White color, TIO2 enriched, 3 coat system for
most liquid storage applications. Municipal and industrial
water and wastewater. Factory holiday free.
Glass97® White color, TIO2 enriched, enhanced,
3 coat system for demanding industrial applications.
Factory holiday free.
Interior Colors
25" FOUNDATION GENERAL ASSEMBLY
MID STARTER CONCRETE FOUNDATION
(3V) 25" FOUNDATION GENERAL ASSEMBLY
MID STARTER CONCRETE FOUNDATION
INTERIOR AND EXTERIOR COATINGS.
ASSEMBLY DRAWINGS.
White TiO2 Coat
Base Glass Coat
Interior A Coat
Base Steel
Interior Face
TOP RING STIFFENER ANGLE
INSTALLATION ONTO
(2V) SHELL SHEET DOMED ROOF
TOP RING 5-1/2" SHORT WEB TRUSS
INSTALLATION OPEN TANK, WIND LOADING
The heart of the coating system
is a multi-step glass-fused-to-steel
process. The fabricated sheets are
grit blasted to a uniform, near
white surface. The sheets are
then inspected and pre-coated.
Proprietary formulations of
borosilicate, minerals, water and
clays are blended into a
sprayable slurry.
After
inspection, the slurry
is fused to the steel sheets
at temperatures above 1500°F
to produce the distinctive glossy
Aquastore finish. The molten
glass reacts with the profiled steel
surface to form an inert, inorganic
chemical and mechanical bond.
All three grades of coatings;
Global Glass™, Vitrium™, and
Glass97® share general physical
properties, while each incorporates
slightly different additives to meet
specific needs for each of their
applications.
Engineered Storage
Products' proprietary
Edgecoat® process thermal sprays
the edges with a protective alloy.
Glass is added to double coat the
sheet edges with barrier coatings.
For some indiviual circumstances,
multiple applications and firings
produce specialized coatings.
Engineered Storage Products
continues to develop innovative
glass coatings for specific demands.
Our Vitrium glass-fused-to-steel
coating was created to meet the
needs of potable water storage.
Our proprietary TiO2 glass, utilizes
dramatically increasing toughness
and durability characteristics while
reducing production time. You get
better potable water storage for
less. Global Glass, Vitrium and
Glass97 are ANSI/NSF certified.
Your authorized Aquastore dealer
will recommend the coating that is
best for your specification.
Physical Properties of Aquastore Glass-Fused-to-Steel Coating
Service Range
Cobalt Blue, White
Cobalt Blue, Desert Tan, Forest Green, Sky Blue, White
Global 7–13 mils, 180–330 microns, Vitrium 7–15 mils, 180-380 microns,
Glass 97 9–18 mils, 230–460 microns
140° F @ 3-10 pH-subject to verification, depending on specific products stored & glass selected
Abrasion Resistance
Elasticity
Permeability
Taber-8 mg loss (CS-17, 100 g, 1000 cycles)
Young's Modulus 12 x 106
Impermeable to gases and liquids within normal operating temperature ranges
Thermal Conductivity
Cleanability
Hardness
8 BTU/hhr/ft2 /F°/in
Smooth, inert, glossy, anti-stick
6.0-7.0 Mohs
Corrosion Resistance
ASTM B-117
Excellent, virtually unaffected by most waste waters, brines, sea water, sour
crude, spray salt, organic and inorganic chemicals
Inside Sheet Color
Outside Sheet Color
Thickness
BOLT JOINTS (2V) & (3V) SHELL SHEETS WIDE BOLT
SPACING ALL TANK TYPES
BOLT JOINTS SLOPED ROOF AND SHELL
SHEET 20º SLOPED ROOF 14' DIA. PLUS
Note: Specific applications may be limited by sealant, hardware or glass protection characteristics. Consult your Aquastore dealer for suitability for specific applications.
The durability of our
coating systems produces
low maintenance
installations. The glassfused-to-steel bond minimizes
maintenance and eliminates
the cost of repainting.
WATER TANK WITH CONCRETE
FOUNDATION
TYPICAL TANK ELEVATION AND PLAN.
STEEL FLOOR FOUNDATION
11' DIA AND LARGER TYPE.
S.S. FOUNDATION
11' DIA AND LARGER TYPE.
Rigid manufacturing
standards and exact
processes in ISO 9001
quality system certified
facilities result in smooth
fit up during assembly.
Ladders and accessories ship
as a package with the tank.
NOTCH FOUNDATION ANCHORING SYSTEM.
19" FOUNDATION GENERAL REBAR PLACEMENT
SHORT STARTER CONCRETE FOUNDATION.
FOUNDATION DRAWINGS.
Pipe Connections
Where pipe connections pass through tank panels, they shall be field
located, saw cut, (acetylene torch cutting or welding is not permitted),
and utilize an interior and exterior flange assembly and the tank shell
reinforcing shall comply with AWWA D103. A single component urethane
sealer shall be applied on any cut panel edges or bolt connections.
Outside Tank Ladder
An outside tank ladder shall be furnished and installed as shown on the
contract drawings. Ladders shall be fabricated of aluminum and utilize
grooved, skid-resistant rungs. Safety cage and step-off platforms shall
be fabricated of galvanized steel. Ladders can be equipped with a hinged
lockable entry device.
Access Doors
Access door(s) shall be provided as shown on the contract drawings.
The manhole opening shall be a minimum of 24 inches in diameter.
The access door (shell manhole) and the tank shell reinforcing shall
comply with AWWA D103.
Cathodic Protection
If the option of Cathodic Protection is requested by owner, then the design
and specification for such cathodic protection will be the responsibility
of the manufacturer. When cathodic protection is specified, electrical
continuity between all tank sidewall panels shall be the responsibility
of the tank manufacturer.
FIELD TESTING
Hydrostatic
Following completion of erection and cleaning of the tank, the structure
shall be tested for liquid tightness by filling tank to its overflow elevation.
Any leaks disclosed by this test shall be corrected by the erector in
accordance with the manufacturer's recommendations. Water required
for testing shall be furnished by the owner at the time of tank erection
completion, and at no charge to the tank erector. Disposal of test water
shall be the responsibility of the owner. Labor and equipment necessary
for tank testing is to be included in the price of the tank erection.
DISINFECTION
If required, the tank structure shall be disinfected by chlorination in
accordance with AWWA Standard C652 "Disinfection of Water Facilities"
as modified by the tank manufacturer. Disinfection shall not take place
until sealant is fully cured as detailed by the manufacturer.
TANK MANUFACTURER'S WARRANTY
The tank manufacturer shall include a warranty for the tank materials
and coating. As a minimum this warranty shall provide assurance against
defects in material or workmanship. Warranty against the corrosion of the
glass-coated surfaces is available with the cathodic protection option.
EXERTS FROM:
One-Year Warranty
Engineered Storage Products Company warrants that an Aquastore® brand
liquid storage tank will be free from defects in workmanship and materials,
under normal and proper use, maintenance and operation during the period
expiring on the earlier of (i) one year after liquid is first introduced into the
tank or (ii) 14 months after shipment from the factory.
10-Year Extended Performance Warranty
Manufacturer shall further warrant that the glass-coated product zone
surfaces (that portion of the tank interior below the normal high elevation
of the contained liquid) of a municipal water supply or municipal waste
water treatment storage tank will not corrode, under normal and proper
use, maintenance and operation, during the period expiring on the earlier
of (i) 120 months after liquid is first introduced into the tank or (ii) 122
months after shipment from the factory, if the tank is purchased with an
Aquastore brand cathodic protection system.
Finished Aquastore sheets
are thoroughly inspected
and tested throughout the
coating process, not just for
appearance, but for proper
color, thickness and
continuity of the glass
coverage.
From metallurgic testing
to ongoing research in glass
enameling formulations,
Engineered Storage Products
is constantly striving to
improve the quality of
Aquastore tanks.
AQUASTORE QUALITY STORAGE PRODUCTS.
Fabrication of reliable, durable
products requires knowledge,
experience and investment.
Engineered Storage Products
Company has more than a half
century of manufacturing glassfused-to-steel tanks-longer
than anyone in the world. We
understand the demands of market
applications. Our personnel in
sales and customer service have
a practical awareness of what
is important in the field. These
demands have been translated into
the most comprehensive quality
control procedures in the industry.
Raw steel is first tested for
physical properties, such as
tensile strength and elongation,
and chemically analyzed. After
the steel has been decoiled, cut
to length, blasted and treated with
an anti-corrosion solution, each
wall sheet is stamped with an
identification number. This serves
as a historical tracking mark
for its entire service life. Narrow
tolerance allowances hold
Aquastore parts to rigid standards
that are upheld through all
subsquent processes. No other
manufacturer can match this piece
by piece accountability.
The quality of Aquastore glass
coatings is well known. We test
the glass coated sheets for precise
color, proper bubble structure and
a complete absence of holidays.
The colorimeter, and electronic
conductivity test all yield
Precision manufacturing
requires accurate tools.
This 2500 ton press stamps
the sidewall sheets and
punches the bolt holes in
a single stroke operation.
objective and quantifiable
results that demonstrate our
coating specifications have
been met.
Engineered Storage Products
has an established product
development and improvement
program that contributes
to every other phase of production. When research produces
quantifiable results, they are
incorporated into the manufacturing process. So our customers
receive the best product we are
capable of producing up to the
moment it is shipped.
Engineered Storage Products
Company is ISO 9001 quality
system certified. The best
indication
of the precision of Engineered
Storage Products' manufacturing
procedures can be seen in
the field. The fit of Aquastore
glass-fused-to-steel bolted panels
is amazingly accurate. Customers
who have seen other types of
fabrication are surprised at how
much faster construction of
an Aquastore tank is completed.
From the automated manufacturing processes through the
stage-by-stage inspection and
even down to careful inspection
of the glass. Aquastore quality is
the best in the industry.
Hardware and
Sealants
Stairs & Walkways
The hardware and sealants
for the assembly of an
Aquastore tank are standard
with the order. The specific
types, such as chlorine
resistant sealants or
hardware with protective
covers, are made for the
individual application.
Aquastore tank ladders
and stairways are
constructed of aluminum
rails and rungs with
hot-dip galvanized cages
and step off platforms.
Ladders with locking
safety cage doors
are available.
Link Seals
Level Indicators
For tanks with floors,
the link seal is provided
as standard equipment.
The link seal fits around
the protruding pipe to
ensure that the bottom
remains watertight.
Durable and functional,
the liquid indicator is
a utilitarian option that
can be ordered with your
Aquastore tank and
installed as part of the
assembly operation.
STANDARD FEATURES, ACCESSORIES AND OPTIONS.
Despite the complexities of
manufacturing and glass coatings,
Aquastore tanks are relatively
simple to specify. Most projects
will define the capacity requirements
in the earliest stage. The application
and any space limitations will
determine the configuration.
Once these parameters have been
determined, there are only a few
decisions left.
The standard features of an
Aquastore tank are very basic.
They consist of the glass-fusedto-steel sidewall panels, a sidewall
manway and the hardware and
sealant required to assemble the tank.
Floors and roofs or domes are optional,
as are aluminum ladders with cages,
ladder door assemblies, level
indicators, manway or observation
platforms, roof walkways and guard
rails, bottom round access doors and
the Aquastore cathodic protection
system. Your Aquastore Dealer can
assist with determining the requirements for your application.
Aquastore's cathodic protection
system consists of sacrificial anodes
that mitigate corrosion and provide
protection to internal submerged surfaces
of the tank. ESPC's cathodic protection system is incorporated into the
manufacturer's 10-Year Extended
Performance Warranty. The system
is simple, robust and requires only
minimum inspection and maintenance.
No matter what options you select
for your Aquastore tank, the top-down
assembly process of the tank requires
a system of industrial jacks. Your
Aquastore tank will be erected by trained
builders. Engineered Storage Products
Company holds training sessions for
builders, who are sponsored by or who
are employees of your authorized
Aquastore Dealer insuring a better
tank installation.
Preparation of Sheet Edges
After initial sheet preparation, all full height vertical wall sheet edges
and all rectangular shaped floor sheet edges shall be mechanically
beveled to a 45 degree angle and a thermal spray coating of 316 stainless
steel shall be applied to the sheet edges to a thickness of .0015"–.005".
The process shall be equal to EDGECOAT™ by Engineered Storage
Products Company. The coating shall be firmly adherent (tensile strength
of >1500 psi per ASTM C633).
Cleaning
After fabrication and prior to application of the coating system, all
sheets shall be thoroughly cleaned by a caustic wash and hot water
rinse process followed immediately by hot air drying. Inspection of
the sheets shall be made for traces of foreign matter or rust. Any such
sheets shall be recleaned or grit-blasted to an acceptable level of quality.
Coating
All sheets shall receive one coat of a glass pre-coat to both sides.
Milled glass shall then be applied to the inside of the sheet. This
milled glass shall be formulated to produce a finished interior surface
with optimum toughness and resitance to conditions normally found
in potable water storage tanks. A final cover coat of milled glass shall
then be applied to the exterior of the sheet. All glass layers shall be
fired at a minimum temperature of 1500°F in strict accordance with the
manufacturer's quality process control procedures. Interior dry coating
thickness shall be 7 to 18 mils (180 to 460 microns).
Engineered Storage Products Company Coating Grades
COATING
CHARACTERISTICS
3 Coat System
Vitrium
TiO2 Enriched
White Color
3 Coat System
Glass 97
TiO2 Enriched
White Color
Global Glass 2 Coat System
Standard Exterior Glass
Cobalt Blue
APPLICATIONS
Most Liquid Storage
Demanding Liquid Storage
Dry Product Storage
Non-Aggressive Liquid Storage
Factory Inspection
The manufacturer's quality system shall be ISO 9001 certified. Coated
sheets shall be inspected for glass coating thickness. Shell sheets and
foundation sheets shall be checked for proper curvature. Coated sheets
shall be checked for color uniformity by an electronic colorimeter. An
electrical leak detection test shall be performed on the inside surface after
fabrication of the sheet. Sheets with electrical leakers or pinholes shall
be rejected. A part number and steel source number shall be stamped
in the upper right corner of every sidewall sheet, prior to glassing.
Ventilators
Aquastore tank ventilators
are designed to allow for air
exchange during filling and
emptying, and are equipped with
corrosion-resistant bird and
insect screens.
Floors
Glass-coated, bolted steel floors
can protect the tank integrity in
certain local soil conditions. They
can also significantly reduce
foundation concrete requirements
and simplify installation in
remote locations.
Sidewall Manways
Aquastore tank manways, designed
in accordance with AWWA
D103 Standards, are 24", 30"
or 36" in diameter. They are
constructed of steel that has
been hot-dip galvanized.
Packaging
After quality certification, sheets shall be protected from damage prior
to packaging for shipment. Heavy paper or plastic foam sheets shall be
placed between each panel to eliminate sheet-to-sheet abrasion during
shipment. Individual stacks of panels will be wrapped in heavy duty
plastic and steel banded to special wood pallets built to the rollradius of the tank panels. Shipment will be by truck or, for export
shipments, by ocean container.
ERECTION
Field erection of the glass-coated, bolted-steel tank shall be
in strict accordance with the procedures and policies outlined
in the manufacturer's erection manual and conducted by a certified
erection crew. Specialized erection jacks and building equipment
developed and manufactured by the tank manufacturer shall
be used to erect the tanks.
Prior to a liquid test, all surface areas shall be visually inspected
by the Engineer. An electrical leak test shall be performed during
erection using a wet sponge nine (9) volt leak detection device. All
electrical leak points found on the inside surface shall be repaired
in accordance with manufacturer's published touch up procedure.
No back fill shall be placed against the tank sidewall without prior
written approval and design review of the tank manufacturer. Any
backfill shall be placed according to the strict instructions of the
tank manufacturer.
Roof
Tanks can include a radially sectioned roof fabricated from glass-coated,
bolted steel panels produced by the tank manufacturer, and shall be
assembled utilizing the same sealant and bolting techniques as for the
sidewall panels, to assure a weather/air tight assembly. The roof shall
be clear span and self-supporting. Both live and dead loads shall be
carried by the tank walls. The roof shall be of knuckle design, with
no rolled angle connection between sidewall and roof panels. The
manufacturer shall furnish a roof opening which shall be placed near
the outside tank ladder and which shall be provided with a hinged cover
and a hasp for locking.
Roofs for tanks greater than 36 ft. diameter shall be constructed of
structurally supported flat glass-coated steel sheets or of noncorrugated triangular aluminum panels, firmly sealed and clamped
in an interlocking manner to a fully triangulated aluminum space truss
system of wide flange extrusions. Alternative roof systems may be
specified by the Engineer.
EQUIPMENT and APPURTENANCES
Roof Vent
A properly sized vent assembly in accordance with AWWA D103
shall be furnished and installed above the maximum water level of
sufficient capacity so that at maximum design rate of water fill or
withdrawal, the resulting interior pressure or vacuum will not exceed
0.5" water column. The vent shall be constructed of aluminum such
that the hood can be unbolted and used as a secondary roof access.
AQUASTORE PROJECT SPECIFICATIONS
Construction shall be governed by the Owner's drawings and
specifications showing general dimensions and construction details,
after written approval by the Engineer of detailed erection drawings
prepared by the tank bidder. There shall be no deviation from these
drawings and specifications, except upon written order from the Engineer.
Three sets of complete specifications and shop drawings shall be
submitted in accordance with the "Drawings and Specifications" section.
A complete set of structural calculations shall be provided for the
tank structure.
QUALIFICATIONS of the TANK MANUFACTURER
The bidder shall offer a new tank structure as supplied by Engineered
Storage Products Company of DeKalb, Illinois, U.S.A., a manufacturer
specializing in the design, fabrication, and erection of factory applied
glass-fused-to-steel tanks. The manufacturer shall employ a staff of full
time design engineers, own and operate its steel fabrication facilities and
glass coat the tank all at one plant location.
Bolt Fasteners
Bolts used in tank lap joints shall be 1/2" - 13 UNC - 2A rolled thread,
and shall meet the minimum requirements of AWWA D103, Section
2.2. The finish shall be zinc, mechanically depositied, 2.0 Mils minimum
under bolt head, on shank and threads. All lap joint bolts shall be selected
such that the threaded portions will not be exposed to the "shear plane"
between tank sheets.
Bolt head encapsulation shall consist of high impact, UV stabilized
polypropylene copolymer encapsulation of entire bolt head. The bolt
head encapsulation shall be certified to meet the ANSI/NSF Standard 61
for indirect additives.
Sealants
The lap joint sealant shall be one component, moisture cured,
polyurethane compound. The sealant shall be suitable for contact
with potable water and shall be certified to meet ANSI/NSF Additives
Standard 61 for indirect additives and shall be chlorine resistant up to
50ppm. The sealant shall cure to a rubber-like consistency, have excellent
adhesion to the glass coating, low shrinkage and be suitable for interior
and exterior use. Neoprene gaskets and tape type sealer shall not be used.
GLASS COATING SPECIFICATION
Surface Preparation
Following the decoiling and shearing process, sheets shall be steel
grit-blasted on both sides to the equivalent of SSPC-10. Immediately
after blasting, these sheets shall have a water-soluble rust preventative lubrication applied to both sides. This preventative lubricant is
applied to the sheets to ensure protection from corrosion during
fabrication.
Engineered Storage Products Company
delivers Aquastore tanks globally
through a network of Authorized Sales
Outlets and Aquastore Dealers. These
organizations and their representatives
are available to discuss your requirements
from the inception of the project.
Their experience in your region and
knowledge of applications can be of
valuable assistance during the project
development and specification stage.
From early planning through construction
and commissioning of the tank, your
Aquastore Dealer and Authorized
Sales Outlet can provide the support
services you need. Pricing, sample
foundation layouts, project scheduling,
approval drawings and foundation
construction are just a few of the areas
where dealers can help. They can
prepare budget estimates and supply
technical information. Authorized
Sales Outlets and Aquastore Dealers
are trained to provide complete turnkey
service. You deal with one source from
start to finish, including service after
the installation. To locate your
Aquastore Dealer, check
the map section at
www.aquastore.com.
AL
P
I
–– I ND U
L
Bolt lengths shall be sized to achieve a neat and uniform appearance.
All lap joint bolts shall include a minimum of four (4) splines on the
underside of the bolt head at the shank in order to resist rotation
during torquing.
AUTHORIZED AQUASTORE DEALERS AND SALES OUTLETS.
R IA
ST
MATERIALS
Plates and Sheets
Plates and sheets used in the construction of the tank shell, tank floor
(when supplied) and tank roof (when supplied), shall comply with the
Horizontal Wind Stiffeners
Design requirements for intermediate horizontal wind stiffeners
shall be of the "web truss" design with extended tail to create
multiple layers of stiffener, permitting wind loads to be distributed
around the tank. Web truss stiffeners shall be of steel with hot
dipped galvanized coating.
FA
Design Criteria (select one)
American Water Works Association Standard D103 for bolted water
storage tanks
American Institute of Steel Construction
Factory Mutual (FM) approved designs for fire protection water storage
National Fire Protection Association Section 22 fire protection
water storage
Other
Product Stored:
Minimum Capacity:
Nominal Tank Diameter:
Nominal Tank Sidewall Height:
Internal Design Pressure:
(in. WC) (mm. WC)
Internal Design Vacuum:
(in. WC) (mm. WC)
Temperature Range (°F) (°C):
pH Range:
Specific Gravity:
Freeboard (inches or millimeters):
Roof Live Load:
Wind Speed:
Seismic Zone:
Location (job site):
Rolled Structural Shapes
Material shall conform to minimum standards of ASTM A36 or
AISI 1010.
CT
D
DRAWINGS and SPECIFICATIONS
minimum standards of the specified code or with AISC, latest edition.
Design requirements for mild strength steel shall be ASTM A570 Grade
30, and for high strength steel shall be ASTM A607, Grade 50, both with
a maximum allowable tensile stress per design code. The annealing effect
created from the glass coated firing process shall be considered
in determining ultimate steel strength.
MUN
IC
SCOPE
The Engineer's selection of factory applied glass-fused-to-steel sectional
tank construction for this facility has been predicated upon specific
criteria, construction methods and optimum coating for resistance to
internal and external tank corrosion. Deviations from the specified
design, construction or coating details will not be permitted.
ORY
T
N
R AI
E
Firm Quote
Budget Quote
Date
Quote Due Date
Inquiry From
Phone
Email
Job Reference
Address
Phone
Fax
City
State
Zip
Fax
AQUASTORE TANK REQUEST FOR QUOTATION.
PROJECT INFORMATION
Name:
Client:
Street Address:
City
State
Zip
Phone:
Fax:
E-mail:
Date:
TANK DATA
Quantity of Tanks
Minimum Tank Capacity
Tank Diameter
Tank Height
Job Site
Municipal
Industrial
Water Supply
Wastewater
TANK DESIGN CODE
AISC
AWWA D103
FM
NFPA 22
Other ____________________ (Specify)
Product Stored:
Internal Design Pressure________(in. WC) ( __ mm WC)
Internal Design Vacuum________(in. WC) ( __ mm WC)
Temperature Range (°F) (°C)
pH Range
Specific Gravity
Freeboard (inches or millimeters)
FLOOR SYSTEM
Flat Steel Floor
Concrete Slab Floor
ROOF SYSTEM
Steel Roof with 25 lbs./sq. ft (100 kg/m2) Live Load
Steel Roof with __ lbs./sq. ft ( ___ kg/m2) Live Load
Open Top
Dome with __ lbs./sq. ft ( ___ kg/m2) Live Load
EQUIPMENT OPTIONS
Ladder (Aluminum only) with Cage
Ladder Door Assembly (Anti Climb)
Level Indicator
Manway Platform (Tank with Roof)
Observation Platform (Open Top Tank)
Roof Manway
Roof Walkway and Guard Rail
Gravity Vent (Aluminum only)
Bottom Round Access Doors
Cathodic Protection System
INSTRUCTIONS
To complete the Request For Quotation form on the facing page, follow
the steps below. Submitting this information will ensure that you will
receive a quick and accurate Aquastore tank quotation. Please leave an
item blank if you do not know or are uncertain how it should be filled out.
We will specify values based on our database for the product stored and
the location of the tank(s).
1. Select a Size
Review the capacity chart on the following pages. If there are no
height or diameter restrictions, specify the desired capacity and we
will select the most economical configuration.
2. Select a Design Specification
AISC is a tank based on American Institute of Steel Construction
standards, suitable for all applications. American Water Works
Association Standard D103 is a specification for bolted water
storage tanks for drinking water supply systems. Factory Mutual
(FM) designs are approved for fire protection water storage.
National Fire Protection Section 22 is another fire protection water
storage standard.
3. Provide Design Requirements
• Product to be stored.
• Internal Design Pressure in Water Column height.
• Internal Design Vacuum in Water Column height.
• Temperature range of the product stored.
• pH of product (neutral water is 7; acids are < 7 and
bases are > 7.)
• Specific gravity of the product stored. (Water is 1.0)
4. Select a Floor System
• A flat steel floor is coated internally and externally with
Aquastore glass-fused-to-steel.
• A concrete slab can be utilized as the tank floor. The
Aquastore walls are embedded in the slab foundation.
5. Select a Roof System
A steel roof is coated with Aquastore glass-fused-to-steel.
The standard roof live load is 25 lbs./sq. ft. (100kg./m2), but a
different loading can be specified. Open top tanks will include the
wind stiffening commonly used in wastewater treatment and liquid
sludge applications.
6. Select the Desired Optional Equipment
• Exterior Aluminum Ladder with cage and grooved, skid
resistant rungs meets OSHA regulations.
• Ladder Door Assembly
• Level Indicator- Gauge board type with float
• Roof Manway Platform
• Open Top Observation Platform
• Roof Manway with lockable hasp
• Roof walkway and guard rail for dome and glass coated
roof systems
• Gravity vent for most water storage applications
• Bottom round Access Doors to facilitate inspection
and maintenance programs.
• Cathodic Protection System—suitable for many
applications to further reduce maintenance
requirement and extend tank life.