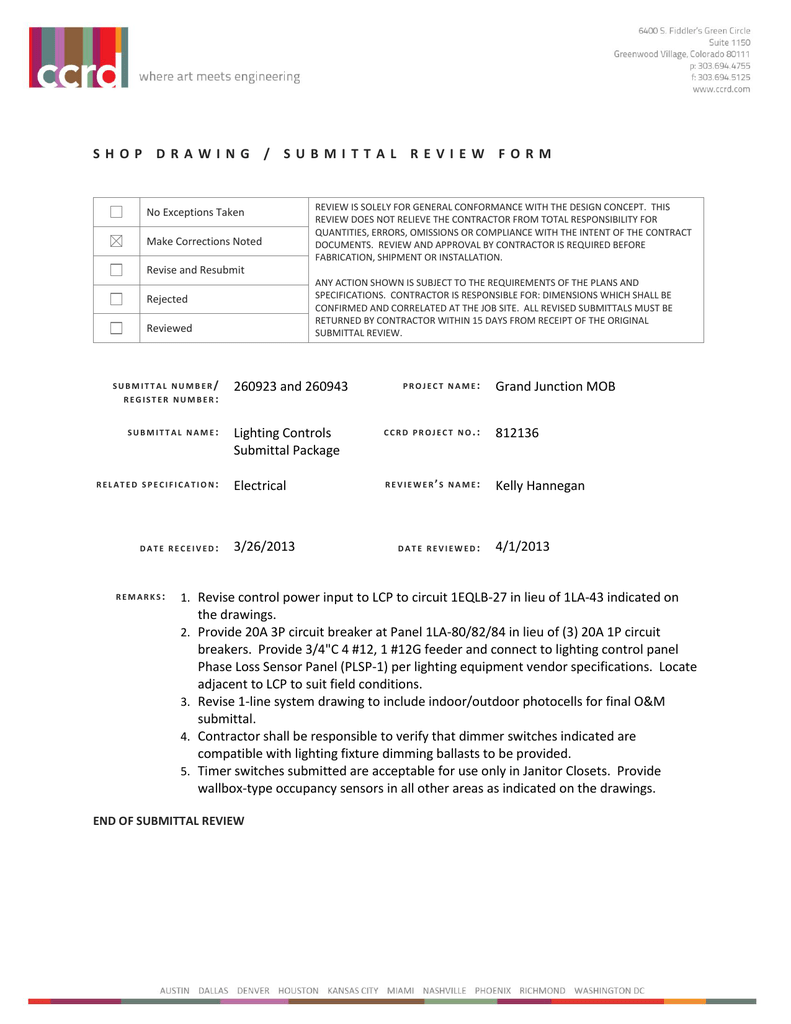 SHOP DRAWING / SUBMI TTAL REVIEW FORM
No Exceptions Taken
Make Corrections Noted
REVIEW IS SOLELY FOR GENERAL CONFORMANCE WITH THE DESIGN CONCEPT. THIS
REVIEW DOES NOT RELIEVE THE CONTRACTOR FROM TOTAL RESPONSIBILITY FOR
QUANTITIES, ERRORS, OMISSIONS OR COMPLIANCE WITH THE INTENT OF THE CONTRACT
DOCUMENTS. REVIEW AND APPROVAL BY CONTRACTOR IS REQUIRED BEFORE
FABRICATION, SHIPMENT OR INSTALLATION.
Revise and Resubmit
ANY ACTION SHOWN IS SUBJECT TO THE REQUIREMENTS OF THE PLANS AND
SPECIFICATIONS. CONTRACTOR IS RESPONSIBLE FOR: DIMENSIONS WHICH SHALL BE
CONFIRMED AND CORRELATED AT THE JOB SITE. ALL REVISED SUBMITTALS MUST BE
RETURNED BY CONTRACTOR WITHIN 15 DAYS FROM RECEIPT OF THE ORIGINAL
SUBMITTAL REVIEW.
Rejected
Reviewed
SUBMITTAL NUMBER/
REGISTER NUMBER :
SUBMITTAL NAME:
RELATED SPECIFICATION:
DATE RECEIVED:
REMARKS:
260923 and 260943
PROJECT NAME:
Grand Junction MOB
Lighting Controls
Submittal Package
CCRD PROJECT NO.:
812136
Electrical
REVIEWER'S NAME:
Kelly Hannegan
3/26/2013
DATE REVIEWED:
4/1/2013
1. Revise control power input to LCP to circuit 1EQLB-27 in lieu of 1LA-43 indicated on
2.
3.
4.
5.
the drawings.
Provide 20A 3P circuit breaker at Panel 1LA-80/82/84 in lieu of (3) 20A 1P circuit
breakers. Provide 3/4"C 4 #12, 1 #12G feeder and connect to lighting control panel
Phase Loss Sensor Panel (PLSP-1) per lighting equipment vendor specifications. Locate
adjacent to LCP to suit field conditions.
Revise 1-line system drawing to include indoor/outdoor photocells for final O&M
submittal.
Contractor shall be responsible to verify that dimmer switches indicated are
compatible with lighting fixture dimming ballasts to be provided.
Timer switches submitted are acceptable for use only in Janitor Closets. Provide
wallbox-type occupancy sensors in all other areas as indicated on the drawings.
END OF SUBMITTAL REVIEW
From:
Sent:
To:
Cc:
Subject:
Russell Tafoya <[email protected]>
Monday, April 01, 2013 4:15 PM
Brady McQuinn; James Selecky
Ryan Bonner; Mike Murphy
RE: Project: 112039.00 - Grand Junction Medical Center - Submittal
Responded to and Clos... - Submittal:26092301-03, 26094301:4K4I0
Thank you Brady,
Weifield Group response to the remarks in the submittal are as follows:
Item 3: one line shows exterior photo cell only as the other light sensors in the building are line voltage
stand alone sensors as submitted which do not tie into the lighting control panel. They provide on off
function for the related adjacent lighting locally, typical of two locations.
Item 4: confirmed, dimming technologies are coordinated in the boardroom.
Item 5: We submitted the time switch to work for the trash enclosure location. We will furnish a
weatherproof cover. Wallbox type occupancy sensors are shown in the janitor's closet on the
drawings. Please advise if this is direction to revise them to timer switches.
Russell Tafoya, Senior Project Manager
Weifield Group Contracting LLC 146 Yuma
Street Denver, CO 80223
303.428.2011 office 303.407.6624 direct 303.847.8341 mobile 303.202.0466 fax
www.weifieldcontracting.com
LEEDing the way in electrical construction
From: Brady McQuinn [mailto:[email protected]]
Sent: Monday, April 01, 2013 4:03 PM
To: Russell Tafoya; James Selecky
Cc: Ryan Bonner; Mike Murphy
Subject: FW: Project: 112039.00 - Grand Junction Medical Center - Submittal Responded to and Clos... Submittal:26092301-03, 260943-01:4K4I0
Russell and James,
Please see the attached submittal.
Thank you,
Brady McQuinn
Project Engineer
Cell: (303) 356-3999
From: Jeff Beardsley [mailto:[email protected]]
Sent: Monday, April 01, 2013 3:34 PM
To: Brady McQuinn
Subject: Project: 112039.00 - Grand Junction Medical Center - Submittal Responded to and Clos... Submittal:26092301-03, 260943-01:4K4I0
This email contains the response for a Submittal. The Submittal transmittal is attached to the email.
Project Name:
Project Number:
112039.00 - Grand Junction Medical Center
112039.00
From:
To:
CC:
Jeff Beardsley (Boulder Associates, Inc.)
Brady McQuinn (GH Phipps Construction Companies)
Subject:
Transmittal ID:
Submittal ID:
Remarks:
Lighting Controls
00333
26092301-03, 260943-01
Transferred Files
Name
Type
Date
Time
Size
260923-01-03, 260943-01 Lighting
Controls.pdf
Adobe Acrobat
Document
4/1/2013
3:32
PM
4,366
KB
Notification generated by Newforma Project Center
Jeff Beardsley, AIA, LEED AP BD+C | Associate
BOULDER ASSOCIATES ARCHITECTS | Design Leaders for Health & Aging
1426 Pearl Street, Suite 300 | Boulder, Colorado 80302 | 303.499.7795 | boulderassociates.com
BOULDER | SACRAMENTO | ORANGE COUNTY | SAN FRANCISCO | DALLAS
By accepting and using this information the recipient agrees to the following terms: The attached electronic files are provided for the
purpose of expediting input of information into the recipients computer. In using or modifying this data, the recipient shall confirm
the information matches the hard copy drawings and/or actual field conditions, if any. Boulder Associates hereby disclaims any
liability related to the use of these electronic files, and does not guarantee any accuracy of the information. The information
provided by Boulder Associates shall not be used for any purpose other than the project for which it was originally intended. These
electronic files shall not to be released to any other party without the written consent of Boulder Associates. These electronic files
are an instrument of professional services and shall remain the property of the parties listed in the professional services agreement.