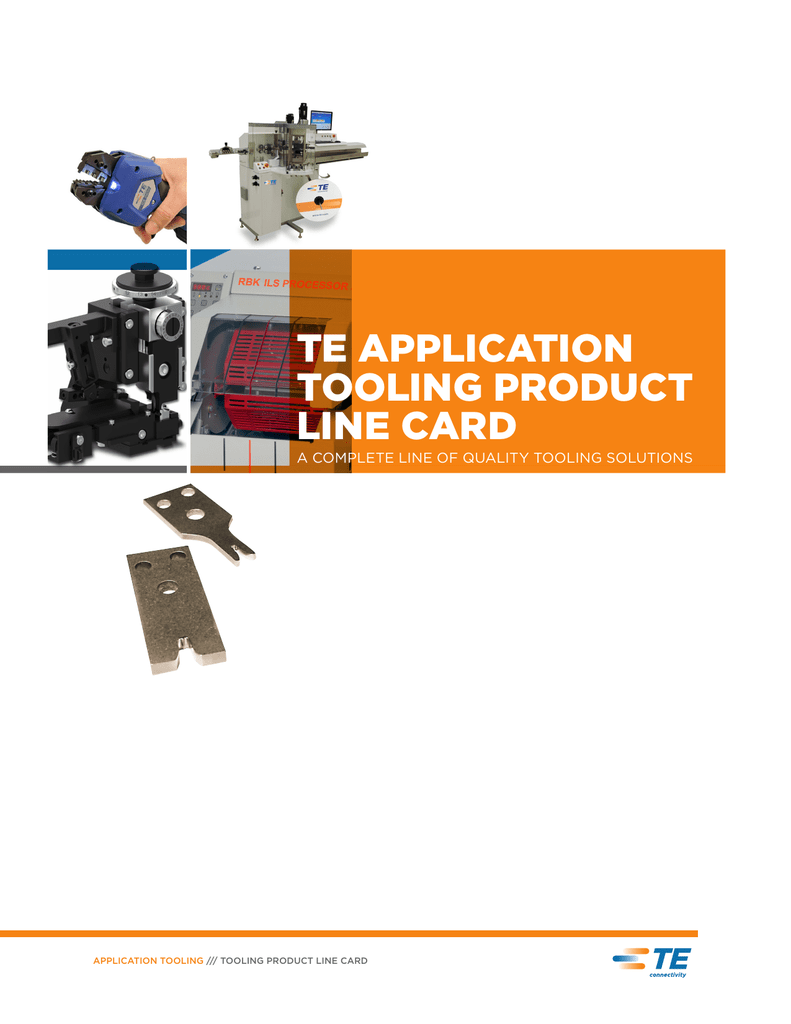 TE APPLICATION
TOOLING PRODUCT
LINE CARD
A COMPLETE LINE OF QUALITY TOOLING SOLUTIONS
APPLICATION TOOLING /// TOOLING PRODUCT LINE CARD
MANUAL HAND TOOLS
Premium
Commercial
Contractor
• Designed to exacting
specifications
• Requires minimum skill
• Meets military, UL and
CSA requirements as
applicable
• Flexible standard
die envelope
design
• Adjustable ratchet
control system
• Ergonomic design
• Wire & cable
cutters and
strippers
• Ergonomic designs
• Lightweight
Battery
626 Pneumatic
Hydraulic
•
•
•
•
•
• Lightweight
designs
• Hand or foot
operated
• Ratcheted control
• Rotating heads
• Accepts SDE die
sets
• 8,200 & 10,000 psi
• Shank & U-dies
• Heads, pumps &
hoses
• Among industry
leaders in reliability
POWERED ASSIST HAND TOOLS
Lithium-Ion
Ergonomic design
Short charge times
Completely portable
3,400 - 24,000 lb
crimp force capability
• Large range of die
options
KITS & DIE SETS
Insertion &
Extraction
Hand Tools
• Compatible with
most manufacturers'
wiring harnesses
• Tool kits & individual
tools available
• Customizable kits
• Includes sample
terminals
• Cost effective
• Portable
Standard Die
Envelope
• Over 100
interchangeable
die sets
• Portable from
manual to battery
to pneumatic tools
BENCH EQUIPMENT
SDE Electric
• Compatible with over
100 SDE die sets
• Small footprint
• Foot actuated
APPLICATORS
AT-SC MK II
Pneumatic
AT-66 Hydraulic
• Straight action
machine
• Pneumatic crimping
• Safe, ergonomic
design
• Programmable
• Adaptive crimp force
• Fast changeover
times
• Compact design
SPARE TOOLING
OCEAN
Replacement
Tooling
• Mechanical,
pneumatic and
servo feed
• One applicator
platform - modular
family design
• Fine adjustment
control
• Precision ground,
chrome plated
• Engineered for
compliance
to meet OEM
specifications
• UL Listed
• CSA certified
TERMINATORS
3K and 5K
G II
• Small footprint
• Open architecture
for design flexibility
• Fast, quiet design
• Optional stripping
module available
• Improved lighting
and safety features
• Open architecture
for design flexibility
• Fast, quiet design
• Optional stripping
module available
QUALITY TOOLS
CQM II
• Real time crimp
height measurement
• Multiple analysis
techniques for
improved defect
detection
• Touch screen with
intuitive interface
• Networking
capability
Eye Check
Camera
• PC or CQM II
compatible
• Device to aid
applicator feed
setup and terminal
alignment
WIRE PREP
MAGNET WIRE
Cosmic 32M & 927R
Cosmic 48R & RX
APT 5A
• Compact, lightweight,
bench-top
• For most wire types
• Can be selected to
twist clockwise/
counterclockwise or
non-twist
• Digital display for wire
diameter
• Lightweight and
portable
• Triple stepping
motor motion
system to process
cable up to nine
stages
• Versatile with
all-around high
precision
• Fast, efficient
system, with no
need to strip
mag-wire insulation
• CQM II controlled
• CE approved
• Connects up to
three wires in one
splice
Kappa 310 & 320
Kappa 331
• Compact, high-speed
machine
• Can handle wire sizes
from 0.02mm2 to
6mm2
• Intuitive, flexible, and
simple touch-screen
operation
• Built for processing
round conductors
• Ability to process
cables with a cross
section of up to
35mm2
• Ideal for coaxial
wire
INSULATION DISPLACEMENT
WIRE MARKING
PIN INSERTION
Ink Jet &
Hot Stamping
• Easy operation with
TopWin / TopNet
• Direct inline interface
with most Komax
machines
CONNECTOR PRESS FIT
SIM 25 & 50
P50 & P100
CBP 5T
• Compact semiautomatic machine
for small to medium
volumes
• Applies TE RAST 2.5
and RAST 5 connectors used in the household appliance and
automotive industries
• Discrete pin
insertion into PCboard applications
• Manual and semiautomatic designs
• Simple operator
interface
• Multiple quality
tools available
• Processes most
compliant pin
connector applications
• Press force capacity
of 5 tons
• Small footprint for low
to medium volume
• Ability to monitor and
control force, distance
and speed for every
press cycle
FFC
P300 & P350
CSP 3T
• Electrically driven
semi-automatic
assembly machine
• Provides quick
change, interchangeable applicator design
for different products
• Touch screen interface
• Fully automatic
design can process
reeled press-fit and
thru-hole components
• Ability to process
boards up to 400
x 600 mm [15.5 x
23.5"]
• Inline capability
• Automatic shuttle
system for fast, simple
product presentation
• Full control and
monitoring of force,
distance and speed
• Improved process
control due to fixturing
of PCB connector
RBK III
Belt Heaters
Tunnel Ovens
• Semi-automatic
unit
• Long life heating
elements
• Compliant with
latest CE and RoHs
requirements
• Closed-loop
temperature and belt
speed control
• Suitable for
continuous running
with minimum
maintenance and
downtime
• Reliable, versatile
design can handle a
wide variety of heatshrinkable products
• Can handle unlimited
tubing lengths and
large substrate
diameters if run
parallel to belt travel
UNIQA-PRO
Gamma
Alpha
• Single ended wire
processor
• 20% smaller footprint
than traditional lead
makers
• 4x faster thruput than
standard wire prep
and benchtop units
• Equipped with up to
three processing stations,
enabling the crimping
of both ends of the wire,
double-crimp connections
with three different
contacts, single-ended
seal applications, tinning,
or ink-jet marking
• Handles doublecrimp connections
involving varying
lengths
• Dual channel
cuthead allows for a
large range of wire
sizes without blade
changes
FLAT FLEXIBLE CABLE
HEAT SHRINK
LEAD MAKERS
Let's Connect
To learn more about our comprehensive line of tooling solutions,
please visit us at www.tooling.te.com.
TE Technical Support Center
USA: 1.800.522.6752
UK: Canada: 1.800.522.6752
France:+33.1.34.20.8686
Mexico: +52.55.11.06.0800
Netherlands:+31.73.624.6999
Latin/S. America+54.11.4733.2200
+44.0800.267666
China:+86.400.820.6015
Germany:+49.6151.607.1999
Waste Not. Want Not.
Whether it's time or scrap,
in manufacturing everyone
knows that waste costs
money. With our on-site
certification and consultation
services, we can help you:
•
•
•
•
Reduce downtime
Reduce scrap
Maintain crimp quality
Improve manufacturing efficiency
Connect with us today to learn more.
•
•
•
Time is Money.
In manufacturing downtime can
be expensive. That's why TE is
constantly working to improve
product availability and
delivery rates. With a strong
global footprint, short lead
times and a strong distribution
channel, TE has the equipment
and the accessories to keep production online.
To check distributor stock and availability for
your tooling needs go to:
http://www.te.com/commerce/sck/cdi.do
E-mail: [email protected]
Phone: 800-722-1111 or 717-986-3434
For additional information download catalog
#1-1307619-0 from www.tooling.te.com.
tooling.te.com
1-1773864-6 / Revised 09-15 © 2015 TE Connectivity Ltd. family of companies. All Rights Reserved.
OCEAN, TE Connectivity and TE Connectivity (logo) are trademarks.
Other product and/or crimping names herein might be trademarks of their respective owners.
APPLICATION TOOLING /// TOOLING PRODUCT LINE CARD
In the interest of continuous
improvement, TE reserves the
right to modify, discontinue
or replace any products.