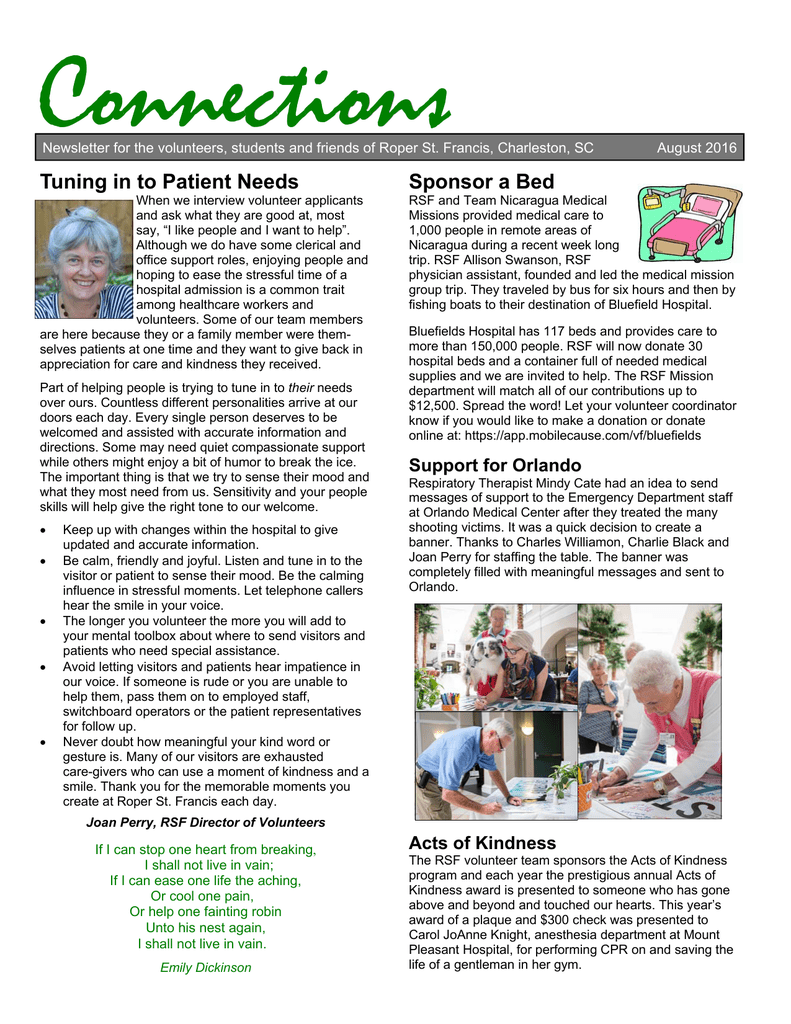 Connections
Newsletter for the volunteers, students and friends of Roper St. Francis, Charleston, SC
August 2016
Tuning in to Patient Needs
Sponsor a Bed
When we interview volunteer applicants
and ask what they are good at, most
say, "I like people and I want to help".
Although we do have some clerical and
office support roles, enjoying people and
hoping to ease the stressful time of a
hospital admission is a common trait
among healthcare workers and
volunteers. Some of our team members
are here because they or a family member were themselves patients at one time and they want to give back in
appreciation for care and kindness they received.
RSF and Team Nicaragua Medical
Missions provided medical care to
1,000 people in remote areas of
Nicaragua during a recent week long
trip. RSF Allison Swanson, RSF
physician assistant, founded and led the medical mission
group trip. They traveled by bus for six hours and then by
fishing boats to their destination of Bluefield Hospital.
Part of helping people is trying to tune in to their needs
over ours. Countless different personalities arrive at our
doors each day. Every single person deserves to be
welcomed and assisted with accurate information and
directions. Some may need quiet compassionate support
while others might enjoy a bit of humor to break the ice.
The important thing is that we try to sense their mood and
what they most need from us. Sensitivity and your people
skills will help give the right tone to our welcome.





Keep up with changes within the hospital to give
updated and accurate information.
Be calm, friendly and joyful. Listen and tune in to the
visitor or patient to sense their mood. Be the calming
influence in stressful moments. Let telephone callers
hear the smile in your voice.
The longer you volunteer the more you will add to
your mental toolbox about where to send visitors and
patients who need special assistance.
Avoid letting visitors and patients hear impatience in
our voice. If someone is rude or you are unable to
help them, pass them on to employed staff,
switchboard operators or the patient representatives
for follow up.
Never doubt how meaningful your kind word or
gesture is. Many of our visitors are exhausted
care-givers who can use a moment of kindness and a
smile. Thank you for the memorable moments you
create at Roper St. Francis each day.
Bluefields Hospital has 117 beds and provides care to
more than 150,000 people. RSF will now donate 30
hospital beds and a container full of needed medical
supplies and we are invited to help. The RSF Mission
department will match all of our contributions up to
$12,500. Spread the word! Let your volunteer coordinator
know if you would like to make a donation or donate
online at: https://app.mobilecause.com/vf/bluefields
Support for Orlando
Respiratory Therapist Mindy Cate had an idea to send
messages of support to the Emergency Department staff
at Orlando Medical Center after they treated the many
shooting victims. It was a quick decision to create a
banner. Thanks to Charles Williamon, Charlie Black and
Joan Perry for staffing the table. The banner was
completely filled with meaningful messages and sent to
Orlando.
Joan Perry, RSF Director of Volunteers
If I can stop one heart from breaking,
I shall not live in vain;
If I can ease one life the aching,
Or cool one pain,
Or help one fainting robin
Unto his nest again,
I shall not live in vain.
Emily Dickinson
Acts of Kindness
The RSF volunteer team sponsors the Acts of Kindness
program and each year the prestigious annual Acts of
Kindness award is presented to someone who has gone
above and beyond and touched our hearts. This year's
award of a plaque and $300 check was presented to
Carol JoAnne Knight, anesthesia department at Mount
Pleasant Hospital, for performing CPR on and saving the
life of a gentleman in her gym.
Getting to Know You - MPH
Caring Clown Meeting
Meet Dotty Brass, one of
our newest Volunteer at Mount
Pleasant Hospital.
Originally from Baltimore,
Maryland, Dottie retired in 1994
and moved to the Lowcountry to
be with her daughter and family.
For many years Dottie worked
as VP of a large Savings &
Loans institution, before she
was recruited by National Cash
Register for their financial
services support department.
She become the first female
sales person for the company,
which at the time was a very
male dominated field. She was a career trail blazer.
Dottie has two grand children, one of whom is currently
working on her doctorate, and three great grand children.
On Friday mornings, patients coming into the Medical
Office Building, are greeted by her warm smile, helpful
spirit and excellent directions! Dottie loves to read, and
also volunteers at the ECO Center in Mount Pleasant.
Getting to Know You - BSSF
Tim Twomey was born in
Tampa, Florida. He attended
the University of Florida with a
gap of two years serving in the
Army before completing his
degree. Tim has always been
athletic and pitched for the
University of Florida Baseball
team while he was there.
Tim spent his career working
as a Steamship Agent in
Charleston and retired after a
51 year career. His wife Sandy
works at Mason Prep school.
Tim and Sandy have three
children and six grandchildren.
Tim says each and every one is clever and successful.
Tim is a member of the Hibernian Society. He enjoys
working out and used to compete in the Masters Track &
Field events in Hammer Throwing events. He recently
joined a Dragonboat paddling team. Tim joined our
volunteer team this year and now drives the golf cart on
Monday and Friday afternoons. Tim has a dangerous
habit of tempting the staff with tasty chocolate treats that
he bakes himself. He is pictured above at a recent
teammate ice cream social.
RSH Receives Award
RSF CEO David Dunlap was recently awarded the 2016
Excellence in Healthcare President's Award from
Professional Research Consultants for extraordinary
contributions to healthcare on behalf of Roper St. Francis.
The Caring Clown program under the guidance of
Dr. Geezer aka Bob Mason, is now making rounds at
Roper, Bon Secours, MUSC, MUSC Children's Hospital
and the VA Medical Center. Area Clowns and
coordinators gathered at Café Fork for their annual
meeting. Thanks for the smiles!
Welcome New Volunteers:
Roper Hospital: Welcome Rachel Beodeker, Lakeisha
Perry – Admitting office, Dee Davis - Cardiac Rehab,
Bethany Jones and Tania Rodriguez -Transport, Heather
Pritchard - SICU waiting room, Teka McLaurin, Christine
Mezzatesta and Kim Lor - 5 South Oncology, Hannah
Ruth - 6 East Med-Surg, Kelly Anne Cherry - Music,
Lakeisha Perry, Demitri Rickman - Legal Department,
Ellis Stewart, Jenna Hansel - Clinical Research
Department and many SCRUBS, PT/OT students.
Bon Secours St. Francis: Welcome Audrey Hamilton Mother/Baby Unit, Dylan Leymeister - Outpatient Desk,
Ervetta Murphy - West Information Desk, Patrick Birt PACU, Nancy Williams - OR Waiting Room, Danielle
Morron - Mother/Baby, Ramona Tepper - Caring Clowns,
Debbie Hayward, Linda Werden - Patient Representative,
Janice Moniz-Daniels - Mammography and SCRUBS and
career track students observing and learning. Thanks to
current volunteers who have stepped up to cover for
volunteers on leave.
Mount Pleasant Hospital: Karen Wiggers - Women's
Services and Mark "Burns" Yodice - MOB desk and golf
cart driver.
Pay it Forward
St. Francis volunteers were surprised with a "pay it
forward" basket full of treats from the Support Services
staff. We filled the basket back up with goodies and
passed it along to the staff in the Emergency Department!
News:







The RSF Foundation announced that the speaker for
the next Rx Society Donor Appreciation Gala will be
Captain & Astronaut Scott Kelly. The event
recognizes donors who have contributed $1,000 or
more in a year. Some of our volunteers are members
so this is exciting news.
Rehab Volunteer Sabreena McCoy has been hired as
Rehab Tech at Bon Secours St. Francis Hospital.
Congratulations Sabreena!
MPH volunteer Art Cobert was featured in a article
about his military service in the Moultrie News.
Beloved St. Francis volunteer Donna Keating passed
away in June. Donna served in the Cancer Center
and Operating Room waiting room.
Bon Secours St. Francis volunteer Alice Oliver has
retired from volunteer service. Alice serviced many
years at the Outpatient Desk and most recently
escorted patients back and forth to the lab. We thank
her for her 1,900 hours of service.
New security number: Everyone who works at
Roper St. Francis can now call one central number
for security. The number for the new Dispatch Center
is 843-724-1900. The phone number for codes and
emergencies inside hospital facilities remains 2911.
Joan Perry will be out of the office, 8/29-9/6
celebrating her father's 90th birthday in Canada.
Trident United Way
Roper St. Francis teammates are a generous and
community minded group. Last year our health system
raised $350,000 for Trident United Way. Our fundraising
campaign is in progress and volunteers are welcome to
contribute. Contact your coordinator to participate.
Our Healthcare Future
We say farewell to students who have learned and
worked with us this summer. Kathleen Kittrell shared a
moment with Roper Hospital pet therapy dog Cid, Matt
Reeves said goodbye to the St. Francis Emergency
Department and Amanjot Paintlia was all smiles after
spending his last day in the SCRUBS program observing
in the Operating Room at St. Francis Hospital. All the best
as you head back to classes. Thank you to the many RSF
teammates who have mentored students this summer.
Getting To Know You - Roper
Suzanne Halasz has been
working in the ICU waiting
room on Wednesday
mornings helping family
members, patients and staff
for the last two years. It's a
long way from her days in
opera. Suzanne was born and
raised in New York and has
had an amazing life working
as a fundraiser for the opera.
Her father founded the New
York City Opera.
Suzanne studied abroad in
Paris earning her degree in
International Affairs.
Returning to the states her career in real estate led her to
work with the very prestigious Corcoran Group founded
by Real Estate Mogul Barbara Corcoran. Suzanne
enjoyed working with Barbara and says she learned a lot
about money and investments with this experience.
Suzanne moved to Charleston two years ago to escape
the cold and snow, the high cost of New York living and to
enjoy the open friendliness of the Lowcountry. She
enjoys reading, cooking and her love of music and culture
keeps her busy. She studies with the second chair Cellist
of the Charleston Symphony Orchestra.
Dates to Remember
Upcoming Sales at Roper Hospital
Jewelry Is Fun Sale:
8/4: 8 a.m. - 5 p.m.
8/5: 7 a.m. - 3 p.m.
Irene Dixon Auditorium
Electronics Sale
8/30: 8 a.m. - 4 p.m.
8/31: 7 a.m. - 3 p.m.
Irene Dixon Auditorium
Payroll deduction offered for registered eligible
teammates. Credit card and cash accepted.
——Mount Pleasant Hospital Teammate Forums
Wednesday, 8/3: 8 a.m., 3 p.m.
Thursday, 8/4: 7:30 a.m., 5 p.m.
————
Go home from work with fresh organic produce from
Johns Island Fields/Pinckney Farms
Bon Secours St. Francis Hospital
Wednesdays: 7:30 a.m. - 5 p.m.
West end parking lot in the grassy island
between the hospital and the plaza building
Roper Hospital
Thursdays: 7:30 a.m. - 5 p.m.
North end of Lucas House
———
Lowcountry Heart Walk: Saturday, 9/24
Liberty Square
Your support is invited! Contact Lynne at 843-724-2080
Happy Birthday!
8/01
8/03
8/04
8/05
8/06
8/07
8/08
8/10
8/11
8/12
8/14
8/15
8/16
8/19
8/20
8/22
8/24
8/25
8/26
8/27
8/28
8/30
8/31
Al Dawson, Bo Memering, Roxanne Montgomery
Gerald Hill
Brittany Rivers, Charles Thompson
Katherine Bishop, Nicole Call, Dylan Graham
Buzz Edwards, Demitri Rickman
Linda Scheller
Corey Campbell
Audrey Hamilton, Ardenia Nelson
Pat Kelley
Elizabeth Bruning, Barbara Lannan, Sandy Pang
Nancy Klock
Austin Drouin, Ronda Haley, Mary Stitt
Wendy Taylor
Lakeisha Perry
Jack Connelly, Mary Vogel, Charles Williamon
Odessa Feagin, Ann Mitchum
Sophia Cecil, Amanjot Paintlia, Helen Theriault
Linda Reinschmidt, Christine Reves
Nancy Chisolm, Martha Sutton
Sara Omlor
Eileen Morini, Beatrice Zaki
Jane Classen, Laura Welsch
Amanda Gosine, Kailee Losinger
Meet the Lauries!
Lauren Glass has joined our team
as Volunteer Coordinator at Mount
Pleasant Hospital. Laurie moved to
Mount Pleasant three years ago.
She and husband Mike have three
sons.
Laurie Glass
MPH Volunteer Coordinator
Laurie comes to us with years of
experience managing volunteers for
a large church system in Greenville.
Laurie has been enjoying getting to
meet the MPH volunteer team. She
has been busy interviewing
applicants, seeking new volunteer
roles and has already hosted a
uniform sale.
Laurie Beckman joined Hospice as
Volunteer Coordinator. Laurie
began her work in hospice as a
volunteer herself. After using
hospice services for her parents,
she considered a career move from
Volunteer Opportunities:
St. Francis Mammography Hostess: Help is welcomed in substance abuse counseling. She
the Mammography center in the Plaza building. Volunteers first volunteered with Montgomery
escort patients from the waiting room, show them where to Hospice in Maryland, then
accepted a position as a volunteer
change, explain the process and walk them back to the
coordinator for The Washington
waiting room.
Home and Community Hospices in
St. Francis Lab Escort: Need help getting your daily
Washington, DC. She was there for
10,000 steps? Volunteers escort patients to the
Laurie Beckman
five years, moving up to the
Phlebotomy room and accompany them back out to the
Hospice Volunteer
position of director of volunteer
waiting area at St. Francis Hospital.
Coordinator
services and outreach.
Roper Hospital: Receptionist volunteer help is needed in
Roper Pastoral Care and Dietary Department.
In 2014 she moved back to Charleston where she had
Farmfield Eye Surgery Center: Help is needed on
raised her three daughters and worked as a hospice
Tuesdays admitting and discharging patients.
liaison, meeting with patients and families to facilitate
hospice admissions. In addition to her three daughters and
Contact Information:
son-in-laws, Laurie has two grandsons and two more
Bon Secours St. Francis Hospital: Joan Perry: 843-402-1156
grandchildren on the way.
Roper Hospital: Lynne Steele: 843-724-2080
Mount Pleasant Hospital: Laurie Glass: 843-606-7502
Hospice Volunteering: Laurie Beckman: 843-402-3118
316 Calhoun St. Charleston, SC 29401
Both Laurie Glass and Laurie Beckman welcome your
interest in volunteer opportunities.