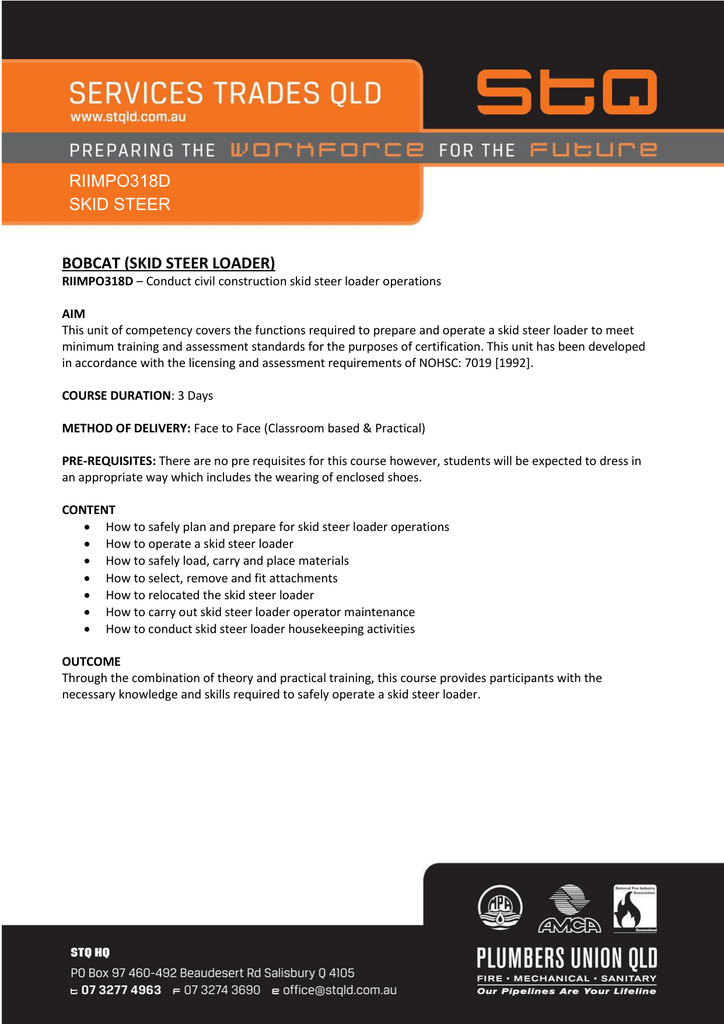 RIIMPO318D
SKID STEER
BOBCAT (SKID STEER LOADER)
RIIMPO318D – Conduct civil construction skid steer loader operations
AIM
This unit of competency covers the functions required to prepare and operate a skid steer loader to meet
minimum training and assessment standards for the purposes of certification. This unit has been developed
in accordance with the licensing and assessment requirements of NOHSC: 7019 [1992].
COURSE DURATION: 3 Days
METHOD OF DELIVERY: Face to Face (Classroom based & Practical)
PRE-REQUISITES: There are no pre requisites for this course however, students will be expected to dress in
an appropriate way which includes the wearing of enclosed shoes.
CONTENT
 How to safely plan and prepare for skid steer loader operations
 How to operate a skid steer loader
 How to safely load, carry and place materials
 How to select, remove and fit attachments
 How to relocated the skid steer loader
 How to carry out skid steer loader operator maintenance
 How to conduct skid steer loader housekeeping activities
OUTCOME
Through the combination of theory and practical training, this course provides participants with the
necessary knowledge and skills required to safely operate a skid steer loader.