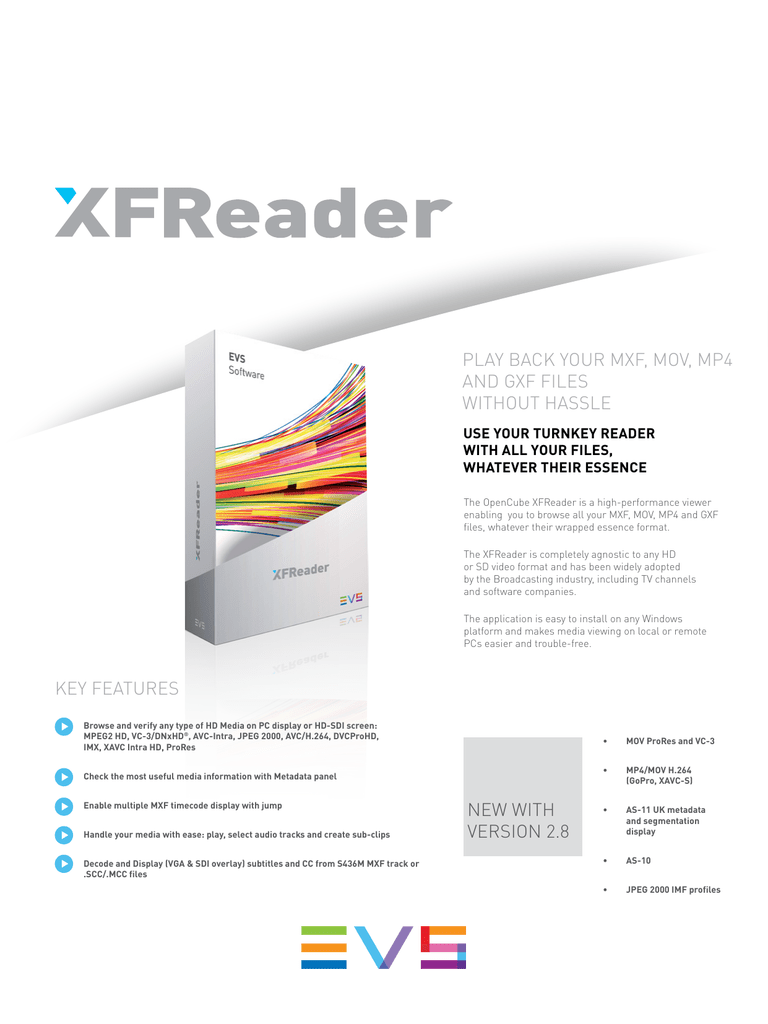 PLAY BACK YOUR MXF, MOV, MP4
AND GXF FILES
WITHOUT HASSLE
USE YOUR TURNKEY READER
WITH ALL YOUR FILES,
WHATEVER THEIR ESSENCE
The OpenCube XFReader is a high-performance viewer
enabling you to browse all your MXF, MOV, MP4 and GXF
files, whatever their wrapped essence format.
The XFReader is completely agnostic to any HD
or SD video format and has been widely adopted
by the Broadcasting industry, including TV channels
and software companies.
The application is easy to install on any Windows
platform and makes media viewing on local or remote
PCs easier and trouble-free.
KEY FEATURES
Browse and verify any type of HD Media on PC display or HD-SDI screen:
MPEG2 HD, VC-3/DNxHD®, AVC-Intra, JPEG 2000, AVC/H.264, DVCProHD,
IMX, XAVC Intra HD, ProRes
Check the most useful media information with Metadata panel
Enable multiple MXF timecode display with jump
Handle your media with ease: play, select audio tracks and create sub-clips
Decode and Display (VGA & SDI overlay) subtitles and CC from S436M MXF track or
.SCC/.MCC files
NEW WITH
VERSION 2.8
•
MOV ProRes and VC-3
•
MP4/MOV H.264
(GoPro, XAVC-S)
•
AS-11 UK metadata
and segmentation
display
•
AS-10
•
JPEG 2000 IMF profiles
A SIMPLE AND EASY-TO-USE TOOL
TO CONTROL MXF, MOV, MP4, GXF MEDIA
ON VGA AND SDI SCREENS
A READYTO-USE
VIEWER
AN EASY-TOINTEGRATE
MODULE
XFReader is ready-to-use upon
delivery with a video software
decoder: double-click or simply
drag 'n' drop any MXF/MOV/MP4/
GXF file and the playback process
will automatically start, allowing
you to view and listen to a full
range of audio and video content.
XFReader is also offered as
an ActiveX module that can
be integrated directly into a
Web browser or a Windows
application.
OPT FOR THE
HD-SDI FILE
DISPLAY
When linked to an SDI video
board, the XFReader becomes
an easy-to-use and highly
efficient SDI player, freeing
one or more video channels
on your Playout server.
You can then check the content
on a professional video monitor
or perform a video tape export
without hassle.
The module can be easily
adapted to existing tools,
providing quick and reliable
support for both MXF, MOV, MP4
and GXF formats.
ANCILLARY DATA
MANAGEMENT
XFReader is based on the OpenCube MXFTk® Reader Direct Show Filter
ESSENCES
-M
PEG-2 SD & HD, VC-3/DNxHD®, AVC-Intra,
AVC LongG, XAVC Intra HD, AVC/H.264, IMX/D10,
DV, JPEG 2000, ProRes
-A
udio codecs : PCM, Wave, AES3, 8Channels-AES3,
Aiff, AAC
FORMATS
-M
XF Op1a, Op1b ext. ref., AS-02, AS-03, AS-10
& AS-11 (UK)
- MXF AVC Proxy (AFN 100 & SMPTE RDD 25)
- P2, XDCam, XAVC
- IMF Application 2 support
- GXF
- MOV/MP4 (GoPro, XAVC-S)
APPLICATIONS
-V
iewing of almost all MXF and GXF files on the market
-V
iewing of encrypted media
-F
ast information display with metadata panel
- Descriptive metadata panel (AS-11, AS-10)
- AS-11 segmentation display
-B
rowse and goto functions
-M
ultiple MXF Timecode previewing
-A
udio track selection and management
-A
udio level display
-M
XF sub-clip creation
-A
ctiveX version
-D
elivered with software decoder and/or SDI board
(Decklink SDI, Atomix LT board-certified)
- Closed Captions, Subtitles, AFD Display
- Log panel
- Windows 32-bit and 64-bit
XFReader can easily decode
and display Ancillary Data like
Subtitling & Closed Captions (CC)
available in MXF S436M track
or .SCC/.MCC companion files.
The application displays CC as
VGA or SDI overlay. Besides
Ancillary Data are remapped in
VBI SDI output.
VGA screen
(Using software codecs)
SDI screen
Europe, the Middle East & Africa
+32 4 361 7000
North America
+1 973 575 7811
Latin & South America
+52 55 46 31 22 00
Asia & Pacific
+852 2914 2501
Other regional offices
www.evs.com/contact
To learn more about EVS go to www.evs.com
Search for EVS Broadcast Equipment on
OC XFReader 0415
VS Broadcast Equipment is continuously adapting and improving its products in accordance with the ever changing
E
requirements of the Broadcast Industry.
The data contained herein is therefore subject to change without prior notice. Companies and product names are
trademarks or registered trademarks of their respective companies.