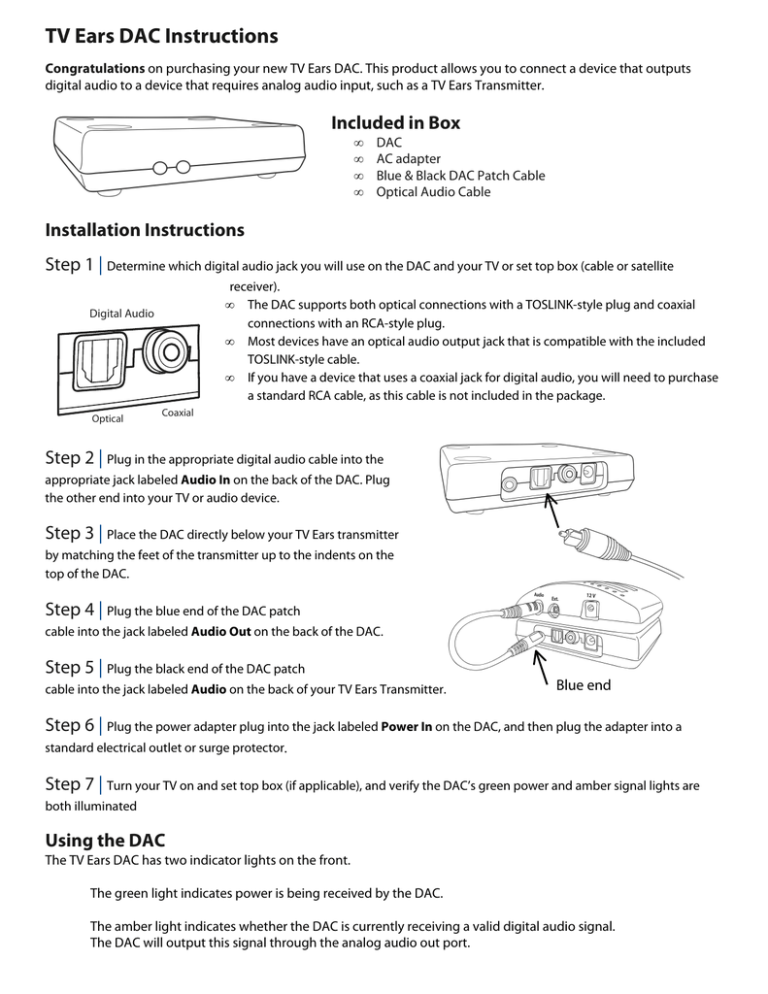 TV Ears DAC Instructions
Congratulations on purchasing your new TV Ears DAC. This product allows you to connect a device that outputs
digital audio to a device that requires analog audio input, such as a TV Ears Transmitter.
Included in Box
•
•
•
•
DAC
AC adapter
Blue & Black DAC Patch Cable
Optical Audio Cable
Installation Instructions
Step 1 | Determine which digital audio jack you will use on the DAC and your TV or set top box (cable or satellite
receiver).
• The DAC supports both optical connections with a TOSLINK-style plug and coaxial
connections with an RCA-style plug.
• Most devices have an optical audio output jack that is compatible with the included
TOSLINK-style cable.
• If you have a device that uses a coaxial jack for digital audio, you will need to purchase
a standard RCA cable, as this cable is not included in the package.
Digital Audio
Optical
Coaxial
Step 2 | Plug in the appropriate digital audio cable into the
appropriate jack labeled Audio In on the back of the DAC. Plug
the other end into your TV or audio device.
Step 3 | Place the DAC directly below your TV Ears transmitter
by matching the feet of the transmitter up to the indents on the
top of the DAC.
Step 4 | Plug the blue end of the DAC patch
cable into the jack labeled Audio Out on the back of the DAC.
Step 5 | Plug the black end of the DAC patch
cable into the jack labeled Audio on the back of your TV Ears Transmitter.
Blue end
Step 6 | Plug the power adapter plug into the jack labeled Power In on the DAC, and then plug the adapter into a
standard electrical outlet or surge protector.
Step 7 | Turn your TV on and set top box (if applicable), and verify the DAC's green power and amber signal lights are
both illuminated
Using the DAC
The TV Ears DAC has two indicator lights on the front.
The green light indicates power is being received by the DAC.
The amber light indicates whether the DAC is currently receiving a valid digital audio signal.
The DAC will output this signal through the analog audio out port.
Repairs
Before sending in your TV Ears products for repair, please call our customer service representatives for
troubleshooting assistance. If we are unable to resolve the problem or if the product needs to be repaired a Return
Merchandise Authorization (RMA) number will be issued. RMA numbers allow TV Ears to keep track of your product
and return it to you quickly. Be sure to get the address of the local repair center when obtaining a RMA number. All
returned items must have a RMA number.
Obtain a RMA number by calling TV Ears Customer Service:
• US Toll Free: 1-888-883-3277 (Monday – Friday, 7:00AM - 4:00PM PST)
Troubleshooting
Problem: You do not hear sound, check the following:
1. Is the green power light lit up?
If not, check that the AC adapter is plugged in firmly to the back of the DAC. If the power light is still not lit, try
plugging the DAC into a different wall power outlet.
2. Is the amber signal light lit up?
If not:
 Check to make sure there is only one cable connecting the DAC and your TV or set top box.
 If you are using the coaxial digital audio ports, verify that the RCA cable is plugged into the digital
audio out port on the back of the TV or set top box. There are many RCA-style ports on the back of TV's
and set top boxes that could be easily confused for the correct port.
 Verify that your TV or set top box is set to send audio to the digital audio out ports, and verify that it is
set to "PCM" format (the TV Ears DAC does not support Dolby® digital or surround sound format.) If
you need assistance consult your TV manual or manufacturer or call TV Ears.
3. Is the patch cord connected snugly between the DAC and your TV Ears transmitter? Is the blue end
connected to the DAC and the black end connected to the transmitter?
If not, review installation steps #3 and 4.
4. Is your TV Ears transmitter powered on and functioning correctly?
Please see your TV Ears transmitter's user manual for more detailed information on troubleshooting your TV
Ears transmitter.
If you have further questions please the customer service department or visit our website
TV Ears Customer Service
Please feel free to contact us with any questions, concerns, or problems about your TV Ears product. Here
are a few ways to contact your local TV Ears customer service:
• Call:
US Toll Free: 1-888-883-3277 (Monday – Friday, 7AM – 4PM PST)
Canada: 1-800-263-4864
• Visit www.tvears.com
Lifetime Service Guarantee
Your new TV Ears DAC system comes with a Lifetime Service Guarantee. The Lifetime Service Guarantee ensures TV Ears, Inc. will provide repairs and
replacements at a nominal fee (plus shipping) after the limited warranty has expired. Refer to the limited warranty for full terms.
30-day Money Back Guarantee
TV Ears, Inc. honors a 30-day money back guarantee for all TV Ears products purchased through TV Ears. If for some reason you are not fully satisfied within
30-days of the purchase date, please call one of the customer service numbers listed above. We will issue a Return Merchandise Authorization (RMA) number. All
returns must have a RMA number.
Important Safety Instructions
1.
2.
3.
4.
5.
6.
7.
Read all instructions completely and heed all warnings. Install in accordance with TV Ears, Inc.'s instructions.
Keep these instructions in a safe place for future reference.
For indoor use only.
Do not use or submerge TV Ears products near water, moisture, or other liquids.
Clean with a dry cloth.
Do not install near any heat sources such as radiators, heat registers, stoves, or other apparatus (including amplifiers) that produce heat.
For safety purposes, do not deface the prongs on the AC adapters. If the provided plug does not fit into your outlet, purchase the correct adapter or
consult an electrician for replacement of the obsolete outlet.
8. Protect the power cord from being walked on or pinched particularly at plugs, convenience receptacles, and the point where the cord exits from the
transmitter.
9. TV Ears recommends using a surge protector to protect your TV Ears from power surges.
10. Only use attachments and accessories specified by TV Ears, Inc. with your TV Ears system.
11. Refer all servicing to qualified service personnel. Servicing is required when the TV Ears product has been damaged in any way, such as power-supply
cord or plug is damaged, liquid has been spilled or objects have fallen into the TV Ears product, the TV Ears product has been exposed to rain or
moisture, does not operate normally, or has been dropped, cracked, or broken.
Warning: To reduce the risk of fire or electric shock, do not expose the TV Ears product to rain or moisture. The TV Ears product should not be exposed to dripping or
splashing liquids. Do not place objects filled with liquid such as vases on or near the TV Ears product.
Specifications
Analog Audio Output
Digital Audio Inputs:
Digital Audio Formats Supported:
Power Supply
Weight
Dimensions (H x W x D)
Minijack, 3.5mm, Stereo
TOSLINK-style plug, RCA-Style Plug
PCM (Stereo)
DC Power Supply 12v, 200mA
3 oz (85g)
1.4" x 1.12" x 3.4" (3.6cm x 2.8cm x 8.6cm)
Manufacturer Declaration
Limited Warranty – 90-days from date of purchase
For a period of 90-days from the date of purchase, TV Ears warranties this product against defects in material and workmanship.
Repairs or alterations performed by non-authorized TV Ears representatives will void the warranty and may damage the equipment.
This warranty is provided at the discretion of TV Ears, Inc. and does not cover cosmetic damage or damage due to acts of nature, accident, misuse,
abuse, negligence, commercial use, or modification of or to any part of the product.
Returns & Repairs
TV Ears provides repair service for the life of the product. A minimal fee may be applied. Proof of purchase is required for claims within the warranty
period.
TV Ears Declaration
All content, marks, and brand logos are property of TV•EARS® Inc. TV•EARS® Inc. reserves the right to change product content and product
specifications without notice.
WEEE Declaration
TV Ears products are developed and manufactured with high-quality materials and components that can be recycled and/or reused. This symbol
indicates that electrical and electronic equipment must be disposed of separately from normal waste at the end of its operational lifetime. Please
dispose of this product by bringing it to your local collection point or recycling center for such equipment. This will help to protect the environment.