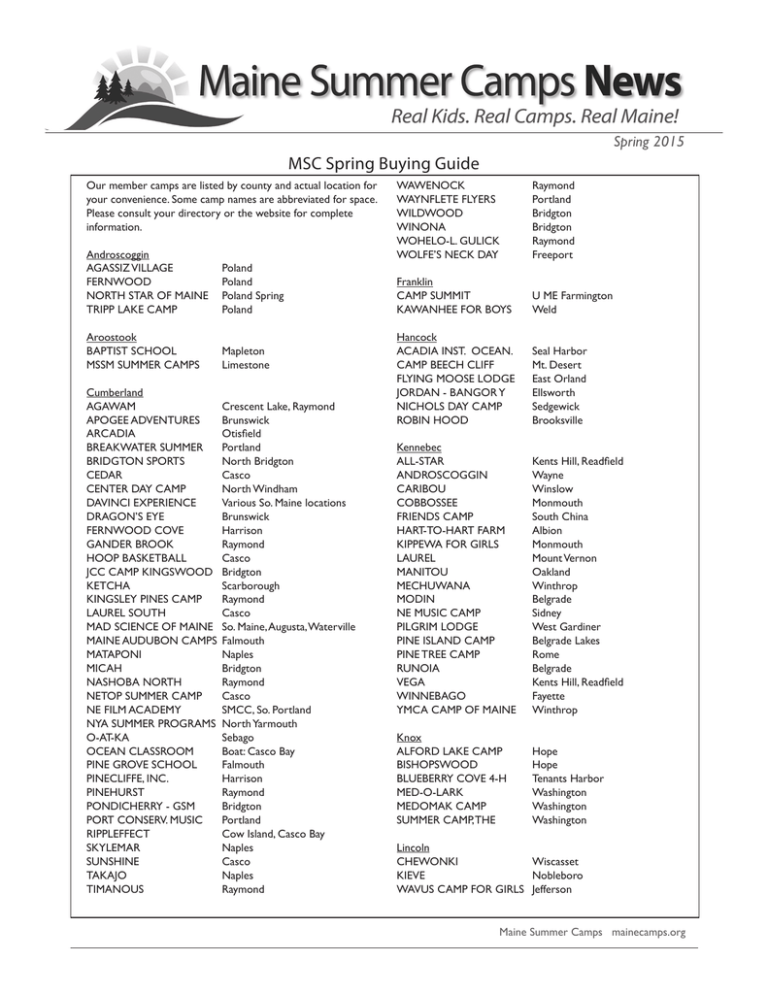 Spring 2015
MSC Spring Buying Guide
Our member camps are listed by county and actual location for
your convenience. Some camp names are abbreviated for space.
Please consult your directory or the website for complete
information.
Androscoggin
AGASSIZ VILLAGE
FERNWOOD
NORTH STAR OF MAINE
TRIPP LAKE CAMP
Poland
Poland
Poland Spring
Poland
Aroostook
BAPTIST SCHOOL
MSSM SUMMER CAMPS
Mapleton
Limestone
Cumberland
AGAWAM
Crescent Lake, Raymond
APOGEE ADVENTURES
Brunswick
ARCADIA
Otisfield
BREAKWATER SUMMER Portland
BRIDGTON SPORTS North Bridgton
CEDARCasco
CENTER DAY CAMP
North Windham
DAVINCI EXPERIENCE
Various So. Maine locations
DRAGON'S EYE Brunswick
FERNWOOD COVE
Harrison
GANDER BROOK Raymond
HOOP BASKETBALL Casco
JCC CAMP KINGSWOOD Bridgton
KETCHAScarborough
KINGSLEY PINES CAMP Raymond
LAUREL SOUTH
Casco
MAD SCIENCE OF MAINE So. Maine, Augusta, Waterville
MAINE AUDUBON CAMPS Falmouth
MATAPONI Naples
MICAHBridgton
NASHOBA NORTH
Raymond
NETOP SUMMER CAMP Casco
NE FILM ACADEMY
SMCC, So. Portland
NYA SUMMER PROGRAMS North Yarmouth
O-AT-KASebago
OCEAN CLASSROOM
Boat: Casco Bay
PINE GROVE SCHOOL
Falmouth
PINECLIFFE, INC.
Harrison
PINEHURST Raymond
PONDICHERRY - GSM
Bridgton
PORT CONSERV. MUSIC Portland
RIPPLEFFECT
Cow Island, Casco Bay
SKYLEMAR Naples
SUNSHINE Casco
TAKAJONaples
TIMANOUS Raymond
WAWENOCK
WAYNFLETE FLYERS WILDWOOD
WINONA
WOHELO-L. GULICK WOLFE'S NECK DAY Raymond
Portland
Bridgton
Bridgton
Raymond
Freeport
Franklin
CAMP SUMMIT
KAWANHEE FOR BOYS
U ME Farmington
Weld
Hancock
ACADIA INST. OCEAN.
CAMP BEECH CLIFF
FLYING MOOSE LODGE
JORDAN - BANGOR Y
NICHOLS DAY CAMP
ROBIN HOOD
Seal Harbor
Mt. Desert
East Orland
Ellsworth
Sedgewick
Brooksville
Kennebec
ALL-STAR
Kents Hill, Readfield
ANDROSCOGGINWayne
CARIBOU Winslow
COBBOSSEE Monmouth
FRIENDS CAMP
South China
HART-TO-HART FARM Albion
KIPPEWA FOR GIRLS
Monmouth
LAURELMount Vernon
MANITOU Oakland
MECHUWANA
Winthrop
MODINBelgrade
NE MUSIC CAMP
Sidney
PILGRIM LODGE
West Gardiner
PINE ISLAND CAMP
Belgrade Lakes
PINE TREE CAMP
Rome
RUNOIABelgrade
VEGA Kents Hill, Readfield
WINNEBAGO
Fayette
YMCA CAMP OF MAINE Winthrop
Knox
ALFORD LAKE CAMP
BISHOPSWOOD
BLUEBERRY COVE 4-H MED-O-LARK
MEDOMAK CAMP
SUMMER CAMP, THE
Hope
Hope
Tenants Harbor
Washington
Washington
Washington
Lincoln
CHEWONKI Wiscasset
KIEVENobleboro
WAVUS CAMP FOR GIRLS Jefferson
Maine Summer Camps mainecamps.org
Oxford
BIRCH ROCK
Waterford
BRYANT POND 4-H Bryant Pond
CAMP TO BELONG Waterford
ENCORE-CODA
Sweden
INDIAN /FOREST ACRES Fryeburg
KAMP KOHUT
Oxford
MAINE TEEN CAMP
Porter
Newfound/Owatonna Harrison
SEEDS OF PEACE Otisfield
SUSAN CURTIS
East Stoneham
TAPAWINGO
Sweden
WALDEN Denmark
WAZIYATAH Waterford
WEKEELA Hartford
WIGWAM Waterford
WYONEGONIC CAMPS Denmark
Sagadahoc
CHOP POINT
Penobscot
Acadia Rock Climbing Camp Various
CAPELLA
Phillips Lake, Dedham
HURRICANE ISLAND CTR Hurricane Island
MAINE ROBOTICS CAMP So. Maine, Bangor, Auburn
NATARSWI
Baxter State Park
York
LAUGHING LOON
E. Waterboro
NE CAMP CEDARBROOK Lake Bunganut, Lyman
Oceanwood Camp/Conf CtrOcean Park
WEST END HOUSE E. Parsonsfield
A. M. Skier Insurance
The largest direct insurer of children's summer camps. The relationships go beyond the
traditional walls of insurance with A.M. Skier
Partners.
Contact: Aimee Skier
209 Main Avenue
Hawley, PA 18428
570.226.4571
Fax: 570.226.1105
[email protected]
www.amskier.com
Acadia Insurance Company
We are dedicated to serving independent
Agents and their insured's throughout the
Northeast.
Contact: Kim Farquhar, Marketing Director
PO Box 9010
Westbrook, ME 04098
207.772.4300
Fax: 207.772.6104
[email protected]
www.acadiainsurance.com
Woolwich
Somerset
CAMP At The EASTWARD Starks
MATOAKA
Smithfield
MOOSE RIVER OUTPOST Jackman
Waldo
CAMP FOREST
Brooks
HIDDEN VALLEY
Freedom
MAINE ARTS CAMP
Unity
NEOFAMontville
TANGLEWOOD 4-H Camden Hills State Park &Lincolnville
Washington
BERWICK Boys Foundation Dyer Island, Harrington
Acadia Mountain Guides, Inc.
AIL Camper Medical
Contact: Brad Wilson,
Manager
PO Box 121
Orono, ME 04473
207.866.7562
Contact: Bill Viar
American Income Life
PO Box 50158
Indianapolis, IN 46250
800.849.4820
Fax: 317.849.2793
[email protected]
www.americanincomelife.com
Rock Climbing & Adventure Camps ages 6-8,
9-12, 13-18 at climbacadia.org. Climb or hike
in Acadia National Park, Camden Hills State
Park, Baxter State Park, or beyond!
Special group/family rates! at acadiamountainguides.com. Play more, Pay Less. alpenglowgear.com
[email protected]
www.acadiamountainguides.com
Adventure Bound
Offering Whitewater Rafting, Rock Climbing,
Ropes Courses, Hiking and Multi-Day packages all based out of an Alcohol Free Resort
designed specifically for youth groups.
Special MSC Member Discount: Schedule
your raft trips on Saturday in July and August
for 10% discount.
Contact: John Philbrook
PO Box 88, Caratunk, ME 04925
888.606.7238
Fax: 207.672.4343
[email protected]
www.adv-bound.com
Insuring what is most valuable at camp,
your campers. Blanket accident and illness
insurance for campers, seasonal staff and
volunteers. Serving those who serve others
since 1952.
Al's Beverage Company
Beverage supplier, manufacturer and distributor, specializing in servicing Maine camps
with quality, affordable healthy beverages and
dispensing equipment needs.
Special MSC Member Discount: Take
$100.00 off your first initial stock order of 25
or more boxes.
Contact: Gerry Martin
3 Revay Road
East Windsor, CT 06088
860.627.7003
[email protected]
www.alsbeverage.com
2 Maine Summer Camps mainecamps.org
Amerasport
Bangor Savings Bank
Contact: Steven Fisch
PO Box 620-022
Newton, MA 02462
508.429.9000
Fax: 508.429.1147
[email protected]
www.amerasport.com
Contact: Jennifer Seekins, SVP
5 Senator Way, Augusta, ME 04330
207.622.4106
[email protected]
www.bangor.com
Custom catalogs for camps, including camp tshirts, 5 & 10 year jackets, shorts & outerwear.
AudioBody Entertainment
With over 20 years of experience, Jason has
performed on Disney Cruise Ships, at the Atlantis Resort in the Bahamas, and even at the
White House in Washington, DC three times!
Contact: Jason Tardy
82 Chickadee Drive
Auburn, ME 04282
866.584.4532
FAX: 303.362.6233
[email protected]
www.jasontardy.com
Avon
DEET-FREE, non-toxic, AVON Bug Guard Expedition pump spray or lotion with SPF30, and
Bug Guard Picaridin dusk and dawn protection against ticks, mosquitoes and black flies.
Sun+ Sunscreen available.
Special MSC Member Discount: based on
availability to sales representative. Early and
bulk orders receive the greatest discounts.
Contact: Pamela Mason, Avon Ind. Sales Rep.
1 Curtis Hill Road
West Paris, ME 04289
207.838.7262
[email protected]
www.youravon.com/pamelamason
Back Country Excursions of
Maine LLC
Mountain Biking Adventures, Guided Riding &
Instruction Center. Special attraction – (Free
Ride & Stunt Park). Mountain Bike Rentals
available.
Special MSC Member Discount: Instructor Educational program
discounts.
Contact: Cliff Krolick
42 Woodward Road
Parsonsfield, ME 04047
207.625.8189
Fax: 207.625.7134
[email protected]
www.bikebackcountry.com
Maine's largest independent bank offering
a full range of products and services from
payroll to business financing.
Beaverbrook Tennis, LLC
A competitive quality recreational surfacing
and construction Vendor since 1962. Specializing in acrylic surfaces for tennis courts,
basketball courts, shuffleboard, rollerblade as
well as Har-tru and Hadeka products for fastdry tennis courts.
Contact: Neil R. Feeley, Sr.
610 Rocky Knoll Rd
Denmark, ME 04022
877-Netennis 638.3664
Fax: 207.452.2107
[email protected]
www.NeTennisandtrack.com
Blanche Aurora Camp
Consulting
Blanche Aurora Camp Consulting provides
guidance and support to camps seeking and
maintaining American Camp Association accreditation.
Contact:Vivianne Holmes, Ph.D
239 E. Buckfield Rd.
Buckfield, ME 04220
207.939.6607
[email protected]
Bo-Mar Transportation, Inc.
School bus, Mini bus and Charter bus transportation throughout New England. Available
for airport transportation and field trips. Family owned since 1983.
Special MSC Member Discount: 10% discount to MYCF members.
Contact: John Sloan
7 Birch Ridge Ave
Topsham, ME 04086
207.725.7189
Fax: 207.373.0688
[email protected]
www.mainebusrentals.com
Bourdon's Institutional Sales
Mattresses, Beds, Replacement Covers, Linens,
Bath Accessories, Pillows, and more.
Contact: Tina Bergeron
85 Plains Road
Claremont, NH 03743
603.542.8709
Fax: 603.543.3745
[email protected]
www.bourdons.com
Bunk1. com
For 15 years, Bunk1 has exclusively served
the camp community. While our products
have evolved tremendously, our mission of
enhancing the summer camp experience for
everyone involved will never change.
Special MSC Member Discount: 10% off all
web services to MSC members.
Blast Party Rentals
Obstacle courses, inflatable waterslides, interactive games, mechanical bull and more – we
bring the FUN! Let our professional staff set
up and take down, leaving you to enjoy the
experience.
Special MSC Member Discount: 10% Member Discount
Contact:
Rebekah Chastney
384 Harold L. Dow Hwy.,
Ste 24
Eliot, ME 03903
207.457.0234
Contact: Ed Metzendorf
461 Park Ave South, 9th Floor
New York, NY 10016
888.465.2267
Fax: 212.974.7850
[email protected]
www.bunk1.com
Fax: 800.948.6431
[email protected]
www.blastpartyrentals.com
3 Maine Summer Camps mainecamps.org
C. Caprara Food Service
Equipment
Commercial Food Service Equipment Sales.
We offer all brands of equipment, everything
needed for the preparation, holding, and serving of food. New and Used, Large Showroom.
Contact:
Chris Caprara
PO Box 140
Winthrop, ME 04364
207.395.2405 Toll
free 800.300.4305
Fax: 207.395.2406
[email protected]
www.caprara.com
Camp Staff Connection
Human resource recruiting service. Connecting outstanding staff with outstanding camps.
Casella Organics
Produced locally, our compost, mulch, and
soil products improve erosion control, water
quality protection, athletic fields, and camp
landscaping.
Contact: Chris Bales
135 Presumpscot Street
Portland, ME 04103
888.472.9471 or 207.650.7021
Fax: 207.781.5794
[email protected]
www.casellaorganics.com
Chalmers Insurance Group
Full range of insurance needs to summer
camps. Most experienced, innovative and reliable insurer in the industry; real estate service
and employee benefits.
Contacts: Anne Randall and Jen Bonnett
44 Middle Bay Road
Brunswick, ME 04011
207.751.0905 or
207.751.4503
[email protected]
www.campstaffconnection.com
Contacts: Jim Chalmers or Bob Doran
PO Box 189
Bridgton, ME 04009
207.647.3311
Fax: 207.647.3003
[email protected]
[email protected]
www.ChalmersInsuranceGroup.com
CampMinder, LLC
Chilton Furniture Co.
Camp business management software.
Contact: Dan Konigsberg
Founder/CEO
PO Box 36
Boulder, CO 80306
303.444.2267
[email protected]
www.campminder.com
Cardinal Printing Company, Inc.
Printing and Direct Mailing, brochures, yearbooks. Letterhead – Envelopes – Etc. For all
your Printing Needs.
Maine-based Chilton Furniture has been selling American made Shaker inspired cherry
wood furniture since 1970. Stop by our
Freeport or Scarborough store on your next
Maine visit.
Contact:
Jennifer Levin
Co-Owner
410 Payne Road
Scarborough, ME
04074
866.883.3366
[email protected]
www.chiltons.com
Coffee By Design is sustainably sourced craft
roasted coffee. Roasted to order at our state
of the art roaster in East Bayside, Portland,
Maine.
Contact: Mary Allen Lindemann
1 Diamond Street, Portland, ME 04101
207.879.2233
[email protected]
www.coffeebydesign.com
Concord Coach Lines
Concord Coach Lines offers value priced tickets daily from Bangor to Portland and Boston.
Save time, buy your tickets on-line. Why would
anyone drive?
Special MSC Member Discount: Please call
our Information Center at 800.639.3317 for
groups of more than fifteen.
Contact: Nichole Thomas
7 Langdon Street
Concord, NH 03301
603.228.3535
[email protected]
www.concordcoachlines.com
Crab Apple Whitewater
A family run whitewater rafting and paintball
resort with over 31 years of experience. Featuring lodging, camping, restaurant and pool.
Special MSC Member Discount: Youth group
rates available with free camping.
CIEE-Council on Int'l.
Education Exchange
CIEE is launching Camp Exchange, USA in
2014 to provide qualified, well prepared counselors to camps in Maine.
Contact: James Stacy, President
PO Box 115
Denmark, ME 04022
207.452.2931
Fax: 207.452.2979
[email protected]
www.cardinalprintinginc.com
Coffee By Design
Contact: Katie Harrigan, Director-Camp
Exchange Programs
Camp Exchange USA
300 Fore Street, Portland, ME 04101
207.553.4011; Fax: 207.553.5011
[email protected]; www.ciee.org
Contact: Robert Peabody
3 Lake Moxie Rd
The Forks, ME 04985
800.553.RAFT (7238)
Fax: 207.663.2232
[email protected]
www.crabapplewhitewater.com
4 Maine Summer Camps mainecamps.org
Curtis Thaxter LLC
Dennis Paper & Food Service Drummond & Drummond, LLP
Dennis Paper & Food Service is a local Maine
company based in Bangor. We distribute over
8,000 brand name food service products and
offer competitive pricing.
Drummond and Drummond is a full service
law firm since 1881. We represent a number
of Maine camps with matters from real estate
transactions to employment law.
Contact: John Paul Erler, ESQ.
PO Box 7320
Portland, ME 04112-7320
207.774.9000
Fax: 207.775.0612
[email protected]
www.curtisthaxter.com
Contact: Kelly Worcester
101 Mecaw Rd
Bangor, ME 04401
800.439.2727, Ext. 227
Cell: 207.299.5786
Fax: 207.947.0323
[email protected]
www.dennisexpress.com
Contact: Andrew Pierce
1 Monument Way
Portland, ME 04101
207.774.0317
FAX 207.761.4690
[email protected]
www.ddlaw.com
Dick Thomas Associates
F.W. Webb
Jack has more than 35 years of experience
with children's camping legal issues. He
represents and is the legislative agent for
Maine Summer Camps and MYCA and also
represents many children's camps.
CurtisWorks
Communications Solutions
CurtisWorks Communications Solutions
specializes in installing and maintaining data,
voice, audio, video and specialty communications cabling and equipment.You can count on
us for professional-grade solutions tailored to
your needs.
Camp consulting, parent education, referral
services, including providing your camp's own
iPhone or iPad app, with "Your Camp App."
Contact: Dick Thomas
525 Sixth St. North
St. Petersburg, FL 33701
207.607.1640
[email protected]
www.dickthomasassociates.com
Contact: Dennis Curtis, President
88 Albee Road
Augusta, ME 04330
207.621.8146
Fax: 207.623.9644
[email protected]
www.curtisworks.com
Down East Magazine
Down East – Maine at its best
Turn to Down East magazine, books, and
online for the best and latest information on
all things great in the state of Maine. Go to
www.downeast.com for details 24/7.
Custom Coach and Limousine
Motorcoach, school buses, limousines & sedans for any size group, anywhere in the USA
and Canada.
Contact: Gregg Isherwood
19 Bartlett Rd., Gorham, ME, 04038
800.585.3589 or 207.797.9090
Fax: 207.797.9090
[email protected]
www.customcoachandlimo.com
dale rand PRINTING
Contact: Lawrence Hollins
PO Box 679
Camden, ME 04843
207.594.9544
Fax: 207.594.7215
[email protected]
www.downeast.com
Dream Local Digital
Dream Local Digital, a full-service marketing agency, helps local businesses build their
brands online, connect with their community
on social media, and develop campaigns that
resonate with an online audience.
Commercial Printers-stationary, cards, posters, brochures, flyers and books.
Contact: Michael Galli
104 Washington Avenue
Portland, ME 04101
207.773.8198
[email protected]
www.dalerandprinting.com
Contact: Brenna Herridge
Business Development Manager
463 Main Street
Rockland, ME 04841
207.593.7665
FAX 1.855.219.0066
[email protected]
www.dreamlocal.com
Founded in 1866, F. W. Webb is a leading
distributor of plumbing, heating, HVAC,
refrigeration and PVF products. More than
80 locations in the Northeast, including 11 in
Maine.
Special MSC Member Discount: Discounts
vary between products. Please inquire for
pricing.
Contact: Gregory Thompson
150 Postal Service Way
South Portland, ME 04106
207.772.8364
F: 207.773.4571
[email protected]
www.fwwebb.com
FastSigns
Let the visual communications experts at
FASTSIGNS give your camp a fresh, new look
with welcome banners, directional signs and
branding that make campers feel like they're
at home.
Contact: Bud Elliott
413 Western Avenue
South Portland, ME 04106
207.773.5499
[email protected]
www.fastsigns.com/262
5 Maine Summer Camps mainecamps.org
Five Star Golf Cars & UtilityVehicles
We offer new and used golf cars, utility
vehicles and multi-passenger vehicles. Day
and weekly rentals, parts and service, leasing,
financing and seasonal payments available.
Contact: Matt McDonald
29 Hidden Creek Drive
Scarborough, ME 04074
207.289.8717
Fax: 207.883.0049
[email protected]
www.fivestargolfcars.com
Flying Dutchman Paintball
Recreational paintball at our 62 acre facility
or your location. 100 markers and professional staff.
Call for Special MSC Member Discount
Contact:
Matt Holland
73 Sebec Shores Rd.
Guilford, ME 04493
207.564.3369
G-Force Adventures
We go to you, offering Laser Tag with up to
80 people per game. Giant, unique inflatables,
our gyroscope, face painting, caricatures,
hennas, engaging shows and entertainers. Full
DJ services.
Contact: Brian Plavnick
233 Sweden St.
Caribou, ME 04736
207.227.5562
[email protected]
http://www.g-forcelasertag.com/
GCI-Green Camps Initiative
GCI provides camps with resources and
support to implement sustainable initiatives. Outcomes = Education, Environmental
Stewardship and Economic Savings. Join the
sustainable camps movement as a basic member for just $100/year.
Grandview Window Cleaning
We provide first rate, money backed guaranteed service. We also clean siding/mold,
gutters, screens, ceiling fans, chandeliers, awnings, high dusting and cobweb removal. New
screen fabric installation and more.
Special MSC Member Discount: We are
happy to offer a 20% discount to members
for work scheduled and completed before
May 15, 2015.
Contact: Doug Johnson, Proprietor
477 Cumberland Ave. #4
Portland, ME 04101
207.772.7813
[email protected]
Great Northern Docks
Complete line of dock hardware & polyethylene floats, floating & stationary wood dock
sections; design assistance. New! Made in
Maine, Dura-Lite Aluminum Docks.
[email protected]
www.flyingdutchmanpaintball.net
Franklin Printing
Commercial printer with digital, wide format,
and sheetfed printing capabilities, with a full
service finishing department and mailhouse.
Contact: Danny Sudman
12021 Cherry Street
Los Alamitos, CA 90720
704.450.1901
[email protected]
www.greencampsinitiative.org
Good Times Shuttle LLC
Contact: Jim Glinsky
PO Box 568
553 Wilton Road
Farmington, ME 04938
800.698.4801
Fax: 207.778.4734
[email protected]
www.franklinprinting.com
Funtown Splashtown USA
Northern New England's largest amusement
& water park. Nearly 50 rides and attractions.
Special MSC Member Discount: Special
rates for camps who book in advance. Groups
are 25+
Contact: Ed Hodgdon
PO Box 29 US Route 1, 774 Portland Road
Saco, ME 04072
207.284.5139; Fax: 207.283.4716
[email protected]
www.funtownsplashtownusa.com
Good Times Shuttle is a transportation
business located in the Portland, Maine area.
We travel all over New England. We have a
12 passenger van and we provide friendly,
dependable service.
Contact: Bruce Meader
36 Shannon Lane
Saco, ME 04072
207.400.4560
[email protected]
www.goodtimesshuttle.com
Contact: Sam Merriam
PO Box 1615
Naples, ME 04055
207.693.3770
Fax: 207.693.3111
[email protected]
www.greatnortherndocks.com
Hall Implement Co.
John Deere Products, Grounds Care Products, Landpride, Echo. John Deere Sales &
Service Since 1961.
Special MSC Member Discount: ACA member
discounts available.
Contact: Bob Jackman, Sales Representative
1 John Deere Road
Windham, ME 04062
207.892.6894
Fax: 207.892.2469
[email protected]
www.hallimplementco.com
6 Maine Summer Camps mainecamps.org
Hammond Lumber Company
Hammond Lumber Company has been offering building supplies, kitchen design, statewide
delivery and customer services throughout
Maine since 1953. Stop by to see them today
or call toll free 1-866-Hammond.
Contact: Rod Wiles
2 Hammond Drive, Belgrade, ME 04917
207.495.3303
Fax: 207.495.3389
[email protected]
www.hammondlumber.com
Hemphill's Horses, Feed &
Saddlery, Inc.
Leasing of camp horses as well as tack shop
and feed store. Meeting all of your equine
needs from the horse on up! Camp packages
for riders. Grain delivery or bulk sale services.
Hyatt Place Portland-Old Port
Situated in the heart of the Old Port amongst
unique boutiques, tourist attractions and
nationally recognized restaurants. 130 distinct
guest rooms which include balcony suites, sitting 7 stories high.
Contact: Deborah Roberts,
Director of Sales
433 Fore Street
Portland, ME 04101
207.775.1000
Fax: 207.775.2500
[email protected]
www.hyatt.com/hyattplace
J and K Farm
Providing exceptional quality horses to
summer camps. Horses come with current
shot records and shoes. Camp packages also
available which include helmets, boots and
breeches.
Contact: Pam Haskell
87 Martin Woods
Palermo, ME 04354
207.993.2522
[email protected]
net
Contact: Emily Mitchell, Owner
575 Oak Grove Rd.
North Vassalboro, ME 04989
207.872.7964
[email protected]
www.hemphillshorses.com
Hilton Garden Inn
Auburn Riverwatch
Key Bank, N.A.
Banking Services
Nestled in the heart of historic downtown Auburn, ME, along the banks of the Androscoggin
River, the Hilton Garden Inn Auburn is central
to Freeport, Portland and Augusta.
Contact: Jessica Donahue, Group Sales Mgr.
14 Great Falls Plaza
Auburn, ME 04210
207.784.4433
Fax: 207.782.4433
[email protected]
www.auburnriverwatch.hgi.com
Howell's Gun & Archery
Center
Howell's Gun and Archery Center is able to
provide all camps with their sporting, archery
& shooting supplies. To include, but not
limited to: guns cleaned, repaired and stored,
ammo, targets, bows, arrows, etc.
Contact: Howell Copp
81 West Gray Rd
Gray, ME 04039
207.657.2324
Fax: 207.657.3033
[email protected]
www.howellsgunandarchery.com
L.L. Bean Inc.
Outdoor adventure and sports equipment for
camp use.
Special MSC Member Discount: Up to 20%
discount on most equipment for members of
MSC and ACA. Discount not available through
retail stores. Restrictions apply, please call
1-800-458-3058 for details.
Contact: Janet Wyper
15 Casco Street
Freeport, ME 04033
207.552.2000
Fax: 207.552.6821
[email protected]
www.llbean.com
Magic Falls Rafting Company
Safety-conscious rafting trips on the Kennebec and Dead Rivers. Outdoor climbing wall,
prices from $54. Family owned and operated
for over 25 years.
Contact: Wende Gray
PO Box 9,
West Forks, ME 04985
800.207.7238
[email protected]
www.magicfalls.com
Maine Camp Outfitters
Contact: Melissa Knutson
1 Canal Plaza
Portland, ME 04101
207.874.7036
[email protected]bank.com
www.keybank.com
Kline Van & Specialty Rental
Kline is one of the nation's top suppliers of
specialty vehicle leasing services to camps.
With experience doing business in Maine for
over 25 years we've got you covered.
Special MSC Member Discounts Available.
Contact: Doug Brockman, General Manager
1550 SW Market Street, Suite 20
Lee's Summit, MO 64081
816.554.3344
Fax: 816.554.3348
[email protected]
www.klinevan.com
Custom imprinted apparel and gear from a
full-service company specializing in the camping industry. Screen-printing, embroidery, full
line of promotional products, complete custom catalogs, and order fulfillment programs.
Contact: Andy Fuller
PO Box 67
Sunset, ME 04683-0067
800.560.6090
Fax: 207.348.6285
[email protected] www.maine-camp.com
7 Maine Summer Camps mainecamps.org
Maine Innkeepers Association
A leading provider of tourism info to Maine's
lodging industry and its visitors, represents
nearly 800 B&Bs, camps, cottages, hotels, inns,
motels & resorts and their suppliers across
Maine.
Markel Insurance Company
When you run a camp, you need "The Counselor", Markel's camp insurance program. We
offer comprehensive, superior claims services,
and discounted driver education courses and
background checks.
Nits End
Head lice removal with salons in Portsmouth,
NH and Portland, ME.
Contact: Christine Cherry
603.498.3390
[email protected]
www.nhliceremoval.com
North Country Rivers
Contact: Greg Dugal
304 US Route 1, Freeport, ME 04032
207.865.6100
Fax: 207.865.6120
[email protected]
www.maineinns.com
Maine Magazine
Published monthly, Maine magazine presents
stories from around the state, capturing
Maine's lifestyle, people, and places through
content that matters and photography that
inspires.
Contact: Elizabeth Quaglieri,
Assistant Publisher
75 Market St., Suite 203
Portland, ME 04101
207.772.3373
[email protected]
www.themainemag.com
Contact: Ian Garner
Marketing & Advertising/Camps
4600 Cox Road
Glen Allen,VA 23060
800.431.1270
Fax: 804.965.1689
[email protected]
www.campinsurance.com
Migis Lodge
Migis Lodge on Sebago Lake is Maine's premiere Full American Plan Resort and has been
hosting generations of families since 1916.
Rates include all meals and use of the resort's
activities.
Contact: Jed Porta
PO Box 40
South Casco, ME 04077
207.655.4524
207.655.2054
[email protected]
www.migis.com
Milestone Photography
Camp portraits, memory books/yearbooks
Maine Safety Education
Onsite American Red Cross Lifeguard Training,
CPR for Professional Rescuers and Healthcare
Providers, Wilderness First Aid, First Aid/CPR/
AED and Babysitter's Training.
Contact: Judy Emch
323 Bakerstown Road
Poland, ME 04274
207.577.7063
[email protected]
Maine Tennis & Track
Specializing in consultation, design, construction, surfacing, resurfacing, patching, and
maintenance of tennis courts, running tracks
and other recreational surfaces. Large supply
of tennis court and running track equipment
and accessories.
Contact: Kevin Cornish
24 Mayall Road
Gray, ME 04039
207.657.2140
Fax: 207.657.4842
[email protected]
www.mainetennisandtrack.com
Contact: Patrick Kelly
50 N Broadway 2J
White Plains, NY 10603
914.949.5195
[email protected]
www.milestone-photography.com
Moose Landing Marina
Serving summer camps for over 25 years with
new and used boat sales, on-water orientation,
dock systems, expedited VIP service, parts,
transportation and preventive maintenance.
Special MSC Member Discount:Expedited
VIP-not only will you received expedited service, but we will have a loaner boat for your
use during the repair.
Contact:
Christina St. Cyr,
VP Marketing
32 Moose Landing
Trail
Naples, ME 04055
207.693.6264
FAX 207.693.3209
[email protected]
www.mooselandingmarina.com
Discover the Maine Outdoors with North
Country Rivers – Whitewater Rafting,
Kayaking, Wildlife Tours, ATV Tours/Rentals,
Snowmobile Tours/Rentals, Camping, Lodging & Meals Packages. See you in the Maine
Outdoors!
Contact: Jim Murton
PO Box 633, 36 Main
Street
Bingham, ME 04920
800.348.8871
Fax: 207.672.4176
[email protected]
www.northcountryrivers.com
Northeast Charter & Tour Co.
Providing mini bus, school bus, and full size
coach service to groups through out the
United States and Canada with garage locations in Lewiston and Lincolnville, Maine.
Contact: Scott Riccio
235 Goddard Rd
Lewiston, ME 04240
888.593.6328 or 207.784.3159
[email protected]
www.northeastchartertour.com
Northeast Whitewater
Northeast Whitewater offers daily whitewater
rafting trips and overnight rafting, whitewater
canoe, and inflatable kayaking trips. Professional staff training and instruction in river
rescue, canoeing, kayaking and outdoor skills.
Special MSC Member Discount:10% off
Northeast instruction, including; camp trip
leader permit, whitewater kayak, whitewater canoe, swiftwater rescue and Registered
Maine Guide courses.
Contact:
Jessica Hargreaves
PO Box 1623
Greenville, ME 04441
888.484.3317
[email protected]
www.northeastwhitewater.com
8 Maine Summer Camps mainecamps.org
Norway Savings Bank
Financial services
Contact: Jack Day
31 Court Street
Auburn, ME 04210
207.393.3615
Fax: 207.795.0139
[email protected]
www.norwaysavingsbank.com
Outdoor Leader Trainers of
America-OLTOA
Providing instruction for outdoor educators/
leaders/councilors, we specialize in custom
trainings at your location, including Maine
Guide Training & American Canoe Association
instructor certification courses in canoeing,
Stand Up Paddleboarding, kayaking.
Contact: Bob Myron
15 Victory Lane
Durham, ME 04222
207.720.0257
Fax: 207.221.1464
[email protected]
www.oltoa.com
Parent and Family Magazine
Family focused resource and information
guide, published 6 times annually and widely
distributed throughout Cumberland and York
counties in Maine. Jan/Feb through May/June
issues and website feature Summer Camp
Guides.
Special MSC Member Discount: Eligible for
up to 20% discount on Summer Camp ads,
dependent on size and frequency.
Contact: Carrie Lorfano, Editor and Publisher
PO Box 644
Gorham, ME 04038
207.839.7186
[email protected]
www.myparentandfamily.com
Paris Farmers Union
Locations: Bridgton, So. Paris, Portland, Winthrop, Jay, Turner, Lewiston & Newport.
Contact: Peter Chapman
Box D, South Paris, ME 04281
207.743.8976
Fax: 207.743.8564
[email protected]
www.parisfarmersunion.net
Payroll Management, Inc.
Payroll Management is Maine owned and
operated with 20 years experience serving
our many loyal clients. Custom full payroll
and tax service with Web, phone, email or fax
input options.
Special MSC Member Discount: 2 weeks
free process and check fee up to $75 value
Contact: Frank Chase
100 Manley Rd, Auburn, ME 04210
800.734.6880
Fax: 207.753.0484
[email protected]
www.payrollmgt.com
Perlow Productions
Perlow Productions creates summer camp
videos full of the soul of your camp with
multi-camera & aerial videography & creative
editing. Camps choose us because they want
a video as unique as their camp.
Special MSC Member Offer: $500 referral fee for every camp you refer to us that
results in a video production project.
Contact: Mike Perlow,
President
1 Eves Drive, Suite 141,
Marlton, NJ 08053
[email protected]
www.perlowproductions.com
PFG Northcenter
NorthCenter delivers more than 8,200
foodservice items in Maine, New Hampshire
and Boston's North Shore. With an emphasis
on service, we have earned a reputation of
integrity and value built on long standing relationships with our business neighbors.
Contact: Michele Pelletier
PO Box 2628. Dalton Road
Augusta, ME 04338-2628
207.623.8451
Fax: 207.622.9064
In ME Toll Free: 800.452.4656
In N.E. Toll Free: 800.872.1011
[email protected]
www.northcenter.com
Pit Stop Fuels
Heating Oil, Certified K-1, Propane, Diesel,
and Gasoline.
Special MSC Member Discount: Special
pricing for members including Director/
Owner's residence.
Contact:
Levi Robinson,
Sales Manager
125 Ossipee Trail
East Standish, ME
04084
888.773.8357
207.841.7714
Fax: 207.642.6709
[email protected]
www.pitstopfuels.com
Portland Pirates
We provide family fun and entertainment
through professional minor league hockey.
Contact: Stephen Torrisi
215 Commercial St. Ste. 200
Portland, ME 04101
207.747.2837, Ext. 507
[email protected]
www.portlandpirates.com
9 Maine Summer Camps mainecamps.org
Portland SeaDogs
We offer a variety of group outing opportunities from general admission seating at $5.00/
person to picnic outings- 2.5 hours of all you
can eat food for $25.00 per person.
Contact: Lindsey Oliver
271 Park Avenue
Portland, ME 04102
207.874.9300
[email protected]
www.seadogs.com
Protect Pest Services
General pest control services for control
of, but not limited to, carpenter ants, wasps,
hornets, spiders, yellow jackets, mice, rats, bed
bugs and more.
Contact: Ron Keeler,
Owner
111 Daggett Drive
Raymond, ME 04071
207.321.9733
[email protected]
www.protectpestservices.
com
Public Health Solutions, PLLC
Maine licensed professional engineer and
licensed site evaluator; providing innovative
and cost effective solutions for wastewater
disposal, water supply evaluation, permitting
and licensing preperation.
Contact: Russell G.
Martin, Owner
135 Main Street, Ste. A
Brunswick, ME 04011
207.449.0339
Fax: 207.389.4115
[email protected]
www.PHSPLLC.COM
R Judkins EnterSURprises
Character comedian using circus skills and
audience interactivity. Counselor trainings and
total camp performances.
Contact: Randy Judkins
Chief Entertainment Officer
54 Ridge Road
Portland, ME 04103
207.233.2339
[email protected]
www.randyjudkins.com
Raymond Laundry
Wash, dry, fold camp laundry. Pick-Up and Delivery. Special Attention for Special Needs. Call
for references and special bulk/camp rate.
laundry
Contact: Lisa Lynch
1233 Roosevelt Trail, Raymond, ME 04071
207.655.1070
[email protected]
Sebago Sailing Inc.
We offer lessons, sailboat tours & cruises on
Sebago or Long Lake. Bareboat sloops and
small boat rentals, delivery & pickup included.
Small sailboat sales, repair and tuning provided.
Contact: Maura
Mulcahy, CEO/
Owner
108 Raspberry
Lane
Bridgton, ME
04009
Remax By The Bay
Realtors Derrick Buckspan & Rich Deering
provide the most comprehensive relationship
marketing expertise, professional guidance and
collaborative resources in Maine residential
real estate services: www.mainepropertysource.com
207.647.4400
[email protected]
www.sebagosailing.com
Sobel Affiliates Inc.
Insurance for camps for over 75 years. Call us
– there is another option!
Contact: Rich Deering
88 Middle Street, Portland, ME 04101
207.553.7352; Fax: 207.773.2525
[email protected]
www.homesinmaine.com
Schirick & Associates Insurance
Brokers, RFS Bollinger Insurance
We represent the major camp insurers
nationwide and are committed to providing
you with insurance options designed for your
specific camp needs as only an independent
broker can!
Contact: Edward Schirick
196 Bridgeville Rd., Monticello, NY 12701
877.794.3113; Fax: 845.794.0548
[email protected]
www.campinsurancepro.com
Sebago Dock and Lift, Inc.
Manufacturer of aluminum and wood stationary and floating docks, marine construction,
metal fabrication, boat lifts, jet ski lifts, dock
service and repair.
Special MSC Member Discount: 10% discount on first time dock system construction
or replacement projects.
Contact: Roni Vachon
PO Box 51, S. Casco, ME 04077
207.693.3625
Fax: 207.693.7902
[email protected]
www.sebagodock.com
Contact: Michael Labadorf
595 Stewart Ave
Garden City, NY 11530
516.745.0000
Fax: 516.745.5733
[email protected]
www.sobelins.com
Sports Fields, Inc.
Sports field maintenance, construction, repair
& fertilization. Baseball diamonds, soccer, football, golf course. An industry expert.
Contact: Debra Millett
PO Box 118
Monmouth, ME 04259
207.933.3547
Fax: 207.933.3548
[email protected]
www.sportsfieldsinc.net
Squeaky Clean Laundromat
Wash-Dry-Fold laundry service. Summer camp
wash, dry, fold service with pickup and delivery.
Contact: Suzie Altemus
64 Washington Avenue
Portland, ME 04222
207.761.4355
[email protected]
10 Maine Summer Camps mainecamps.org
Stateside Adventures
Camper Recruitment: Stateside Adventures
is an American-owned Chinese camper and
staff placement program since 2010. We work
closely with Directors and Chinese families to
build the bridge between camps and China.
Contact: Marco Reyes
Founder, Managing Director
1 Xiangheyuan Rd.
Dangdai MOMA T3-1002
Dongcheng District
Beijing, China
+86.010.6417.3809
cell: +86 152 1059 7834
[email protected]
www.statesidecamp.com
Summer Camp Supply
We provide high quality outdoor hard & customized soft goods to summer camp families
and campers. Our goal is to take the stress
out of packing for camp.
Contact: Chris Riley, Owner
95 Jackmans Mill Rd., Fayette, ME 04349
207.245.1805
Cell: 207.232.7174
[email protected]
www.summercampsupply.com
Sysco Food Services
of N. N. England Inc.
Thirsty-Turf Irrigation Inc.
Thirsty-Turf provides certified design installation & service of irrigation systems and
specializes in pump systems. We also provide
system audits / upgrades ensuring efficient
water use.
Contact: Josh Doucette
21 Rice Street
Portland, ME 04103
207.797.3461
Fax: 207.699.2209
[email protected]
www.thirstyturfirrigation.com
Top Leaf Tree LLC
Top Leaf Tree LLC offers mosquito, tick, ant
and poison ivy control for Maine's Summer
Camps. Organic products are also available.
Keep your camp children and families protected this season!
Contact: Kevin Prevost
147 Valley Road
Raymond, ME 04071
207.653.6913
The Mailing Center Inc.
Camp shipper for duffels to and from camp.
Easy form on our website. Full service shipper,
boxes, insurance, and tracking provided as well
as searching for missing items if necessary.
Contact: Keith McCray
126 Western Ave
Augusta, ME 04330
207.621.0234
Fax: 207.622.6755
[email protected]
www.mailingctr.com
Waterless Company No-Flush Urinals for
boys camps. No water, no flush valves. System is touch free, improves sanitation and
eliminates odor. Thousands installed, ask for
references. Special MSC Member Discount:
Inventory at Maine locations. Request quote
6+ units. Request Price list.
Contact: Richard Lewis
204 Clocktower Drive, #206
Waltham, MA 02452
617.549.1830
Fax: 781.444.9658
[email protected]
www.waterless.com
Windfall Rafting
Windfall Rafting offers raft trips, rock climbing
on real cliffs, inflatable kayaking and much
more to serve your camp's program. Our
staff are more than guides they are role
models!
Special MSC Member Discount: Members
qualify for our discounted rates for rafting,
rock climbing, wet suit rentals and more!
[email protected]
www.topleaftreellc.com
U-Save Auto Rental
Cars, 12-15 Passenger Vans, Mini-Vans, P-U
Trucks
Supplying food, paper goods, cleaning supplies
and equipment to camps.
Contact: Jay Peterson
PO Box 4657
Portland, ME 04012
207.871.0700
Fax: 207.828.2597
[email protected]
www.sysconne.com
Waterless Company
No-Flush Urinals
Contact: Larry Stewart
53 Lisbon Road, Lisbon, ME 04250
207.353.4136
Fax: 207.353.7458
[email protected]
Contact: Seth Coates
PO Box 505
697 Main Street
Jackman, Me04945
207.668.4877
Fax: 207.688.4055
[email protected]
www.windfallrafting.com
Windsurfing – Maine
Windsurfing Equipment, sales, service, Windsurfing Instruction for Counselors. Private &
group instruction.
V.I.P. Tour and Charter Bus Co.
Your first choice for safe, efficient, reliable &
comfortable transportation, tours & related
travel services. Deluxe Motorcoaches, Activity
Coaches, School Buses & Car Services Available. 29 years of industry experience.
Contact: Lana Sawyer
129 Fox Street, Portland, ME 04101
207.772.4457
Fax: 207.772.7020
[email protected]
www.vipchartercoaches.com
Contact: Ian Barclay
176 Lakeshore Drive
North Leeds, ME 04263
207.577.3671 or 800.427.3483
Fax: 207.784.7300
[email protected]
www.skindiversparadise.com
11 Maine Summer Camps mainecamps.org
Maine Youth Camping Foundation
dba Maine Summer Camps
P.O. Box 1861
Portland, ME 04104
Non-Profit Org.
U.S. Postage
PAID
Portland, ME
Permit No. 1073
Return Services Requested
2015 MSC Business Directory
Businesses By Catagory
Apparel & Camper Accessories
•Amerasport
•LL Bean
•Maine Camp Outfitters
•Summer Camp Supply
Business & Finance
•A.M. Skier Insurance
•Acadia Insurance Company
•AIL Camper Medical
•Bangor Savings Bank
•CampMinder, LLC
•Chalmer's Insurance Group
•Curtis Thaxter LLC
•Drummond and Drummond, LLP
•Key Bank, N.A
•Markel Insurance Company
•Norway Savings Bank
•Payroll Management, Inc.
•Schirick & Assoc. /Bollinger, Inc.
•Sobel Affiliates, Inc.
Communications & Marketing
•Bunk1.com
•Cardinal Printing Company
•CurtisWorks Communications
•Dale Rand PRINTING
•Dick Thomas Associates
•Down East Magazine
•Dream Local
•FastSigns
•Franklin Printing
•Maine Magazine
•Milestone Photography
•Parent and Family Magazine
MYCF Business Membership does not imply an endorsement of
products/services by the Maine Youth Camping Foundation.
•Perlow Productions
•The Mailing Center
Lodging
•Hilton Garden Inn Auburn •Hyatt Place Portland-Old Port
•Maine Innkeepers Assoc.
•Migis Lodge
•Adventure Bound
•Audiobody Entertainment
•Back Country Excursions, LLC
•Blast Party Rentals
•Chilton Furniture
•Crab Apple Whitewater
•Flying Dutchman Paintball
•FunTown SplashTown USA
•G-Force Adventures
•Hemphill's Horses, Feed/Saddlery
•Howell's Gun & Archery Center
•J and K Farm
•L.L. Bean
•Magic Falls Rafting
•Maine Tennis & Track
•Moose Landing Marina
•North Country Rivers
•Northeast Whitewater
•OLTOA-Outdoor Leader Trainers •Portland Pirates
•Portland Sea Dogs
•Protect Pest Services
•R Judkins EnterSURprises
•Raymond Laundry
•Sebago Sailing Inc.
•Squeaky Clean Laundry
•Summer Camp Supply
•Windfall Rafting
•Windsurfing-Maine
Program Design/Supplies/Equip/
Services
•Acadia Mountain Guides, Inc.
Real Estate
•Remax By The Bay – "Real
Estate"
Education
•Blanche Aurora Camp Consulting
•Camp Staff Connection
•CIEE-Council on Int'l Ed. Exchange
•Maine Safety Education
•OLTOA-Outdoor LeaderTrainers •R Judkins EnterSURprises
•Statewide Adventures
Food Service
•Al's Beverage Company
•C. Caprara Food Service Equip
•Coffee By Design
•Dennis Paper & Food Service
•PFG Northcenter
•Sysco Food Services of NNE
Health & Medical
•Avon
•Maine Safety Education
•Nits End
•Top Leaf Tree LLC
Site & Facilities
•Beaverbrook Tennis, LLC
•Bourdon's Institutional Sales
•C. Caprara Food Service Equip.
•Casella Organics
•F. W. Webb Co.
•Grandview Window Cleaning
•Great Northern Docks
•GCI-Green Camps Initiative
•Hall Implement Co.
•Hammond Lumber Company
•Maine Tennis & Track
•Moose Landing Marina
•Paris Farmers Union
•Pitstop Fuels
•Public Health Solutions, PPLC
•Raymond Laundry
•Sebago Dock and Lift, Inc.
•Sports Fields, Inc.
•Sysco Food Services of NNE
•Thirsty-Turf Irrigation Inc.
•Top Leaf Tree LLC
•Waterless Co. No-Flush Urinals
Transportation
•Bo-Mar Transportation, Inc.
•Concord Coach Lines
•Custom Coach & Limousine
•Five Star Golf Cars/Utility Vehicles
•Good Times Shuttle LLC
•Kline Van & Specialty Rental
•Northeast Charter & Tour Co.
•U-Save Auto Rental
•V.I.P. Tour and Charter Bus Co.