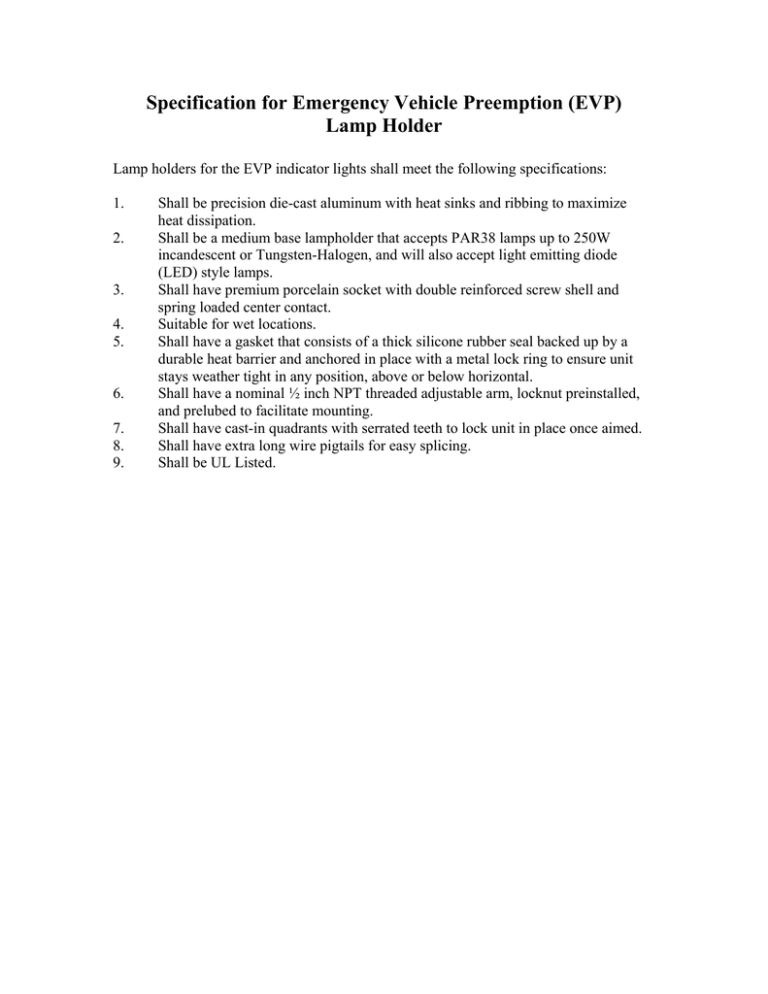 Specification for Emergency Vehicle Preemption (EVP)
Lamp Holder
Lamp holders for the EVP indicator lights shall meet the following specifications:
1.
2.
3.
4.
5.
6.
7.
8.
9.
Shall be precision die-cast aluminum with heat sinks and ribbing to maximize
heat dissipation.
Shall be a medium base lampholder that accepts PAR38 lamps up to 250W
incandescent or Tungsten-Halogen, and will also accept light emitting diode
(LED) style lamps.
Shall have premium porcelain socket with double reinforced screw shell and
spring loaded center contact.
Suitable for wet locations.
Shall have a gasket that consists of a thick silicone rubber seal backed up by a
durable heat barrier and anchored in place with a metal lock ring to ensure unit
stays weather tight in any position, above or below horizontal.
Shall have a nominal ½ inch NPT threaded adjustable arm, locknut preinstalled,
and prelubed to facilitate mounting.
Shall have cast-in quadrants with serrated teeth to lock unit in place once aimed.
Shall have extra long wire pigtails for easy splicing.
Shall be UL Listed.