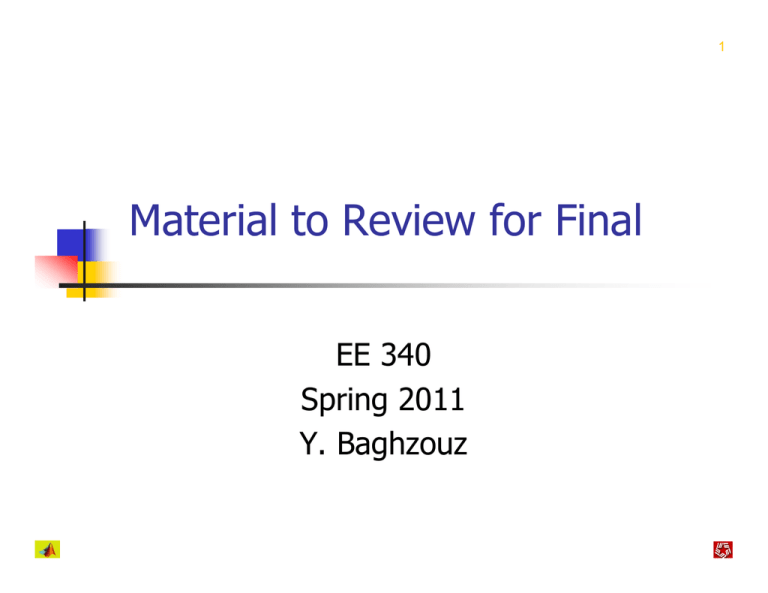 1
Material to Review for Final
EE 340
Spring 2011
Y. Baghzouz
2
"
"
"
Power definitions and their relationships
(P, Q, S, S, I, V, PF, Z)
Power factor correction by shunt
capacitors
Per-unit system including change of
base
3
Transformers
"
"
"
"
Measurement of series and shunt
impedances,
Equivalent circuit (r.p.s. or r.s.s)
Efficiency and voltage regulation
Load Tap Changing
4
Transmission Line
"
"
"
"
"
"
Series impedance, shunt admittance
Equivalent circuit (ABCD parameters)
Voltage and current relations
Voltage regulation and efficiency
Real and reactive power flow
Long line compensation (series & shunt)
5
Synchronous Generators
"
"
"
"
"
Equivalent circuit parameters
Synchronization with the grid
Control of active and reactive power
Voltage regulation
Efficiency
6
Electric Load and Induction
Motors
"
"
"
"
"
General load Model (ZIP model, P or Q =
aV2+bV+c)
Induction motor equivalent circuit
Power loss and efficiency
Torque characteristics
Relation of motor current and power
factor with load (or slip)
7
Economic Dispatch
"
Economic solution in lossless systems
with generator power limit constraints
8
Power system represention
"
"
"
"
Conversion of one-line diagram to
equivalent circuit
Per-unit conversion
Y-Bus Matrix
Injected currents and node voltages
9
Power flow
"
Given a power flow solution, determine
"
"
"
System efficiency and power loss in various
components
MW and MVAR flow
Voltage regulation by LTC and shunt
capacitors
10
Symmetrical Faults
"
"
Subtransient, transient and steady-state
reactance, currents and voltages, time
constants, DC component.
Read Section 12. 1 including examples.
11
Additional Info.
"
"
"
"
Bring calculator, book, notes, old tests and
quizzes
The old tests & quizzes will be collected
after the exam!
The final will consist of 30-35 multiple
choice questions.
Good Luck!