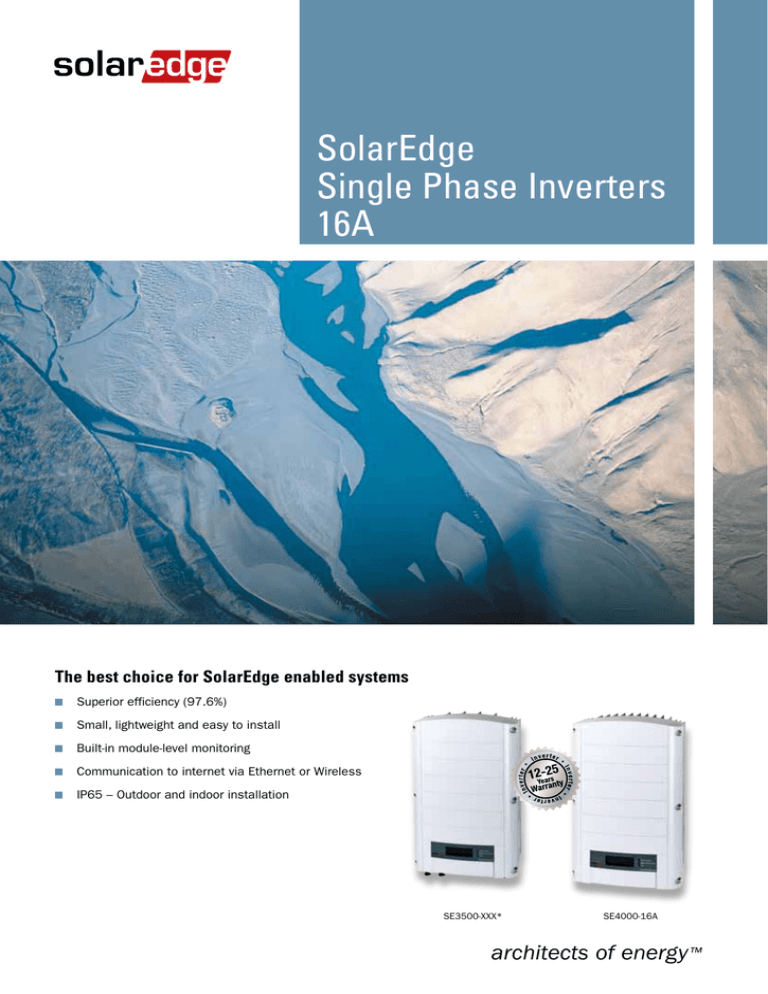 SolarEdge
Single Phase Inverters
16A
The best choice for SolarEdge enabled systems
Superior efficiency (97.6%)
Small, lightweight and easy to install
Built-in module-level monitoring
12-25
Communication to internet via Ethernet or Wireless
IP65 – Outdoor and indoor installation
SE3500-XXX*
SE4000-16A
architects of energy ™
Single Phase Inverters - 16A
SE3500-XXX*/SE4000-16A
architecture to achieve superior performance – over 97% efficiency
and best-in-class reliability. Our fixed-voltage technology ensures the
inverter is always working at its optimal input voltage, regardless of
the number of modules or environmental conditions.
All our inverters are part of SolarEdge's innovative system
designed to provide superior performance at a competitive price.
The SolarEdge inverter combines a sophisticated, digital control
technology and a one stage, ultra-efficient power conversion
TECHNICAL DATA
SE3500-XXX*
SE4000-16A
Rated AC Power Output
3500
4000
W
Maximum AC Power Output
3500
OUTPUT 4000
AC Output Voltage (Nominal)
W
400/230 ; 380/220
Vac
AC Output Voltage Range
184 - 264.5
Vac
AC Frequency (Nominal)
50 / 60 ± 5
Hz
16
A
300 / 30
mA
Maximum Continuous Output Current
Residual Current Detector / Residual Current Step
Detector
Utility Monitoring, Islanding Protection, Country
Configurable Thresholds
Input Recommended Maximum DC Power**(Module STC)
Yes
3900
4400
W
Transformer-less, Ungrounded
Yes
Maximum Input Voltage
500
Vdc
Nominal DC Input Voltage
Maximum Input Current
350
Vdc 13.5
15.5
Reverse-Polarity Protection
Adc
Yes
Ground-Fault Isolation Detection
600k
Maximum Inverter Efficiency
Sensitivity
97.6
%
European Weighted Efficiency
97.5
%
Nighttime Power Consumption
< 2.5
W
ADDITIONAL FEATURES
Supported Communication Interfaces
Standard Compliance Safety
Grid Connection Standards
Emissions
RS485, RS232, Ethernet, Zigbee (optional)
IEC-62103 (EN50178), IEC-62109
VDE 0126-1-1, VDE-AR-N-4105, AS-4777, RD-1663 , DK 5940
IEC61000-6-2, IEC61000-6-3, IEC61000-3-11, IEC61000-3-12, FCC part15 class B
Yes
Cable Gland - diameter 11-17
mm RoHS
Installation Specifications AC Output
DC Input
Dimensions (HxWxD)
Weight
MC4
540 x 315 x 172
19
Cooling
Operating Temperature Range
Protection Rating
540 x 315 x 191
mm
20.5
kg
Natural Convection
-20 - +50
˚C
IP65 - Outdoor and Indoor
Bracket Mounted (Bracket Provided)
* XXX can be GBR (United Kingdom), DEN (Denmark), PRT (Portugal), POL (Poland); for other countries contact SolarEdge
** Higher input DC power may be installed; analyze yearly AC performance.
USA Germany Italy France Japan China Israel
www.solaredge.com
architects of energy ™
© SolarEdge Technologies, Inc. 2009-2012. All rights reserved. SOLAREDGE, the SolarEdge logo, ARCHITECTS OF ENERGY and OPTIMIZED BY SOLAREDGE are trademarks or registered trademarks
of SolarEdge Technologies, Inc. All other trademarks mentioned herein are trademarks of their respective owners.. Date: 06/2012. V.01. Subject to change without notice.