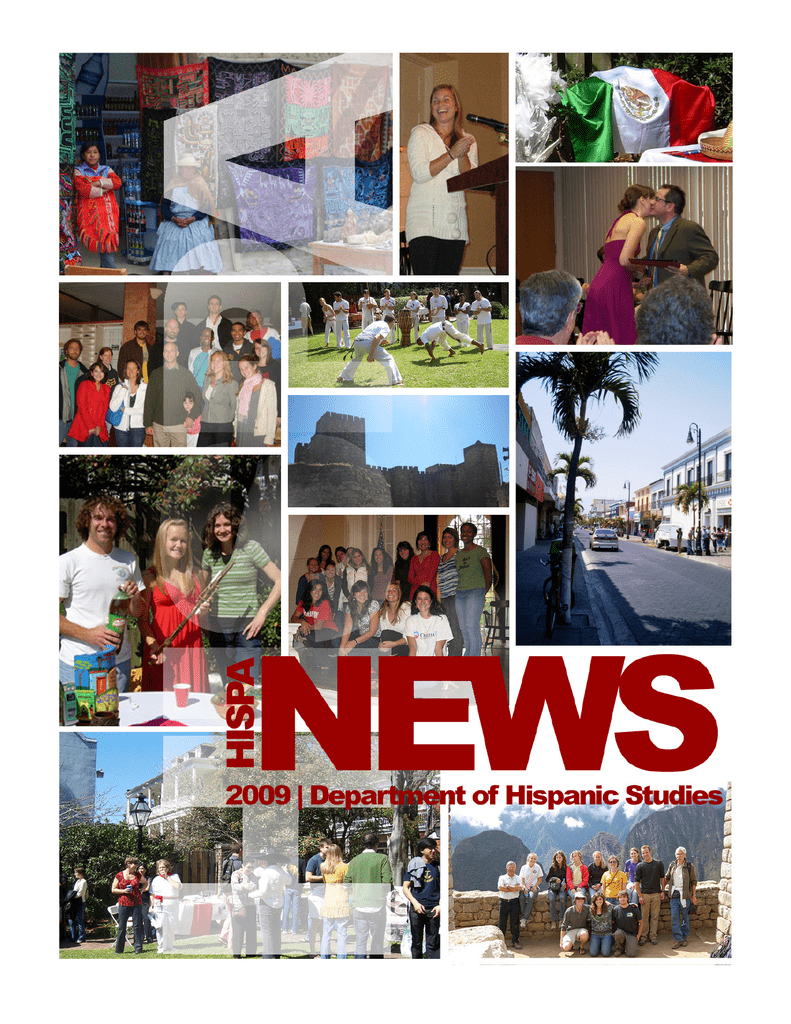 PAGE 1
H I S P A N EWS ' 0 9
Inside this Issue 2 Program Profile Graduate Programs in Interpretation in a New Stage of Development 5 From the Dean's Office 6 Focus on the Faculty 6 New Faculty Member 6 Faculty Evaluations 6 Faculty Activities 9 Faculty Mentoring Students 9 Curricular Innovations 10 Focus on Our Students 10 Dossier ‐ Students As Writers 13 Students Perfect their Spanish While Serving the Community 14 Learning Abroad 17 New Initiates into Sigma Delta Pi 17 Student Awards 18 Spanish Club 19 Portuguese Club 20 Linguistics Club 20 La Casa Hispánica 21 Events 21 Hispanic Heritage Month 23 World Cultures Fair 24 Alumni News 25 Gift to the Department of Hispanic Studies 25 Stay Connected — Class Notes Editorial Staff Marianne Verlinden Claudia Moran Gladys Matthews Carla Breidenbach Sabine Hagn‐Ford Design by the Language Resource Center Jerry Spiller (Design Editor) Susan Guth (Layouts) Technical Support Monica Harvey (Instructional Technologist) Warm thanks to all our contributors! H I S P A N EWS ' 0 9
PAGE 2
Program Profile Graduate Programs in Interpretation in a New Stage of Development Our graduate programs in medical and legal interpretation continue their growth under new directorship. Dr. Gladys
Matthews was appointed Assistant Professor of Spanish at the College of Charleston in Spring 2007, and became
Director of the College of Charleston's graduate programs in legal and medical interpreting in July 2008. She taught
translation at the Indiana University-Purdue University at Indianapolis (IUPUI), and her most recent work is the
translation into Spanish of a study by the Organization for Economic Cooperation and Development (OECD) on the
education system of the Dominican Republic. Her research interests focus on legal language and methodology of
teaching translation and interpretation.
Dr. Matthews recently received the Multicultural ExCel Faculty of the Year Award for the School of Languages,
Cultures, and World Affairs.
HispaNews interviewed Dr. Matthews to inform readers about recent developments in the interpreting programs.
HispaNews: Can you tell us a little about your background?
My academic background is entirely in the field of languages. I majored in French in my native Costa Rica and studied
English both in Costa Rica and in the U.S. My love for the French language took me to Quebec where I lived and studied
for about fourteen years. I obtained a Master's degree in Translation and Terminology from Université Laval, located in
Quebec City. For my doctorate, also from Laval, I chose the field of linguistics, and wrote my dissertation on legal
translation.
HN: What interested you in the College of Charleston?
My way to the College of Charleston is one of those surprises that life reserves for you in the utmost unexpected fashion.
I had spent a weekend in Charleston three or four years before becoming a faculty member at the College. I remember
falling in love with the city, but never suspected that I would live and work here. Some months later, I met the former
director of the Bilingual Legal Interpreting programs at an interpreting conference in Ohio, and she told me that the
College of Charleston was conducting a national search for her successor. For me, this was a once in a lifetime
opportunity to work in a magnificent historical city, in a highly regarded institution and in a nationally-recognized
program, and do what I enjoy most – teaching in a field I have been involved with my whole life, and above all, being a
mentor to future language professionals.
H I S P A N EWS ' 0 9
PAGE 3
HN: What does the position of Director entail?
HN: Please tell us about the interpreting programs.
How much room do you have in HispaNews for this
interview? (She laughs.) The position of program
director entails putting a lot of time into bringing these
programs to their next stage of development. This
includes scheduling courses for each term, recruiting
instructors; and overseeing the admission process in
conjunction with the Graduate School. The admission
process involves administering a language proficiency
test and an interpreting aptitude test to all applicants. It
is very important that students in the program have a
great command of their second language so they can
focus on learning the skills necessary to be a good
interpreter without having to worry about proficiency in
their second language. It also entails marketing the
program, recruiting potential students, looking for new
teaching resources, both bibliographical and
methodological, and serving as student advisor.
The Department of Hispanic Studies, in conjunction with the
Graduate School, offers three graduate programs in
interpretation: a master of arts, a Certificate in Bilingual
Legal Interpreting, and a Certificate in Medical Interpreting.
The Master of Arts in Bilingual Legal Interpreting English/
Spanish is the only graduate program in legal interpretation
in the United States. The program offers a comprehensive
series of courses designed to provide the student with the
theoretical foundation, performance competencies, and
research skills required of a graduate entering this growing
profession. The curriculum consists of 36 credits that can be
completed in four academic terms. Content courses include
theoretical frameworks for interpretation and translation,
criminal and civil law processes and procedures, ethics and
professional standards, and language and culture. Skills
courses include basic and advanced techniques in all three
modes of interpreting; i.e. consecutive, simultaneous, and
sight translation.
The certificate program provides students with the
opportunity to acquire the foundational skills in legal or
medical interpreting in one academic year. It consists of 12
credit hours that focus on all three interpreting modes.
"We strive to produce highly qualified professionals." HN: How has your experience been so far?
It has been very motivating. I cannot fail to highlight the
contribution of the program's instructors whose
commitment has made this experience very rewarding.
They have been great allies who do not count the hours
they put into preparing classes and helping in the overall
development of the programs.
Courses are taught in a state-of-the-art interpreting facility
that includes 12 soundproof booths constructed according to
International Standard Organization (ISO) specifications and
equipped for both audio and video.
HN: What has been your biggest challenge so far?
The biggest challenge by far has been getting the word out
about these programs to recruit talented students. We strive
to produce highly qualified professionals and this begins
with admitting candidates who meet the admission
requirements in regards to language proficiency, as well as a
curiosity and passion for language and culture.
HN: What changes are underway for the Master's and
Certificate Programs in Interpreting?
The main change relates to technology. All the teaching
material that was in analog format has been digitized. The
interpreting programs have a blog where several audio files
have already been uploaded for students to practice
simultaneous interpreting from any location with Internet
access. What we hope to accomplish in the short run is to
equip each interpreting booth with computers.
H I S P A N EWS ' 0 9
HN: How do you see the future of interpreters in South
Carolina?
The state of South Carolina, and the Charleston area in
particular, has local talent that can provide high quality
interpreting and translation services in both the legal and
the medical fields. However, interpreting is still a new
professional activity and needs to be promoted. It is of the
utmost importance that potential interpreting service users,
especially in the court system, be made aware of the
advantages of having a certified interpreter perform these
tasks. Fortunately, a group, which includes our instructors,
is looking for ways to promote our profession in the state.
HN: In what direction would you like to see the programs
go?
What I hope for the Interpreting programs of the College
of Charleston is to increase their visibility, build on their
national reputation, and create partnerships both
nationally and internationally.
The following link leads to more detailed information
http://lcwa.cofc.edu/legalint/, and the programs' email
address is [email protected]
PAGE 4
PAGE 5
H I S P A N EWS ' 0 9
From the Dean's Office In Fall 2008, Provost Elise Jorgens asked Dr. David
Cohen to stay as dean of the school through Spring 2010.
Dr. Cohen had been serving in an interim capacity up to
that point.
Dr. Shawn Morrison from the Department of French and
Francophone Studies joined the School as associate dean.
Dr. Morrison is the undergraduate teacher certification
coordinator for all the language majors, and is therefore
well known among our alumni who pursued an education
degree in the last decade.
Sabine Hagn-Ford joined SLCWA as administrative
assistant.
On August 19, 2008, the faculty from the School of
Languages, Cultures, and World Affairs (LCWA) was
invited to a daylong meeting at the Charleston Aquarium
to offer further input to a plan for the School drafted
during Spring 2008 by a five-member team. The plan sets
nine key directions that the School will follow over the
next two to three years (for more details, see http://
lcwa.cofc.edu/home/). Two of these will impact more
directly students considering majoring in Spanish: adding
a one-semester study abroad requirement and
implementing external proficiency testing. While details
for the first of these is currently being working out, the
second key goal is already well under way.
Indeed, in May 2008, the Department of Hispanic Studies
hosted a Modified OPI training workshop. Lizette Mújica
Laughlin, a certified trainer, was brought to campus to
conduct this workshop on the techniques of the OPI (Oral
Proficiency Interview) and the implementation of the
ACTFL Proficiency Guidelines. The training was open to
ten faculty members, and practice sessions were conducted
with 18 students who volunteered to help. Then in
October 2008, Gabriel Cruz, from Language Testing
International, the ACTFL Testing Office, made a
demonstration of the Spanish version of the OPIc (Oral
Proficiency Interview by Computer). The intention is to
use the OPIc as an assessment tool for minors applying to
be considered Global Scholars (more on this program in
the next section), and for graduating seniors. This year, 25
Spanish majors and 18 minors were tested. Of the majors,
44% were rated Advanced (the highest level that the OPIc
can assess); 24% were Intermediate High (IH); the
remaining 32% were rated Intermediate Mid (IM). Of the
minors, 1 student (5.5%) was advanced; 11% were IH;
72% were IM; and the remaining 1 (5.5%) was rated
Intermediate Low (IL). Overall these results are in line
with expectations for undergraduate language programs.
H I S P A N EWS ' 0 9
PAGE 6
Focus on the Faculty New Faculty Member In Fall 2008, the department welcomed Dr. Emily Beck, who quickly became a familiar
face among us. Dr. Beck holds a doctorate and a master of arts from Columbia
University. Her bachelor's degree is from the University of California, Los Angeles.
Her research interests focus on Medieval and Golden Age Spanish literature. She
explores the representation of chivalry and the relationships among Christians, Jews,
and Muslims in early modern Spain. Her work also looks at gender roles in Iberian
society, particularly under the reign of Queen Isabel I. She is thrilled to have joined the
faculty of the College of Charleston, and has enjoyed getting to know our students,
colleagues, and the city of Charleston.
Faculty Evaluations Several faculty underwent evaluations this past academic year. Drs. Michael Gomez and Lola Colomina-Garrigós
were promoted to associate professors; Dr. Marianne Verlinden was promoted to senior instructor; Drs. Parissa
Tadrissi and Carla Breidenbach successfully passed the third-year review for tenure; and Ms. Claudia Moran
completed successfully her third-year review for instructor. These changes will become effective in August 2009.
Congratulations to all of them on their success!
Faculty Activities Dr. Nadia Avendaño presented a paper titled "The re-writing of the female self and California history in Isabel
Allende's Hija de la fortuna" at the 15th Annual Carolina Conference on Romance Literatures, Chapel Hill, NC, in
March 2009. She was also the recipient of a summer research grant from the department.
Dr. Karen Berg presented a paper titled "The Twilight of an Era: Characterization and Space in Pío Baroja's Las noches
del buen retiro" at the 58th Mountain Interstate Conference in Wilmington, NC, in October 2008.
Dr. Carla Breidenbach presented a paper titled "Benefits of second language acquisition through the Small Town
Summer Study Abroad" at the Conference on Educación popular en las Américas en el Siglo XXI, in Valladolid,
México, in February 2009.
Dr. Raúl Carrillo-Arciniega published a novel En la tierra de Op (Editorial Eón: México) in April 2009, and his
collection of poems entitled Nauta herido is scheduled to come out in mid-summer 2009. He also had two of his articles
published: "David Huerta dentro de la tradición del poema frustrado y del lenguaje metapoético: ¿aproximaciones a una
poesía neobarroca?" Revista de Literatura Mexicana Contemporánea, núm. 36. El Paso: University of Texas at El Paso.
(2008) Vol. 15: 66-70, and "La resignificación del enunciado poético en la (temprana) Teoría de la poesía de José Emilio
Pacheco" Alforja, Revista de poesía, núm. 45. México: Universidad Autónoma de Sinaloa/ Alforja. (2008): 37-44. A
third article, "Poesía y revolución en la obra poética de Roberto Fernández Rematar" will appear in July 2009 as a
chapter in a book about that author (University of Tennessee, Benemérita Universidad Autónoma de Puebla, and the
Government of the State of Puebla, México).
PAGE 7
H I S P A N EWS ' 0 9
Dr. Michael Gómez was selected for and participated in the 2008 College of Charleston Summer Faculty Technology
Institute.
Dr. Lola Colomina-Garrigós's article "El tratamiento metatextual del desamor en La crueldad de la vida de Liliana
Heker." Hipertexto is forthcoming in Spring/Summer 2009. She also presented her article "Falocentrismo y reescritura
histórica en La Fiesta del Chivo de Mario Vargas Llosa" at the 15th Annual Carolina Conference on Romance
Literatures. University of North Carolina at Chapel Hill, NC, in March 2009.
Dr. Elizabeth Martínez-Gibson presented her research on "Linguistic Landscape in Spain: English-Spanish Mixing in
Signs and Advertising" in April 2009 as part of the Linguistics Discussion Series, a series of presentations organized by the
Linguistic Minor Program she directs. In November 2008, the Linguistics Program helped the Department of Sociology
and Anthropology organize a talk entitled "From Conservative to Radical: Sound Change in the Dialects of Charleston" given
by Dr. Maciej Baronowski from the University of Manchester, UK. In addition, Dr. Martínez-Gibson interpreted at
MUSC for three hours a week, and interpreted for the Diabetes Eye Screening in March. As a board member for
H.O.P.E., she attended two events in the spring: La Marcha Migrante: Border Angels, and the National Immigration
March.
Dr. Gladys Matthews made a presentation called "The Search for Meaning in Legal Translation: Conveying the
Statutory Conditions of Criminal Acts" as part of the Linguistics Discussion Series at CofC in November 2008. She was
also awarded a SLCWA R&D (Research & Development) Grant to carry out a descriptive research on approaches used in
teaching interpretation at the college level. Completion of this project is set for the end of the 2009 calendar year.
Dr. Sarah Owens presented "A Fresh Look at the Chronicle of
Indies: A Nun's Perspective" at the Canadian Association for Latin
American and Caribbean Studies (CALACS) Conference in
Vancouver, Canada, in June 2008. She also participated in a
roundtable discussion on "Colonial and Early Modern Women in
Translation" at the Modern Language Association (MLA)
Conference in San Francisco, CA, in December 2008; and at the
15th Annual Carolina Conference on Romance Literatures, Chapel
Hill, NC in March 2009, she gave a talk on "The Discourse of
Breast Cancer in Europe and the New World". In addition, Dr.
Owens serves as President of GEMELA (Grupo de Estudios sobre
la Mujer en España y las Américas (pre-1800)). As such, she
published their annual newsletter (http://www.gemela.org/
newsletter.html), and in October 2008 she co-hosted the bi-annual conference at California State University, Long Beach.
There were more than 80 participants – with scholars from Spain, Portugal, France, Mexico, Puerto Rico and the United
States. She has also received two grants to fund a book project: Atlantic Nuns: Journey of Five Capuchin Nuns. The
Other Voice of Early Modern Europe at the University of Toronto Press. Forthcoming 2009.
Dr. Silvia Rodríguez-Sabater attended a series of workshops at the Intercultural Competence Conference held at the
University of Arizona in Tucson, AZ, in October 2008. She was also a R&D Grant recipient from SLCWA to conduct
assessment of cultural competence in Service Learning during Spring 2009.
Georgia Schlau presented "Really Cool Stuff" for the classroom at the SCOLT/FLAG/SEALLT Joint Conference in
Atlanta, GA, in March 2009. She demonstrated how to use Comic Life, a software program that allows students to tell a
story (graphic novel) with digital photographs by providing cartoon templates and word balloons.
H I S P A N EWS ' 0 9
PAGE 8
Dr. Parissa Tadrissi was an invited guest lecturer at the "Memory and History in Contemporary Spanish Literature &
Film" seminar held in October 2008 at UC Santa Barbara where she gave a talk on "How History/Herstory pervades the
Spanish Youth Novel: The Case of Care Santos." She also presented a paper titled "A Tribute to Grunge: The Memory
of an Icon in Spanish Youth Literature" at the 15th Annual Carolina Conference on Romance Literatures, Chapel Hill,
NC, in March 2009. Her essay on "Negotiating Girlhood: Mediating Bodies and Identities in Novels by Care Santos"
just came out in Women in the Spanish Novel Today: Essays on the Reflection of Self in the Works of Three
Generations, a book edited by Kyra Kietrys and Montserrat Linares (McFarland Publishers, 2009). Her publication
"Filthy Squatters and the Undesirables: The History and the Novel of the Okupa movement in Spain." Cuaderno
Internacional de Estudios Humanísticos y Literatura, is forthcoming 2009.
Dr. Félix Vásquez was selected for and participated in the 2008 College of Charleston Summer Faculty Technology
Institute. He was also awarded a School of LCWA Planning Initiative Grant to develop a course in "Advanced
Business Communication Skills in Spanish" during Summer 2009.
Dr. Marianne Verlinden was the recipient of a School of LCWA Planning Initiative Grant to develop a Spanish /
English general translation course during Summer 2009.
Dr. Joseph Weyers presented a paper: "Private and public language in Montevideo: Language change among the
'target demographic'" at the Linguistics Association of the Southwest Conference, Corvallis, OR, in October 2008. He
submitted two articles for publication: "Speaking Strategies: Meeting NCATE Oral Proficiency Standards" (to the
Foreign Language Annals); and "The impending demise of tú in Montevideo, Uruguay"(to Hispania). An active
member of ACFTL, he continues as a Certified OPI tester in Spanish and became a certified OPIc rater in English and
Spanish. In addition, he was the co-recipient of a Title VIa Grant to launch the Global Scholars program, a new CofC
program that he co-directs, with Dr. Rene Mueller, from International Business, as Principal Investigator.
Several faculty members organized additional academic and cultural activities open to CofC students, faculty
and the general public, as will be highlighted in the next sections.
PAGE 9
H I S P A N EWS ' 0 9
Faculty Mentoring Students Dr. Carla Breidenbach served as a mentor for the senior thesis of two students at the Academic Magnet High School
in North Charleston, 2008-2009.
Dr. Silvia Rodríguez-Sabater directed an independent study with student Liz Ellis on "Service Learning in Costa
Rica: Vida Joven" (Summer I, 2008), and Shivani Jani's bachelor's essay on "The use and functions of the diminutive
in Mexican popular magazines for female teens" (August 2008-May 2009).
Congratulations to these students for their scholarly achievements and to their professors for their mentoring efforts!
Curricular Innovations During the 2008-2009 school year, several new courses were developed and taught for the first time.
In Fall 2008 Dr. Lola Colomina-Garrigós taught a graduate course for the M. Ed. in Languages, SPAN 655 – "Tyranny in Spanish
American Film and Literature". This interdisciplinary course offers a view of the Southern Cone's recent political
history as seen through representative works of contemporary Spanish American literature and film. It provided
students with an understanding of the historical, sociopolitical, and cultural background of contemporary South
America so that they could incorporate and/or adapt the course's content to elementary and secondary school curricula.
Dr. Parissa Tadrissi offered a 400-level course on "Women Writers in 20th Century Spain". This course gave
students insights into the Spanish Civil War and its implications on Spanish society as seen through the eyes of women
authors.
Dr. Elizabeth Martínez-Gibson offered a 300-level Medical Spanish course. It was created with funds she was
awarded from a Duke Endowment Grant in 2006-2007. The course provided students an opportunity to familiarize
themselves with technical medical vocabulary; to learn about medical issues that afflict the Hispanic population, and
about folkloric beliefs some hold regarding health and medicine; and to role-play practicing as interpreters and shadow
interpreters at MUSC for eight hours.
In Spring 2009 Dr. Carla Breidenbach developed and taught a 400-level course entitled "Chicano Sociolinguistics". Students were given the opportunity
to learn more about the growing Chicano (Mexican-American) population in Charleston. In cooperation with Midland Park Elementary
School, students enrolled in the course conducted fieldwork and interviews with over 200 Hispanic children from the school.
In Spring 2009, Dr. Raúl Carrillo-Arciniega offered another 400level course in "Creative Writing". Students read texts and then created their own stories based on the style of the model text. In late
April, they shared their favorite piece during a public reading. A short
story and two essays written by students in that course are included in
the next section of the newsletter.
H I S P A N EWS ' 0 9
PAGE 10
Focus on Our Students Dossier: Students as Writers "El mensaje" de Samuel Fleming Apretó el contestador automático con un dedo ansioso, y una voz fantasmal y familiar sonó:
"Buenas tardes, guaperimo, estoy en mi estudio, terminando de arreglar esas flores para una pareja joven, la que, te dije,
estaba tratando de tener un niño el otoño pasado—¿recuerdas? el hombre tenía un abuelo lejano que no habría soportado
para nada un nieto de otro signo que no fuera Leo—te pusiste tan enfadado con él, "un avaro incorregible" dijiste, y
conmigo por seleccionar el gladiolo en lugar del aster (era de esperarse de un Virgo y botánico como tú); siempre te
preocupas, mi cielo, e imaginaría que canjear sus contrariedades por más vino te serviría bien: ¡funciona suavemente para
mí! Hoy tengo que ir al asilo para…"
(señal acústica)
"¡Ay! Tu máquina me cortó: lo siento por cotorrear tanto—yo te extraño mucho y tengo mucho que decirte—pero me
fastidia cuando la gente me aborda cuando estoy ocupada o cargada con una entrega de flores—como ahora: oye,
espérame mientras pongo esas cajas en la cajuela…—y siempre me abordan cuando voy al asilo para llevar acacias a ese
Casanova secreto cada semana—él es como un especie de superhéroe, un Clark Kent, débil y sosegado en su vejez pero
un toro robusto, cierto, en la cama…me dicen las enfermeras…lo siento, y lo siento por disculparme: si ya no has notado,
estoy siendo extraña y hace algún tiempo que me siento un poco rara, desde que fuiste a Arizona al jardín botánico la
semana pasada, y no estaba segura por qué, hasta otro día, cuando me habías extrañado…
(señal acústica, otra vez)
"¡Caramba, nunca hay bastante tiempo para nada!—estoy tratando de manejar y hablar sobre algo muy importante, que
ahora se me escapó, y no hay tiempo para dejar un recado completo...¿de qué hablaba?...ah, sí: me di cuenta de que me
haces falta, pues, tú me conoces, eh, (dios mío)—...estoy embarazada…—hace tres días lo descubrí; lo siento, mi
corazón, lo siento notificarte por celular; mira, no sabía cómo decírtelo sin alarmarte o confundirte, y no podía esperar
nada más; pero yo tengo tanto miedo, posiblemente más, de que no querrías un hijo, que no querrías regresar del desierto,
que no querrías seguir adelante para casarnos, que no te importará que ya he hablado con tu hermano y su esposa y que
ellos estaban rebosantes de alegría (¡¿qué pensaría tu mamá?!) no, no importa para nada: sucedió, y por eso tuvo que
suceder: como cuando rompí tu florero veneciano y me perdonaste— me enamoré de ti en aquel entonces: y como la ave
que chocó en la ventana delantera de nuestro primer apartamento—tú la enterraste bajo la estatua de San Francis, con una
anémona, ¿recuerdas?: como las noches enteras pasábamos encogidos por las cobijas, tan leve como pétalos primaverales:
como nuestro primer encuentro en la tienda de flores, estabas buscando fertilizante nitrógeno y yo una aventura: y, más
importante que todo, como nuestro am…
-Buenas Tardes mi Flor Querida,
No recibí tu mensaje por unos días, y por tantas llamadas de mi familia —voces agotadas llevando noticias onerosas y
convocándome a regresar a casa—yo llegué a nuestro apartamento silencioso para descubrir la luz urgente brillando
intermitentemente en el contestador automático. Al final, por las lágrimas, no pude ver el botón para eliminarlo —tu voz
quedó en el aire entre mis orejas y la máquina por una eternidad.
Yo guardaré tu mensaje para siempre, porque, para mí, sus sonidos son los más puros del universo, porque contienen la
semilla y la promesa de vida, porque marcan el momento más desnudo de tu corazón—justo antes de que floreciera y se
dispara en las llamas de la circunstancia.
Y te fuiste, mi hijo, mi fruta, brotando dentro de la barriga adorada y contusionada de tu mamá, mi prometida. Ni ella ni
sus flores llegaron a su destino: ambas fueron aplastadas por el choque de automóvil que sucedió porque tuvo que
suceder. Están juntos ahora, entrelazados en la vena inmortal, y un día vamos a fluir como uno.
H I S P A N EWS ' 0 9
PAGE 11
Esa tarde mojada, de un día nublado, de un mes, un verano, un año, vida, nada—este hombre se marchitó y nació. Y
como cada flor deja caer su último pétalo y cada florescencia perdura su última metamorfosis, cada amor completa el
círculo: interminablemente empieza.
Tengo que ser, porque soy. Siempre.
-Dejó la carta al lado del casete del mensaje, debajo de la lápida cubierta con crisantemos hinchados y sanguíneos, y tocó
uno de los pétalos con un dedo resuelto.
"Joder" de Jennifer Mink ¿Alguna vez has tratado de definir "realidad" o "verdad" o "hecho"? ¿Has discutido la "verdad" con otra
persona? Piénsalo. Más allá de "Pienso, luego existo," ¿hay aún un "hecho" que no ha cambiado o sido rebatido o
refutado a lo largo del tiempo? Por todo lo que creemos o sabemos, hay algo opuesto en que podemos elegir creer. Vemos
un objeto, si no el objeto no existe y sólo son las señales de electricidad en el cerebro. Desarrollamos por la evolución, si
no Dios nos creó en un momento. Estamos causando el calentamiento global, si no es una parte normal del ciclo natural
del mundo. Este concepto de saber, de tener certeza, es algo creado y manipulado por todos los seres humanos para
sobrevivir; es cómo organizamos el caos resultante precisamente porque no sabemos. La realidad verdadera no es algo
fijado y entendible, sino un pez mojado y vivo en las manos. La manejamos como podamos.
Aunque todo el mundo quiere parecer racional, estoy dispuesta a admitir, por lo menos privadamente a mí
misma, que tengo una montaña de "verdades" que sólo las son porque elijo creer en ellas. La mitología moderna es la
ciencia, así que, como todos, tengo mis "hechos" que uso para argumentar que tengo razón, para persuadirlos a otros a
creer como yo, pero en mi fondo, sé que sólo las creo porque causan que me sienta tranquila. Me permiten evitar conflicto
interior para que funcione en este mundo. Saber es un asunto emocional, no racional.
Crecí en una familia liberal. Cuando llegué a la edad en que se empieza a formar ideas políticas, naturalmente
eran liberales. Era y soy humanista, por eso me creía liberal. Me creía estar vehementemente opuesta a la política de la
administración republicana del presidente George W. Bush, y especialmente a su política militar. Me creía antibelicista.
Es fácil creer algo mientras uno puede evitar la realidad en que tantas personas viven. Ahora soy la esposa de un militar.
¡Joder! No puedo evitar la realidad de los soldados y sus familias más. Ni puedo evitar la realidad del pueblo en los países
como Irak y Afganistán.
¡No quiero escribir!
No hace falta decir que la transición de mi vida civil/liberal a mi vida militar fue difícil. No tengo la claridad
necesaria para emprender esta tarea. Experimenté un conflicto en mi corazón. No me puedo acallar el constante ruido
cerebral. porque creía, sobre todo, en la paz. Me encuentro sumamente confundida. Idolatraba a los proponentes de la paz
absoluta como Gandhi. ¿Cómo podría aprobar la ocupación militar de mi amante mientras rechazo la violencia como un
recurso de acción en todas situaciones salvo la autodefensa?
Me encuentro con una necesidad de mantenerme ocupada en cada momento pero sin ganas de hacer nada.
Quiero evitar mis pensamientos, pero sólo es ahogando en el caos de ellos donde me siento equilibrada.
Amaba a mi novio; no quería dejarlo y por eso tenía que creer que el ejército, usado responsablemente y de
una manera justa, tiene una función buena en el mundo.
Y miro a esta mierda que escribo,
…Justificar la pena que tenemos que durar…
que estoy obligada a escribir,
H I S P A N EWS ' 0 9
PAGE 12
Al abrazar mi vida militar, me ponía indigna. Andaba enojada con el mundo ignorante de mi nueva vida
complicada y dura y dolorosa y emocionante y bonita. Andaba así porque todavía llevaba adentro el pudor de mí misma
por quedarme por tantos años mientras me pensaba humanista sin entendimiento de y compasión por miles de personas
que los necesitaban, personas que sacrifican constantemente para mí…
y me vuelvo ciega y sorda con rabia.
…Paso mis días justificando el gobierno que dicta nuestras vidas...
¡No puedo articular lo que me siento! No quiero pensar en ello pero tengo la necesidad de entenderlo. ¡Deja
de preguntarme! No entiendo… ¡No me ignores! Ayúdame. No entiendo. Explícame qué me está pasando al corazón.
¿Tú lo entiendes? ¿Puedes explicármelo? Entonces ¡no me juzgues! No me pienses una chiquita emocional. No
desestimes mis problemas; no estoy experimentando el síndrome premenstrual. No finjas que entiendes, tú no sabes nada
del dolor… ¿Alguna vez te has sentido solo por completo? ¿Rodeado por todos tus amigos? Amigos que te quieren, que
te apoyan, que te quieren ayudar y sumamente enojado con ellos por su inhabilidad de hacer lo que necesitas que hagan
para ti, que tú mismo tampoco sabes qué es, pero que todavía te sientes desesperado que lo hagan sin pedírselo. Cállate.
Vete. Me siento sola; debo estar sola… No le puedo hablar de esto. Él ya tiene demasiadas preocupaciones. Su deber es
infinitamente más pesado que el mío. Me siento, me pienso débil. Enfrentada con él, me veo sin valor. Yo no hago nada.
Su vida es sacrificio… Tengo miedo. No de su muerte, de que se enamore de la guerra, de que cuando regrese ya no me
quiera. O de que sea un hombre destrozado… Me regaño por enamorarme. Lamento depender de otra persona. Quiero
odiarlo. Así sería más fácil, más fácil y más vacío. ¡Joder! No puedo aguantar más. Estoy al punto de hacerme pedazos.
No podría aguantar dejar esta vida. Le quiero por completo.
Me canso. Joder.
"Un espejo atrasado" de Iman Muhammad Cuando miro a las personas que me pasan, veo que todos nos enfrentamos a las mismas necesidades de comer
y dormir, ganar dinero, tener la validación y todo lo que nos permite estar "actualizados," bajo la teoría de Maslow.1 Hay
pocas polémicas sociales que siembran el desacuerdo y son más ridículas que el concepto de la raza. La cosa central al
rededor absurdo es que, a diferencia del sexo que se determina tras la concepción y la religión que alguien puede elegir,
no hay una categorización universal para la raza. A pesar de las discrepancias en su descripción, está usada como un
instrumento para decirnos quienes somos, lo que podemos alcanzar en el futuro, como otros van a percibirnos y lo más
importante y a veces perjudicial, como nos vemos a nosotros mismos.
A pesar de la falta de una definición de raza, existe en nuestras sociedades, en los formularios oficiales del
gobierno, las solicitudes de la universidad y el censo. La raza afecta a todos porque crea una jerarquía de quién es mejor
por el color de la piel, y esa jerarquía se enseña a los niños y se enfatiza por los medios de comunicación. La jerarquía
nos manda que a los que le faltan la melanina son mejores que los que tienen mucha, o sea con los "blancos" arriba y los
"negros" abajo. Los que son puestos abajo son asociados con la inferioridad mental, pobreza, tendencias criminales. Por
ejemplo, una amiga mía que es "latina" tiene piel más morena que su hermana y aunque tienen los mismos padres, su
madre las categoriza como una blanca y otra negra, y su madre prefiere a su hija "blanca."
Una jerarquía basada en las sutiles diferencias entre el tono de la piel es horrible y vergonzosa, especialmente
porque se dice que todos los seres humanos tienen antepasados africanos y son descendientes de Adán y Eva. Si
podemos encontrar el origen de todas las personas del mundo en dos personas, entonces, a pesar de nuestras variaciones
en la mezcla, somos más iguales de lo que a veces pensamos. Si no es verdad, no hay evidencia que muestra una
correlación entre el tono de la piel y el valor o inteligencia de la persona. La raza nos divide y destruye la confianza
1 Maslow dice que tenemos que satisfacer nuestras necesidades básicas, como la necesidad de dormir y comer hasta que podamos alcanzar nuestro
potencial. Crea una jerarquía que muestra los niveles que tienen que ser cumplidos hasta que uno pueda alcanzar la "actualización."
PAGE 13
H I S P A N EWS ' 0 9
de algunas que pudieran mejorar algún aspecto de la vida o el mundo, como se muestra en el documental, "A Girl Like
Me." En el documental, se les pide a veintiún niños negros que seleccionen la muñeca que es la más bonita y buena.
Aunque la única diferencia entre las muñecas es el color de la piel, quince de los niños eligen a las muñecas blancas como
superiores en su apariencia y en comportamiento. Los niños, como un espejo de nuestra sociedad, muestran que el
problema es que la sociedad asigna a una personalidad y éxito futuro basado en el grupo racial en que uno se identifica o
en el grupo en que la sociedad lo percibe.
No es difícil concluir de dónde y cómo los niños llegaron a la idea que los blancos son mejores. En los medios de
comunicación, no hay bastantes imágenes positivas de personas "negras." No hay un programa de televisión que tenga un
reparto de actores que tiene más melanina en las cadenas mayores de CNN, ABC o NBC. Hay actores "negros" en sus
programas de televisión, pero no tienen los papeles más importantes o centrales. Son secundarios a los actores con menos
melanina, como la jerarquía nos enseña. Más que eso, casi cada noche alguien puede ver las noticias de un crimen con "dos
hombres negros" como los sospechosos, lo que empeora la imagen del papel de los negros en la sociedad. Esas
advertencias a la comunidad, como recibimos en nuestros e-mails del College of Charleston, muestran los criminales
negros más que otros, dan énfasis en ellos y les pintan con imágenes malas. Además propaga la idea que uno puede tener
miedo de la gente "negra."
El uso de la raza como mecanismo para dividir la sociedad en una jerarquía de valor influye la práctica del
racismo. Otra amiga mía fue molestada por una mujer vieja y "blanca" porque ella estaba usando una computadora que la
vieja quiso usar. En vez de esperar con paciencia hasta que mi amiga terminara con su tarea, la vieja le mostró el dedo
índice repetidamente, molestándole verbalmente, hablando negativamente de su "raza", hasta que la policía al campus
llegó. La vieja molestó a mi amiga únicamente por razones "raciales" y el pensamiento que tenía más valor o más derecho
de usar el ordenador porque era "blanca."
Por situaciones así, igual de los perfiles raciales, algunos que están más bajos en la jerarquía se sienten inferiores
y por eso usan el blanqueador de piel o alteran su apariencia en otra manera para ser más pálidos y más aceptables a la
sociedad. La sociedad nos enseña que los con menos melanina son los líderes y presidentes de la universidad y los con más
pueden ser los cocineros y conserjes, como se ve en nuestro ambiente de CofC. Por eso, algunas personas, si pueden,
niegan su papel o "raza" por asimilarse a los "blancos." Esto me recuerda de otra amiga mía de padres de diferentes países
y "raza." Su madre japonesa no quiso que ella tuviera amigas negras y mientras al principio, la mayoría de sus amigas eran
negras, al final todas sus amigas negras eran reemplazadas por amigas más aceptables sociales, las "blancas."
Sugiero que el problema de la raza no va a desaparecer rápida sino lentamente cuando borremos las concepciones
negativas asociadas a la raza que tenemos para abrir las puertas a las jaulas que hemos creado. La educación puede poner
fin a los estereotipos y la enseñanza de la jerarquía, los cuales hacen el concepto de la raza horrible. Un primer paso a esa
sociedad mejorada es presentar más personas de una variedad de diferentes colores de piel y presentarnos en una variedad
de maneras como buenas, malas o neutrales. (Por ejemplo por presentar actores esenciales que no siempre se parecen a una
versión rubia de Penelope Cruz sino de Zoe Saldaña o aun Rosario Dawson). Por supuesto hacen falta otros cambios en la
manera en que la sociedad funciona, pero es necesario empezar con los jóvenes. De esta manera, podemos quitar la idea
que, "One of these things is not like the other. One of these things just doesn't belong."
Students Perfect their Spanish While Serving the Community Through the SPAN 400 Service Learning course, designed by Dr. Silvia Rodríguez-Sabater, students have had, for a
number of years already, the opportunity to improve their skills in Spanish while performing volunteer work to benefit the
Charleston Hispanic community. According to the 2000 Census, there are more than 40 million Hispanics in the U.S. In
South Carolina, the Hispanic population has increased by 47% this decade. These figures indicate that there is growing
need to serve the Hispanic community. Students may earn up to 30% of the course grade by completing forty-five hours of
volunteer work in hospitals and medical clinics, elementary and high schools, police departments, and church outreach
programs. Besides sharpening their language skills, students also increase their awareness of the linguistic, educational
and social issues that affect the Hispanic community in Charleston, become familiar with volunteerism as a learning tool,
and above all break cultural barriers and create greater understanding between speakers of English and Spanish.
H I S P A N EWS ' 0 9
PAGE 14
Learning Abroad Summer 2008
Dr. David Kowal, from Art History, and our own
Dr. Félix Vásquez, a Peruvian native, led a group
of 10 students to the land of the Incas. This fourweek program gave participants the opportunity
to explore the unique geography, history, culture
and arts of this fascinating and diverse nation.
The program began in the Peruvian capital of Lima; proceeded to
Caral, the oldest "city" in South America; to Huaraz and Chavin de
Huantar, site of one of the earliest pre-Columbian civilizations, in the
central Andes; then to the northern coastal city of colonial Trujillo,
with visits to the sites of
the Moche and Chimu
civilizations, including the adobe city of Chan Chan. The group then
moved to the southern Andes to explore the beautiful colonial city of
Arequipa, then to Puno, on the shores of Lake Titicaca, with a visit to
the islands of Uros and Taquile before traversing the high plateau to
Cuzco, capital of the Inca empire. From Cuzco the group headed into
the "Sacred Valley of the Inca," climaxing with a visit to Machu Picchu,
one of the great architectural "wonders of the world". Two
complementary courses were offered: Professor Kowal's "Art of the
Andes: Pre-Columbian and Colonial" (ARTH 290, and Professor
Vásquez's "Peru: The Land of the Incas" (LACS 200).
Program in
Peru
Additional pictures of the trip to Peru may be accessed on the Facebook
group page "College of Charleston Peru 2009."
Drs. Parissa Tadrissi and Carla
Breidenbach led a group of 25
students to Trujillo. The group went
on several short excursions to Mérida
and Cáceres, as well as two longer
trips to Southern Spain and Madrid.
Córdoba, Granada and Sevilla were
the cities visited in Southern Spain.
The students had a chance to
experience Spanish nightlife, a
bullfight, and soccer games, as well
as visiting the Alhambra, the
Cathedral and Giralda of Sevilla. In
Madrid, the group continued its
cultural tour of the Museo del Prado,
the Palacio de los Reyes, and the
Parque del Retiro. The students
enjoyed the small town atmosphere
of Trujillo and made close friends
with the other students on the trip.
Several expressed the desire to return
to Trujillo to visit their host families.
Summer 2008
Program in
Spain
H I S P A N EWS ' 0 9
PAGE 15
2008-2009
Student Exchange Program
Mexico
During the summer of 2008, eight CofC students took classes at the
Universidad de Colima. They received federal FIPSE (Funds for the
Improvement of Post Secondary Education) grants. They lived with
Mexican families. The grants paid for nearly all costs involved.
In Spring 2009, another four students received federal FIPSE grants to
study at the Universidad de Colima, Manzanillo campus. They did
internships in either tourism or at the Port of Manzanillo, Mexico's
largest in terms of product movement, and a few of them took some
classes as well.
Fall 2008
Program in
Chile
Dr. Sam Francis accompanied
14 students to Santiago de
Chile. These students had the
opportunity to experience the
Chilean culture and be
immersed in the Spanish
language for several months.
They were hosted by Chilean
families, and studied Literature, Chilean Culture and History,
Advanced Grammar and Study Abroad courses with faculty
from the Universidad Diego Portales in Santiago.
Dr. Francis offered "Spanish Composition and
Conversation" (SPAN 350). The group participated
in several extracurricular activities, including a trip
to Pucón, a major center of adventure tourism in the
Chilean Araucanía region, where visitors can go
hiking, rafting, horseback riding, and take canopy
tours. Students also traveled to Peru and visited
Machu Picchu.
H I S P A N EWS ' 0 9
PAGE 16
Spring 2009
Dr. Luis Linares-Ocanto once again directed
the Cuba program this spring. Thirteen
students had the opportunity to enroll in a
number of political sciences courses offered
by Cuban scholars from several academic
institutions and explore the
rich Cuban society and
culture, and its exceptional
theater tradition. Classes
were held in Vedado at the
Casa Memorial de Salvador
Allende; some were also conducted at the National Botanical Garden,
Expo Cuba, Casa las Américas, Casa de África and the Instituto de
Filosofía, among other sites. Students participated in numerous
extracurricular activities and went on excursions to other parts of the
island.
Program in
Cuba
Spring 2009 Program in
Argentina
Seven students
traveled to Buenos
Aires, Argentina to
study during Spring
2009 and earn 12-15 hours of credit. They attended classes
taught both in English and Spanish at the Universidad de
Buenos Aires School of Law and Social Sciences. Students
lived in a dorm with Argentine and other foreign students,
and enjoyed travel opportunities throughout Argentina and
Uruguay.
Biology Instructor Deb Bidwell took eight students to Trujillo, Spain, this spring. The group left
Charleston on January 21 and returned on May 5. Besides a variety of Spanish offerings, students had the
opportunity to register in an independent field research in
Mediterranean Ecology. As in the past, students traveled to Cáceres
and Mérida, and ventured to Andalucía. The program concluded in
the Madrid area, were students visited the Museo del Prado, the
Museo Reina
Sofia, El
Escorial and
other
historical
sites.
Spring 2009 Program in
Spain
PAGE 17
H I S P A N EWS ' 0 9
New Initiates into Sigma Delta Pi On October 6, 2008, 16 students were initiated in Sigma Delta Pi, the Spanish Honor Society: Lawren E. Anderson, Tinja
Gina Anderson-Mitterling, Brooke Andregic, Thomas E. Dunn, Jr, Kathryn Duvall, Laura Ferguson, Erin Claire Finn,
Danielle N. Geeting, Christina M. Hong, Iman Jameelah Muhammad, Rebecca Madell, Lauren Emily Meeks, Jennifer
Nicole Mink, Lauren Elizabeth Patterson, Meagan Elizabeth Roach, and Ridley Williams. Dr. Félix Vásquez conducted
the initiation ceremony, assisted by 2007-initiate Shivani Jani (Vicepresidenta), and Dr. Marianne Verlinden
(Secretaria). The School of Education, Health and Human Performance once again generously made the Alumni Center
available to us for this event.
Student Awards On April 21, outstanding 202 Spanish students for the 2008-2009 academic year, peer teachers, Casa Hispánica residents,
Spanish Club officers, and Spanish tutors were recognized for their work. Devon Hanahan, Claudia Moran and María
Andrews organized the event.
And on May 8, the School of Languages, Cultures, and World Affairs hosted the 2009 Student Award Ceremony for its
graduating seniors and December 2008 graduates at Arnold Hall. Shivani Jani won the prestigious Graeser Memorial
Award as well as the Hispanic Studies Department Honors Award. Jennifer Mink earned the Most Accomplished
Spanish Major Award. Andrea Tremols received the Highest Achieving Spanish Major Award; and Amanda Adams,
Lawren Anderson, Tristan Hill, Shivani Jani, Jennifer Mink, Diana Rivera, Amanda Taylor and Andrea Tremols won the
Outstanding Student Award for Hispanic Studies. Rachel Wamser was recognized as High Achieving Portuguese
Student. Our thanks to Sabine Hagn-Ford for coordinating this event.
H I S P A N EWS ' 0 9
PAGE 18
Spanish Club The 2008-2009 academic year
was a very busy one for the
Spanish Club. Its members,
with the continued dynamic
support of faculty-adviser,
Dr. Emily Beck, started off
the year by participating in the
Hispanic Heritage Fair and the
Noche de Poesía, events
organized to celebrate the
Hispanic Heritage Month.
The Spanish Club also
partnered with the members of
the Casa Hispánica for
Quesadilla Night in October.
More than 50 students
attended the first Salsa Night
in November, which featured
a presentation on the history
of the music and dance by professional salsa instructor, Julio Garrido, who is also a student in the M.A. in Bilingual
Interpreting. Two additional salsa nights with lessons were offered in the spring, at Majestic Grill. At the World
Cultures Fair on March 18, the Club set up tables with information about ways to get involved with the local Hispanic
community, as well as displays about customs and cultural artifacts from a variety of countries. Other events organized
by club members included group trips to College of Charleston sports events and the bi-monthly Tertulias at Yo Burrito.
In addition to these events, the Club continued to develop contacts with the growing Hispanic community in
Charleston. A number of club members worked actively with local health clinics, and Lowcountry AIDS Services; others
taught English as a Second Language courses (ESL) to adults. The relationship with Midland Park Elementary School,
where several members work directly with teachers to translate class newsletters and assist with Parent-Teacher
conferences, was formalized. In the spring, 27 Hispanic Studies students volunteered with the school. Midland Park
Elementary was even featured on MSNBC in early March as part of a national broadcast on regions of the U.S. that have
recently experienced a large increase in the Hispanic population. A group of club members assisted the school
administration while filming took place.
Amanda Taylor was President of the Spanish Club in the fall, and the Vice-President, Lawren Anderson,
assumed that position in the spring, when Amanda graduated. Other officers of the club included Amanda Adams
(Treasurer in the fall, and Vice-President in the spring), Hannah Taub (Treasurer in the spring), Grace Williamson
(Secretary), and Elena Barrio (Public Relations).
PAGE 19
H I S P A N EWS ' 0 9
Portuguese Club The year was also
another success for the
Portuguese Club.
Working closely with
faculty-adviser Dr. Luci
Moreira, the Club
continues to thrive as an
on-campus student
organization, offering
diverse activities to the
College community. Its
members took part in
the World Cultures Fair,
offering food,
displaying arts and
crafts, and entering the
Fair's talent show (Erik
Ling's solo saxophone
Bossa Nova).
Representing a longstanding initiative to
integrate Portuguese
into students' lives, the Bate-Papo (Conversation Table in Portuguese) were held every two weeks. Cultural and
recreational events punctuated these gatherings, including a celebration of Carnival at the City Gallery on February 20 (in
conjunction with the Charleston Arts Coalition) and "Rhythms of Brazil," a live concert and dance at the Stern Center,
featuring SamBrasil (co-sponsored by the Multicultural Students Services and Programs).
The Club also invited to campus Ambassador Adalnio Senna Ganem, Consul General of Brazil in Atlanta to deliver a
lecture on "Multicultural Brazil in a Global Economy" on April 6, and on April 23 brought in a local Capoeira group to
perform, in conjunction with the Carolina
Lowcountry and Atlantic World (CLAW)
Program's lecture, "Fighting for Honor: The
History of African Martial Arts Traditions
in the Atlantic World" by Dr. T. J. DeschObi from the City University of New York.
The officers for the 2008-2009 year were
Lucas Moreira (President), Rachel Wamser
(Vice-President), Candice Thompson
(Secretary), and Alessandro Moreira
(Treasurer).
H I S P A N EWS ' 0 9
PAGE 20
Linguistics Club The Linguistics Club, with the assistance of their faculty-adviser, Dr. Carla Breidenbach, received official status as a
new Student Government Association Student Club in February 2009. The officers for the 2008-2009 year were Stacey
Clearman (President), Hannah Strickland (Vice President), Jennifer Mink (Secretary), and Kellie Osbourne (Treasurer).
The club plans to host guest speakers in the field of linguistics, organize movie nights and book discussions, and hold
seminars to offer students advice on getting into graduate school and on job opportunities available for those with an
interest in linguistics. The Linguistics Club is open to all those interested in language.
La Casa Hispánica The Spanish House ended the academic year at full capacity with nine residents. Three of the residents returned after
completing study abroad programs in Argentina, Cuba and Spain in 2008. Two new students joined in Spring 2009.
The residents hosted a number of events like el Día de los muertos, Gnocchi Day (an Argentinean tradition), and
celebrations for the independence of several Latin American countries. On April 24, 2009, a Noche Literaria was held in
the Casa; Dr. Raúl Carrillo-Arciniega shared excerpts from his novel En la tierra de Op and students from his SPAN
400-level Creative Writing course read
some of their most representative work
(see "Dossier – Students as Writers" in
this issue).
The house will be again filled to
capacity in Fall 2009 with five new
residents, after the graduation of
Amanda Adams, Megan Gainey, Erin
Hood and Jennifer Mink. Best wishes
to the graduates!
PAGE 21
H I S P A N EWS ' 0 9
Events Hispanic Heritage Month As in the past, the department put together an impressive schedule of events to celebrate the Hispanic heritage throughout
October.
Dr. Nadia Avendaño organized the 4th Annual Hispanic Heritage Fair which took place on October 2 in the Lobby of the
Lightsey Center. The Spanish Club assisted in the event. As in the past, students of Spanish shared information,
displayed arts and crafts, and served a sampling of food from a number of Spanish-speaking countries.
A symposium "Celebrating 30 Years of Multilingual and Multicultural Spain – 1978-2008" was held on October 10,
2008, in the Wachovia Auditorium in the Beatty Center. Panelists for this event included Gabriel Rei-Doval, a sociolinguist from the University of Wisconsin, Jorge Pérez, an expert of literature and cinema from the University of Kansas,
and Silvia Bermúdez, a literature and music expert from the University of California, Santa Barbara. This was an
opportunity to widen our knowledge of Spanish regional diversity, characterized by its cross-cultural nature and the
cohabitation of languages. The event was organized by Dr. Parissa Tadrissi.
Dr. Elizabeth Martínez-Gibson organized a showing and discussion of the film "Dying to Live: A Migrant's Journey."
Drawing on the insights of Pulitzer Prize winning photographers, theologians, activists, musicians and the immigrants
themselves, this documentary gives a human face to the immigration issue. It reveals who these immigrants are as well as
their struggles and hopes. The event, co-sponsored by H.O.P.E. and the Coalition for New South Carolinians, provided
an opportunity for students, faculty and the community to reflect on the topic.
Our department also hosted the musical Tres Vidas by Core Ensemble, on October 20, 2008, at Alumni Hall. Tres Vidas
celebrates the lives, times and work of three significant Latin American Women: painter Frida Kahlo of Mexico, peasant
activist Rufina Amaya of El Salvador, and poet Alfonsina Storni of Argentina. It portrays Kahlo's dramatic and
passionate relationship with painter Diego Rivera, Amaya's astounding singular survival of the massacre at El Mozote,
and Storni's lifelong challenges as Argentina's first great feminist poet. From a script by Chilean writer Marjorie Agosin,
actress Karina Barros offered powerful representations of each woman, alternating monologues with traditional
Mexican folk songs as well as Argentinean popular and tango songs, accompanied by a chamber music trio. The event
was attended by faculty, students, and the general public.
And on October 23, 2008, Dr. Raúl Carrillo-Arciniega organized his seventh Noche de Poesía in conjunction with the
Spanish Club. Students of his SPAN 275 and SPAN 372 as well as members of the Spanish Club had the opportunity to
share their favorite Spanish-language poems in front of an audience of peers and professors at Alumni Hall. Poems by a
wide variety of authors, including such luminaries as Pablo Neruda and Federico García Lorca, were represented. Some
students read original pieces they had written in Spanish. A musical selection of Latin American beats and electronic
ambience provided a background for the reading. As in the past, the department put together an impressive schedule of
events to celebrate the Hispanic heritage throughout October.
H I S P A N EWS ' 0 9
PAGE 22
PAGE 23
H I S P A N EWS ' 0 9
World Cultures Fair Dr. Elizabeth Martínez-Gibson brought back a tradition that she started about seven years ago. With the cooperation of
the entire School of Languages, Cultures, and World Affairs, she organized the World Cultures Fair on March 18. Set in
the Stern Center Gardens, the day-long event included a talent show contest for students, dances and food from around the
world. Tables were decorated and manned by each program and club from the School to inform students about the countless
opportunities offered by the College to become global citizens. Everyone enjoyed a pleasant sunny day in this beautiful
setting. Among the many presentations there were Mexican Folkloric Dances and Songs, Brazilian Music and Capoeira
Dance, Italian Tarantella Dance, French Poetry, Arabic Poetry and Belly Dancers, the Chinese Lion Dance, as well as
Russian and Indian Dances. Students had also been invited to enter a video contest. The winners included: for best
message and best overall film: Sonya Lehman (Arabic, Dr. Ghazi Abuhakema), second place in that category: Dave
Brown (Arabic, Professor George Fam); for best comedy, Julie Long, Sydney Boniface, and Justin Torres and Daniel
Miller, all of them Spanish students of Professor Georgia Schlau, won first, second and third places respectively.
Tristan Contas (Spanish, Dr. Elizabeth Martínez-Gibson) won second place for singing a capella; and Erik Ling
(Portuguese, Dr. Luci Moreira) won third place for playing the saxophone. Congratulations to all!
H I S P A N EWS ' 0 9
PAGE 24
Alumni News Tony Cella, Spring '07, started his doctoral studies in August 2008 at the University of Virginia in Charlottesville, VA.
He is planning to study contemporary narrative in the Southern Cone for his dissertation. Tony currently teaches two
sections of fourth-semester Spanish at the university, and is applying for a teaching fellowship in Valencia, Spain, next
year where he hopes to teach an introductory literature course.
Charissa Graham (formerly Riddle), Spring '07, has been teaching Spanish to grades K3-12 at St. Paul's Academy, a
private school in Hollywood, SC, for a year, now. She has grown as a teacher and Spanish speaker, as she has taken on
the challenges of teaching mixed classes of heritage speakers and non-Spanish speakers. She loves sharing her passion
for languages with children of so many ages and being a part of as well as witnessing second language acquisition.
Aimee Holmes, Spring '06, got married a year and a half ago. She is Account Manager for Continental American
Insurance Company.
Kelley Johnson, Spring '07, has been living for the past two years in México. She just graduated with an M.A. in
Applied Linguistics from the Universidad de las Américas, in Puebla, and is now certified to teach a second language (in
this case, English). She has been offered a job at a private elementary school to teach English, and is also in search of
opportunities to teach English to adults.
Colleen Kane, Spring '04, graduated with an M.A. in Bilingual Legal Interpreting in Fall '05. Since then, she has worked
for the Superior Court of Arizona in Phoenix, initially as an intern, then as a contractor, and as a staff interpreter since
May 2006. At first, she worked mainly in early resolution courts and juvenile court, and for the past year, she has been
working in trial courts. Colleen loves the challenge of court interpreting and the fact that she is always learning. She has
attended several ATA and NAJIT conferences as well as conferences and events organized by the Arizona Court
Interpreter Association.
Megan Meyer, Fall '03, was completing a Master in International Relations at Johns Hopkins University School for
Advanced International Studies (SAIS) when she started working for the World Bank on Carbon Finance (emissions
trading under the Kyoto Protocol). She says that without her language skills and experience studying and working abroad
in Spain and Latin America, she would not have been accepted into the SAIS program. Megan hopes to eventually focus
her work in Carbon Finance on Latin America.
Ashley Sinclair, Spring '08, just finished her first year at George Washington University Law School in Washington
D.C. This summer she is working at the Office of the Federal Public Defender for the Eastern District of Virginia, using
her Spanish to interpret between the attorney who hired her and Spanish-speaking clients who are on trial.
Armanda Sloan, Spring '07, began working in January 2009 as a bilingual chiropractor's assistant. She helps the doctor
communicate with and treat his Spanish-speaking patients. She describes the job as "exciting and challenging" as she is
learning new things every day. Armanda hopes to soon continue with her education, focusing on medical interpreting.
Jaclyn Swoger Cappel, Spring '04, graduated from the Medical University of South Carolina in May 2009 as a Doctor
of Medicine. She will be moving with her husband, Nick, and 2-year-old son, Benjamin, to Rochester, NY, where she
will begin her residency in anatomic and clinical pathology at the University of Rochester/Strong Memorial Hospital.
Jaclyn has served as a MUSC-approved Spanish interpreter during her time as a medical student, and hopes to continue
that service into her residency.
GIFT TO THE PHOTO CREDITS DEPARTMENT OF HISPANIC STUDIES Special thanks for image contributions to faculty and
students from the Department of Hispanic Studies, as well
as Dr. David Kowal, Dr. Doug Friedman, Sabine HagnFord, Jerry Spiller, Joy Pici, Susan Guth, Laura Ferguson,
and Brys Sepulveda. The images were provided by them
unless otherwise noted.
Yes! I would like to make a donation to the Department of
Hispanic Studies in the amount of
_____ $200 _____ $100 _____$50 _____ $25
_____ Other
Your contribution enables us to continue with our many
endeavors to enrich our students' experiences and
programs.
Name: _________________________________________
Address:________________________________________
City: ____________________ State: _____ Zip:________
Class of: __________ E-mail:_______________________
All contributions are tax deductible. Please make your
check out to the "College of Charleston Foundation" and
request that your funds go to the "Department of Hispanic
Studies Account." Mail to: Chair, Hispanic Studies,
College of Charleston, 66 George Street, Charleston, SC
29424-0001. ¡Muchísimas gracias por su generosidad y
apoyo!
Buenos Aires from the Natural Reserve (p. 16) by Luis
Argerich, CC: BY.
Multicultural Brazil in a Global Economy (p. 19)
adapted from Brasília: Candangos by Matias Romera,
CC: BY-SA.
World Cultures Day Dancers and Talent Show Schedule
(p. 22) adapted from Catalan Climbers by Steve
Jurvetson, CC: BY.
Tres Vidas (p. 21) by Core Ensemble, © All Rights
Reserved.
STAY CONNECTED – CLASS NOTES We would like to know what you have been up to lately. Tell us about your new job, promotion, move to a new city, marriage,
addition(s) to the family, special honors received, or anything else you wish to share, by sending us an e-mail to
[email protected], or completing this form and mailing it to: Attention HispaNews, Department of Hispanic Studies, College of
Charleston,
66 George Street, Charleston, SC 29424-0001.
Name: ____________________________________________________________________________________________________
Maiden name: _________________________________________________________ Class of (year): _______________________
Job, family and other doings: __________________________________________________________________________________
__________________________________________________________________________________________________________
__________________________________________________________________________________________________________
How do you use your Spanish and/or Portuguese?
__________________________________________________________________________________________________________
__________________________________________________________________________________________________________
__________________________________________________________________________________________________________
Other comments and suggestions:
__________________________________________________________________________________________________________
__________________________________________________________________________________________________________
Preferred e-mail address:
__________________________________________________________________________________________________________
HispaNews is produced as a service to alumni and friends of the Department of Hispanic Studies. Since 2008 it is available online.