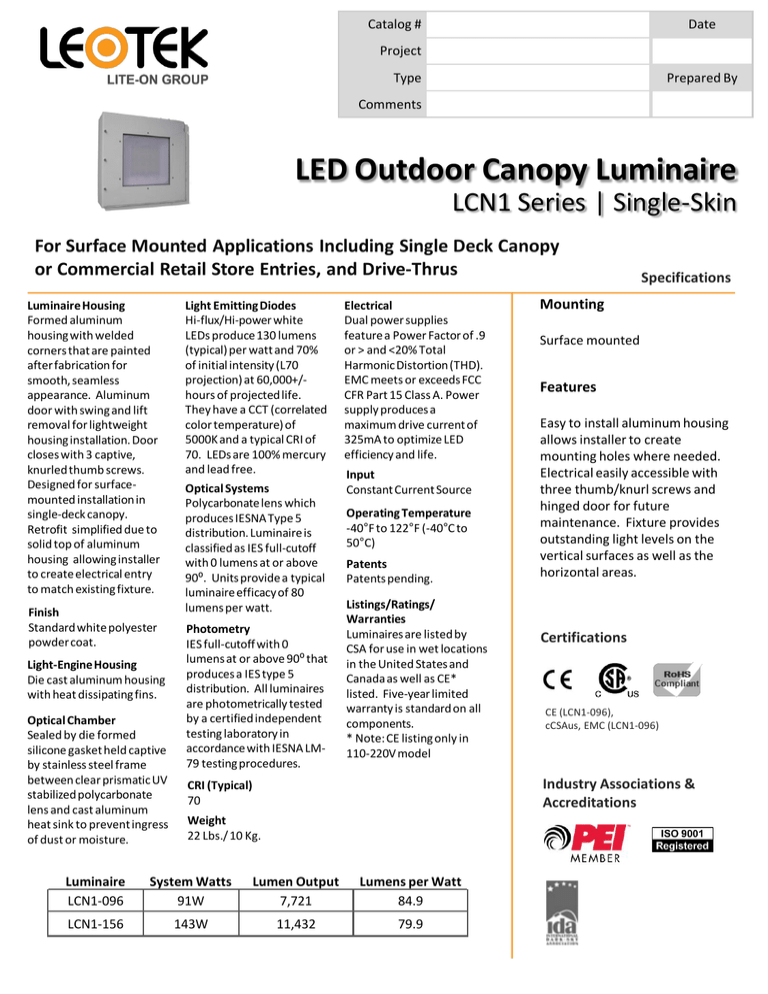 Catalog #
Date
Project
Type
Prepared By
Comments
LED Outdoor Canopy Luminaire
LCN1 Series | Single-Skin
For Surface Mounted Applications Including Single Deck Canopy
or Commercial Retail Store Entries, and Drive-Thrus
Luminaire Housing
Formed aluminum
housing with welded
corners that are painted
after fabrication for
smooth, seamless
appearance. Aluminum
door with swing and lift
removal for lightweight
housing installation. Door
closes with 3 captive,
knurled thumb screws.
Designed for surfacemounted installation in
single-deck canopy.
Retrofit simplified due to
solid top of aluminum
housing allowing installer
to create electrical entry
to match existing fixture.
Finish
Standard white polyester
powder coat.
Light-Engine Housing
Die cast aluminum housing
with heat dissipating fins.
Optical Chamber
Sealed by die formed
silicone gasket held captive
by stainless steel frame
between clear prismatic UV
stabilized polycarbonate
lens and cast aluminum
heat sink to prevent ingress
of dust or moisture.
Light Emitting Diodes
Hi-flux/Hi-power white
LEDs produce 130 lumens
(typical) per watt and 70%
of initial intensity (L70
projection) at 60,000+/hours of projected life.
They have a CCT (correlated
color temperature) of
5000K and a typical CRI of
70. LEDs are 100% mercury
and lead free.
Optical Systems
Polycarbonate lens which
produces IESNA Type 5
distribution. Luminaire is
classified as IES full-cutoff
with 0 lumens at or above
90⁰. Units provide a typical
luminaire efficacy of 80
lumens per watt.
Photometry
IES full-cutoff with 0
lumens at or above 90⁰ that
produces a IES type 5
distribution. All luminaires
are photometrically tested
by a certified independent
testing laboratory in
accordance with IESNA LM79 testing procedures.
Electrical
Dual power supplies
feature a Power Factor of .9
or > and <20% Total
Harmonic Distortion (THD).
EMC meets or exceeds FCC
CFR Part 15 Class A. Power
supply produces a
maximum drive current of
325mA to optimize LED
efficiency and life.
Input
Constant Current Source
Operating Temperature
-40°F to 122°F (-40°C to
50°C)
Patents
Patents pending.
Listings/Ratings/
Warranties
Luminaires are listed by
CSA for use in wet locations
in the United States and
Canada as well as CE*
listed. Five-year limited
warranty is standard on all
components.
* Note: CE listing only in
110-220V model
Specifications
Mounting
Surface mounted
Features
Easy to install aluminum housing
allows installer to create
mounting holes where needed.
Electrical easily accessible with
three thumb/knurl screws and
hinged door for future
maintenance. Fixture provides
outstanding light levels on the
vertical surfaces as well as the
horizontal areas.
Certifications
CE (LCN1-096),
cCSAus, EMC (LCN1-096)
Industry Associations &
Accreditations
CRI (Typical)
70
Weight
22 Lbs./ 10 Kg.
Luminaire
LCN1-096
System Watts
91W
Lumen Output
7,721
Lumens per Watt
84.9
LCN1-156
143W
11,432
79.9
Ordering Information | Example: LCN1-096-MV-CW-5S
LCN1
Series
LCN1 –
Outdoor
Canopy
Luminaire
Select
Select
MV
MV
LED Quantity
096 - 96 LED
156 - 156 LED
Voltage
MV - 120-277Vac
5S
Select
Nominal Color Temperature
CW - cool white (5000K)
NW - neutral white (4100K)
WW - warm white (3000K)
Distribution Pattern
5S - Type 5 Short
Dimensions
Please visit Leotek Electronics USA Corp. at www.leotek.com
V4-090513 | Information provided subject to change without notice.