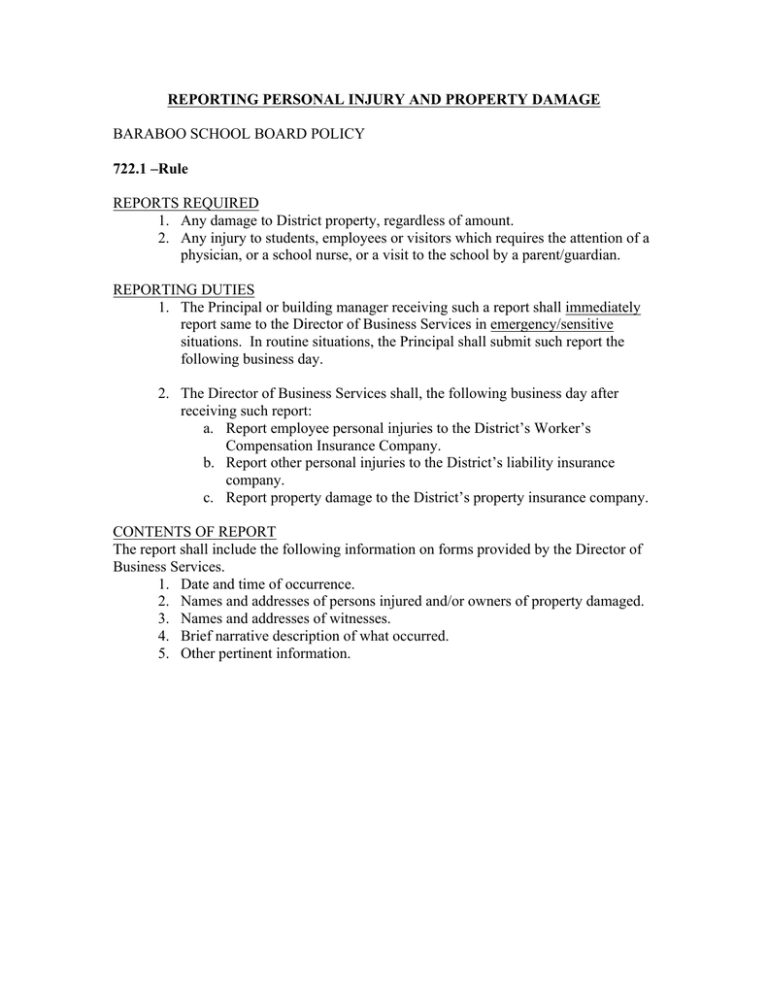 REPORTING PERSONAL INJURY AND PROPERTY DAMAGE
BARABOO SCHOOL BOARD POLICY
722.1 –Rule
REPORTS REQUIRED
1. Any damage to District property, regardless of amount.
2. Any injury to students, employees or visitors which requires the attention of a
physician, or a school nurse, or a visit to the school by a parent/guardian.
REPORTING DUTIES
1. The Principal or building manager receiving such a report shall immediately
report same to the Director of Business Services in emergency/sensitive
situations. In routine situations, the Principal shall submit such report the
following business day.
2. The Director of Business Services shall, the following business day after
receiving such report:
a. Report employee personal injuries to the District's Worker's
Compensation Insurance Company.
b. Report other personal injuries to the District's liability insurance
company.
c. Report property damage to the District's property insurance company.
CONTENTS OF REPORT
The report shall include the following information on forms provided by the Director of
Business Services.
1. Date and time of occurrence.
2. Names and addresses of persons injured and/or owners of property damaged.
3. Names and addresses of witnesses.
4. Brief narrative description of what occurred.
5. Other pertinent information.