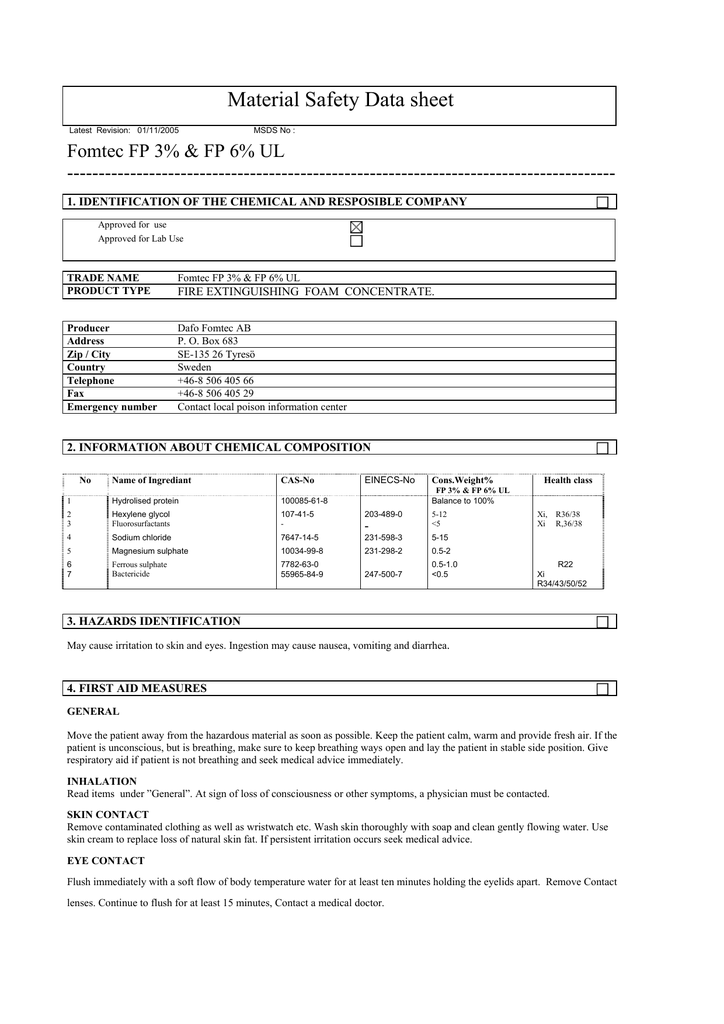 Material Safety Data sheet
Latest Revision: 01/11/2005
MSDS No :
Fomtec FP 3% & FP 6% UL
--------------------------------------------------------------------------------------1. IDENTIFICATION OF THE CHEMICAL AND RESPOSIBLE COMPANY
Approved for use
Approved for Lab Use
TRADE NAME
PRODUCT TYPE
Fomtec FP 3% & FP 6% UL
Producer
Address
Zip / City
Country
Telephone
Fax
Emergency number
Dafo Fomtec AB
P. O. Box 683
SE-135 26 Tyresö
Sweden
+46-8 506 405 66
+46-8 506 405 29
Contact local poison information center
FIRE EXTINGUISHING FOAM CONCENTRATE.
2. INFORMATION ABOUT CHEMICAL COMPOSITION
No
Name of Ingrediant
CAS-No
EINECS-No
Cons.Weight%
Health class
FP 3% & FP 6% UL
Balance to 100%
1
Hydrolised protein
100085-61-8
2
3
Hexylene glycol
Fluorosurfactants
107-41-5
-
203-489-0
4
Sodium chloride
7647-14-5
231-598-3
5-15
5
Magnesium sulphate
10034-99-8
231-298-2
0.5-2
6
7
Ferrous sulphate
Bactericide
7782-63-0
55965-84-9
247-500-7
0.5-1.0
<0.5
-
5-12
<5
Xi, R36/38
Xi R,36/38
R22
Xi
R34/43/50/52
3. HAZARDS IDENTIFICATION
May cause irritation to skin and eyes. Ingestion may cause nausea, vomiting and diarrhea.
4. FIRST AID MEASURES
GENERAL
Move the patient away from the hazardous material as soon as possible. Keep the patient calm, warm and provide fresh air. If the
patient is unconscious, but is breathing, make sure to keep breathing ways open and lay the patient in stable side position. Give
respiratory aid if patient is not breathing and seek medical advice immediately.
INHALATION
Read items under "General". At sign of loss of consciousness or other symptoms, a physician must be contacted.
SKIN CONTACT
Remove contaminated clothing as well as wristwatch etc. Wash skin thoroughly with soap and clean gently flowing water. Use
skin cream to replace loss of natural skin fat. If persistent irritation occurs seek medical advice.
EYE CONTACT
Flush immediately with a soft flow of body temperature water for at least ten minutes holding the eyelids apart. Remove Contact
lenses. Continue to flush for at least 15 minutes, Contact a medical doctor.
Material Safety Data sheet
Latest Revision: 01/11/2005
MSDS No :
Fomtec FP 3% & FP 6% UL
--------------------------------------------------------------------------------------INGESTION
DO NOT INDUCE VOMITING. Rinse mouth with water and give 1-2 glasses of water to drink if the patient is conscious.
MEDICAL INFORMATION
If any symptoms persist seek medical advice and treat symptomatically.
5. FIRE FIGHTING MEASURES
SUITABLE FIRE FIGHTING AGENTS
No specific measures are required as the product itself is a fire fighting agent. If product containers are involved in fire, then a
suitable extinguishing agent should be used.
PERSONAL PROTECTION
Evacuate all personnel, use protective clothing use breathing apparatus if required.
OTHER INFORMATION
Stop release of product to fire, Keep away from heat, use water to cool tanks. Move tanks from fire area if possible without risk.
Fire to be fought from safe distance. Poisonous decomposition products may be created during a fire.
6. ACCIDENTAL RELEASE MEASURES
SAFETY MEASURES TO PROTECT PERSONNEL
Provide good ventilation, Keep unauthorized persons away. Do not breathe mists, aerosols. Avoid contact with eyes, skin and
clothing. Use necessary protective aid/clothing.
SAFETY MEASURES TO PROTECT THE ENVIRONMENT
Seal off the spill area with absorbing materials to avoid spreading of release to water or water treatment systems. Shovel up the
absorbed material and place in a labeled, sealed container for subsequent disposal.. The practice of washing into drains should be
avoided.
CLEAN-UP METHODS TO MINIMISE ENVIRONMENTAL DAMAGE.
Stop the leakage if possible without risk. Spill can be pumped or absorbed into dry, inert material such as sand or soil etc.
Contained material should be stored in sealed, marked containers and should be treated as indicated under clause 13 'Disposal
Considerations'.
7. HANDLING AND STORAGE
Product should be diluted with water before use ( FP3% UL at 3% and FP6% UL at 6% with water for hydrocarbon fuel
fires ).
HANDLING PRECAUTIONS
The product should be diluted before use. Avoid skin and eye contact. Use personal protective equipment according to section 8.
Avoid spill around the containers, the material may be slippery.
STORAGE PRECAUTIONS
Product should be stored in sealed, original containers. Freezing and thawing do not effect the properties but care must be taken to
avoid freezing of the container and its contents since the expansion of the container contents may cause cracking of the completely
rigid container as ice forms.
8.EXPOSURE CONTROLS AND PERSONAL PROTECTION
OCCUPATIONAL EXPOSURE LIMITS
Pure hexylene glycol: Occupational Exposure Standard (OES)
Long term exposure limit (8 hour time weighted average) : 25ppm
Short term exposure limit (10 minutes) : 25ppm
Material Safety Data sheet
Latest Revision: 01/11/2005
MSDS No :
Fomtec FP 3% & FP 6% UL
--------------------------------------------------------------------------------------PREVENTIVE MEASURES
Keep good hyigene. Remove contaminated cloths. Do not keep towels etc saturated with the product in pockets. Emergency eye
flush and emergency shower should be installed at the working area. Use only in well ventilated areas.
PROTECTIVE BREATHING EQUIPMENT
At repeated exposure, use gas filter A/P2 (organic gases and dust). Use breathing apparatus or fresh air masks when
working in areas with low oxygen.
EYE PROTECTION
Wear safety goggles of an approved type (e.g. BS 2092) or face screen.
HAND PROTECTION
Use protective gloves of an approved type (e.g. Butyl rubber EVOH, Neoprene).
9. PHYSICAL AND CHEMICAL PROPERTIES
Liquid
Dark brown
Organic odour
Miscible with water in all proportions
<20 centistoke
-17 C
1.12 – 1.17
6.0 – 8.0
100 C at 760mm Hg
>98 C
Not flammable
Type of material:
Colour:
Odour:
Solubility:
Viscosity (Brookfield)
Freeze point:
Specific gravity at 20 C
pH
Boiling point
Flash point:
Flammability
10. STABILITY AND REACTIVITY
STABILITY
The product is stable under normal storage and use. As with all aqueous solutions Fomtec FP should be excluded from contact
with any material which may have violent reactions with water. Shelf life: Ca. 10 years.
REACTS WITH
Oxidizing materials.
HAZARDOUS DECOMPOSITIONS PRODUCTS
Do not expose containers to heat or flame, since the containers are made of high density polyethylene and will burn.
Thermal decomposition of containers and/or products may generate acrid smoke, fumes, carbon monoxide, carbon
dioxide (oxygen depleting), traces of nitrogen oxide and Sox.
11. TOXICOLOGICAL INFORMATION
INHALATION
Inhalation of hazardous amounts is unlikely when used as intended. May cause irritation to respiratory tract when inhaled.
SKIN AND EYE CONTACT
Prolonged and repeated contact may cause irritation and dry skin. Vapors or spill into the eyes can cause irritation, redness, pain
and discomfort.
INGESTION
Low oral risk when used as intended. Can give some irritation in the mouth, throat and stomach. Nausea and vomiting can occur
Oral Toxicity LD50 (rat)
>2000 mg/l
12. ECOLOGICAL INFORMATION
BIODEGRADABILITY
>90% (OECD)
Material Safety Data sheet
Latest Revision: 01/11/2005
MSDS No :
Fomtec FP 3% & FP 6% UL
--------------------------------------------------------------------------------------Eco-toxicity data : LC50 (Leosiscus)
1000 mg/l
BIOACCUMULATION
Not expected to bioaccumulate due to metabolism and excretion.
13. DISPOSAL CONSIDERATIONS
Waste should be disposed via local authority waste collection service or registered waste carrier ensuring that the destination is a
licensed facility. All packaging shall be emptied and removed according to regulations, or be re circulated without removal of
labeling.
Local Legislation:
Control of Pollution act 1974
Special Waste Regulation 1996
14. TRANSPORT INFORMATION
Not classified as Dangerous or hazardous for transport under UN, IMO, ADR/RID and IATA/ICAO – regulations
15. REGULATORY INFORMATION
None required
Label For Supply :
Risk Phrases:
R43
R36 / R38
May cause sensitization by skin contact
Irritating to eyes and skin
REFERENCES
Health and Safety at work Act 1974
Chemicals (Hazard Information & Packaging for supply) Regulations 1994 / Amendment 1996
EC Directives:
Substance Directive 67/548/EEC as amended by 69/81/EEC, 75/409/EEC, 79/831/EEC General
Preparations Directive 88/379/EEC.
Classification and Labelling of Substances and Preparations Dangerous for Supply.
Transport of Dangerous Goods: ADR,RID,IMDG and IATA
Guidance Notes:
Occupational Exposure Limits EH40/96
Note: EH40 is revised on an annual basis and latest issue should therefore be applied.
16. OTHER INFORMATION
RELEASED:
01/11/2005
INFORMATION SOURCES
Datasheet from the suppliers
Work protection agency information pamphlet about protective equipment
Work protection agency information pamphlet about gloves
"What you Need to know when you use protective breathing equipment" (Information, order number.: 539, Work protection
agency)
Sax,N.I. and R.J. Lewis,Sr: Dangerous Properties of Industrial Materials, Seventh Edition, Volumes 1 to 3 (1991).
DISCLAIMER: This information is based on our current knowledge and is intended to describe the product for the purpose of
health, safety and environmental requirements. The product should not be used for purposes other than fire fighting. The user is
responsible for ensuring that requirements of relevant legislation are complied with.