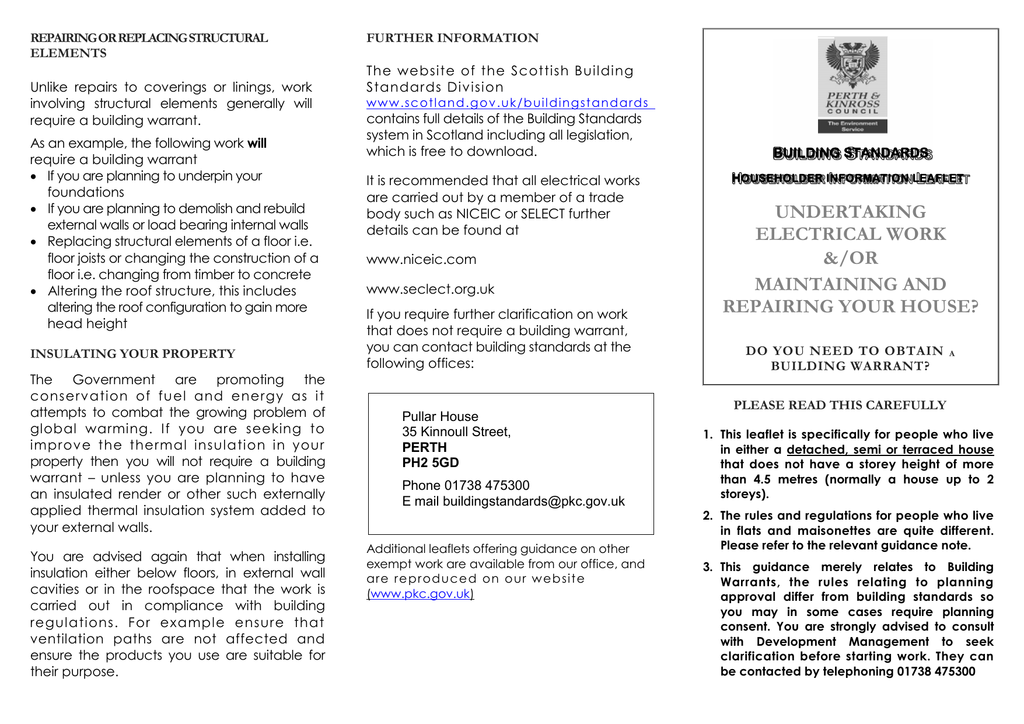 REPAIRINGORREPLACINGSTRUCTURAL
ELEMENTS
Unlike repairs to coverings or linings, work
involving structural elements generally will
require a building warrant.
As an example, the following work will
require a building warrant
 If you are planning to underpin your
foundations
 If you are planning to demolish and rebuild
external walls or load bearing internal walls
 Replacing structural elements of a floor i.e.
floor joists or changing the construction of a
floor i.e. changing from timber to concrete
 Altering the roof structure, this includes
altering the roof configuration to gain more
head height
INSULATING YOUR PROPERTY
The Government are promoting the
conservation of fuel and energy as i t
attempts to combat the growing problem of
global warming. If you are seeking to
improve the thermal insulation in your
property then you will not require a building
warrant – unless you are planning to have
an insulated render or other such externally
applied thermal insulation system added to
your external walls.
You are advised again that when installing
insulation either below floors, in external wall
cavities or in the roofspace that the work is
carried out in compliance with building
regulations. For example ensure that
ventilation paths are not affected and
ensure the products you use are suitable for
their purpose.
FURTHER INFORMATION
The website of the Scottish Building
Standards Division
w w w .sc ot l an d .g o v .u k /b ui l di n g st an d ard s
contains full details of the Building Standards
system in Scotland including all legislation,
which is free to download.
It is recommended that all electrical works
are carried out by a member of a trade
body such as NICEIC or SELECT further
details can be found at
www.niceic.com
www.seclect.org.uk
If you require further clarification on work
that does not require a building warrant,
you can contact building standards at the
following offices:
Pullar House
35 Kinnoull Street,
PERTH
PH2 5GD
Phone 01738 475300
E mail [email protected]
Additional leaflets offering guidance on other
exempt work are available from our office, and
are re p r od u ce d on o ur w eb si t e
(www.pkc.gov.uk)
BUILDING STANDARDS
HOUSEHOLDER INFORMATION LEAFLET
UNDERTAKING
ELECTRICAL WORK
&/OR
MAINTAINING AND
REPAIRING YOUR HOUSE?
DO YOU NEED TO OBTAIN
BUILDING WARRANT?
A
PLEASE READ THIS CAREFULLY
1. This leaflet is specifically for people who live
in either a detached, semi or terraced house
that does not have a storey height of more
than 4.5 metres (normally a house up to 2
storeys).
2. The rules and regulations for people who live
in flats and maisonettes are quite different.
Please refer to the relevant guidance note.
3. This guidance merely relates to Building
Warrants, the rules relating to planning
approval differ from building standards so
you may in some cases require planning
consent. You are strongly advised to consult
with Development Management to seek
clarification before starting work. They can
be contacted by telephoning 01738 475300
GUIDANCE ON ELECTRICAL INSTALLATIONS
REPLACING WINDOWS AND/OR EXTERNAL DOORS
The following table is an extract taken from a guidance document that was
jointly produced by the Scottish Building Standards Division and the Scottish
Association of Building Standards Managers. The section attached purely
relates to work in domestic properties including both flats and houses.
If you are planning to replace existing windows and/ or external doors
(including doors between the house and ancillary accommodation i.e. a
porch or uninsulated conservatory), a building warrant is not required,
however the following rules apply:-
DOMESTIC BUILDINGS
WORK TO EXISTING BUILDINGS
type
[see
note1]
Repairs and replacement
Re-wiring [see note 2]
Electrical fixtures, e.g. luminaries
New work
Electrical work affected by demolition or
alteration of the roof, external walls or
elements of structure
Electrical work adversely affecting a
separating wall, e.g. recessed sockets
New power socket outlets
Mains fire alarm system
Electrical work to automatic opening
ventilators (including auto-detection)
Electrically operated locks
Wiring to artificial lighting
Wiring to emergency lighting
Electrical work associated with sprinkler
system
Electrical work associated with new boiler
(large)
Electrical work associated with new boiler
(small)
Electrical work associated with new shower
Electrical work associated with new extract
fan
Extra low voltage installations
In the table above - R
–Warrant Required
flat
house
(up to 2
storeys)
house
(3 storeys
& above)
24
24
R
NR
NR
NR
R
NR
1
R
R
R
1
R
R
R
1
1
R
R
NR
NR
R
R
1
R
NR
R
1
1
1
R
R
R
NR
NR
NR
R
R
R
1
R
NR
R
1
R
NR
R
6
NR
NR
NR
11, 12
NR
NR
NR
13
NR
NR
NR
22
NR
NR
NR
NR – Warrant Not Required
Note 1
Building work type as referenced in schedule 3 of the
Building (Scotland) Regulations 2004
Note 2
A building warrant is not required for rewiring where it is a
repair or replacement works to a level equal to the installation
(or part thereof) being repaired or replaced.

If the work also includes replacing the frame the new windows/doors will
require to meet current building regulations. In general this will require an
improved thermal performance, which in turn will help to reduce your
heating bills.

If the work merely involves replacing the glazing without changing the
frame, the new windows/ doors only have to be installed to a standard
that is no worse than the units being replaced.
REPLACING A FIXTURE OR FITTING
If you are planning to replace a fixture or fitting in your house such as: sanitary ware (including branch pipes),
 gutters and downpipes,
 a solid fuel appliance,
 an extract fan,
 an electrical fixture,
 a chimney or flue outlet fitting,
 kitchen fitments or
 other fitted furniture and ironmongery,
you will not require to apply for a building warrant.
You will however require to ensure that the replacement is to the same
standard, or is improved on, that it is replacing.
If you are replacing a gas or oil fired boiler, it must be designed and installed
in accordance with current building regulations.
REPLACING OR REPAIRING WALL RENDERING, WALL OR CEILING LINING,
ROOF COVERING OR A FLOOR COVERING
If you are intending to repair/replace, either internally or externally, any part
of or indeed all of a wall or ceiling lining, cladding or rendering or the
flooring of your house, then you will not require a building warrant provided
the new material is the same as the material being replaced. For example
replacing a metal roof covering with slates is not a direct replacement and
therefore would require a building warrant.
It is important to ensure that the new work is to a standard that is no worse
than which currently existed.