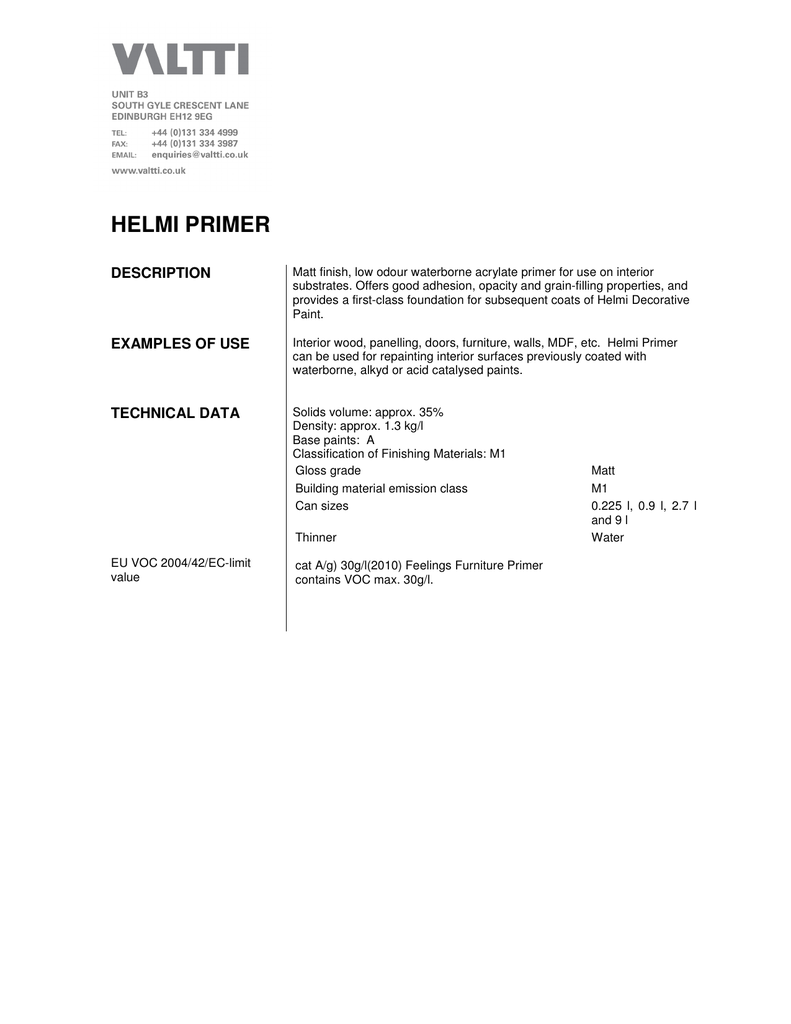 HELMI PRIMER
DESCRIPTION
Matt finish, low odour waterborne acrylate primer for use on interior
substrates. Offers good adhesion, opacity and grain-filling properties, and
provides a first-class foundation for subsequent coats of Helmi Decorative
Paint.
EXAMPLES OF USE
Interior wood, panelling, doors, furniture, walls, MDF, etc. Helmi Primer
can be used for repainting interior surfaces previously coated with
waterborne, alkyd or acid catalysed paints.
TECHNICAL DATA
Solids volume: approx. 35%
Density: approx. 1.3 kg/l
Base paints: A
Classification of Finishing Materials: M1
Gloss grade
Building material emission class
Can sizes
Thinner
EU VOC 2004/42/EC-limit
value
cat A/g) 30g/l(2010) Feelings Furniture Primer
contains VOC max. 30g/l.
Matt
M1
0.225 l, 0.9 l, 2.7 l
and 9 l
Water
Colour Range
Available in white and the complete Tikkurila Professional Colour
Collection, plus most of the British Standard, RAL and NCS Colour
Ranges.
SPECIFICATIONS
Preparation
Surfaces must be clean, dry, and free from grease, dirt, oil, wax, rust, all
loose material and surface contamination. Use recommended Tikkurila
products as cleaning agents and for mould removal. Treat knots and
resinous areas with Tikkurila Knotting Lacquer. Use recommended
Tikkurila fillers for filling cracks, nail holes, blemishes, etc. Ensure that
existing glossy, gloss painted and filled surfaces are thoroughly flatted
down. Ensure that all surfaces are thoroughly prepared.
Note: Discoloration of paint, especially noticeable within light colours, may
occur over knots and resinous areas present in the wood. Particular
attention with regards to preparation should be given to wood such as oak,
teak, cedar, douglas fir, mahogany and idigbo, etc., which contain oil and
water-soluble tannin which may impair the drying, hardening or adhesion of
surface coatings and discolour the surface of same and, therefore,
thorough degreasing prior to the application of Helmi Primer is essential.
APPLICATION
Methods: brush, roller or spray application. Polyester and nylon paint
brushes are best suited for the application of Helmi Primer.
For airless spray: use a 0.013" – 0.015" spray tip.
Thinning: if necessary thin by up to 10% with water.
Painting Conditions
All surfaces to be painted must be dry, the moisture content of the wood
O
below 20%, the temperature of the air at least +8 C, and the relative
humidity of the air below 80%.
Painting
Stir the paint thoroughly. Prime unpainted surfaces overall and spot prime all
bare areas on previously painted surfaces with Helmi Primer. Prime
absorbent surfaces with Helmi Primer thinned by up to 10% with water, allow
to dry, and apply a further coat unthinned.
Coverage
6-8 m2/l per coat. Wet-film thickness approx. 125 -170 µm per coat, dry film
approx. 50-70 µm per coat.
The above should be used as a guide, as actual spreading rates will depend
upon many factors including texture, porosity and moisture content of the
substrate.
Drying Times
At 23 C and 50% relative humidity of the air: normally touch-dry in one hour
and recoatable after 4 hours. Low temperatures and high humidity will make
drying times longer.
Cleaning of Tools
Clean with water immediately after use.
PREVENT ENVIRONMENTAL
DAMAGE
Empty cans should be recycled or disposed of in accordance with local
regulations. Liquid waste should be destroyed according to the local
regulations.
HEALTH AND SAFETY
CLASSIFICATION
Not classified as hazardous for health. Handle with care, avoid prolonged
contact with skin and breathing of spray mist.
O
according to EC Directive 99/45/EC
A Material Safety Data Sheet is available on request.
TRANSPORT
ADR/RID Protect from Frost.
lko/esi/ome180204/ 364-s
The above information, based on laboratory tests and practical experience, has been proved valid at the date marked on the product data sheet.
The quality of the product is ensured by our operational system, based on the requirements of ISO 9001 and ISO 14001. As a manufacturer we
cannot be responsible for any damages caused by using the product against our instructions or for inappropriate purposes.