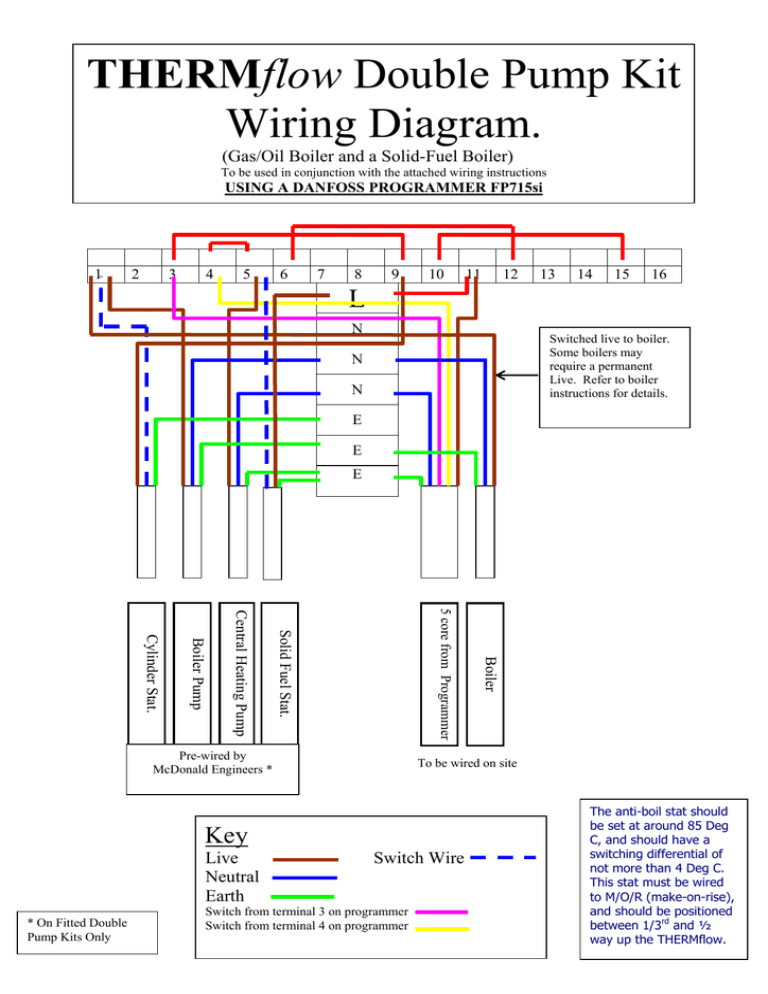 THERMflow Double Pump Kit
Wiring Diagram.
(Gas/Oil Boiler and a Solid-Fuel Boiler)
To be used in conjunction with the attached wiring instructions
USING A DANFOSS PROGRAMMER FP715si
1
2
3
4
5
6
7
8
9
10
11
12
13
14
15
16
L
N
Switched live to boiler.
Some boilers may
require a permanent
Live. Refer to boiler
instructions for details.
N
N
E
E
E
To be wired on site
Key
Live
Neutral
Earth
* On Fitted Double
Pump Kits Only
Boiler
5 core from Programmer
Solid Fuel Stat.
Central Heating Pump
Boiler Pump
Cylinder Stat.
Pre-wired by
McDonald Engineers *
Switch Wire
Switch Wire
Switch from terminal 3 on programmer
Switch from terminal 4 on programmer
The anti-boil stat should
be set at around 85 Deg
C, and should have a
switching differential of
not more than 4 Deg C.
This stat must be wired
to M/O/R (make-on-rise),
and should be positioned
between 1/3rd and ½
way up the THERMflow.