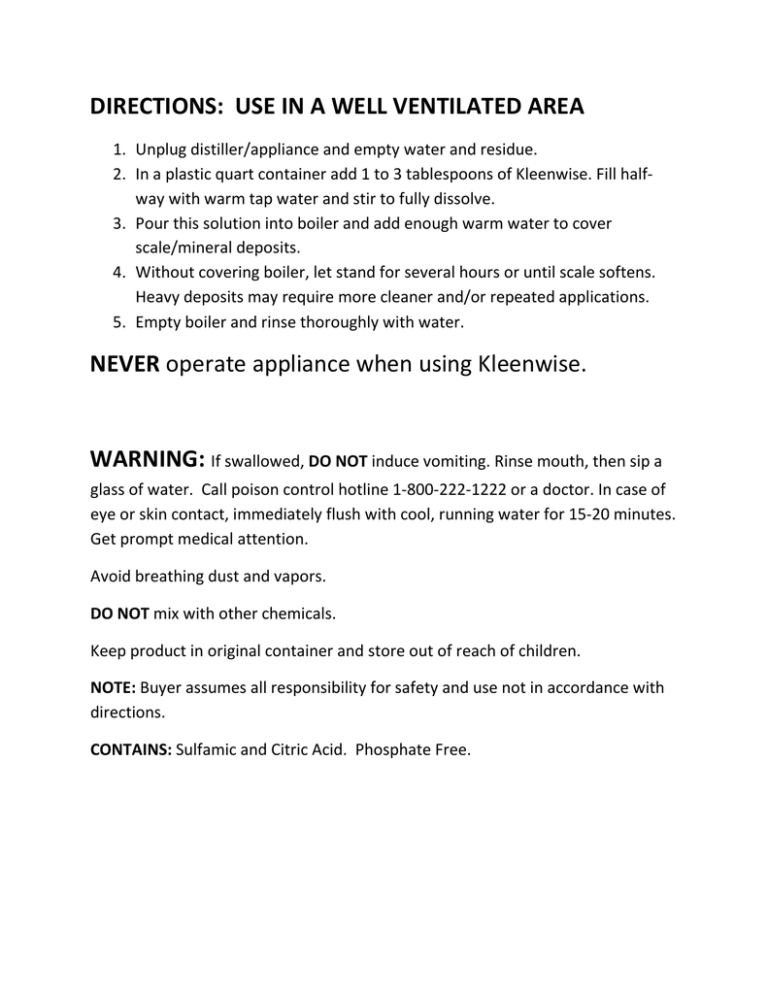 DIRECTIONS: USE IN A WELL VENTILATED AREA
1. Unplug distiller/appliance and empty water and residue.
2. In a plastic quart container add 1 to 3 tablespoons of Kleenwise. Fill halfway with warm tap water and stir to fully dissolve.
3. Pour this solution into boiler and add enough warm water to cover
scale/mineral deposits.
4. Without covering boiler, let stand for several hours or until scale softens.
Heavy deposits may require more cleaner and/or repeated applications.
5. Empty boiler and rinse thoroughly with water.
NEVER operate appliance when using Kleenwise.
WARNING: If swallowed, DO NOT induce vomiting. Rinse mouth, then sip a
glass of water. Call poison control hotline 1-800-222-1222 or a doctor. In case of
eye or skin contact, immediately flush with cool, running water for 15-20 minutes.
Get prompt medical attention.
Avoid breathing dust and vapors.
DO NOT mix with other chemicals.
Keep product in original container and store out of reach of children.
NOTE: Buyer assumes all responsibility for safety and use not in accordance with
directions.
CONTAINS: Sulfamic and Citric Acid. Phosphate Free.