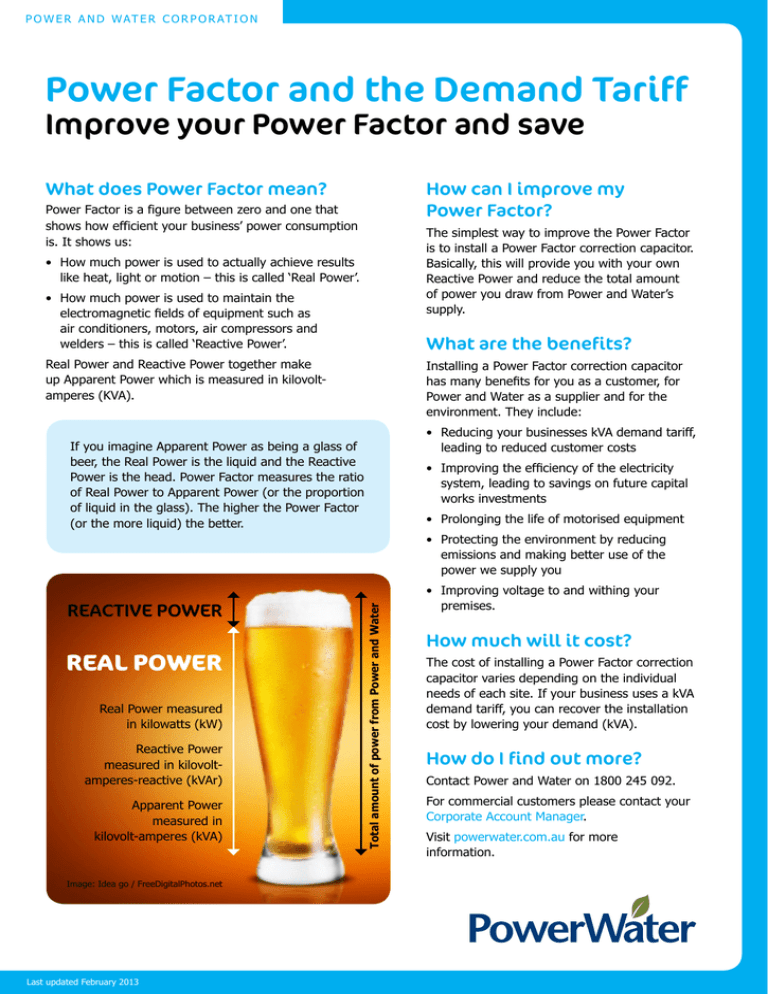 P O W E R A N D W AT E R C O R P O R AT I O N
Power Factor and the Demand Tariff
Improve your Power Factor and save
How can I improve my
Power Factor?
What does Power Factor mean?
Power Factor is a figure between zero and one that
shows how efficient your business' power consumption
is. It shows us:
The simplest way to improve the Power Factor
is to install a Power Factor correction capacitor.
Basically, this will provide you with your own
Reactive Power and reduce the total amount
of power you draw from Power and Water's
supply.
• How much power is used to actually achieve results
like heat, light or motion – this is called 'Real Power'.
• How much power is used to maintain the
electromagnetic fields of equipment such as
air conditioners, motors, air compressors and
welders – this is called 'Reactive Power'.
What are the benefits?
Real Power and Reactive Power together make
up Apparent Power which is measured in kilovoltamperes (KVA).
Installing a Power Factor correction capacitor
has many benefits for you as a customer, for
Power and Water as a supplier and for the
environment. They include:
• Reducing your businesses kVA demand tariff,
leading to reduced customer costs
If you imagine Apparent Power as being a glass of
beer, the Real Power is the liquid and the Reactive
Power is the head. Power Factor measures the ratio
of Real Power to Apparent Power (or the proportion
of liquid in the glass). The higher the Power Factor
(or the more liquid) the better.
• Improving the efficiency of the electricity
system, leading to savings on future capital
works investments
• Prolonging the life of motorised equipment
REACTIVE POWER
REAL POWER
Real Power measured
in kilowatts (kW)
Reactive Power
measured in kilovoltamperes-reactive (kVAr)
Apparent Power
measured in
kilovolt-amperes (kVA)
Image: Idea go / FreeDigitalPhotos.net
Last updated February 2013
Total amount of power from Power and Water
• Protecting the environment by reducing
emissions and making better use of the
power we supply you
• Improving voltage to and withing your
premises.
How much will it cost?
The cost of installing a Power Factor correction
capacitor varies depending on the individual
needs of each site. If your business uses a kVA
demand tariff, you can recover the installation
cost by lowering your demand (kVA).
How do I find out more?
Contact Power and Water on 1800 245 092.
For commercial customers please contact your
Corporate Account Manager.
Visit powerwater.com.au for more
information.