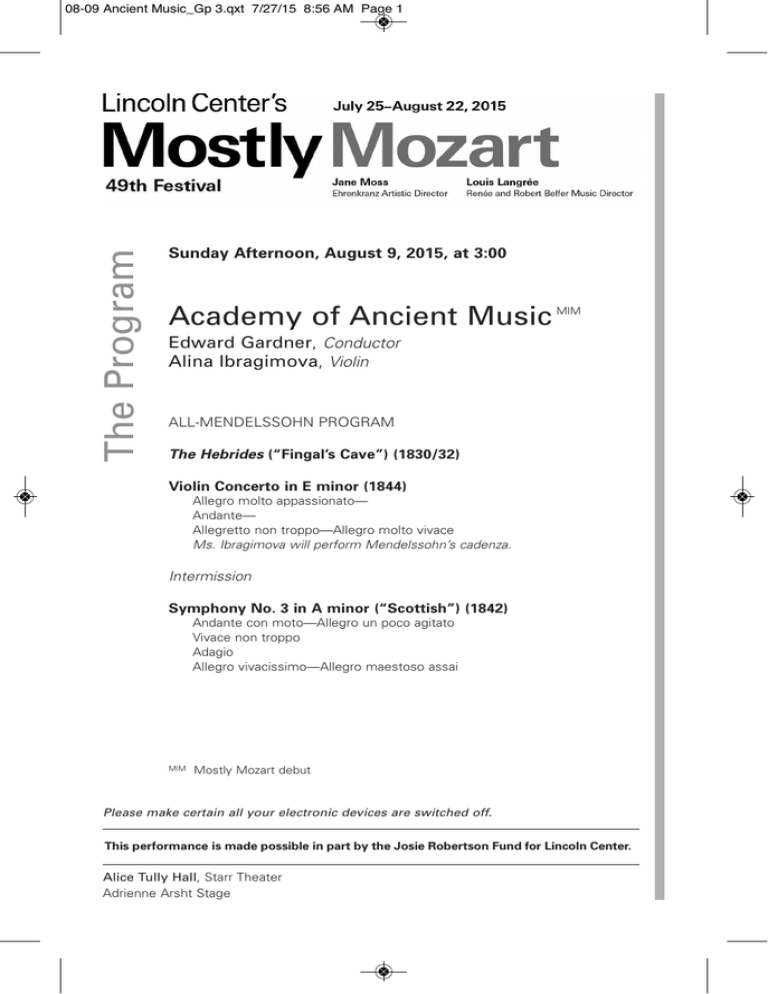 The Program
08-09 Ancient Music_Gp 3.qxt 7/27/15 8:56 AM Page 1
Sunday Afternoon, August 9, 2015, at 3:00
Academy of Ancient Music
M|M
Edward Gardner, Conductor
Alina Ibragimova, Violin
ALL-MENDELSSOHN PROGRAM
The Hebrides ("Fingal's Cave") (1830/32)
Violin Concerto in E minor (1844)
Allegro molto appassionato—
Andante—
Allegretto non troppo—Allegro molto vivace
Ms. Ibragimova will perform Mendelssohn's cadenza.
Intermission
Symphony No. 3 in A minor ("Scottish") (1842)
Andante con moto—Allegro un poco agitato
Vivace non troppo
Adagio
Allegro vivacissimo—Allegro maestoso assai
M|M
Mostly Mozart debut
Please make certain all your electronic devices are switched off.
This performance is made possible in part by the Josie Robertson Fund for Lincoln Center.
Alice Tully Hall, Starr Theater
Adrienne Arsht Stage
08-09 Ancient Music_Gp 3.qxt 7/27/15 8:56 AM Page 2
Mostly Mozart Festival
The Mostly Mozart Festival is made possible by Sarah Billinghurst Solomon and Howard Solomon,
Rita E. and Gustave M. Hauser, Chris and Bruce Crawford, The Fan Fox and Leslie R. Samuels
Foundation, Inc., Charles E. Culpeper Foundation, S.H. and Helen R. Scheuer Family Foundation,
and Friends of Mostly Mozart.
Public support is provided by the New York State Council on the Arts.
Artist Catering provided by Zabar's and zabars.com
MetLife is the National Sponsor of Lincoln Center
United Airlines is a Supporter of Lincoln Center
WABC-TV is a Supporter of Lincoln Center
"Summer at Lincoln Center" is supported by Diet Pepsi
Time Out New York is a Media Partner of Summer at Lincoln Center
UPCOMING MOSTLY MOZART FESTIVAL EVENTS:
Tuesday and Thursday Evenings, August 11 and 13, at 7:30
Saturday Afternoon, August 15, at 3:00 in the David H. Koch Theater
Written on Skin (U.S. stage premiere)
George Benjamin, Composer
Martin Crimp, Text for Music
Mahler Chamber Orchestra M|M
Alan Gilbert, Conductor M|M
Christopher Purves, The Protector M|M
Barbara Hannigan, Agnès M|M
Tim Mead, Angel 1/Boy M|M
Victoria Simmonds, Angel 2/Marie M|M
Robert Murray, Angel 3/John M|M
Katie Mitchell, Director M|M
Sung in English with English supertitles
Presented in collaboration with the New York Philharmonic.
Written on Skin is a production of the Aix-en-Provence Festival, in co-production with the Nederlandse
Opera, Amsterdam, Théâtre du Capitole, Toulouse, and The Royal Opera, London.
Used by arrangement with European American Music Distributors Company, U.S. and Canadian agent
for Faber Music Ltd., London, publisher and copyright owner
M|M
Mostly Mozart debut
For tickets, call (212) 721-6500 or visit MostlyMozart.org. Call the Lincoln Center Info Request Line at
(212) 875-5766 to learn about program cancellations or request a Mostly Mozart brochure.
Visit MostlyMozart.org for full festival listings.
Join the conversation: #LCMozart
We would like to remind you that the sound of coughing and rustling paper might distract the
performers and your fellow audience members.
In consideration of the performing artists and members of the audience, those who must
leave before the end of the performance are asked to do so between pieces. The taking of
photographs and the use of recording equipment are not allowed in the building.
08-09 Ancient Music_Gp 3.qxt 7/27/15 8:56 AM Page 3
Mostly Mozart Festival
Welcome to Mostly Mozart
I am pleased to welcome you to the 49th Mostly Mozart Festival, our annual
celebration of the innovative and inspiring spirit of our namesake composer.
This summer, in addition to a stellar roster of guest conductors and soloists,
we are joined by composer-in-residence George Benjamin, a leading
contemporary voice whose celebrated opera Written on Skin makes its U.S.
stage premiere.
This landmark event continues our tradition of hearing Mozart afresh in the
context of the great music of our time. Under the inspired baton of Renée and
Robert Belfer Music Director Louis Langrée, the Mostly Mozart Festival Orchestra
delights this year with the Classical repertoire that is its specialty, in addition to
Beethoven's joyous Seventh Symphony and Haydn's triumphant Creation.
Guest appearances include maestro Cornelius Meister making his New York
debut; Edward Gardner, who also leads the Academy of Ancient Music in a
Mendelssohn program on period instruments; and Andrew Manze with violinist Joshua Bell in an evening of Bach, Mozart, and Schumann. Other preeminent soloists include Emanuel Ax, Matthias Goerne, and festival newcomers
Sol Gabetta and Alina Ibragimova, who also perform intimate recitals in our
expanded Little Night Music series. And don't miss returning favorite Emerson
String Quartet and the International Contemporary Ensemble, our artists-inresidence, as well as invigorating pre-concert recitals and lectures, a panel
discussion, and a film on Haydn.
With so much to choose from, we invite you to make the most of this rich and
splendid festival. I look forward to seeing you often.
Jane Moss
Ehrenkranz Artistic Director
08-09 Ancient Music_Gp 3.qxt 7/27/15 8:56 AM Page 4
Mostly Mozart Festival I Words and Music
Seaweed (Excerpts)
By Henry Wadsworth Longfellow
When descends on the Atlantic
The gigantic
Storm-wind of the equinox,
Landward in his wrath he scourges
The toiling surges,
Laden with seaweed from the rocks:
…
From the tumbling surf, that buries
The Orkneyan skerries,
Answering the hoarse Hebrides;
And from wrecks of ships, and drifting
Spars, uplifting
On the desolate, rainy seas; —
Ever drifting, drifting, drifting
On the shifting
Currents of the restless main;
Till in sheltered coves, and reaches
Of sandy beaches,
All have found repose again.
So when storms of wild emotion
Strike the ocean
Of the poet's soul, erelong
From each cave and rocky fastness,
In its vastness,
Floats some fragment of a song:
From the far-off isles enchanted,
Heaven has planted
With the golden fruit of Truth;
…
From the strong Will, and the Endeavor
That forever
Wrestle with the tides of Fate;
From the wreck of Hopes far-scattered,
Tempest-shattered,
Floating waste and desolate; —
Ever drifting, drifting, drifting
On the shifting
Currents of the restless heart;
Till at length in books recorded,
They, like hoarded
Household words, no more depart.
For poetry comments and suggestions, please write
to programming@LincolnCenter.org.
08-09 Ancient Music_Gp 3.qxt 7/27/15 8:56 AM Page 5
Snapshot
Mostly Mozart Festival
By Don Anderson
Mendelssohn ranks second only to Mozart among child prodigies
in music. He also displayed astonishing versatility, winning international renown as composer, conductor, pianist, organist, and
musical administrator. As a conductor, he selflessly championed
many other composers' music, not just such personal friends as
Schumann, but masters of the past like Bach. He premiered
Schubert's Ninth Symphony in 1839, 11 years after Schubert's
death. All this activity took its toll on a never-robust artist. A series
of strokes led to his death at 38.
Mendelssohn's career spanned a period of significant transition in
music. The purity of expression and the widespread use of the
forms established by the great figures of the Classical period—
Haydn, Mozart, and the young Beethoven—were giving way to the
more emotional, varied, and brightly colored Romantic style of
Berlioz, Weber, Chopin, and Schumann. His particular gift was to
stake out a middle ground between these two schools, combining
them into a style distinctively his own. Each of the compositions
on this program demonstrates his unique personality in full flower.
—Copyright © 2015 by Lincoln Center for the Performing Arts, Inc.
08-09 Ancient Music_Gp 3.qxt 7/27/15 8:56 AM Page 6
Notes on the Program
Mostly Mozart Festival I Notes on the Program
By Don Anderson
The Hebrides, Op. 26 ("Fingal's Cave") (1830/32)
FELIX MENDELSSOHN
Born February 3, 1809, in Hamburg
Died November 4, 1847, in Leipzig
Approximate length: 10 minutes
A young, early 19th-century man of means could expect a "grand tour" of
Europe as part of his education. Mendelssohn had already visited several
countries when his father, a wealthy banker, sent him off on a further expedition in April 1829. He and his traveling companion, Karl Klingemann,
stopped in England before heading north to Scotland. They journeyed to the
Hebrides, the widely scattered group of islands located off Scotland's northwest coast. According to Mendelssohn scholar R. Larry Todd, Mendelssohn
wrote to his sister, Fanny:
"In order to make you understand how extraordinarily the Hebrides
affected me, the following came to my mind there." "The following" was
a draft in piano score of the opening of the Hebrides Overture, complete
with orchestral cues and dynamics and in nearly final form.
Reaching the island of Staffa the following day, the travelers paid a visit by
rowboat to its most famous attraction. The flooded grotto known as Fingal's
Cave was named after a hero of Gaelic mythology. "A greener roar of waves
surely never surged into a stranger cavern," Klingemann wrote. "Its many
pillars make it look like the inside of an immense organ, black and resonant,
utterly without purpose, completely isolated."
Mendelssohn turned his impressions of the Hebrides into a concert overture.
After completing a first draft in 1830, the hypercritical composer revised it
several times. His changes extended to the title—for a time it bore the
names Overture to the Solitary Island and The Isles of Fingal—before it
reached its final form and name.
Despite what might be heard as portrayals of wind, waves, and fog, The
Hebrides is first and foremost an evocation of atmosphere, not a story told
in music. A somber, brooding work, it erupts at times into blustery drama. In
its power to evoke the majesty and mystery of the sea it served as a model
for later compositions such as Wagner's opera The Flying Dutchman and
Debussy's symphonic work La Mer.
08-09 Ancient Music_Gp 3.qxt 7/27/15 8:56 AM Page 7
Mostly Mozart Festival I Notes on the Program
Violin Concerto in E minor, Op. 64 (1844)
FELIX MENDELSSOHN
Approximate length: 26 minutes
In 1835 Mendelssohn took up the post of music director of the Gewandhaus
Orchestra of Leipzig. Under his patient, exacting supervision, only a few years
passed before that ensemble's concerts came to be considered the finest
given anywhere in Europe. The orchestra's concertmaster, Mendelssohn's old
friend Ferdinand David, made important contributions to that progress. In gratitude, Mendelssohn composed this concerto for him. David performed the
premiere, in Leipzig on March 13, 1845. Mendelssohn being too ill to conduct,
his assistant, Niels Gade, performed the honors instead.
The Violin Concerto is a beautifully polished work of art, combining sureness Did you know?
of construction with passion, warmth,
and playfulness. Mendelssohn directed In 1842 Mendelssohn entertained
that the three movements be played Queen Victoria and Prince Albert
without any breaks between them, a during a visit to Buckingham
typical Romantic practice designed to Palace. He played his own piano
increase the music's cohesiveness and pieces and accompanied the
sense of momentum. The majority of monarchs as they sang his songs.
the concerto's dramatic content unfolds
during the urgent first movement. The second movement is an interlude of
gentle melodic beauty. A brief bridge passage then ushers in the impish finale.
Its solo fireworks are backed by a Mendelssohn trademark: a gossamer-light
style of orchestration.
Symphony No. 3 in A minor, Op. 56 ("Scottish") (1842)
FELIX MENDELSSOHN
Approximate length: 40 minutes
During the same tour of Scotland that sparked Mendelssohn to compose The
Hebrides, further inspiration sprang from a visit to the ruined chapel of
Holyrood Palace near Edinburgh. "This evening in the deep twilight," he wrote
home on July 30, 1829, "we went to the palace where Queen Mary lived and
loved; there is a small room with a winding staircase leading up to it...The adjacent chapel has lost its roof; grass and ivy grow thickly within; and on the broken altar Mary was crowned Queen of Scotland. Everything there is in ruins
and ramshackle, open to the blue sky. I think I have today found the opening
of my Scottish Symphony."
08-09 Ancient Music_Gp 3.qxt 7/27/15 8:56 AM Page 8
Mostly Mozart Festival I Notes on the Program
The tour continued to Italy in May 1830. Mendelssohn kept working on the
symphony, but gradually the sunny Mediterranean climate dissipated the call
of his Celtic muse. He did not complete the piece for another 12 years, a
period during which he composed the "Italian" Symphony (known as No. 4),
in full. He conducted the premiere of the "Scottish" himself, in Leipzig on
March 3, 1842. He dedicated it to one of his staunchest admirers, Queen
Victoria of England. Although it was the last to be completed of the five symphonies he composed as an adult, it was the third to be published. This is how
it acquired the misleading designation of "Symphony No. 3."
Mirroring the structure of the Violin Concerto, Mendelssohn instructed that
the four movements be performed as a continuous whole. It opens with a
quiet, plaintive, darkly colored introduction based upon the "Holyrood Palace"
theme. This leads to a highly active and dramatic first movement proper.
Mendelssohn offered only token relaxation through a sad, sighing second
theme. The second movement is a jaunty, featherweight scherzo in which the
influence of Scottish folk music is felt strongly.
The third movement is a slow, almost mournful procession that grows increasingly forceful. The warlike finale is highly rhythmic, with materials passed
about rapidly between the sections of the orchestra. As in the first movement,
the tumult dies down to a whisper. This time the music rises up in glory
through a majestic, hymn-like transformation of the "Holyrood Palace" theme.
It spreads rapidly throughout the orchestra, setting upon the symphony an
uplifting seal of triumph.
Don Anderson is an internationally recognized advocate of classical music. He
has more than 35 years' professional experience in celebrating it through print,
radio, and teaching.
—Copyright © 2015 by Lincoln Center for the Performing Arts, Inc.
08-09 Ancient Music_Gp 3.qxt 7/27/15 8:56 AM Page 9
BENJAMIN EALOVEGA
Meet the Artists
Mostly Mozart Festival I Meet the Artists
Edward Gardner
Considered one of the most talented conductors of his generation,
Edward Gardner served as music director of Glyndebourne on Tour from
2004 to 2007 before taking up his position as music director of English
National Opera in 2007. He has since presented many successful productions for ENO, as well as for the Metropolitan Opera, Teatro alla Scala, and
the Paris National Opera.
In October 2015 Mr. Gardner will take up his new appointment as chief
conductor of the Bergen Philharmonic Orchestra and will lead their 250th
anniversary gala concert. He became their principal guest conductor in
August 2013. Mr. Gardner has also been principal guest conductor of the
City of Birmingham Symphony Orchestra since 2011. He has enjoyed a
flourishing relationship with the BBC Symphony Orchestra since 2005,
and in 2011 he conducted them at the last night of the Proms.
Mr. Gardner works with some of the world's major orchestras, including
the Boston, Toronto, Montreal, Danish National, and Swedish Radio symphony orchestras; Netherlands Radio and Czech Philharmonic Orchestras;
Royal Concertgebouw Orchestra; Deutsches Symphonie-Orchester Berlin;
Gewandhaus Orchestra of Leipzig; Rotterdam Philharmonic; Orchestre
Philharmonique de Radio France; and the National Academy of St.
Cecilia Orchestra.
As an exclusive recording artist for Chandos Records, Mr. Gardner has
recently released acclaimed discs of Walton, Mendelssohn, Lutosławski,
Britten, and Berio with the City of Birmingham Symphony Orchestra, BBC
Symphony Orchestra, and Bergen Philharmonic Orchestra, as well as
other releases with the Gothenburg Symphony Orchestra, the Academy of
St. Martin in the Fields, and English National Opera Orchestra.
Mr. Gardner's awards include the Royal Philharmonic Society Conductor
Award in 2007 and the Laurence Olivier Award for Outstanding
08-09 Ancient Music_Gp 3.qxt 7/27/15 8:56 AM Page 10
Mostly Mozart Festival I Meet the Artists
Achievement in Opera in 2009. In 2012 he was awarded an OBE for his services to music in the Queen's Birthday Honors.
EVA VERMANDEL
Alina Ibragimova
Performing music from Baroque
classics to new commissions on
both period and modern instruments,
Alina Ibragimova has appeared with
orchestras and in recital around the
globe. In the 2015–16 season she
will appear with Apollo's Fire for concerts in Cleveland and at the BBC
Proms, where she is one of this
year's featured artists. She will also
join the Bergen Philharmonic Orchestra
and Andrew Litton for Mendelssohn's
Violin Concerto in E minor, and return
to North America for debuts with the Boston, Montreal, and Madison symphony orchestras. Ms. Ibragimova will also give solo recitals for Club Musical
de Québec and the new Faena Arts Center in Miami Beach.
During the 2014–15 season Ms. Ibragimova appeared with the Philadelphia
and Cleveland Orchestras, as well as with the North Carolina Symphony. She
also performed solo Bach recitals at the Park Avenue Amory and the Phillips
Collection in Washington, D.C. Highlights among recent and upcoming plans
include return engagements with the London Symphony Orchestra, Bergen
Philharmonic Orchestra, and Royal Liverpool Philharmonic, as well as debuts
with the Hungarian National Philharmonic Orchestra, Bamberger Symphoniker,
and Scottish Chamber Orchestra.
Born in Russia in 1985, Ms. Ibragimova studied at the Moscow Gnesin School
before moving with her family in 1995 to the UK, where she studied at the
Yehudi Menuhin School and Royal College of Music. She records for Hyperion
Records and performs on a c.1775 Anselmo Bellosio violin kindly provided by
Georg von Opel.
Academy of Ancient Music
For more than 40 years the Academy of Ancient Music (AAM) has enriched
the lives of thousands the world over with historically informed performances
of Baroque and Classical music. Founded in 1973 by Christopher Hogwood—
and under the current direction of Richard Egarr, a leading light in the next generation of early music exponents—the orchestra enjoys a global reputation for
08-09 Ancient Music_Gp 3.qxt 7/27/15 8:56 AM Page 11
Mostly Mozart Festival I Meet the Artists
combining scholarship with superb musicianship to create performances
acclaimed for their vitality and immediacy.
Originally established as a recording orchestra, the AAM has recorded more
than 300 CDs, garnering countless accolades including Brit, Gramophone,
Edison, and MIDEM awards. On its own in-house label, AAM Records, the
orchestra has released four critically acclaimed studio recordings, most
recently the original 1727 version of Bach's St. Matthew Passion.
In 2010 the AAM launched its AAMplify education program. Partnerships in
Cambridge, London, and Manchester, UK, now reach hundreds of children
and young people each year through innovative workshops, master classes,
and projects.
The AAM's 2015–16 season will see the conclusion of a three-year cycle of
Monteverdi's operas in partnership with the Barbican Centre; a principal-player
focus highlighting the orchestra's core musicians; and exciting collaborations
with Ian Bostridge, Bernard Labadie, Lucy Crowe, and Reinhard Goebel.
International touring will see the orchestra perform in Asia, the U.S., and
Europe, and plans for AAM Records include a series of recordings of the
music of Venetian composer Dario Castello.
The AAM is Associate Ensemble at London's Barbican Centre and Orchestrain-Residence at the University of Cambridge.
Mostly Mozart Festival
Lincoln Center's Mostly Mozart Festival—America's first indoor summer
music festival—was launched as an experiment in 1966. Called Midsummer
Serenades: A Mozart Festival, its first two seasons were devoted exclusively to the music of Mozart. Now a New York institution, Mostly Mozart
continues to broaden its focus to include works by Mozart's predecessors,
contemporaries, and related successors. In addition to concerts by the
Mostly Mozart Festival Orchestra, Mostly Mozart now includes concerts by
the world's outstanding period-instrument ensembles, chamber orchestras
and ensembles, and acclaimed soloists, as well as opera productions, dance,
film, late-night performances, and visual art installations. Contemporary
music has become an essential part of the festival, embodied in annual
artists-in-residence, including Osvaldo Golijov, John Adams, Kaija Saariaho,
Pierre-Laurent Aimard, and the International Contemporary Ensemble. Among
the many artists and ensembles who have had long associations with the
festival are Joshua Bell, Christian Tetzlaff, Itzhak Perlman, Emanuel Ax, Garrick
Ohlsson, Stephen Hough, Osmo Vänskä, the Emerson String Quartet, Freiburg
Baroque Orchestra, Orchestra of the Age of Enlightenment, and the Mark
Morris Dance Group.
08-09 Ancient Music_Gp 3.qxt 7/27/15 8:56 AM Page 12
Mostly Mozart Festival
Lincoln Center for the Performing Arts, Inc.
Lincoln Center for the Performing Arts (LCPA) serves three primary roles:
presenter of artistic programming, national leader in arts and education and
community relations, and manager of the Lincoln Center campus. A presenter
of more than 3,000 free and ticketed events, performances, tours, and educational activities annually, LCPA offers 15 programs, series, and festivals,
including American Songbook, Great Performers, Lincoln Center Festival,
Lincoln Center Out of Doors, Midsummer Night Swing, the Mostly Mozart
Festival, and the White Light Festival, as well as the Emmy Award–winning
Live From Lincoln Center, which airs nationally on PBS. As manager of the
Lincoln Center campus, LCPA provides support and services for the Lincoln
Center complex and the 11 resident organizations. In addition, LCPA led a $1.2
billion campus renovation, completed in October 2012.
Lincoln Center Programming Department
Jane Moss, Ehrenkranz Artistic Director
Hanako Yamaguchi, Director, Music Programming
Jon Nakagawa, Director, Contemporary Programming
Jill Sternheimer, Acting Director, Public Programming
Lisa Takemoto, Production Manager
Charles Cermele, Producer, Contemporary Programming
Kate Monaghan, Associate Director, Programming
Claudia Norman, Producer, Public Programming
Mauricio Lomelin, Producer, Contemporary Programming
Julia Lin, Associate Producer
Nicole Cotton, Production Coordinator
Regina Grande, Assistant to the Artistic Director
Luna Shyr, Programming Publications Editor
Claire Raphaelson, House Seat Coordinator
Stepan Atamian, Theatrical Productions Intern; Annie Guo, Production Intern;
Grace Hertz, House Program Intern
Program Annotators:
Don Anderson, Peter A. Hoyt, Kathryn L. Libin, Paul Schiavo, David Wright
08-09 Ancient Music_Gp 3.qxt 7/27/15 8:56 AM Page 13
PATRICK HARRISON
Mostly Mozart Festival I Meet the Artists
Academy of Ancient Music
Violin I
Pavlo Beznosiuk
Iwona Muszynska
Sijie Chen
Stephen Pedder
Persephone Gibbs
Kinga Ujszászi
Simon Kodurand
Pierre Joubert
Violin II
Rebecca Livermore
William Thorp
Liz MacCarthy
Joanna Lawrence
Marianna Szücs
Fiona Duncan
Naomi Burrell
Alice Earll
Viola
Jane Rogers
Ricardo Cuende
Isuskiza
Clare Barwick
Emma Alter
Heather Birt
Jordan Bowron
Cello
Joseph Crouch
Imogen Seth-Smith
Cassandra Luckhardt
Jonathan Rees
Bass
Judith Evans
Dawn Baker
Kate Aldridge
Flute
Rachel Brown
Guy Williams
Oboe
Leo Duarte
Mark Radcliffe
Clarinet
Katherine Spencer
Margaret Archibald
Bassoon
Jane Gower
Sally Jackson
Horn
Gavin Edwards
David Bentley
Nick Benz
Clare Penkey
Brendan Thomas
Trumpet
Simon Munday
Matthew Wells
Timpani
Benedict Hoffnung
08-09 Ancient Music_Gp 3.qxt 7/27/15 8:56 AM Page 14
Mostly Mozart Festival
Lectures, Discussions, and Pre-concert Recitals
All events are FREE to ticketholders of the accompanying performance.
Friday and Saturday Evenings,
July 31 and August 1, at 6:30
Orion Weiss, piano
Brahms: Klavierstücke, Op. 118
Avery Fisher Hall
Tuesday and Thursday Evenings,
August 11 and 13
Written on Skin post-performance artist
discussions
David H. Koch Theater
Monday Evening, August 3, at 6:30
Emerson String Quartet
Haydn: Quartet in G major, Op. 76, No. 1
Alice Tully Hall
Friday and Saturday Evenings,
August 14–15, at 6:30
Jon Manasse, clarinet,
Ilya Finkelshteyn, cello, and
Jon Nakamatsu, piano
Brahms: Clarinet Trio
Avery Fisher Hall
Tuesday Evening, August 4, at 6:30
Anderson & Roe Piano Duo
Ligeti/Anderson & Roe: Hungarian Rock
Brahms: Haydn Variations
Avery Fisher Hall
Wednesday Evening, August 5, at 6:30
Anderson & Roe Piano Duo
Brahms: Haydn Variations
Anderson & Roe, after Mozart: Ragtime
alla turca
Avery Fisher Hall
Friday and Saturday Evenings,
August 7–8, at 6:30
Calidore String Quartet
Haydn: Quartet in C major ("The Bird")
Avery Fisher Hall
Tuesday and Wednesday Evenings,
August 11–12, at 6:30
Charlie Albright, piano
Beethoven: "Moonlight" Sonata
Chopin: Four Etudes, Op. 25
Avery Fisher Hall
Saturday Afternoon, August 15, from 4:00
to 5:30
Panel Discussion: Listening to Mozart
Bruce Alan Brown, moderator
Presented in association with the Mozart
Society of America
Stanley H. Kaplan Penthouse
Seating available on a first-come, first-served
basis.
Tuesday and Wednesday Evenings,
August 18–19, at 6:30
Tyler Duncan, baritone, and
Erika Switzer, piano
Schumann: Liederkreis, Op. 24
Avery Fisher Hall
Friday Evening, August 21, from 6:15 to 7:00
Pre-concert lecture on Haydn's Creation
by Elaine Sisman
Stanley H. Kaplan Penthouse
ALICE TULLY HALL, AVERY FISHER HALL
Broadway at 65th Street
DAVID H. KOCH THEATER
Columbus Avenue at 63th Street
DAVID RUBENSTEIN ATRIUM
Broadway between 62nd and 63rd Streets
STANLEY H. KAPLAN PENTHOUSE
165 West 65th Street, 10th Floor
08-09 Ancient Music_Gp 3.qxt 7/27/15 8:56 AM Page 15
Mostly Mozart Festival
Wolfgang Amadeus Mozart Chronology
1756 January 27: Joannes Chrysostomus Wolfgangus Theophilus Mozart born in Salzburg,
Austria, the youngest child of Johann Georg Leopold Mozart and his wife, Anna Maria.
1761 First composition, Andante in C major for keyboard; first known public appearance at
Salzburg University in a music theater piece.
1762 Leopold Mozart journeys to Munich and Vienna with Wolfgang and his older sister,
Nannerl, to exploit their prodigious talents on the harpsichord.
1764 Meets J.C. Bach, youngest son of J.S. Bach. Mozart writes his first symphony.
1767 Performance of Apollo et Hyacinthus, Mozart's first theatrical work, in Salzburg. Travels to
Vienna. Wolfgang and Nannerl fall ill with smallpox.
1769 Return to Salzburg. Mozart named honorary Konzertmeister of the Hofkapelle in Salzburg.
1772 Premiere of opera seria Lucio Silla on December 26 in Milan; completion of motet Exsultate,
jubilate a few weeks later.
1778 Arrival in Paris after a lengthy journey through Augsburg and Mannheim, where he meets
soprano Aloysia Weber. Performance of the "Paris" Symphony. Illness and death of Mozart's
mother. Aloysia rejects Mozart's marriage proposal.
1779 Composition of "Coronation" Mass in C major.
1781 First major adult opera commission results in Idomeneo, premiered in Munich. Travels to
Vienna, where he is discharged from the service of the archbishop of Salzburg.
1782 Composition and premiere of the opera Die Entführung aus dem Serail in Vienna. Marriage
to Constanze Weber, sister of Aloysia.
1783 First child born in June and dies in August. Premiere of unfinished Mass in C minor, K.427.
1784 Mozart accepted into the Freemason lodge Zur Wohlthätigkeit. Six piano concertos written in Vienna. Frequent public and private concerts in Vienna show him at the peak of his fortunes. Birth of second child, Karl Thomas, who survives. Probable first meeting with Haydn; the
beginning of a devoted friendship between the two masters.
1785 Cycle of six string quartets, which Mozart dedicates to Haydn, is published by Artaria.
Composes Piano Concerto No. 20 in D minor and No. 21 in C major.
1786 Premiere of Le nozze di Figaro in Vienna's Burgtheater is successful despite the opera's
potential to be politically and socially inflammatory. Writes Symphony in D major ("Prague") and
Piano Concerto No. 25 in C major. Mozart's third child is born in October and dies in November.
1787 Mozart directs a performance of Figaro in Prague to great success. Performance of "Prague"
Symphony and premiere of Don Giovanni in Prague also meet with positive reception. Leopold
Mozart, age 68, dies in Salzburg. Returns to Vienna in November and birth of fourth child, Theresia,
in December. The 16-year-old Beethoven briefly visits Vienna and most likely meets Mozart.
1788 Viennese premiere of Don Giovanni meets with moderate success. Death of Theresia. Last three
symphonies written: No. 39 in E-flat major, No. 40 in G minor, and No. 41 in C major ("Jupiter").
1789 Financial instability. Starts work on Così fan tutte. Mozart's fifth child, Anna Maria, dies
one hour after birth. Mozart conducts his reorchestration of Handel's Messiah.
1790 Premiere of Così fan tutte in Vienna. Musical productivity hindered by ongoing financial
stress. Before leaving for London, Haydn dines with Mozart for the last time.
1791 Mozart completes his 27th and last piano concerto. Interruption of work on Die Zauberflöte to
write the commissioned work La clemenza di Tito, celebrating the coronation of Leopold II as king
of Bohemia. Birth of sixth child, Franz Xaver, who survives. Premiere of Die Zauberflöte in Vienna
with Mozart conducting from the keyboard. Clarinet Concerto written for Anton Stadler. Receives
commission for a requiem mass and begins work on the Requiem, K.626, but falls ill in November.
Mozart dies in Vienna on December 5 and is buried quietly and unceremoniously in a mass grave.
08-09 Ancient Music_Gp 3.qxt 7/27/15 8:56 AM Page 16
Accessibility at
Lincoln Center
R
eflecting a quote by Lincoln
Center's first president John D.
Rockefeller III that "the arts are not for
the privileged few, but for the many,"
Lincoln Center has had as a central
mission from its start making the
arts available to the widest possible
audiences. In 1985, that led to the
establishment of the Department of
Programs and Services for People with
Disabilities to ensure full participation
in the thousands of events presented
annually across the Lincoln Center
campus. It was the first such program
at any major performing arts center
in the U.S. and has longserved as a model for
other arts institutions
around the country.
Celebrating its 30th
anniversary with a new
name, Accessibility
at Lincoln Center,
the program
continues to provide
exceptional guest
care to all visitors,
as well as training
in accessibility to
colleagues at Lincoln
Center's resident
organizations, including
the Film Society of
Lincoln Center, the
New York Philharmonic, and Jazz
at Lincoln Center.
Accessibility oversees the production
of large-print and Braille programs
for hundreds of performances taking
place each year at various Lincoln
Center venues. Another major
component of Accessibility is its
longstanding "Passport to the Arts."
The program annually distributes to
children with disabilities thousands
of free tickets to a variety of Lincoln
Center performances, including
New York City Ballet and the New
York Philharmonic—a welcoming
introduction to the arts. A parent who
participated in a recent "Passport"
event commented "It allowed my
family and I to enjoy and learn along
with everyone else. The accessibility…
made it easier for our family to "relax"
and truly enjoy the
experience."
Accessibility is
expanding the
ways it serves
adults with
disabilities. It
introduced and
oversees American
Sign Languageled official tours
of Lincoln Center,
and offers live
audio description
for select Lincoln
Center Festival
performances.
Accessibility
looks forward to growing its inclusive
programs in the years to come.
To learn more about Accessibility
at Lincoln Center, please contact
access@lincolncenter.org or call
212.875.5375.