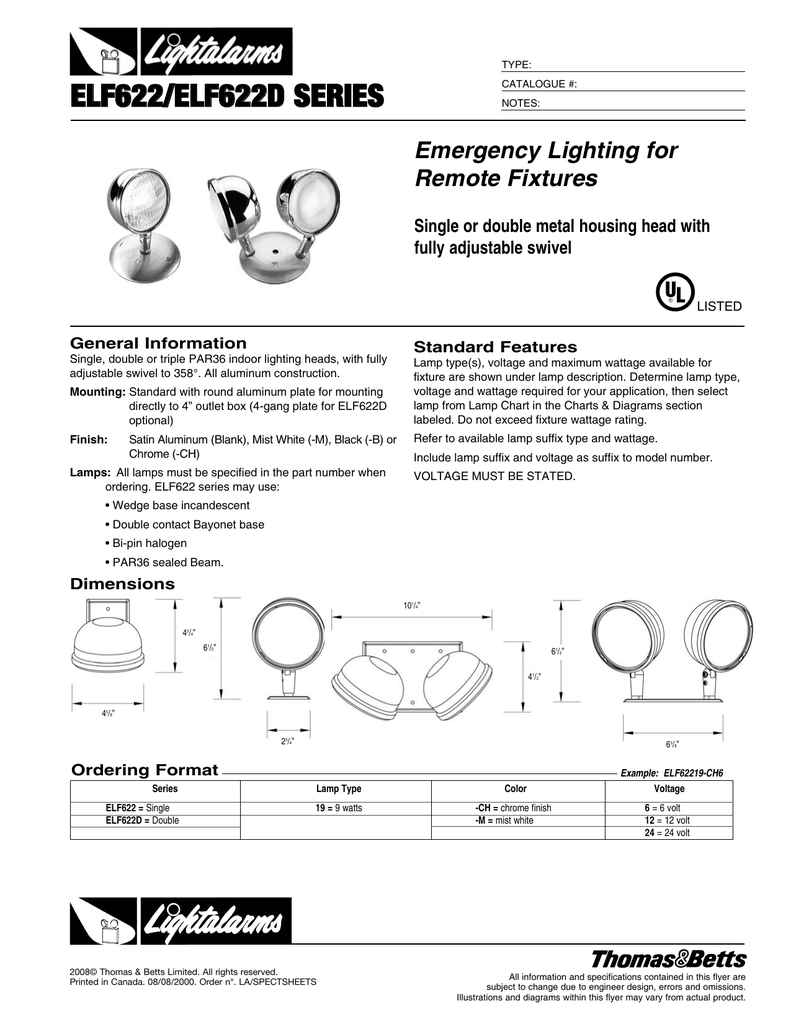 TYPE:
CATALOGUE #:
ELF622/ELF622D SERIES
NOTES:
Emergency Lighting for
Remote Fixtures
Single or double metal housing head with
fully adjustable swivel
LISTED
General Information
Single, double or triple PAR36 indoor lighting heads, with fully
adjustable swivel to 358°. All aluminum construction.
Mounting: Standard with round aluminum plate for mounting
directly to 4" outlet box (4-gang plate for ELF622D
optional)
Finish:
Satin Aluminum (Blank), Mist White (-M), Black (-B) or
Chrome (-CH)
Lamps: All lamps must be specified in the part number when
ordering. ELF622 series may use:
• Wedge base incandescent
Standard Features
Lamp type(s), voltage and maximum wattage available for
fixture are shown under lamp description. Determine lamp type,
voltage and wattage required for your application, then select
lamp from Lamp Chart in the Charts & Diagrams section
labeled. Do not exceed fixture wattage rating.
Refer to available lamp suffix type and wattage.
Include lamp suffix and voltage as suffix to model number.
VOLTAGE MUST BE STATED.
• Double contact Bayonet base
• Bi-pin halogen
• PAR36 sealed Beam.
Dimensions
101/4"
4 3/4"
6 1/2"
6 1/2"
4 1/2"
4 5 /8 "
Ordering Format
Series
ELF622 = Single
ELF622D = Double
2 3/4"
6 3/8"
Lamp Type
19 = 9 watts
2008© Thomas & Betts Limited. All rights reserved.
Printed in Canada. 08/08/2000. Order n°. LA/SPECTSHEETS
Color
-CH = chrome finish
-M = mist white
Example: ELF62219-CH6
Voltage
6 = 6 volt
12 = 12 volt
24 = 24 volt
All information and specifications contained in this flyer are
subject to change due to engineer design, errors and omissions.
Illustrations and diagrams within this flyer may vary from actual product.