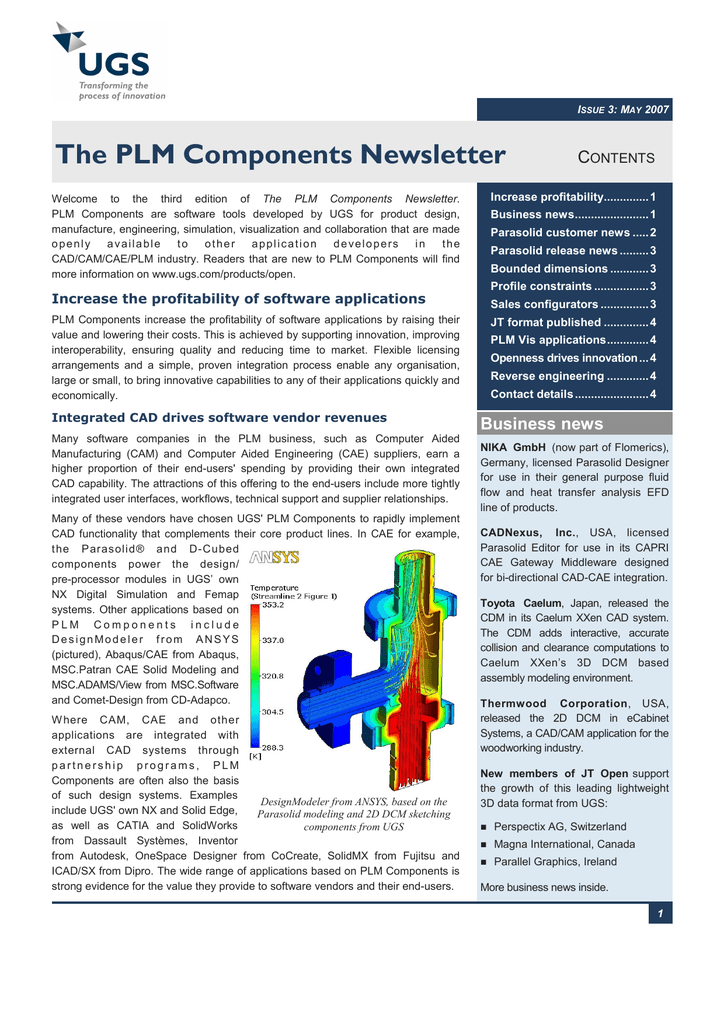 ISSUE 3: MAY 2007
The PLM Components Newsletter
CONTENTS
Increase profitability.............. 1
Welcome to the third edition of The PLM Components Newsletter.
PLM Components are software tools developed by UGS for product design,
manufacture, engineering, simulation, visualization and collaboration that are made
openly
available
to
other
application
developers
in
the
CAD/CAM/CAE/PLM industry. Readers that are new to PLM Components will find
more information on www.ugs.com/products/open.
Business news....................... 1
Parasolid customer news ..... 2
Parasolid release news ......... 3
Bounded dimensions ............ 3
Profile constraints ................. 3
Increase the profitability of software applications
Sales configurators ............... 3
PLM Components increase the profitability of software applications by raising their
value and lowering their costs. This is achieved by supporting innovation, improving
interoperability, ensuring quality and reducing time to market. Flexible licensing
arrangements and a simple, proven integration process enable any organisation,
large or small, to bring innovative capabilities to any of their applications quickly and
economically.
Integrated CAD drives software vendor revenues
Many software companies in the PLM business, such as Computer Aided
Manufacturing (CAM) and Computer Aided Engineering (CAE) suppliers, earn a
higher proportion of their end-users' spending by providing their own integrated
CAD capability. The attractions of this offering to the end-users include more tightly
integrated user interfaces, workflows, technical support and supplier relationships.
Many of these vendors have chosen UGS' PLM Components to rapidly implement
CAD functionality that complements their core product lines. In CAE for example,
the Paras olid® and D-Cubed
components power the design/
pre-processor modules in UGS' own
NX Digital Simulation and Femap
systems. Other applications based on
PLM Components include
DesignModeler from ANSYS
(pictured), Abaqus/CAE from Abaqus,
MSC.Patran CAE Solid Modeling and
MSC.ADAMS/View from MSC.Software
and Comet-Design from CD-Adapco.
W here CAM, CAE and other
applications are integrated with
external CAD systems through
partnership programs, PLM
Components are often also the basis
of such design systems. Examples
DesignModeler from ANSYS, based on the
include UGS' own NX and Solid Edge,
Parasolid modeling and 2D DCM sketching
as well as CATIA and SolidWorks
components from UGS
from Dassault Systèmes, Inventor
from Autodesk, OneSpace Designer from CoCreate, SolidMX from Fujitsu and
ICAD/SX from Dipro. The wide range of applications based on PLM Components is
strong evidence for the value they provide to software vendors and their end-users.
JT format published .............. 4
PLM Vis applications............. 4
Openness drives innovation ... 4
Reverse engineering ............. 4
Contact details ....................... 4
Business news
NIKA GmbH (now part of Flomerics),
Germany, licensed Parasolid Designer
for use in their general purpose fluid
flow and heat transfer analysis EFD
line of products.
CADNexus, Inc., USA, licensed
Parasolid Editor for use in its CAPRI
CAE Gateway Middleware designed
for bi-directional CAD-CAE integration.
Toyota Caelum, Japan, released the
CDM in its Caelum XXen CAD system.
The CDM adds interactive, accurate
collision and clearance computations to
Caelum XXen's 3D DCM based
assembly modeling environment.
Thermwood Corporation, USA,
released the 2D DCM in eCabinet
Systems, a CAD/CAM application for the
woodworking industry.
New members of JT Open support
the growth of this leading lightweight
3D data format from UGS:
Perspectix AG, Switzerland
Magna International, Canada
Parallel Graphics, Ireland
More business news inside.
1
PLM COMPONENTS NEWSLETTER
Parasolid product news
More business news...
Parasolid at the heart of medical research
ASCO DATA GmbH, Germany,
developer of CAM applications around
cutting and bending licensed Parasolid
Designer for implementation of ASCOSB, a specialized automatic 3Dsimulation and NC-data generating
application for bending parts with Slew
Bending Centers.
A major focus of Simbios, a Stanford center for biomedical computation, is physicsbased software simulations of biological structures. Using Parasolid, Simbios has
developed SimVascular (http://simtk.org/home/simvascular), an integrated system
for cardiovascular modeling and simulation that could dramatically impact the
research and treatment of cardiovascular disease.
SimVascular helps
researchers and clinicians
understand cardiovascular
dynamics. This image shows
the differences in anatomy
and mean wall shear stress
in the pulmonary arteries of
a normal subject and a
patient with pulmonary
hypertension
FAST AG, Germany, licensed
Parasolid Designer for use in the
GraphiteONE Linux based CAD
System complementing the D-Cubed
3D DCM licensed in 2005.
Parasolid tops 2 million seats
"Simbios provides free and open access to its software to seed development of
these technologies in academia and industry", says Bill Katz, senior scientist at
Simbios. We invite researchers to explore physics-based simulation tools and
software at www.simtk.org and contact UGS' Evan Knuttila ([email protected])
to obtain access to Parasolid (under Parasolid's normal commercial terms).
Late last year the estimated number of
Parasolid-based application seats in
use exceeded 2 million, a landmark of
which UGS is justly proud. The global
acceptance of Parasolid as a key
enabling technology in 3D applications
is powerful evidence of the success of
UGS' open innovation strategy. Indeed,
as well as providing the core modeling
capabilities in many well known CAD,
CAM and CAE applications, Parasolid is
increasingly supporting innovations in
fields such as architecture, specialized
machinery, reverse engineering and
optical and medical research.
Parasolid v18.1 released November 2006
Parasolid v19: new application
Some of the new features in Parasolid v18.1 include:
Scheduled for shipment in May 2007,
Parasolid v19 will include a new support
application, Parasolid Workshop.Net, for
viewing and analyzing XT data. Written
in C# and shipping with full source
code, it will demonstrate best practice
Parasolid application development .
"SimVascular creates Parasolid based geometric models from 3D medical images,
converts those models into finite element meshes, models the properties of the
blood flow and its interactions with the vessel wall and then generates visualizations
of the results", says Charles Taylor, project lead and associate professor of
bioengineering at the Cardiovascular Biomechanics Research Lab (CVBRL),
Stanford University. While developing SimVascular, researchers at the CVBRL
tested several solid modeling kernels. "We selected Parasolid because of its crossplatform support, robustness, and speed at manipulating complex models of blood
vessels," says Nathan Wilson, Chief Software Architect.
New modeling functionality for advanced blending,
general sweeping and complex tapering (left image)
allows greater support for design intent.
Interoperability support extended with enhanced
continuity in geometry construction, together with
optimizations in tolerant modeling and model
interrogation.
End-user
productivity is boosted through
increased automation in offsetting (left image),
patterning and imprinting.
Released in parallel was Parasolid Bodyshop v9.1, the Parasolid-based toolkit that
repairs, optimizes and validates imported 3D models. The release included
enhancements in output pre-processing, tolerancing, quality and performance to
maximize downstream success in modeling and interoperability.
2
Parasolid Workshop.Net
ISSUE 3: MAY2007
D-Cubed product news - new developments for parametric modeling
Assembly constraining and 3D sketching enhancements
Bounded dimensions in the 3D DCM
2D sketching enhancements
The 3D Dimensional Constraint
Manager (3D DCM) now supports a
major new dimension type, the
bounded dimension. Distance and
angle dimensions can be bounded
with upper and lower limits to specify a
range of values when the 3D DCM
computes the configuration of a
model. Used in combination with other
constraints in an assembly context,
bounded dimensions can confine the
scope of a moving part's angular or
linear motion, creating a more realistic
assembly model.
Another significant application for bounded dimensions is 3D sketching. 3D
sketches are used in a variety of contexts, such as surface design and routing
center-lines in piping, wiring and HVAC applications. Dimensions and constraints
enable applications to specify the shape and relative position of the curves in a 3D
sketch. Bounded dimensions can ensure that the lengths of individual sketch
elements do not fall below zero or exceed a maximum value, for example.
3D sketching applications now also benefit from a new 3D parametric curve length
dimension, recently introduced in the 3D DCM. CAD systems that use the 3D DCM
in support of 3D sketching include Solid Edge and SolidWorks.
Animations available at www.ugs.com/products/open/d-cubed/animations/3ddcm/
The Profile Geometry Manager (PGM)
brings the next generation of sketching
functionality to 2D DCM-based
sketchers. Recent extensions to its
capabilities include the calculation and
constraint of the length and area of a
profile.
Profile area constraint in the PGM
In addition to the new profile
c ons traints , the PGM provides
advanced offsetting functionality,
automatically inserting, extending and
trimming edges as required, as well as
solving constraints to loops of geometry
rather than individual edges.
2D DCM brings CAD to product configurators
Product configurators, also known as sales configurators, provide
the means for manufacturers to efficiently enable their customers
to identify and purchase the products that they require.
Producing a CAD model is often an important part of this
process. This can be achieved by linking the product
configuration software to a commercial CAD system, though this
can be an expensive and over-engineered solution.
Alternatively, product configuration software vendors can use
UGS' Parasolid, 2D DCM and 3D DCM components to rapidly
and inexpensively develop the geometric configuration solution
that is best suited to their customer requirements.
TDCI, of Columbus, Ohio, use the 2D DCM to enable their
BuyDesign configuration system to create and visualize product
families. The results can be configured and made accessible to
sales professionals via web based or stand-alone applications.
The 2D DCM based geometry engine in
TDCI's BuyDesign configuration system
"We interface directly with full 2D and 3D CAD products for certain capabilities within BuyDesign, but we didn't want that
overhead in the front-end sales process where people would be configuring products over the web or on desktop or laptop PCs.
The D-Cubed 2D DCM gives us the ability to dynamically create configuration-specific 2D images without the cost or processing
overhead of a full CAD system." - Dan DeMuth, President and COO of TDCI
3
PLM COMPONENTS NEWSLETTER
JT Open - UGS publishes JT file format
PLM Vis
Further evidence of UGS' commitment to openness is provided by the publishing of
the JT file format. This has paved the way for a common 3D language for the global
manufacturing industry and facilitated the secure long term archival of 3D data.
Furthermore, user confidence in the format is enhanced, accelerating the
development of JT-enabled software applications, promoting product innovation
through enhanced collaboration. More at www.jtopen.com.
PLM Vis provides 2D/3D visualization
and markup tools that are easily
integrated into PLM applications. It is
used to enhance applications and
develop new business practices through
the power of custom visualization.
"The publishing of JT is a ground-breaking step towards better industry-wide collaboration
and an exciting and innovative move on the part of UGS." - Charles Foundyller, CEO, Daratech
A major UGS automotive customer
licensed PLM Vis to create a custom,
enterprise-wide front-end to their
implementation of Teamcenter PDM
system. The PLM Vis Development
team worked with yet another
automotive customer to provide custom,
hi-fidelity viewing and accurate measure
to their extended enterprise over the
Web, without the vulnerability of having
IP exposed via the browser cache.
UGS' open approach to business drives innovation
Software vendors are striving to increase revenue growth through greater
innovation. Recently much has been written about the benefits of open approaches
to innovation and technology. PLM Components is an example of UGS' open
approach to business, and supporting innovation, enabling resources to be focused
on core competencies, creating value for customers and reducing time to market.
Henry Chesbrough, Executive Director, Center for Open Innovation, Haas School of
Business, UC-Berkeley, has written of the significant benefits of openness, including
"the ability to draw upon more diverse sources of knowledge, the ability to access a
wider range of possible solutions, the chance to exploit work done in another area,
and repurpose that work for the focal task at hand, as well as the enormous benefit of
having many people examine the technology to see if it works for their own needs." 1
Reverse engineering a parametric model with PLM Components
PLM Components have brought the benefits of parametric modeling to many diverse
applications. These benefits, including tightly-integrated, fast and accurate modeling,
were delivered to the customers of INUS Technology after the company implemented
the Parasolid modeling kernel and D-Cubed 2D Dimensional Constraint Manager
(2D DCM) sketch engine in its Rapidform XOR/Redesign reverse engineering system.
Like other reverse engineering applications, Rapidform XOR/Redesign creates mesh
models from 3D scan data (point clouds) sampled from real-world objects. However, a
major innovation is the capability to convert of meshes into fully parametric solid
models. During conversion, cross
sections of the mesh elements are
converted into 2D DCM based
parametric sketches. Parasolid is
then used to extrude, sweep or
rotate the sk etches into
parametric 3D solids.
Users are provided with the
familiar parametric modeling
operations within rapidformXO
Redesign, and they can also
export the model for use in their
preferred CAD applications.
1
More at www.ugs.com/plmvis.
Contact details
Contact details for each technology
covered in the newsletter can be found
on the website listed in the relevant
section.
Alternatively, please use the contact
details below and your enquiry will be
forwarded to the appropriate recipient:
UGS,
Park House, Castle Park,
Cambridge, CB3 ODU,
England.
Tel: +44-1223-722600
Fax: +44-1223-722601
Email: [email protected]
Web: www.ugs.com/products/open/
Reverse engineering a parametric model in
INUS Technology's Rapidform XOR/Redesign
"We wanted to provide integrated design capabilities that would be familiar to the
users of major CAD systems, and this was made possible by leveraging the same
UGS component technology that is used in so many of the leading applications."
- Calvin Hur, VP Marketing & Sales, INUS Technology, on licensing Parasolid and the 2D DCM
4
PLM Vis supports UNIX and Windows
and can be embedded in standalone
applications or as internet browser plugins. PLM Vis enables organizations to
develop user interfaces focused on their
specific requirements, the results being
easy to use and free from the distractions
of more general purpose applications.
The Benefits and Limits of Greater Openness: An Examination of PLM Software, 2006
© UGS 2007. All rights reserved. UGS, Transforming
the process of innovation, Femap, JT, NX,
Solid Edge, Parasolid and D-Cubed are registered
marks or trademarks of UGS Corp. or its subsidiaries
in the United States and other countries.
All brand and product names mentioned in this
newsletter are the service marks, trademarks, or
registered trademarks of their respective owners.