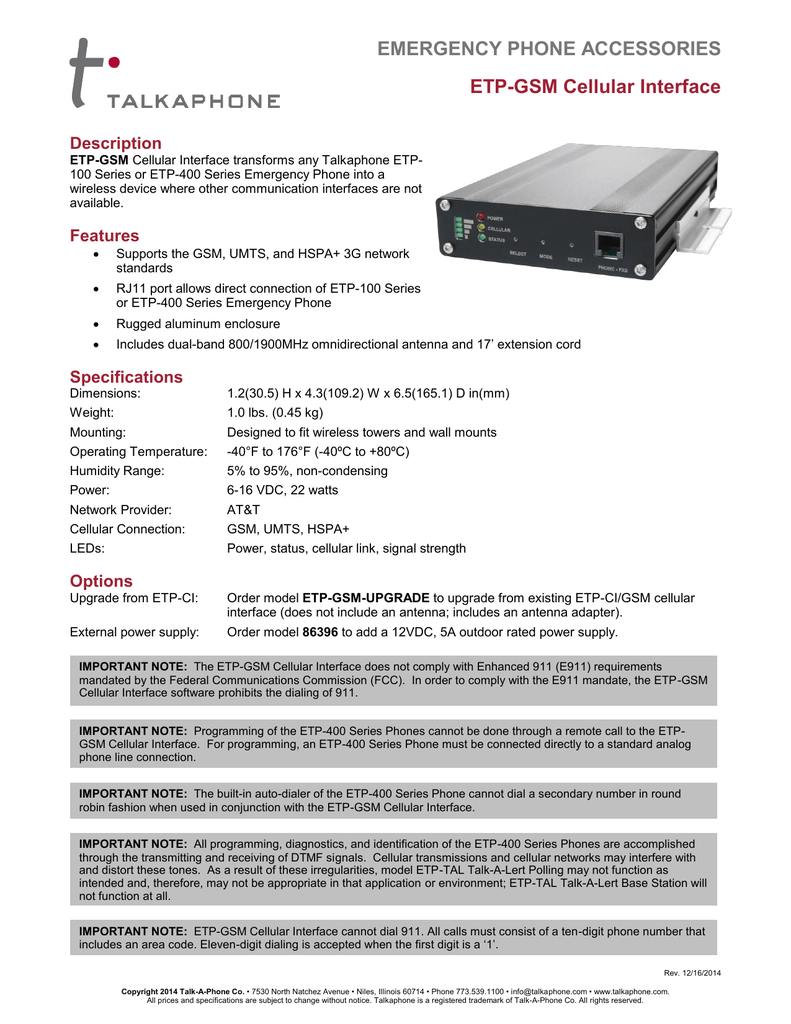 EMERGENCY PHONE ACCESSORIES
ETP-GSM Cellular Interface
Description
ETP-GSM Cellular Interface transforms any Talkaphone ETP100 Series or ETP-400 Series Emergency Phone into a
wireless device where other communication interfaces are not
available.
Features

Supports the GSM, UMTS, and HSPA+ 3G network
standards

RJ11 port allows direct connection of ETP-100 Series
or ETP-400 Series Emergency Phone

Rugged aluminum enclosure

Includes dual-band 800/1900MHz omnidirectional antenna and 17' extension cord
Specifications
Dimensions:
1.2(30.5) H x 4.3(109.2) W x 6.5(165.1) D in(mm)
Weight:
1.0 lbs. (0.45 kg)
Mounting:
Designed to fit wireless towers and wall mounts
Operating Temperature:
-40°F to 176°F (-40ºC to +80ºC)
Humidity Range:
5% to 95%, non-condensing
Power:
6-16 VDC, 22 watts
Network Provider:
AT&T
Cellular Connection:
GSM, UMTS, HSPA+
LEDs:
Power, status, cellular link, signal strength
Options
Upgrade from ETP-CI:
Order model ETP-GSM-UPGRADE to upgrade from existing ETP-CI/GSM cellular
interface (does not include an antenna; includes an antenna adapter).
External power supply:
Order model 86396 to add a 12VDC, 5A outdoor rated power supply.
IMPORTANT NOTE: The ETP-GSM Cellular Interface does not comply with Enhanced 911 (E911) requirements
mandated by the Federal Communications Commission (FCC). In order to comply with the E911 mandate, the ETP-GSM
Cellular Interface software prohibits the dialing of 911.
IMPORTANT NOTE: Programming of the ETP-400 Series Phones cannot be done through a remote call to the ETPGSM Cellular Interface. For programming, an ETP-400 Series Phone must be connected directly to a standard analog
phone line connection.
IMPORTANT NOTE: The built-in auto-dialer of the ETP-400 Series Phone cannot dial a secondary number in round
robin fashion when used in conjunction with the ETP-GSM Cellular Interface.
IMPORTANT NOTE: All programming, diagnostics, and identification of the ETP-400 Series Phones are accomplished
through the transmitting and receiving of DTMF signals. Cellular transmissions and cellular networks may interfere with
and distort these tones. As a result of these irregularities, model ETP-TAL Talk-A-Lert Polling may not function as
intended and, therefore, may not be appropriate in that application or environment; ETP-TAL Talk-A-Lert Base Station will
not function at all.
IMPORTANT NOTE: ETP-GSM Cellular Interface cannot dial 911. All calls must consist of a ten-digit phone number that
includes an area code. Eleven-digit dialing is accepted when the first digit is a '1'.
Rev. 12/16/2014
Copyright 2014 Talk-A-Phone Co. • 7530 North Natchez Avenue • Niles, Illinois 60714 • Phone 773.539.1100 • [email protected] • www.talkaphone.com.
All prices and specifications are subject to change without notice. Talkaphone is a registered trademark of Talk-A-Phone Co. All rights reserved.