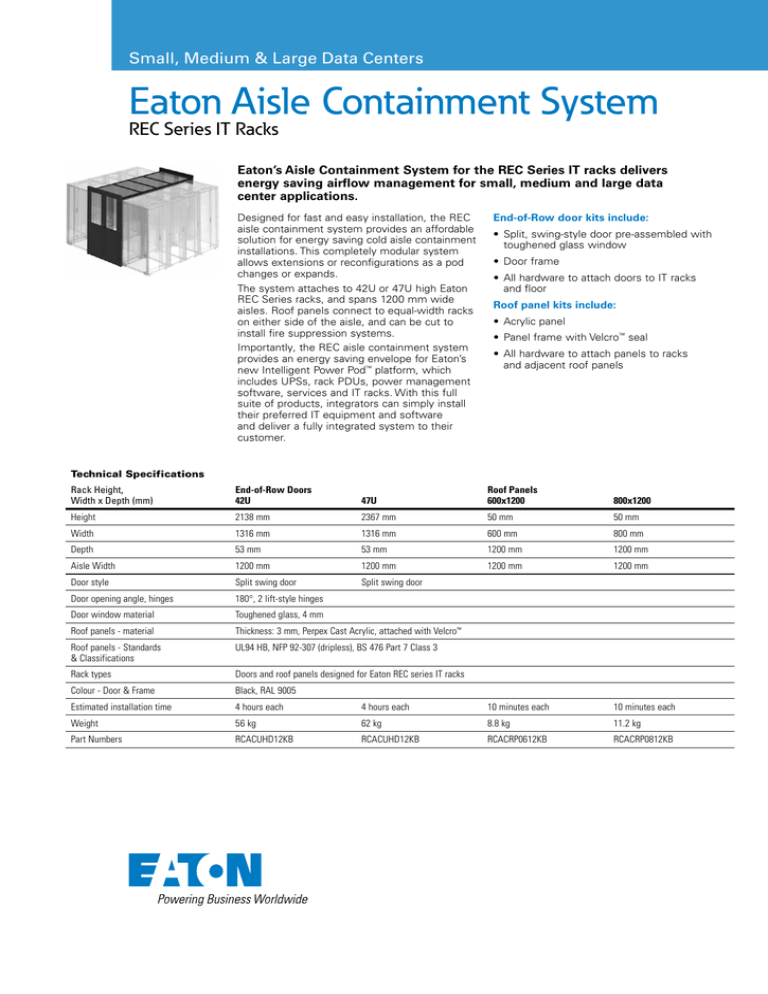 Small, Medium & Large Data Centers
Eaton Aisle Containment System
REC Series IT Racks
Eaton's Aisle Containment System for the REC Series IT racks delivers
energy saving airflow management for small, medium and large data
center applications.
Designed for fast and easy installation, the REC
aisle containment system provides an affordable
solution for energy saving cold aisle containment
installations. This completely modular system
allows extensions or reconfigurations as a pod
changes or expands.
The system attaches to 42U or 47U high Eaton
REC Series racks, and spans 1200 mm wide
aisles. Roof panels connect to equal-width racks
on either side of the aisle, and can be cut to
install fire suppression systems.
Importantly, the REC aisle containment system
provides an energy saving envelope for Eaton's
new Intelligent Power Pod™ platform, which
includes UPSs, rack PDUs, power management
software, services and IT racks. With this full
suite of products, integrators can simply install
their preferred IT equipment and software
and deliver a fully integrated system to their
customer.
End-of-Row door kits include:
• Split, swing-style door pre-assembled with
toughened glass window
• Door frame
• All hardware to attach doors to IT racks
and floor
Roof panel kits include:
• Acrylic panel
• Panel frame with Velcro™ seal
• All hardware to attach panels to racks
and adjacent roof panels
Technical Specifications
Rack Height,
Width x Depth (mm)
End-of-Row Doors
42U
47U
Roof Panels
600x1200
800x1200
Height
2138 mm
2367 mm
50 mm
50 mm
Width
1316 mm
1316 mm
600 mm
800 mm
Depth
53 mm
53 mm
1200 mm
1200 mm
Aisle Width
1200 mm
1200 mm
1200 mm
1200 mm
Split swing door
Door style
Split swing door
Door opening angle, hinges
180°, 2 lift-style hinges
Door window material
Toughened glass, 4 mm
Roof panels - material
Thickness: 3 mm, Perpex Cast Acrylic, attached with Velcro™
Roof panels - Standards
& Classifications
UL94 HB, NFP 92-307 (dripless), BS 476 Part 7 Class 3
Rack types
Doors and roof panels designed for Eaton REC series IT racks
Colour - Door & Frame
Black, RAL 9005
Estimated installation time
4 hours each
4 hours each
10 minutes each
10 minutes each
Weight
56 kg
62 kg
8.8 kg
11.2 kg
Part Numbers
RCACUHD12KB
RCACUHD12KB
RCACRP0612KB
RCACRP0812KB
Eaton Aisle Containment System
End-of-row door dimensions
1316
53
400
936
2360
47U
2138
42U
2036
DOOR HEIGHT
592
592
Roof panel dimensions
1239
1159
596/796
55
25
© 2014 Eaton
All Rights Reserved
PS159002EN
November 2014
Eaton is a registered trademark
of Eaton Corporation.
www.eaton.eu/RECseries
All other trademarks are property
of their respective owners.