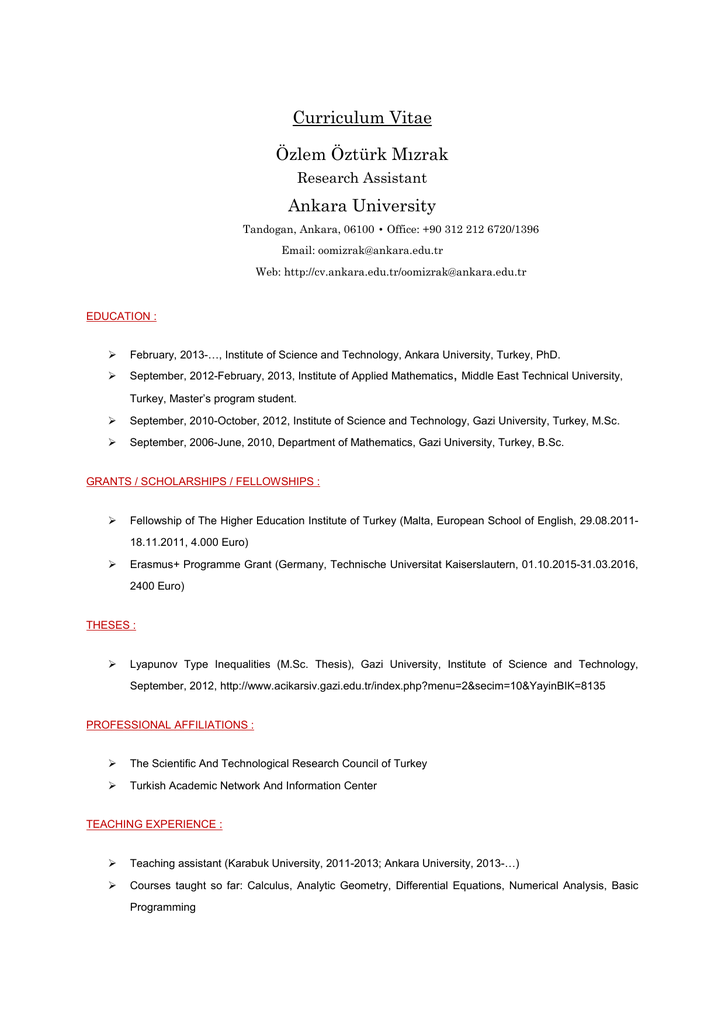 Curriculum Vitae
Özlem Öztürk Mızrak
Research Assistant
Ankara University
Tandogan, Ankara, 06100 • Office: +90 312 212 6720/1396
Email: [email protected]
Web: http://cv.ankara.edu.tr/[email protected]
EDUCATION :

February, 2013-…, Institute of Science and Technology, Ankara University, Turkey, PhD.

September, 2012-February, 2013, Institute of Applied Mathematics, Middle East Technical University,
Turkey, Master's program student.

September, 2010-October, 2012, Institute of Science and Technology, Gazi University, Turkey, M.Sc.

September, 2006-June, 2010, Department of Mathematics, Gazi University, Turkey, B.Sc.
GRANTS / SCHOLARSHIPS / FELLOWSHIPS :

Fellowship of The Higher Education Institute of Turkey (Malta, European School of English, 29.08.201118.11.2011, 4.000 Euro)

Erasmus+ Programme Grant (Germany, Technische Universitat Kaiserslautern, 01.10.2015-31.03.2016,
2400 Euro)
THESES :

Lyapunov Type Inequalities (M.Sc. Thesis), Gazi University, Institute of Science and Technology,
September, 2012, http://www.acikarsiv.gazi.edu.tr/index.php?menu=2&secim=10&YayinBIK=8135
PROFESSIONAL AFFILIATIONS :

The Scientific And Technological Research Council of Turkey

Turkish Academic Network And Information Center
TEACHING EXPERIENCE :

Teaching assistant (Karabuk University, 2011-2013; Ankara University, 2013-…)

Courses taught so far: Calculus, Analytic Geometry, Differential Equations, Numerical Analysis, Basic
Programming
RESEARCH :

Dynamics of some fractional models ( in the sense of chemical, mechanical and oncological ones)
OCCUPATIONAL EXPERIENCE :

Ankara University, July, 2013-…, Research Assistant

Karabuk University, December, 2010-July, 2013, Research Assistant
LANGUAGE SKILLS :

LANGUAGE
READING
WRITING
SPEAKING
TEST SCORES
English
Excellent
Good
Fair
TOEFL-IBT,
February 2013, 74
COMPUTATIONAL SKILLS :

Microsoft Office Software

Packaged Programs (Mathematica, Matlab)

Program Languages: Q-Basic, C++
SEMINARS / WORKSHOPS / CONFERENCES / SYMPOSIUMS :
1.
1st National Workshop on Complex Dynamical Systems and Their Applications, Tobb University of
Economics & Technology, Ankara, Turkey, October 12-13, 2012.
2. 13rd Mathematic Symposium, Karabuk, Turkey, May 15-17, 2014.
3. International Conference on Nonlinear Differential and Difference Equations: Recent Developments and
Applications, Ankara University, Side, Antalya, Turkey, May 27-30, 2014.
4."On a fractional chemical model", Ankara University, Ankara, Turkey, December 24, 2014.
5."Comparing Two Solution Methods for a Fractional Chemical System Inspired by Braess' Paradox",
International Conference on Applied Analysis and Mathematical Modeling, Yildiz Technical University, Istanbul,
Turkey, June 08-12, 2015.