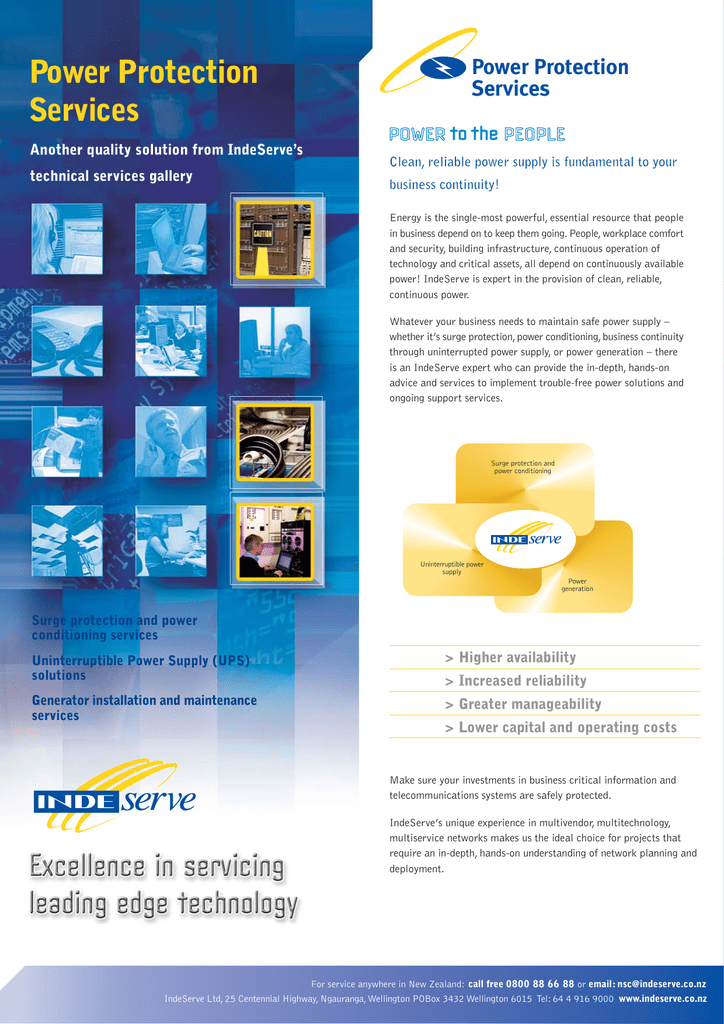 Power Protection
Services
Another quality solution from IndeServe's
technical services gallery
Power Protection
Services
POWER to the PEOPLE
Clean, reliable power supply is fundamental to your
business continuity!
Energy is the single-most powerful, essential resource that people
in business depend on to keep them going. People, workplace comfort
and security, building infrastructure, continuous operation of
technology and critical assets, all depend on continuously available
power! IndeServe is expert in the provision of clean, reliable,
continuous power.
Whatever your business needs to maintain safe power supply –
whether it's surge protection, power conditioning, business continuity
through uninterrupted power supply, or power generation – there
is an IndeServe expert who can provide the in-depth, hands-on
advice and services to implement trouble-free power solutions and
ongoing support services.
Surge protection and
power conditioning
Uninterruptible power
supply
Power
generation
Surge protection and power
conditioning services
Uninterruptible Power Supply (UPS)
solutions
> Higher availability
Generator installation and maintenance
services
> Greater manageability
> Increased reliability
> Lower capital and operating costs
Make sure your investments in business critical information and
telecommunications systems are safely protected.
IndeServe's unique experience in multivendor, multitechnology,
multiservice networks makes us the ideal choice for projects that
require an in-depth, hands-on understanding of network planning and
deployment.
For service anywhere in New Zealand: call free 0800 88 66 88 or email: [email protected]
IndeServe Ltd, 25 Centennial Highway, Ngauranga, Wellington POBox 3432 Wellington 6015 Tel: 64 4 916 9000 www.indeserve.co.nz
Power Protection Services
Choose from our comprehensive portfolio of services!
Needs Assessment Services: An IndeServe UPS certified engineer
will visit your site and collect data pertaining to electrical loads,
wiring practices, power quality, existing power protection
equipment, and environmental conditions.
Supply Services: IndeServe has a comprehensive purchasing and
supply chain management process for ordering and shipping a full
range of power protection products direct to your premises.
Installation Planning Services: We will meet with you prior to
installation to offer guidance on how to best physically position
and connect the equipment to your current infrastructure.
Installation and Assembly Services: Once your equipment has
arrived, we will unpack all components, position the equipment
(including seismic bracing if required), and assemble all components
into an integrated power system.
The value of IndeServe
IndeServe is available to serve organisations of any size
throughout New Zealand. Our range of power protection
products is extensive, capable of solving the requirements of
a small sole trader wanting protection for a low wattage device
like a personal computer, or the most sophisticated requirements
of very large organisations with centralised networks of business
critical assets.
No job is too big or too small for IndeServe.
Wherever you are in New Zealand, an IndeServe engineer or
registered electrician can be on your doorstep for same-day
service delivery. We achieve this because we operate a chain
of Service Centres throughout New Zealand.
Installation of Electrical Services: An IndeServe registered
electrician will install the appropriate electrical systems to integrate
the equipment into your infrastructure, including mains supply,
bypass panels, distribution switchboards and the electrical wiring
to interconnect all of these products with the UPS and the
equipment the UPS is supporting (eg servers, switches, other rackmounted or free-standing equipment).
Start Up (Commissioning) Services: An IndeServe UPS certified
engineer verifies all the connections on your system. Once the unit
has been powered up, we ensure it is functioning correctly in all
modes of operation. Your staff will receive basic operational
instructions to familiarise them with the components of your
system.
Network Integration Services: IndeServe UPS certified engineers
can assist in all tasks associated with integrating the power
protection products into your network, including the installation
of cabling and software for monitoring and management systems.
Remote Monitoring Services: IndeServe offers expert outsourced
services via a range of monitoring and management products.
On Site Repair Services: IndeServe field service engineers are
trained to isolate and correct a problem on site. We offer a choice
of Same Day, Next Day or Next Business Day response times.
These nationwide field services are managed by IndeServe's 24hour call centre, the National Service Centre in Wellington.
Whangarei
Auckland
Tauranga
Hamilton
Gisborne
Rotorua
Napier/Hastings
New Plymouth
Wanganui
Palmerston North
Wellington
(National Service Centre)
Nelson
Preventative Maintenance Services: In order to keep your power
protection equipment running at maximum efficiency, IndeServe
will schedule regular visits to examine your system to ensure
optimum performance.
Greymouth
Christchurch
Oamaru
Queenstown
Dunedin
Invercargill
Our Callfree 0800 88 66 88 phone number will get our personal attention, 24 hours every day.
Our National Service Centre personnel are trained to manage the full service delivery cycle, from request to completion, on your behalf.