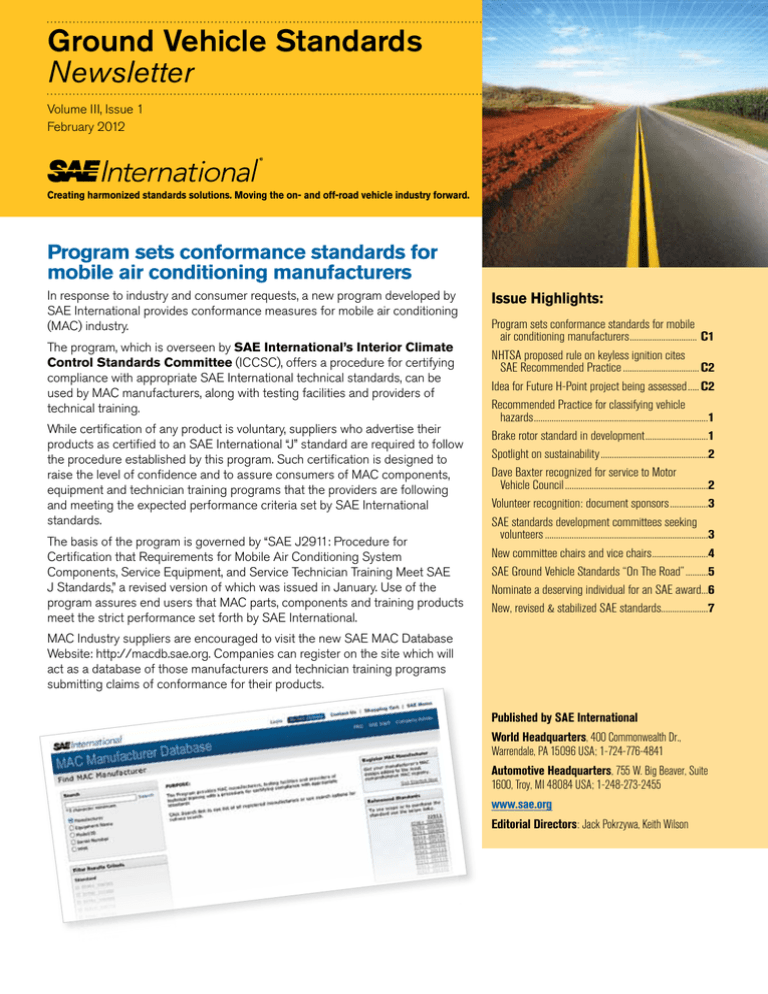 Ground Vehicle Standards
Newsletter
Volume III, Issue 1
February 2012
Creating harmonized standards solutions. Moving the on- and off-road vehicle industry forward.
Program sets conformance standards for
mobile air conditioning manufacturers
In response to industry and consumer requests, a new program developed by
SAE International provides conformance measures for mobile air conditioning
(MAC) industry.
The program, which is overseen by SAE International's Interior Climate
Control Standards Committee (ICCSC), offers a procedure for certifying
compliance with appropriate SAE International technical standards, can be
used by MAC manufacturers, along with testing facilities and providers of
technical training.
While certification of any product is voluntary, suppliers who advertise their
products as certified to an SAE International "J" standard are required to follow
the procedure established by this program. Such certification is designed to
raise the level of confidence and to assure consumers of MAC components,
equipment and technician training programs that the providers are following
and meeting the expected performance criteria set by SAE International
standards.
The basis of the program is governed by "SAE J2911: Procedure for
Certification that Requirements for Mobile Air Conditioning System
Components, Service Equipment, and Service Technician Training Meet SAE
J Standards," a revised version of which was issued in January. Use of the
program assures end users that MAC parts, components and training products
meet the strict performance set forth by SAE International.
Issue Highlights:
Program sets conformance standards for mobile
air conditioning manufacturers............................... C1
NHTSA proposed rule on keyless ignition cites
SAE Recommended Practice................................... C2
Idea for Future H-Point project being assessed...... C2
Recommended Practice for classifying vehicle
hazards...............................................................................1
Brake rotor standard in development.............................1
Spotlight on sustainability.................................................2
Dave Baxter recognized for service to Motor
Vehicle Council.................................................................2
Volunteer recognition: document sponsors..................3
SAE standards development committees seeking
volunteers..........................................................................3
New committee chairs and vice chairs..........................4
SAE Ground Vehicle Standards "On The Road"...........5
Nominate a deserving individual for an SAE award...6
New, revised & stabilized SAE standards.....................7
MAC Industry suppliers are encouraged to visit the new SAE MAC Database
Website: http://macdb.sae.org. Companies can register on the site which will
act as a database of those manufacturers and technician training programs
submitting claims of conformance for their products.
Published by SAE International
World Headquarters, 400 Commonwealth Dr.,
Warrendale, PA 15096 USA; 1-724-776-4841
Automotive Headquarters, 755 W. Big Beaver, Suite
1600, Troy, MI 48084 USA; 1-248-273-2455
www.sae.org
Editorial Directors: Jack Pokrzywa, Keith Wilson
NHTSA proposed rule on keyless ignition cites
SAE Recommended Practice
Recommended Practice for classifying vehicle hazards
In response to past cases of unintended acceleration, the U.S. National Highway Traffic Safety
Administration (NHTSA) has issued a NPRM (Notice of Proposed Rulemaking) proposing to
standardize the operation of controls that are used to stop a vehicle engine or other propulsion
system, and that do not involve the use of a physical key.
NHTSA used SAE's Recommended Practice J2948 as a foundation for the NPRM, while noting
that their proposed rule differs from the J2948 on several points.
Developed by the Controls and Displays Standards Committee and its Keyless Ignition
Subcommittee, J2948, ("Keyless Ignition Control Design"), which establishes guidelines for the
operation of automotive keyless ignition systems, was issued in January 2011. This Recommended
Practice is designed to help minimize user-instigated errors by providing design recommendations
pertaining to uniform labeling, indication of vehicle ignition/control status, and physical control
characteristics of keyless ignition systems.
Idea for Future H-Point project being assessed
Members of SAE's Human Accommodations and Design Devices Standards Committee
are exploring whether there is interest in establishing a new Cooperative Research Development
Project regarding the development of an H-Point Machine for straddle/saddle seating. This type
of seating, used on motorcycles and other off road vehicles (such as snowmobiles and certain
watercraft) cannot be measured with the present SAE H-Point Machines.
H-Point Machines are used to describe the seated occupant's posture and position in the
seating package and provide reference locations (H-Points) to define space and comfort related
measurements. A future H-Point Machine designed specifically for motorcycles and off-road
vehicles could provide that industry with standardized tools and measurement procedures useful in
the design and development of such vehicles.
If you or your company has an interest in this concept, please contact Gary Pollak at gary@sae.org
or 724-772-7196.
The SAE Functional Safety Committee is developing "J2980: Considerations for ISO 26262
ASIL Hazard Classification." Projected to be finalized later this year, this recommended practice
is intended to provide guidance for classifying vehicle-level hazards utilizing the ISO 26262 ASIL
classification method.
This document aims to "get everyone on the same page on how to apply ISO 26262," says
Committee Chairman Dave Hartfelder, Senior Manager, General Motors. This ISO standard
("Road Vehicles – Functional Safety") addresses possible hazards caused by malfunctioning behavior
of electrical and/or electronic (E/E) safety-related systems, including interaction of the systems.
J2980 will provide guidance to determine the exposure, severity, and controllability for vehicle
level hazards. A template for documenting the pertinent hazard classification rationale will also be
provided. The committee is in the process of forming three international work groups that will begin
applying J2980 to obtain real-world experience to classifying hazards in propulsion and driveline,
steering and suspension, and brakes, trailer brakes and park brakes. The workgroup experience
and learning gained from applying the Draft J2980 will be fed back into making the document more
understandable and comprehensive prior to approving and releasing it later this year.
ISO 26262 is also the focus of the new SAE webinar "Overview and Impact of the Automotive
Functional Safety Standard ISO 26262," which debuts on March 21 and 23. Instructed by Joseph
Miller, Chief Engineer of Systems Safety at TRW Automotive (and a member of the Functional Safety
Committee), the webinar will discuss the scope of ISO 26262, it's differences from the general safety
standard IEC 61508, and how the scope changes with the introduction of new systems. For more
information on this webinar, visit http://www.sae.org/pdevent/WB1134.
Brake rotor standard in development
SAE's Brake Dynamometer Standards Committee is developing a new recommended
practice which details dynamometer testing and performance criteria for assessing brake rotor crack
generation and propagation during high-energy brake applications.
"J2928: Rotor/Drum Crack and Strength Dynamometer Test Procedure" is derived from common
test sequences used within the industry. The significant increase in vehicle applications, in addition
to the number of rotor and drum designs and configurations, create the need for a standardized
single-ended inertia dynamometer procedure to verify the specific part design.
The recommended practice provides standard description and nomenclature for rotor types, designs,
and main dimensions. The guidelines are designed to make the testing process more cost-effective
by providing an industry-endorsed protocol to detect rotors with potential thermal issues during heavy
braking. The standard has been developed in collaboration with OEMs, Tier 1 and Tier 2 suppliers,
aftermarket suppliers, and testing facilities.
For On- and Off-Road Harmonized Standards
Solutions, All Roads Lead to SAE
Since 1905, SAE International has been providing the
common engineering requirements for new mobility
products, advanced technologies, and applications. It
is uniquely positioned to provide innovative standards
solutions to the global on- and off-road industries and their
engineering challenges.
Affina Group Inc. has recently requested that the National Highway Traffic Safety Administration
(NHTSA) adopt a federal vehicle safety standard for brake rotors based on J2928.
For automotive vehicles, SAE plays the central role in
developing essential North American emissions and safety
standards to meet some of the most stringent regulations
in the world. Through ISO, it plays a key role in bringing
standards for and from the United States market to the
global table. As the center of expertise on Commercial
Vehicle/ConAgg standards development, many of its
standards are adopted by ANSI and ISO.
Delivery options for SAE Technical Standards
• Handbook Supplements (HS) – Bound collections of technology related standards and reports
offered at less than the collective price of the individual standards in the collection.
• JPaks - Online Standards Plans – A customizable subscription plan that lets you pay for just
the documents you need and use, full text search capabilities and an alert page keep you
aware of changes and updates.
• Standards on CD-ROM – An entire SAE standards library in a medium that is fast, easy to use
and remains current throughout the year.
• Databases and customizable corporate solutions. Visit http://standards.sae.org/
SAE offers a full suite of standards capabilities—committee
management, consensus-based standards development,
consortium administration, cooperative research, and
database development—providing industry, companies,
and individuals with extensive opportunities to participate,
influence, grow, and prosper.
www.sae.org
071608
1
Spotlight on sustainability
Volunteer recognition: document sponsors
SAE's Fuel Cell Committee members participate in DOE workshop
(Dec 2011 - Feb 1, 2012)
Numerous members of SAE's Fuel Cell Standards Committee and its Fuel Cell
Interface Work Group attended the National Renewable Energy Laboratory (NREL) and U.S.
Department of Energy (DOE) "Hazard Review for Retail Fueling of Hydrogen Fuel Cell Vehicles
Workshop," which was held October 27, 2011 in Troy, Michigan.
The SAE Standards Development Program thanks its Document Sponsors. These individuals have
served not only as active committee members but have dedicated their time and talent in guiding the
development of standards documents from the preparation of all drafts through balloting and publication.
The focus of the workshop derived from the Fuel Cell Interface Work Group's response to a request
from DOE to identify issues related to fuel cell vehicles. A hazard review of the fueling process was
among the issues identified by the Work Group.
During the workshop, participants were asked to identify the most important hazards associated
with retail hydrogen fueling, prioritize the hazards, and identify potential actions required to reduce or
eliminate these hazards.
The SAE Standard "J2601: Fueling Protocols for Light Duty Gaseous Hydrogen Surface Vehicles,"
developed by the Fuel Cell Standards Committee and released in 2010, describes the fueling
process between the station and the vehicle.
"The workshop highlighted areas that will be looked into in the future," said Mike Steele, Fuel
Cell Standards Committee Chair. "We can take J2601 and assess what hazards there could
be at the interface between the station and the vehicle."
Potential actions to follow up to the workshop will be discussed at the committee's March meeting.
"We need the committee membership's feedback on how want to move forward with this," Steel said.
Dave Baxter recognized for service to Motor Vehicle
Council
Dave Baxter, who chaired the SAE Motor Vehicle Council since January 2010, completed his term
at the council's December 2011 meeting.
During the meeting, he was recognized by the Council for his contributions, and presented with a
commemorative plaque by Jim Keller, incoming 2012-2013 Council chair, and Ragiemra Amato,
incoming chair of the SAE Technical Standards Board.
Richard Batzer, Lockheed Martin
Pete Chisholm, Mercury Marine
Jeff Dix, Nissan North America, Inc.
Jeremy Harms, Bobcat, Co.
William Hill
Joseph Kay, Meritor, Inc.
Frederick Kelley, Prestolite Wire, LLC
Joseph Kelly, CVG
Hiralal Patel
Jeffery Smith, Vee Engineering
Jerry Steffy, Harley-Davidson Motor Co.
Kevin Wolford, Ameca, Inc.
Scott Ziolek, Dymos of America
SAE standards development committees seeking
volunteers
Vehicle Engineering Systems Group/Exterior & Performance
Light Vehicle Exterior Sound
Road Vehicle Aerodynamics
Speedometer & Odometer
IC Powertrain Group/ IC Powertrain Steering Committee
Belt Drive
Emissions
Filter Test Methods
Vehicle Safety Systems
Active Safety Systems
Materials, Processes & Parts Council
Automotive Adhesives & Sealants
Carbon & Alloy Steels (Metals Technical Executive Steering Committee)
Non-Hydraulic Hose (Fluid Conductors Connectors Steering Committee)
Plastics
Textiles & Flexible Plastics
Electrical Systems Group
Automotive Electronic Systems Reliability
Electromagnetic Compatibility (EMR/EMI)
If you would like to influence the direction of standards and the future of the global ground vehicle
industry—while benefiting from the professional development, networking, and peer recognition
opportunities volunteering brings—you may express your interest online at the
SAE International website at this link: http://www.sae.org/standardsdev/participationReq.htm
Outgoing Motor Vehicle Council Chair Dave Baxter
(right) with incoming SAE Technical Standards
Board Chair Ragiemra Amato
Dave Baxter (right), who completed his term as Motor
Vehicle Council Chair in December, with incoming chair
Jim Keller
Upcoming Standards Technical Committee Meetings
A current schedule can be found on the SAE website. http://www.sae.org/standards/
2
3
New committee chairs and
vice chairs
Donovan Hetteen, Polaris Industries, Inc. – Chair,
Snowmobile Technical Committee
John Lenkeit, Dynamic Research Inc. – Chair,
Specialized Vehicle and Equipment Council
Walter Ross – Vice-Chairman, Specialized
Vehicle and Equipment Council
Jimmy Eavenson, MTD Products – Chair, Special
Purpose Vehicle Committee
Brian Buchholz, John Deere & Co – Chair, Small
Engine and Powered Equipment Committee
Edward Haberstroh, Briggs & Stratton Corp –
Vice-Chair, Small Engine and Powered
Equipment Committee
Daniel Ostrosky, Yamaha Motor Corp USA –
Chair, Personal Watercraft Committee
Robert Newsome, National Marine Manufacturers
Association – Vice-Chair, Personal Watercraft
Committee
Paul Casperson, Caterpillar Inc – Chair, CTTC
C2, Electrical Components and Systems
Edward Heck, HED (Hydro Electronic Devices
Inc) – Vice-Chair, CTTC C2, Electrical
Components and Systems
Paul Tuckner, Grace Technologies – Chairman,
Committee on Automotive Rubber Specs
Steven Monthey, Rhein Chemie Corporation –
Chair, Non-Hydraulic Hose Committee
Dr. Bart Terburg, Osram Sylvania – Chair, SAE
Lighting Coordinating Advisory Group
Joseph D. Jaklic, Osram Sylvania Products –
Vice-chair, SAE Lighting Coordinating Advisory
Group
James E Johnson, Valeo Sylvania LLC –
Vice-chair, SAE Lighting Materials Standards
Committee
Zachary Doerzaph, Virginia Tech – Chair, SAE
Crash Data Collection and Analysis Steering
Committee
John C. Steiner, KEVA Engineering – Co-chair,
SAE Crash Data Collection and Analysis Steering
Committee
SAE: A Global Partner in
Standards Development
In addition to the maintenance and
development of its family of technical
standards, SAE International is
also an active partner with other
standards development organizations,
government agencies, and regulatory
bodies to support the newest, most
robust, and comprehensive standards
products for a changing global
marketplace.
• US Department of Transportation
• Society of Automotive Engineers
of Japan (JSAE)
• German Electrical and Electronic
Manufacturers Association (ZVEI)
• US Federal Highway Administration • China Automotive Technology &
Research Center (CATARC)
• National Highway Traffic Safety
Administration
• Korean Agency for Technology
and Standards (KATS)
• US Department of Energy
• Japan Automobile Research
Institute (JARI)
• US Environmental Protection
Agency
• Brasilian National Standards
Organization (ABNT)
• American National Standards
Institute (ANSI)
• Automotive Electronics Council
(AEC)
• International Organization for
Standardization (ISO); US
representative
SAE Ground Vehicle Standards "On The Road"
A re-cap of recent and upcoming events at which SAE will participate
• SAE International CEO Dr. David Schutt, and Keith Wilson, Technical Project Manager, SAE
Global Ground Vehicle Standards, presented an overview of SAE Ground Vehicle Standards
activities related to electric vehicles (EV) and plug-in hybrid electric vehicles (PHEV) at the
World Smart Grid Conference in Beijing, China on November 8-10, 2011. They discussed
conductive charging, wireless charging, communications to the grid system, lithium-ion batteries,
and hydrogen fuel cell filling, and provided an overview of SAE Cooperative Research Projects.
• Keith Wilson attended the SAE EV/PHEV Batteries and E-Motor Conference in Shanghai,
China on November 14 – 18, 2011. He displayed SAE EV/PHEV conductive charge connectors
developed by the SAE Hybrid Vehicle Committees and provided technical information on Ground
Vehicle Standards activities.
• Jack Pokrzywa, SAE Ground Vehicle Standards Manager, held meetings with management of
European Telecommunication Standards Institute (ETSI) regarding collaborative agreement
between the ETSI ITS Technical Committee Work Group 1 and the SAE DSRC Committee. The
agreement is expected to be signed during ETSI General Assembly Meeting in March.
• Gary Pollak, Program Manager- Ground Vehicle Standards Technical Projects, participated in
the ANSI EVSP (Electric Vehicle Standards Panel) Steering Committee Meetings on
November 17-18, 2011 in Washington, DC. The SAE Technical Standards Committee industry
members requested that SAE Staff represent them and act as the focal point for SAE in this
ANSI initiative that has been ongoing since spring of 2011. The workshops that took place
during the meeting coordinated all input to finalize the first draft of the ANSI report to be
published and released early in 2012.
• Peter Byk, Technical Project Manager - Global Ground Vehicle Standards, attended the World
Forum for Harmonization of Vehicle Regulations (Working Party –"WP.29") Meetings, from
November 15-18, 2011 in Geneva, Switzerland. The Working Party, a permanent body of the United
Nations Economic Commission for Europe, serves as a global forum for discussions of current and
new motor vehicle regulations. SAE International has been granted Special Consultative status by
the United Nations and is recognized as a Non Government Organization (NGO).
• Peter Byk and Keith Wilson attended the SAE Government Industry Conference, January
25 - 27, in Washington DC. Meetings were held with both industry and government executives
to discuss Ground Vehicle Standards development activities in areas such as EV / PHEV's,
advanced safety, cyber security, ITS, fuel cell vehicles and SAE Cooperative Research Projects.
Look for SAE-I at these upcoming events…
• Jorn Tinnemeyer, Chair of the Battery Standards Electronic Fuel Gauge Committee,
will speak at the EV Battery Technology Conference in London on February 28-29, 2012. He
will provide an overview of SAE Ground Vehicle Standard development activities in each of the
16 SAE battery committees.
• Keith Wilson will present an overview of SAE Ground Vehicle Standards activities related to EVs
and PHEVs at the SAE 2012 Hybrid Vehicle and Electric Vehicle Technologies Symposium,
February 21-24 in San Diego, California. He will provide an overview of SAE Cooperative
Research Projects and display SAE EV/PHEV conductive charge connectors developed by the
SAE Hybrid Vehicle Committees.
• SAE Standards activities will be featured in a table-top exhibition at the 2012 IEEE
International Electric Vehicle Conference, March 4-8 in Greenville, South Carolina. Keith
Wilson will present an overview of SAE Ground Vehicle Standards activities related to EVs and
PHEVs and participate in a panel discussion on EV standards.
4
...continued on next page
5
...continued from previous page
• At the SAE BRASIL New Automotive Technology Symposium on March 26 in Sao Paulo, Brazil,
SAE Technical Project Manager Keith Wilson will present a comprehensive overview of the
latest SAE standards development and research efforts in the area of PHEV (Plug-in Hybrid
Electric Vehicles) and BEV (Battery Electric Vehicles) including charging solutions, battery safety,
interoperability and communication between EV and the electric grid.
• Keith Wilson will participate in a panel discussion at the National Alliance for Advanced
Technology Batteries in Chicago, Illinois on April 2. He will provide an overview of the SAE
Cooperative research Project for Rechargeable Energy Storage Systems (RESS) Safety, and
provide an overview of standards development activities by SAE's battery committees.
• Robert Galyen, Chair of the SAE Battery Standards Steering Committee, will speak at
the Advanced Lithium Ion Battery International Symposium in Charlotte, North Carolina on
April 18-20. He will provide an overview of standard development activities by each of the 16 SAE
battery committees, and discuss the development of two new SAE battery standards committees.
• Ground Vehicle Standards staff members will attend the SAE 2012 World Congress on April
22-24 in Detroit, Michigan to meet with both industry and government executives to discuss
Ground Vehicle Standards development activities in areas such as EV / PHEV's, advanced
safety, ITS, fuel cell vehicles and SAE Cooperative Research Projects. In addition, SAE Ground
Vehicle Standards Committee meetings will be held during the SAE 2012 World Congress event
at both Cobo Hall and SAE Automotive Headquarters.
Nominate a deserving individual for an SAE award
Arch T. Colwell Cooperative Engineering Medal
Nomination Deadline: July 1
This award recognizes a unique and outstanding contribution over a period of time to the work
of the technical committees under the SAE Technical Standards Board in developing standards,
specifications, technical reports, and data through cooperative research.
The medal was named in honor of Arch T. Colwell, its first recipient and 1941 SAE President. Dr. Colwell
symbolized the dedication and devotion of SAE members who work to further the objectives of the
SAE Technical Standards Program. The award is intended to stimulate technical committee members to
greater accomplishments and the realization of satisfaction that comes from sharing their expertise.
It is administered by the SAE Technical Standards Board. It consists of a medal and a framed
certificate and is presented at the Awards Ceremony during the SAE World Congress or at another
appropriate venue.
Submit nominations at www.sae.org/awards
An economical pathway for joint venture research:
the Cooperative Research Program of SAE
Cooperative research ventures serve to bring more minds to the
challenges and issues faced by industry. The result is a more
robust project than each participating organization could complete
independently. The pooling of financial resources also affords each
participant more efficient use of their research budgets and eliminates
duplication of efforts. Whether moving forward on the development
of fuel cell standards…researching alternative refrigerants to HFC
134a…or developing a database of human body measurements to
foster ergonomic designs, SAE's Cooperative Research Program can
assist your company in its collaborative research needs.
To learn more contact Gary Pollak, Program Manager +1-724-7727196; gary@sae.org
6
New, revised & stabilized SAE standards (Dec 2011 – Feb 1, 2012)
Committee
Doc
Title
Status
Pub Date
Construction, Agricultural & Off-Road Machinery Council
Excavators
J1309_201201 Travel Performance and Rating Procedure, Crawler
Mounted Hydraulic Excavators, Material Handlers,
Knuckle Boom Log Loaders, and Certain Forestry
Equipment STABILIZED 01/06/12
Materials, Processes & Parts Council
Hydraulic Tube Fittings
Committee
J514_201201 Hydraulic Tube Fittings Revised 01/06/12
Test and Test Procedures for SAE 100R
Series Hydraulic Hose and Hose Assemblies Revised 01/06/12
Brake Linings Standards
Committee
J866_201201 Friction Coefficient Identification and Environmental
Marking System for Brake Linings Revised 01/16/12
Interior Climate Control
Committee
J2299_201201 Ultraviolet Leak Detection: Performance
Requirements for Fluorescent Refrigerant Leak
Detection Dye Injection Equipment for Aftermarket
Service of Mobile Air-Conditioning Systems STABILIZED 01/11/12
J2911_201201 Procedure for Certification that Requirements
for Mobile Air Conditioning System Components,
Service Equipment, and Service Technician Training
Meet SAE J Standards Revised 01/12/12
Hydraulic Hose and Hose
Fittings Committee
J343_201201 Motor Vehicle Council
Inflatable Restraints
Committee
J2961_201201 Linear Impact Test for Passenger Airbag Modules
Component Evaluation Issued 01/11/12
Cooling Systems Standards
Committee J1390_201201 Engine Cooling Fan Structural Analysis Revised 01/09/12
Human Accom and Design
Devices Stds Comm
J2896_201201 Motor Vehicle Seat Comfort Performance
Measures Issued 01/06/12
Hybrid - EV Committee
J2931/1_201201 Power Line Carrier Communications for
Plug-in Electric Vehicles Issued 01/24/12
Revised 01/06/12
Revised 01/06/12
Truck and Bus Hydraulic
Brake Committee
J2690_201201 Driveline Parking Brake Test Procedure for
Medium Duty Vehicles Issued 1/18/12
Truck and Bus Windshield Wipers
and Climate Control Comm J1944_201201 Truck and Bus Multipurpose Vehicle Windshield
Washer System Revised 01/11/12
Truck and Bus Electrical
Systems Committee
J2549_201201 Single Conductor Cable for Heavy-Duty
Applications - Truck and Bus Revised 01/13/12
Specialized Vehicle & Equipment Council
Motorcycle Technical
Steering Committee
J331_201201 Sound Levels for Motorcycles Marine Technical Steering
Committee
J1928_201201 Devices Providing Backfire Flame Control
for Gasoline Engines in Marine Applications Truck & Bus Council
Standards Consortium Administration
With over a century of experience providing the common engineering requirements for new mobility vehicles,
SAE can be a key component in developing any consortium-based activity, providing the expertise and
worldwide technological and human resources to help you turn your vision into a successful operating reality.
Each client maintains its desired degree of autonomy, flexibility, and control. Client/project-tailored services include:
• A legal framework
• Publishing and distribution services
• Fiscal oversight
• Marketing and public relations activities
• Policy and procedure development
7
Improve interior package design, increase
vehicle safety, and ensure international
compliance with the SAE H-Point Machine
Gain a competitive advantage. Impact your bottom line.
Invest in standards.
A three-dimensional manikin that provides the physical representation of driver H-points, the H-Point Machine
(HPM) is used to define and measure vehicle seating accommodations. Offering a deflected seat rather than a
free seat contour as a reference for defining seat space, it is a vital tool in the design of interior packages.
Available through SAE International, the HPM is used in conjunction with SAE Standard J826 and is currently
referenced in various federal and international regulations including NHTSA's FMVSS in the US and ISO
standards. Utilized in testing for compliance to such regulations involving impact/crash, head restraint, or vision,
it is the required safety certification tool for vehicle production in many countries around the world. Additionally,
those who need to locate seating reference points and torso angles as reported by manufactures employ the
SAE H-Point Machine.
And for advance design and research applications, the HPM-II is available, which includes reformed shells for a
consistent and reliable fit in bucket seats, an articulating back for lumbar support measurement, and the ability to
measure the H-point without using legs resulting in simpler installation.
Technical standards enable and enhance:
• consistent and clear expectations for product performance and reliability
• regulatory compliance
• consistent product quality
• compatibility and interoperability
• more efficient procurement
Standardization also:
• lowers trade barriers
• lowers purchasing costs
• decreases design time
• promotes innovation
• increases new technology speed to market
Is one SAE HPM enough?
Because industry can rely on standards for globally harmonized solutions to common issues,
individual companies can devote more time and resources to advance their proprietary technology.
In this way, standards help foster competition, which advances the collective technology of industry
and in turn, creates the need for new and revised standards. This has been the cycle for ground
vehicle standards solutions.
If your company tests and certifies
to FMVSS 202a, it might not be.
NHTSA's head restraint regulation is now
fully in effect. That means, in the US and
Canada, front—and now rear seats—must
meet FMVSS 202a. NHTSA is also
encouraging the EU and UN ECE to
adopt similar regulations.
Standards. The workhorse documents that commonize practices, processes, and products
throughout the ground vehicle industry are also paramount to the advancement of technology.
Standards documents are more than the practices of today. They account for history and anticipate
the future of technology, regulation, and business. The direct benefits of standards are simple in
concept but extraordinary in their global impact toward ever-safer, cleaner, more efficient worldwide
transportation.
And, at the heart of those solutions is SAE International, the recognized leader in mobility
engineering for over 100 years. It plays the central role in developing North American automotive
standards and a key role in bringing US documents to the global standards table, working hand-inhand with the global community to advance industry.
View video at
store.sae.org/ea/hpoint.htm
While participation in the standards development process helps the advancement of the industry it
can also contribute to the advancement of your company and personal career.
To meet FMVS 202a, a head restraint measuring device is attached to the
SAE HPM. It is recommended in revised SAE Standard J826 Nov 2008 that
a separate and unique HPM and HMPD for head assessment be used to
eliminate any measurement variability that the HRMD may introduce.
Corporate Benefits
• Input into the direction of the standards
• Competitive intelligence through advance knowledge of standard direction
• Advance warning of pending regulations and influence over the technical basis of the regulation
• Insight into the competitive environment
• Product liability protections
• Strong relationships with customers and suppliers
• Association with the leading society for advancing mobility technology
Ensure North American compliance and be prepared for changes
in EU/UN ECE regulations. Consider a second, dedicated SAE
HPM—one for conventional HPM measurements and one for head
restraint assessments.
Individual Benefits
• Professional development from continuous working contact with peers
• Peer recognition for advancing your industry's sectors technologies
• Excellent networking and learning opportunities from product developers/users around the world
• Discover emerging technologies
• Contribute to the industry's body of technical knowledge
Contact:
SAE International Customer Service Phone:
1-877-606-7323 (U.S. and Canada only);
1-724-776-4970 (outside U.S. and Canada)
Email: CustomerService @sae.org
8
To learn more about SAE Technical Standards Development—and for a schedule of Technical
Committee meetings—visit us on the web at
http://www.sae.org/standards/
Become a better you. Volunteer for
an SAE Standards Development Committee.
9
P101445
P120170
Chassis Systems Group
IC Powertrain Groups
Roxanne Loeffler – rloeffler@ sae.org
Kris Siddall – ksiddall@sae.org
Jill Kqiraj – gjysta@sae.org
Peter Byk – peterbyk@sae.org
Lorie Featherstone – lfeather@sae.org
Micheline Brussow - mbrussow@sae.org
Patricia Ebejer – pebejer@sae.org
Nikki Ameredes – nameredes@sae.org
Jana Wright – jwright@sae.org
Automotive Quality & Process
Improvement Committee
IC Powertrain Steering Committee
Automatic Trans Transaxle
Automatic Trans Friction
Driveline Standards
All Wheel Drive
Emissions
Engine Power Test Code
Belt Drive
Air Cleaner Test Code
Piston and Ring Standards
Filter Test Methods
Gasoline Fuel Injection
Ignition
Fuel System Standards
Spark Arrester
Jack Pokrzywa – jackp@sae.org
Keith Wilson – kwilson@sae.org
Collision Repair
Graphics Based Service Info
Green Technology Steering Committee
Green Bio-Materials Task Force
Green Terminology Task Force
Green Technology Groups
Vehicle E/E Systems Diagnostic
Electronic Design Automation
Vehicle Arch. for Data Communications
Vehicle Electric Power Supply
Embedded Software
Automotive Electronic Systems Reliability
Vehicular Flat Panel Display
Electromagnetic Compatibility (EMC)
Electrical Distribution Systems Strg. Cmte
Connector Systems
Cable Standards
Harness Covering
Circuit Protection & Switch Devices
Functional Safety
Automotive OEM EMC
Event Data Recorder
Electrical Systems Group
Light Duty Vehicle Performance & Economy
Measurements
Light Vehicle Exterior Sound
On-Road Autonomous Vehicle Standards
Road Vehicle Aerodynamics
Speedometer & Odometer
Tow Vehicle Trailer Rating
WIN/WMI
Wiper Standards
Exterior and Performance
Dynamical Modeling and Simulation
Glazing Materials
Adaptive Devices
Controls & Displays
Cooling Systems
Dedicated Short Range Communications
Advanced Traveler Information Systems
Human Accommodations and Design Devices
Interior Climate Control
Volatile Organic Compounds
Horsepower Certification
J2746 Software Assessment Repository
On Board Diagnostics Databases
MAC Equipment Conformance
Standards Derivative Programs
H-Point Machines
WMI/VIN
WMC/PIN
Wheel Conformance
MAC Refrigerant Blends (MRB CRP)
High Strain Rate Plastics
Alternative Refrigerants
IMAC
CRP1234yf Alt Refrigerant Assessment
ITS Projects
CRP150 Low GWP Alt Refrigerants Assessment
CAESAR
High Temperature Battery Study
Ergonomics
Emergency Vehicle Lighting
Gage R&R of HPM
Truck Cab Anthropometric Study
Otologic Trauma
Vehicle Sound Level for Pedestrians
Plastics Suitable for use with H2
H2 Fuel Cell Station Breakaways, Hoses, Fittings and Nozzles
Cooperative Research Projects
TC 1 – Engine Lubrication
TC 2 – Industrial Lubricants
TC 3 – Driveline & Chassis Lubrication
TC 7 - Fuels
Fuels & Lubricants Council
Automotive Adhesives & Sealants
Plastics
Spline B92
Spring Steering Cmte
Coil Spring
Leaf Spring
Pneumatic Spring
Torsion Bar Spring & Stabilizer Bars
Textile & Flexible Plastics
Vibration Control
Fluid Conductors Connectors SC
C1 Hydraulic Tube Fittings
C2 Hydraulic Hose & Hose Fittings
C5 Metallic Tubing
Cmte on Automotive Rubber Specs
Non-Hydraulic Hose
Hose/Clamp Performance & Compatibility
Fatigue Design & Eval Advisory Group
Surface Enhancement
Material Properties
Structural Analysis
Fatigue Lifetime Predictions
Road Load Data Acquisition
Component Testing & Simulation
Squeak and Itch Compatibility Task Force
Ground Vehicle Reliability
Terrain Modeling Task Force
Software System Reliability SC
Unmanned Ground Vehicle Reliability TF
CBM (Condition Based Management) SC
Elev Tep Prop of Ferrous Metals
Automotive Corrosion & Prevention
Acoustical Materials
Fasteners
Metals Technical Executive Steering Cmte
Carbon & Alloy Steels
Metals Test Procedures
Automotive Iron & Steel Castings
Sheet & Strip Steel
Work Truck Safety Committee
Advanced & Hybrid Powertrain SC
Alternative Fuels
Clutch, Transmission & Power Take-Off
Hybrid Safety
Hydraulic Hybrids
Body & Occupant Environment SC
Truck Crashworthiness
Windshield Wipers & Climate Control
Human Factors
Electrical/Electronic Steering Cmte
Low Speed Communications Network
Control and Communications Network
Event Data Recorder
Electrical Systems
Brake and Stability Control SC
Active Safety Systems
Foundation Brake
Brake Actuator
Brake Systems
Hydraulic Brake
Wheel
Stability Control Systems
Air Brake Tubing & Tube Fittings
Total Vehicle Steering Cmte
Tire Pressure Management Systems
Corrosion
Aerodynamics/Fuel Economy
Tire
Electrified Powertrain Groups
EV/HEV Steering Committee
Hybrid/EV Technical Committee
J1772 Task Force
J2836tm-J2847 Task Force
J2344 Task Force
J2894 Task Force
J2954 Task Force
Fuel Cell Standards Committee
Emissions Performance
Interface
Safety
Battery Standards Steering Committee
Labeling
Battery Transportation
Testing
Battery Recycling
Safety
Starter Battery
E-Fuel Gauge
Small Task Battery
Battery Terminology
Secondary Battery Use
Truck and Bus Battery
Battery Test Equipment
Battery Materials Testing
Battery Size Standardization
Advanced Battery Concepts
Vehicle Engineering Systems
Comfort & Convenience
Gary Pollak - gary@sae.org
Service
Towability
Service Development Steering
Committee
Driver Vision
Safety & Human Factors Steering Cmte
Vehicle Sound for Pedestrians (VSP)
Active Safety Systems
Crash Data Collection and Analysis SC
Restraints System Standards St. Cmte
Child Restraints
Seat Belt Systems
Inflatable Restraints
Safety Systems Components Advisory Grp
Human Biomechanics & Simulation SC
Dummy Testing & Equip
Dummy Dev Eval Advisory Group
Impact & Rollover Test Procedures Stds
Safety Test Instrumentation Standards
Vehicle Safety Systems
Lighting Coordinating Advisory Group
Heavy Duty Lighting Standards
Road Illumination Devices Standards
Signaling and Marking Devices Standards
Test Methods and Equipment Standards
Emergency Warning Lights and Devices
Lighting Materials Standards
International Lighting Advisory Group
Lighting Standard Practices Standards
International Cooperation
International Lighting Advisory Group
Brake Fluids Standards
Automotive Brake & Steering Hose Standards
Hydraulic Brake Components Standards
Highway Tire Forum Steering Cmte
Vehicle Dynamics Standards
Wheel Standards
Hydraulic Brake Actuating Forum AG
Brake Linings Standards
Brake NVH Standards
Brake Dynamometer Standards
Brake Forum Steering Cmte
Materials, Processes & Parts
Council
Truck & Bus Council
Motor Vehicle Council
Ground Vehicle Standards Committees
Match your expertise with one of the many SAE Technical Standards Development Committees
that are writing the common engineering requirements for the advancement of the ground vehicle industry.
Ground Vehicle Standards Committees & Staff Contacts
Contact Information:
SAE International
(248) 273-2455
www.sae.org
Ship Fluid Systems
Fasteners
1/2012
Ship Systems Technical Steering Cmte
Gooseneck & Fifth Wheel
Trailer Dynamics
Conventional Towing to 20,000 lbs
Trailer Terminology
Trailer
Marine Engine Fuel Systems
Marine Electrical Systems
Marine Technical Steering Cmte
Motorcycle Sound Level
Electric Motorcycle
Personal Watercraft
Small Engine & Powered Equip
Snowmobile
Special Purpose Vehicle
Motorcycle Technical Steering Cmte
Specialized Vehicle & Equipment
Council
Operator Protection Tech Adv. Grp
Personal Protection (General)
Braking
Lighting and Marking
Protective Structures
Sound Level Technical Steering Cmte
Earth Moving Machinery Sound Level
Back-up and Forward Warning Alarms
Loaders, Crawlers, Scrapers &
Attachments
Sweeper, Cleaner & Machinery
Industrial Equipment
Forestry & Logging Equipment
Excavators
Roadbuilding Machinery
Tire & Rim
Trenching & Boring
Machine Technical Steering Cmte
Machine Controls – Operator
Machine Displays and Symbols
Operator Seating and Ride
Operator Accommodation
Human Factors Technical Adv. Grp
Hydraulics
Electrical Components
Cold Weather Operations
Common Tests Technical SC
Construction, Agricultural &
Off-Road Machinery Council
.