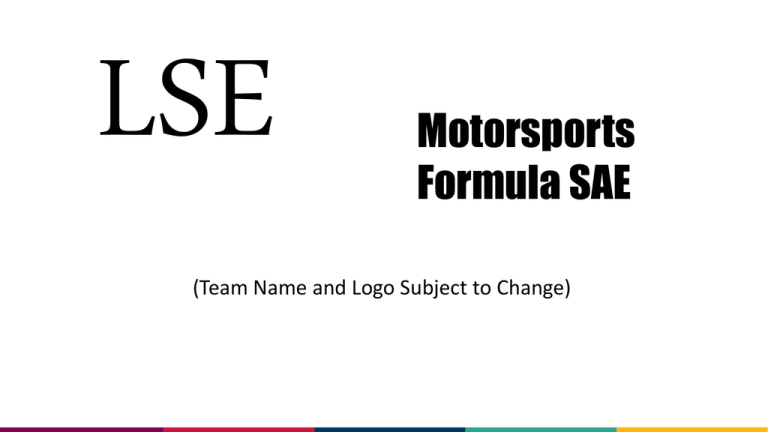 LSE
Motorsports
Formula SAE
(Team Name and Logo Subject to Change)
What is Formula SAE?
• Formula SAE is a student design competition organized by SAE
international
• The first competition was held in 1979
• It was originally started as an alternative to the Mini-Baja event that
would allow students to work on engines (Mini-Baja must use a
supplied engine)
What is Formula SAE?
• The concept behind Formula SAE is that a fictional manufacturing
company has contracted a design team to develop a small Formulastyle race car.
• The prototype race car is to be evaluated for its potential as a
production item.
• The target marketing group for the race car is the non-professional
weekend autocross racer.
• Each student team designs, builds and tests a prototype based on a
series of rules whose purpose is both to ensure onsite event
operations and promote clever problem solving.
Competitions
•
•
•
•
Several competitions are held each year
The event held in Michigan is the largest and longest running event (May)
There is also an event held in Nebraska (June)
Internationally, there are events held around the world including:
•
•
•
•
•
•
•
Formula SAE Australasia
Formula SAE Brazil
Formula SAE Italy
Formula Student (UK)
Formula Student Austria
Formula Student Germany
Formula SAE Japan
General Design Requirements
• Vehicle must be open-wheeled and open-cockpit
• Must fit a driver ranging from the 5th percentile female to 95th
percentile male
• Engine must be 4 stroke, and displacement cannot exceed 610cc
• All air entering the engine must pass through a 20mm restrictor
Competition Judging
• Cars are judged based on a series of events
• The events fall under two categories:
• Static Events
• Dynamic Events
Static Events
• Technical Inspection
• Does the vehicle meet the FSAE rules?
• Cost and Manufacturing
• Report on how much the vehicle will cost, including manufacturability
• Presentation
• How well can you present the business case for your car?
• Design
• Evaluate the engineering design work that went into the car
Dynamic Events
• Acceleration
• Straight Drag 75m long
• Skid Pad
• Fastest time on a figure-8 track
• Autocross
• Track with lots of tight turns, measure maneuverability
• Efficiency + Endurance
• 22km track that must be completed at a minimum speed
• Measures fuel efficiency and ability of your car to not break down
Scoring
• Static Events
Technical Inspection
Cost and Manufacturing
Presentation
Design
Total
No Points
100 Points
75 Points
150 Points
325 Points
• Dynamic Events
Acceleration
Skid Pad
Autocross
Efficiency
Endurance
Total
75 Points
50 Points
150 Points
100 Points
300 Points
675 Points
Local Formula SAE Teams (AKA Rivals??)
University of Toronto
Ryerson University
University of Waterloo
What are the biggest challenges in FSAE?
MEMBERSHIP
MONEY
UNIVERSITY BUREAUCRACY
Membership
•
•
•
•
Retaining members is the hardest thing
Students will spend an average of 20 hours per week on the car
Build team spirit through team uniforms, track days, etc.
Mentorship programs – Match new members with more experienced
members
• Take a leadership role!
•
•
•
•
•
Project Leader
Chief Engineer
Subsystem Leads
Treasurer
Secretary
Money
• A top vehicle requires approximately $70,000 in cash and parts
• A new vehicle must be made every year, so you need to raise this
money every year!
• Sponsorships from companies will be your lifeblood
Keep the sponsors happy and interested!
• Hold events such as sponsor days
• Send out regular newsletters updating your sponsors
• Create promotional videos
Bureaucracy
• Organizing build space
• Permission to use parking lots for testing
• Machine Shop use (will it be free or charged?)
• Faculty Supervisor support (Professor Czekanski has volunteered)
• And a million other things
Skills
SolidWorks
• Get a free student copy from the school
• Workshop coming soon
Machining Skills
• Much of the work on the car will require machine shop skills
• Mechanical Engineers will get training next year
• Other students will have to go through a training session with the machine shop
Skills
Design
• Pay attention in your 1102 class!
• Come to design club
, participate in design competitions, etc.
• Remember - Hacking≠Design
Simulation
•
•
•
•
Abaqus CAE
Ansys
Altair Hyperworks
Race-Sim software (custom)
Skills
Welding
• MIG and TIG welding
• Will hold workshop through the machine shop
Electronics
• Vehicle electrical systems
• Vehicle Telemetry
• Safety Systems
Skills
Automotive
•
•
•
•
•
•
•
Engine
Powertrain
Suspension
Braking
Structure
Aerodynamics
Material Science
Skills
Business and Administration
•
•
•
•
Leadership
Project Management
Costing and Budgeting
Networking
Future Meetings
• Meet as a group once a week
• Start dividing the work required
• Create Sub-system teams
• Build Knowledge!
• Research technical aspects and present to the team
• Build a sponsorship plan
• Start the design planning!
• Build a car design library
Homework
• Check out the Formula SAE forums
(http://www.fsae.com/forums/forum.php)
• What is the best time for you to meet?
• Think about a subsystem you want to specialize in
• Grab your graphics design buddy and make a logo!