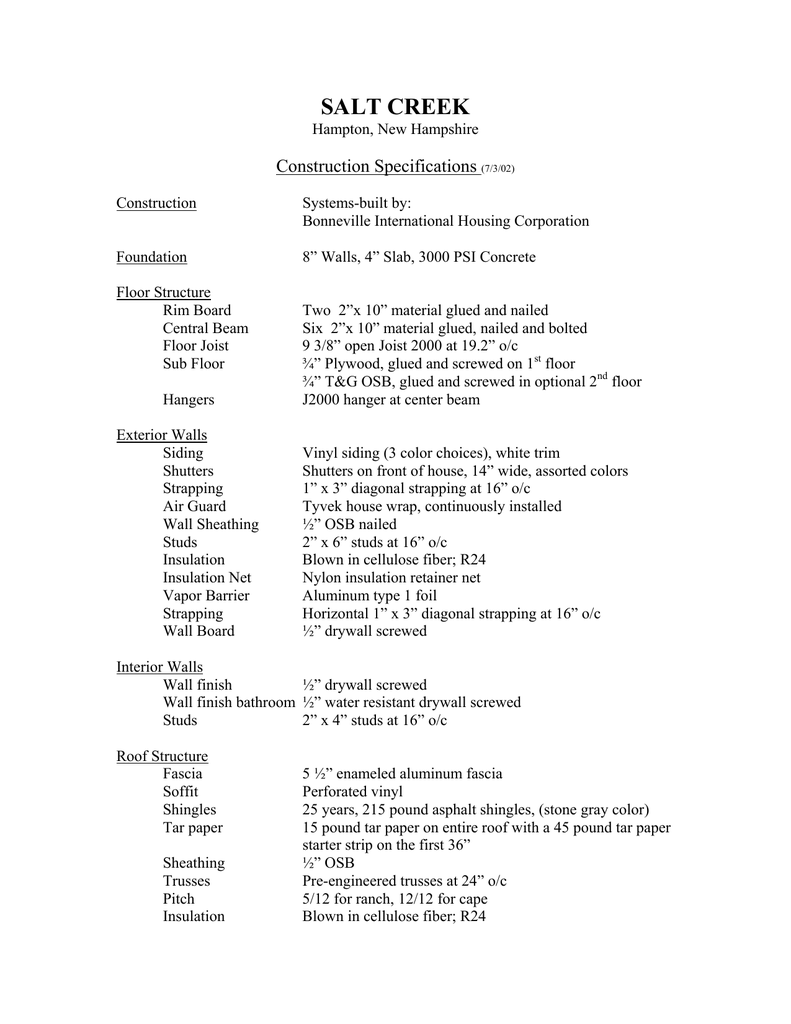 SALT CREEK
Hampton, New Hampshire
Construction Specifications (7/3/02)
Construction
Systems-built by:
Bonneville International Housing Corporation
Foundation
8" Walls, 4" Slab, 3000 PSI Concrete
Floor Structure
Rim Board
Central Beam
Floor Joist
Sub Floor
Hangers
Exterior Walls
Siding
Shutters
Strapping
Air Guard
Wall Sheathing
Studs
Insulation
Insulation Net
Vapor Barrier
Strapping
Wall Board
Two 2"x 10" material glued and nailed
Six 2"x 10" material glued, nailed and bolted
9 3/8" open Joist 2000 at 19.2" o/c
¾" Plywood, glued and screwed on 1st floor
¾" T&G OSB, glued and screwed in optional 2nd floor
J2000 hanger at center beam
Vinyl siding (3 color choices), white trim
Shutters on front of house, 14" wide, assorted colors
1" x 3" diagonal strapping at 16" o/c
Tyvek house wrap, continuously installed
½" OSB nailed
2" x 6" studs at 16" o/c
Blown in cellulose fiber; R24
Nylon insulation retainer net
Aluminum type 1 foil
Horizontal 1" x 3" diagonal strapping at 16" o/c
½" drywall screwed
Interior Walls
Wall finish
½" drywall screwed
Wall finish bathroom ½" water resistant drywall screwed
Studs
2" x 4" studs at 16" o/c
Roof Structure
Fascia
Soffit
Shingles
Tar paper
Sheathing
Trusses
Pitch
Insulation
5 ½" enameled aluminum fascia
Perforated vinyl
25 years, 215 pound asphalt shingles, (stone gray color)
15 pound tar paper on entire roof with a 45 pound tar paper
starter strip on the first 36"
½" OSB
Pre-engineered trusses at 24" o/c
5/12 for ranch, 12/12 for cape
Blown in cellulose fiber; R24
Insulation retainer
Vapor Barrier
Strapping
Ceiling Board
Benovent waxed retainer system
Aluminum type 1 foil
Horizontal 1" x 3" diagonal strapping at 16" o/c
½" drywall screwed
Doors and Windows
Front and side doors 24 gauge white steel insulated door
Sliding doors
6' white PVC sliding door with thermos glass
Windows
PVC Double hung, Low-E/argon, sealed grills and screens.
Interior Finish
Doors & window trim 2 1/8" Colonial MDF
Base boards
3 1/8" Colonial MDF
Stairs for Capes
Partical board steps with plywood risers (three stringers)
Interior doors
6 Panel colonial massonite doors, 1 3/8" hinged doors, 1
1/8" bifold, 9/16" jambs and 5/8" stopper
Handles
Polished brass
Shelving
While metal ventilated
Underlayment
3/8" plywood for linoleum areas
Flooring
Carpeting with linoleum in kitchen and
bathroom, $14.00 per square yard allowance
Paint
Color of walls- (see selections). Trim painted white.
Primer and finish coat.
Ceilings and
Interior closets
Smooth finish, white color
Plumbing and Heating
Water supply
Drains & Vents
Valves
Heat
Boiler
Washer Dryer
Ventilation
Hot water heater
Sill cocks
All copper lines, installed above floor level
PVC lines, stubbed through floor level
Anti scald valves on all bathtubs and showers
Hot water baseboard
Gas fired
Hook up for stackable washer and dryer
on 1st floor, includes 4 prong outlet for dryer.
Builder does not install washer and dryer.
Air exchanger with heat recovery ductwork
Gas fired 40 Gallon
1 in front and 1 in back
Electrical
Panel
200 Amp 40 circuit
Receptacles & outlets White decora
Basement Lights
Porcelain fixtures with 3 way switch
Phone jacks
3 phone jacks (Kitchen, Living room, Master bedroom)
Cable
2 cable jacks (Living room, Master bedroom)
Smoke Alarm
Electrically interconnected with battery back up
Electrical mast
Light fixtures int.
Light fixtures ext.
Furnace switch
Thermostat wire
Exterior outlet
Kitchen
Cabinets
Counter top
Sink & Faucet
Appliances
Hood fan
Bathroom
Vanity
Counter top
Bath
Toilet
Mirrors
Sink and Faucet
Fixture
Included UL approved
Polished brass
On each exterior door
Emergency shutoff switch for furnace
6 conductors
1 outlet in rear
White thermoplastic, choice of knobs and handles
Premolded formica top with backsplash (assorted colors)
Double stainless steel with DELTA chrome single lever
handle faucet
Allowance $1,000- Gas range, dishwasher, refrigerator
Dual speed includes exterior vent and light, white color.
White Thermoplastic, choice of knobs and handles
Premolded with integrated backsplash (assorted colors)
60" One piece fiberglass tub & shower unit
1.6 gallon water conserving toilet
Mirrors will be installed above vanity, capped wiring for
future vanity light
White ceramic sink with DELTA chrome faucet
Overhead fan / light fixture
Utilities / Services
All units have natural gas. Public sewer. Public water units 1 & 10.
All other units have common wells.
Parking and Exterior
Walkway
Parking
Front and rear stairs
Asphalt
Designated 2 cars per unit
Pressure treated wood
Other
Warranty
Architectural plans
1 to 5 year limited warranty
Complete set provided
Additional Notes:
Fees
To be determined
Cleaning
At completion of construction, Builder shall clean windows, bathrooms, dust all
wood work, mop all linoleum and vacuum all carpets.
Color Selections
Color Selection form must be completed by the buyer(s) within 5 days after signed
Purchase and Sales Agreement. If not completed within 5 days, builder reserves the right
to make all selections. All materials selected by Buyer must be available to the Builder
within the time noted. Builder reserves the right to make alternate selections or
additional charges may apply.
Builder's Changes
Builder reserves the right to make minor changes within the home to facilitate the
construction process.
Builder reserves the right to substitute products or materials of same or greater quality.
Changes
All changes/modifications to specifications and or plans after signed Purchase and sales
Agreement are subject to a two hundred and fifty dollar ($250.00) change fee. All
Purchase and Sales Agreements include one free change order.
Some items cannot be changed or added after the signed Purchase and Sales.
Site Visits
Due to liability and safety, all visits to any home site or model home must be
accompanied by a representative of Russell Associates, Inc.
* Subject to errors, omissions and changes without notice.