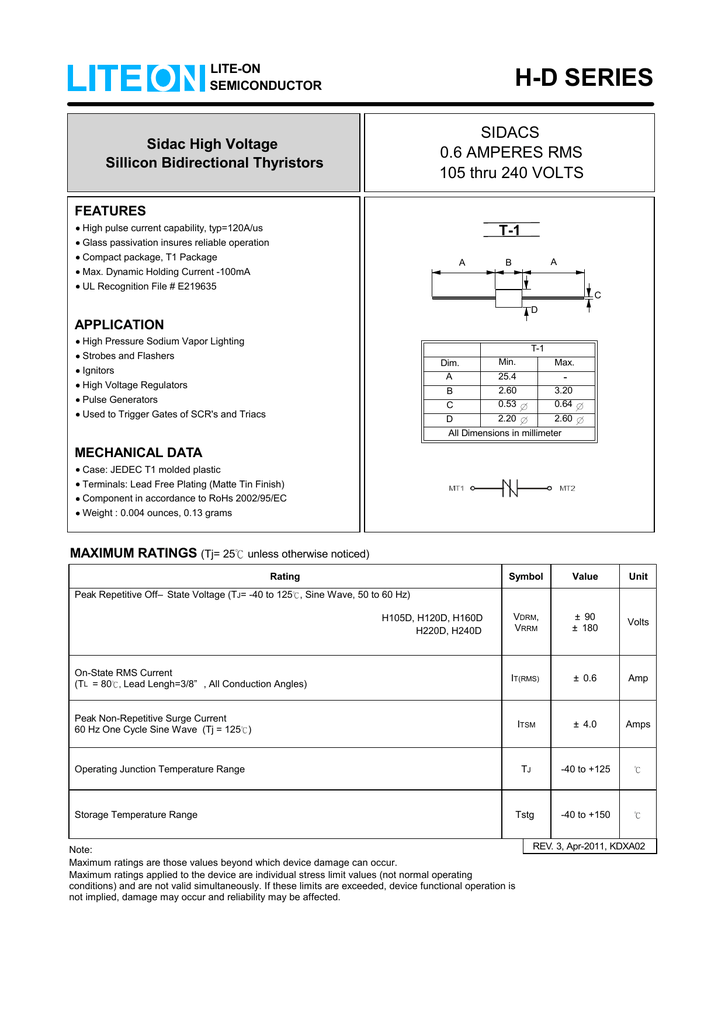 LITE-ON
SEMICONDUCTOR
H-D SERIES
SIDACS
0.6 AMPERES RMS
105 thru 240 VOLTS
Sidac High Voltage
Sillicon Bidirectional Thyristors
FEATURES
High pulse current capability, typ=120A/us
T-1
Glass passivation insures reliable operation
Compact package, T1 Package
Max. Dynamic Holding Current -100mA
A
A
B
UL Recognition File # E219635
C
D
APPLICATION
High Pressure Sodium Vapor Lighting
T-1
Strobes and Flashers
Min.
Max.
C
25.4
2.60
0.53
3.20
0.64
D
2.20
2.60
Dim.
A
Ignitors
High Voltage Regulators
B
Pulse Generators
Used to Trigger Gates of SCR's and Triacs
-
All Dimensions in millimeter
MECHANICAL DATA
Case: JEDEC T1 molded plastic
Terminals: Lead Free Plating (Matte Tin Finish)
Component in accordance to RoHs 2002/95/EC
Weight : 0.004 ounces, 0.13 grams
MAXIMUM RATINGS (Tj= 25℃ unless otherwise noticed)
Rating
Symbol
Value
Unit
VDRM,
VRRM
± 90
± 180
Volts
IT(RMS)
± 0.6
Amp
ITSM
± 4.0
Amps
TJ
-40 to +125
℃
Tstg
-40 to +150
℃
Peak Repetitive Off– State Voltage (TJ= -40 to 125℃, Sine Wave, 50 to 60 Hz)
H105D, H120D, H160D
H220D, H240D
On-State RMS Current
(TL = 80℃, Lead Lengh=3/8" , All Conduction Angles)
Peak Non-Repetitive Surge Current
60 Hz One Cycle Sine Wave (Tj = 125℃)
Operating Junction Temperature Range
Storage Temperature Range
Note:
Maximum ratings are those values beyond which device damage can occur.
Maximum ratings applied to the device are individual stress limit values (not normal operating
conditions) and are not valid simultaneously. If these limits are exceeded, device functional operation is
not implied, damage may occur and reliability may be affected.
REV. 3, Apr-2011, KDXA02
RATING AND CHARACTERISTIC CURVES
H-D SERIES
THERMAL CHARACTERISTICS
Characteristic
Thermal Resistance - Junction to Lead, Lead Length = 3/8 "
Maximum Lead Solder Temperature
(Lead Length≧ 1/16 " from Case, 10s Max)
Symbol
Value
Unit
RthJL
40
℃ /W
TL
260
℃
Unit
ELECTRICAL CHARACTERISTICS (Tj=25℃ unless otherwise noted)
Characteristics
Symbol
Min
Typ
Max
IDRM
----
----
5
uA
VTM
----
1.3
1.5
Volts
95
110
150
210
220
-------------
110
130
170
230
250
OFF CHARACTERISTICS
Peak Reptitive Forward or Reverse Blocking Current
(50 to 60 Hz Sine Wave)
VDRM=90V, H105D, H120D, H160D
VDRM=180V, H220D, H240D
ON CHARACTERISTICS
Peak On-State Voltage
(ITM=1A Peak @Tp ≦300 us, Duty Cycle ≦ 2%)
Breakover Voltage
IBO = 35uA
35uA
35uA
35uA
35uA
H105D
H120D
H160D
H220D
H240D
VBO
Volts
Dynamic Holding Current
(Sine Wave, 50 to 60 Hz, RL=100 Ohm)
IH
----
----
100
mA
Switching Resistance
(Sine Wave, 50 to 60 Hz)
Rs
0.1
----
----
kΩ
DYNAMIC CHARACTERISTICS
Critical Rate of Rise of On-State Current,
Critical Damped Waveform Circuit
(IPK = 130 A, Pulse Width = 10 us)
di/dt
----
120
----
A/us
RATING AND CHARACTERISTIC CURVES
H-D SERIES
Legal Disclaimer Notice
H-D SERIES
Important Notice and Disclaimer
LSC reserves the right to make changes to this document and its products and
specifications at any time without notice. Customers should obtain and confirm
the latest product information and specifications before final design, purchase or
use.
LSC makes no warranty, representation or guarantee regarding the suitability of
its products for any particular purpose, nor does LSC assume any liability for
application assistance or customer product design. LSC does not warrant or
accept any liability with products which are purchased or used for any
unintended or unauthorized application.
No license is granted by implication or otherwise under any intellectual property
rights of LSC.
LSC products are not authorized for use as critical components in life support
devices or systems without express written approval of LSC.