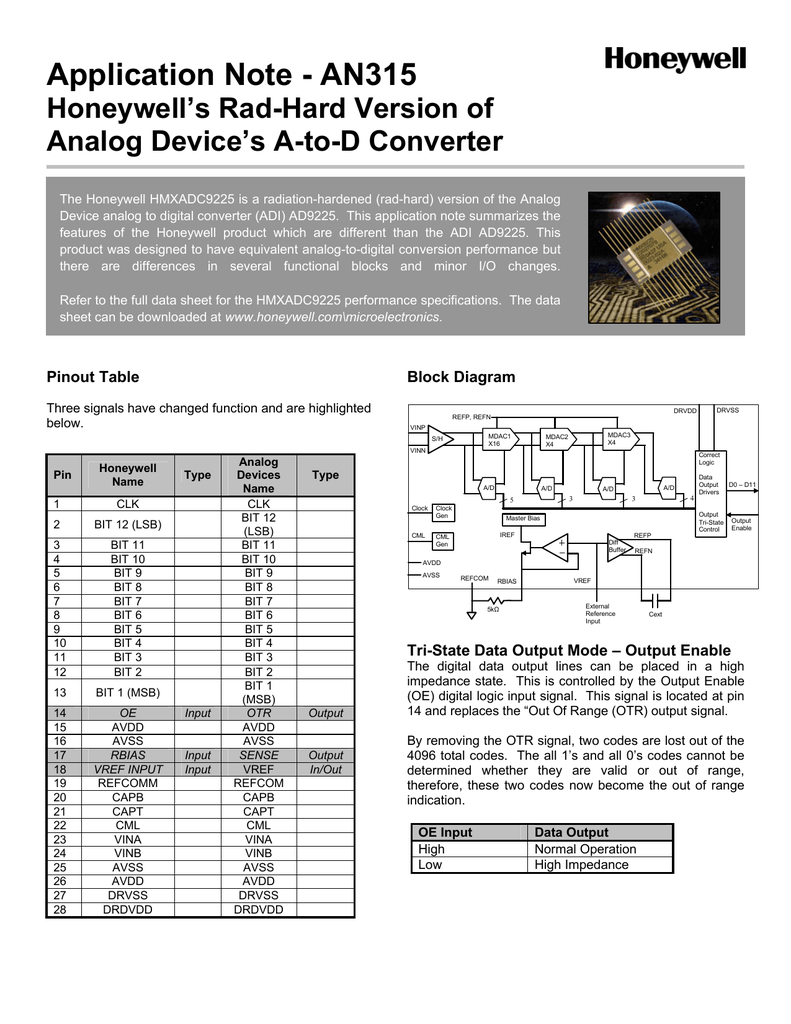 AN315
Application Note - AN315
Honeywell's Rad-Hard Version of
Analog Device's A-to-D Converter
The Honeywell HMXADC9225 is a radiation-hardened (rad-hard) version of the Analog
Device analog to digital converter (ADI) AD9225. This application note summarizes the
features of the Honeywell product which are different than the ADI AD9225. This
product was designed to have equivalent analog-to-digital conversion performance but
there are differences in several functional blocks and minor I/O changes.
Refer to the full data sheet for the HMXADC9225 performance specifications. The data
sheet can be downloaded at www.honeywell.com\microelectronics.
Block Diagram
Pinout Table
Three signals have changed function and are highlighted
below.
VINP
MDAC1
X16
S/H
VINN
Pin
Honeywell
Name
1
CLK
2
BIT 12 (LSB)
3
4
5
6
7
8
9
10
11
12
BIT 11
BIT 10
BIT 9
BIT 8
BIT 7
BIT 6
BIT 5
BIT 4
BIT 3
BIT 2
13
BIT 1 (MSB)
14
15
16
17
18
19
20
21
22
23
24
25
26
27
28
OE
AVDD
AVSS
RBIAS
VREF INPUT
REFCOMM
CAPB
CAPT
CML
VINA
VINB
AVSS
AVDD
DRVSS
DRDVDD
Type
Input
Input
Input
Analog
Devices
Name
CLK
BIT 12
(LSB)
BIT 11
BIT 10
BIT 9
BIT 8
BIT 7
BIT 6
BIT 5
BIT 4
BIT 3
BIT 2
BIT 1
(MSB)
OTR
AVDD
AVSS
SENSE
VREF
REFCOM
CAPB
CAPT
CML
VINA
VINB
AVSS
AVDD
DRVSS
DRDVDD
DRVDD
REFP, REFN
MDAC3
X4
MDAC2
X4
Correct
Logic
Type
A/D
A/D
CML
Clock
Gen
A/D
A/D
4
3
3
5
Clock
DRVSS
Master Bias
IREF
CML
Gen
Diff
Buffer
REFP
Data
Output
Drivers
D0 – D11
Output
Tri-State
Control
Output
Enable
REFN
AVDD
AVSS
REFCOM
RBIAS
5kΩ
VREF
External
Reference
Input
Cext
Tri-State Data Output Mode – Output Enable
Output
Output
In/Out
The digital data output lines can be placed in a high
impedance state. This is controlled by the Output Enable
(OE) digital logic input signal. This signal is located at pin
14 and replaces the "Out Of Range (OTR) output signal.
By removing the OTR signal, two codes are lost out of the
4096 total codes. The all 1's and all 0's codes cannot be
determined whether they are valid or out of range,
therefore, these two codes now become the out of range
indication.
OE Input
High
Low
Data Output
Normal Operation
High Impedance
AN315
R-Bias Function
Radiation Hardened – Specifications
The R-Bias resistor on pin 17 replaces the "SENSE"
function. R-Bias is required to create the internal bias
currents. An external resistor with a value of 5kΩ shall be
connected between pin 17 and ground.
This part is designed, manufactured and screened to be
radiation hardened to 1Mrad(Si) Total Ionizing Dose.
Please consult the data sheet for the complete table
radiation level specifications.
The SENSE function was used for setting the VREF value
to 1.0V or 2.0V. This is no longer needed since the
external VREF supply is required.
Package
The R-Bias resistor can also be used to change the
power consumption. By changing the resistor value, the
current consumption can be changed. The range of this
feature not yet characterized.
R Bias Resistor
The Honeywell package type is a 28 lead ceramic flat
pack as compared to plastic 28-lead SOIC or SSOP
offered by Analog Devices. The data sheet includes the
case outline drawing.
Typical
Resistor Value
Tolerance
5.0
±5
kΩ
%
Voltage Reference
The HMXADC9225 requires the user to provide an
external voltage reference as an INPUT to the device.
The ADI part generated an internal voltage reference
which could be monitored on an OUTPUT pin. It also had
the capability to accept and externally applied voltage
reference. This is located on pin 18. The device is
designed to operate using a 1.0V or 2.0V external voltage
reference.
External Voltage Reference
Typical
Max
Input Voltage
Input Voltage Tolerance
Current
1.0, 2.0
±10
250
±35
500
V
mV
µA
For further questions, please call for applications support at 800-323-8295 (USA toll free) or 763-954-2474 or visit our
website at www.honeywell.com/microelectronics.
Honeywell reserves the right to make changes to any products or technology herein to improve reliability, function or design. Honeywell does not
assume any liability arising out of the application or use of any product or circuit described herein; neither does it convey any license under its patent
rights nor the rights of others.
Honeywell
12001 Highway 55
Plymouth, MN 55441
Tel: 800-323-8295
www.honeywell.com
Form #900343
February 2007
©2007 Honeywell International Inc.