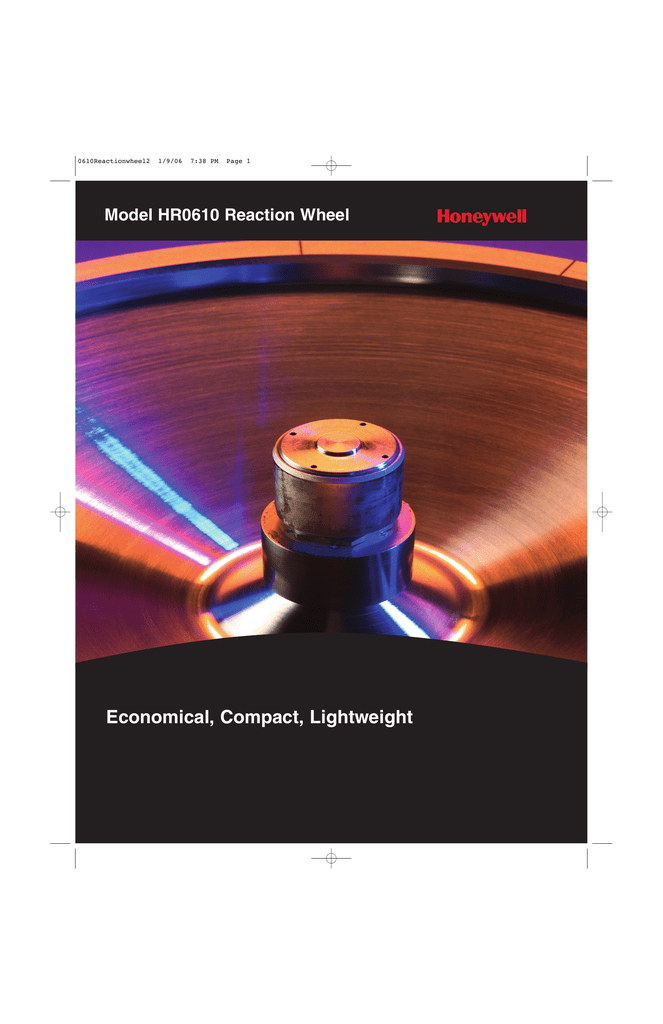 0610Reactionwheel2
1/9/06
7:38 PM
Page 1
Model HR0610 Reaction Wheel
Economical, Compact, Lightweight
0610Reactionwheel2
1/9/06
7:38 PM
Page 2
Model HR0610
HR0610 Envelope Specifications:
Mechanical Design
• Advanced momentum package design
• Single-piece tuned inertia rotor for
controlled balance stability
• Low emitted vibration
• Interchangeable modular rotor
momentum sizing
• Innovative lightweight housing chassis
Performance Characteristics:
• Compact design with high
momentum-to-mass efficiency
• Lightweight magnesium alloy chassis
• Electronics physically isolated
from the precision rotating system
• Heritage duplex bearing and lubrication
• Space-proven extended on-orbit life
capability
• Wide temperature environmental
range
Electrical Design
• Simplified electrical interface
• Standard analog IF
• Low to medium bus voltage application
PARAMETER
UNIT
Angular Momentum at Max. Speed
Output Torque at Max. Speed
Peak Power at Max. Torque and Speed
Power Holding at Max. Speed
Power Bus Voltage
Wheel Speed
Mass
Outside Diameter
Height
Integrated Electronics
Life Requirement
Radiation Hard
Part Screening
Bearing
Operational Temperature Range
N-m-s
N-m
Watts
Watts
Volts
rpm
kg
mm
mm
Yes/No
Years
krad(Si)
Level
Size
deg C-Lo
deg C-Hi
Grms
AC/DC
Analog/Digital
gm-cm
gm-cm2
• Return power limiting feature
• DC brushless motor
• Integrated motor drive electronics
• Signal noise filtering and fault
isolation
• Radiation hardened for LEO
and GEO applications
Vibration
Motor Type
Interface
Static Unbalance
Dynamic Unbalance
protection
• Integrated Hall commutation and
speed telemetry
Find out more
For more information about the HR0610
Reaction Wheel, please contact us at:
Honeywell
Defense & Space
P.O. Box 52199
Tel: 602.822.3000
www.honeywell.com/sites/aero/Space.htm
4 to 12
.055
<80
<15
14 to 23
6000
3.6 to 5.0
267
120
Yes
>10
300
S
R4
-15
+60
19.8
DC
Analog
<0.2*
<3.1*
*Balance performance represents BOL, Fine Balance Option, in a fully flight assembled
configuration following ATP environmental exposure, as delivered. Further improvement of
balance performance of > 2X is possible.
• Over/under voltage and over-speed
Phoenix, AZ 85072-2199
CAPABILITY
N61-0098-000-001
DFOISR: 03-S-1924
January 2006
© 2006 Honeywell International Inc.