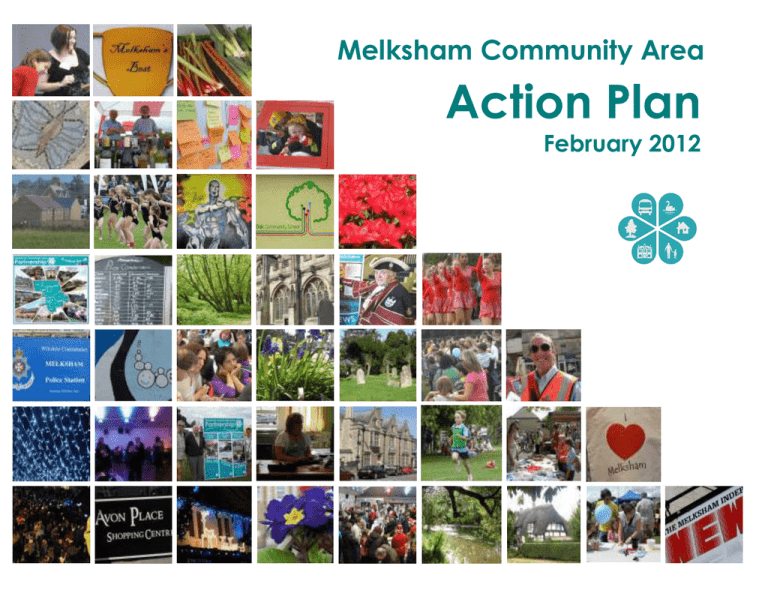 Melksham Community Area
Action Plan
FFFFFFFFFF
February 2012
Melksham Community Area Action Plan
February 2012
for Atworth, Broughton Gifford, Bulkington, Great Hinton, Keevil, Melksham,
Melksham Without, Poulshot, Seend, Semington and Steeple Ashton
This is the summary of the February 2012 version of the Melksham
Community Area Action Plan.
It is compiled by the Melksham Community Area Partnership from
consultation and research in the Melksham area, as well as meetings
with relevant groups and individuals to identify priorities. A major event in
November 2011 (Melksham Forward) identified the top priorities for
action, which are outlined here, divided by theme. The full version of the
plan, with background information and evidence, is on our website.
The purpose of this plan is to help groups, service providers, the
Melksham Area Board and Wiltshire Council to tailor their services more
specifically to Melksham area needs, as well as provide a guide for
community groups and individuals who want to contribute to the
community.
As well as statutory bodies, volunteers can take on projects where
possible, and our theme groups which look at specific issues are open to
anyone in the community. Our Community Area is one that already
benefits from a diverse range of volunteer and community investment,
which can be further supported by the priorities outlined in this plan.
MCAP will support any initiatives in line with the priorities in the plan.
This is a living, working document and we will update it regularly as
projects progress and new priorities are identified.
To get involved with any of the projects, or to comment or add to the
plan, please get in touch with the Melksham Community Area
Partnership coordinator on the details below.
Miriam Zaccarelli, miriam@melksham.communityarea.org.uk
07865 065925, Melksham Town Hall, Melksham, SN12 6ES
CONTENTS
Community Safety
Leisure, Culture and Sport
Community Development and Inclusion
Housing
Health and Wellbeing
Transport
Children and Young People
Economy, Education, Jobs and Skills
Environment
Waterways
Background and Thanks
2
3
4
4
5
6
7
8
10
11
12
Glossary of abbreviations:
AB – Area Board
CATG – Community Area Transport Group
MCAP – Melksham Community Area Partnership
MCFG – Melksham Climate Friendly Group
MCOC-Melksham Chamber of Commerce
MACSG – Melksham Area Community Safety Group
MITA – Melksham Independent Traders Association
MTC – Melksham Town Council
MWPC – Melksham Without Parish Council
NPT – Neighbourhood Policing Team
PC – Parish Council
SCOB – Shadow Campus Operations Board
WC – Wiltshire Council
Community Safety
Details
Projects/Actions
1. Address
night time
disorderly
behaviour
Antisocial
behaviour
caused by
alcohol. Some
underage
drinking.
Strengthen PubWatch - encourage landlords to join PubWatch,
need more support from licensing.
Alcohol event to bring together major partners
Promote family values - work with youth offending team.
MACSG
MACSG, NPT
MACSG, YOT
In progress
Use local resolution for low level crimes and ASB
Wiltshire Police, NPT
In progress
Change shifts to increase police presence when needed
Wiltshire Police, NPT
In progress
Provide a safe cycle route avoiding town centre (via campus)
Improve cycle routes in new housing development plans
MCFG, SCOB
Neighbourhood Plan
Promote cycling safety in primary schools
ES, NPT
Signs in town centre re cycling on pavements
CATG
Provide safe cycle routes from villages into town (Beanacre)
WC
Promote cycle safety with vouchers for lights, florescent strips
Individuals can remind people not to cycle on pavements
NPT, Cycle shop
MACSG
2. Promote
safe cycling
Young people
cycling on
pavements in
town centre
due to lack of
safe route.
Police can
only fine16+.
Other Priorities
3. Stop Dangerous parking
4. Stop Distraction Burglary
5. Stop Anti Social Behaviour
6. Stop Domestic Violence
7. Stop drug abuse
8. Support Neighbourhood Watch
9. Develop good relationship with police
10. Reduce dangerous roads
11. Reduce HGVs through villages
12. Reduce speeding
13. Improve CCTV
14. Support specific families
15. Increase street lighting
16. Address distance from fire and ambulance
17. Support victims of crime
Partners/ people
Progress
Top Priorities
In progress
In progress
In progress
Leisure, Culture and Sports
Top Priorities
1. Communication:
Many activities in
Melksham but
people are
unaware
Projects/Actions
Melksham Town Guide
Video loop in
supermarkets about what
town can offer
Melksham Forward
website
East of Melksham
Development Art Plan
Melksham Collection
Encourage Cultural/ arts/
industrial heritage trails
Encourage more unique
Melksham events.
2. Enhance Pride of
Melksham area
Create community Art
Projects
Encourage community
celebration for the jubilee
Increase voluntary base to
ensure these activities can
take place
Details
Link to Sainsbury's town centre map project
A website with an online calendar for events, list
of all sites, display posters and details of
activities, clubs, groups, events.
Progress
In progress
MCOC, MIT
Supermarkets
MCAP
Graham Ellis
In progress
Encourage community involvement with it
Blue Plaque Trail
Gingko, WC
Well House Manor
Melksham Historical
Association
Melksham Comic Con
Celebrate 200 years of the Spa in 2015 – make a
conservation area
Murals on drab buildings, eg See No Evil, Bristol
Melksham Cows, eg Lions of Bath 2010
Get youth and elderly people to work together
Support groups in accessing funding from AB
Make Bowerhill Sports Field a Jubilee Field
Comic Con Cttee
Well House Manor,
MWPC
Requires group
Requires group
Splash
AB, MCAP
MWPC
Advertise opportunities in Melksham News,
working with Wiltshire Volunteer Centre
MCAP with Wiltshire
Volunteer Centre
Other Priorities
3.
4.
5.
6.
Partners/ people
MTC
Improve condition of outdoor sports facilities
Increase community use of Melksham Oak facilities
Address Loss of Wiltshire College facilities
Remove barriers to participation in local sports or
community activity for people on low incomes
7. Encourage local talent
8. Increase access to culture/art/literature
9. Protect use of field for rugby at Dunch Lane
10. Ensure sports facilities etc are accessible
In progress
In progress
In progress
In Progress
Community Development and Inclusion
Top Priorities
1. Involve people
in local decisions
2. Increase
volunteering
Projects/Actions
Area Board,
MCAP consultations
Increase voluntary base
through advertising
opportunities
Progress
Ongoing
Partners
Area Board,
MCAP
MCAP, Wiltshire
Volunteer Centre
Other Priorities
3. Reach lonely people
4. Ensure inclusion of all
5. Raise community spirit
6. Promote intergenerational work
7. Include and work with villages
8. Provide community spaces
9. Celebrate/educate about diversity
10. Involve churches and faith groups
Housing
Top Priorities
1. To provide affordable
housing for people in
Melksham and
surrounding villages.
(Sustainable tenure)
Actions
Build new affordable housing
Details
PCs to talk to Housing Allocation office
from WC about options for affordable
housing in villages
Research need specific to each
parish and area of Melksham
Ensure best use of existing
affordable housing
Partners
PCs, WC, Housing
Associations
Requires working
group
Make downsizing more attractive to
people once children have left home
Other Priorities
2. Address fuel poverty
3. Protect Greenfield sites from housing
4. Protect historic architectural areas
5. Provide sufficient infrastructure for new homes
Requires working
group
Progress
In progress
Health and Wellbeing
Top Priorities
1. Stop Alcohol
Abuse (links with
Community
Safety)
2. Reduce
Childhood
Obesity
3. Improve Men's
Health
4. Reduce Teen
Pregnancy
Actions
Partners
Ensure alcohol issues are covered in PSHE classes
ES, Melksham Oak
School
Raise awareness of alcohol issues, via internet, GPs, empty shops
Requires working group
Encourage responsible parenting regarding alcohol
ES - PSAs
Write to MPs regarding role of media and culture of drunkenness.
Everyone
Close food outlets early to encourage people to go home earlier and
therefore drink less.
Requires working group
Health checks in pubs
NHS Wiltshire
Promote fun cooking/ nutrition education
Requires working group
Promote fun active outdoor activities for children
ES, MTC, Splash
Encourage membership of sports clubs
Requires working group
Prevent illness through promotion of health and messages men's toilets
etc, local newspapers, radio, mature times
Requires working group
Encourage identification of early signs of symptoms and men going to
Doctor
Requires working group
Pop up tents for sexual health
Youth Service, NHS, YAG
Support children of teenagers
Children's centre
Other Priorities
5. Support families and vulnerable children
6. Improve elderly Health
7. Improve Mental health
8. Ensure access to surgeries
9. Ensure efficient use of NHS
10. Ensure all have access to food/shelter/fuel
11. Reduce childhood poverty
12. Encourage exercise
13. Reduce smoking
14. Improve dental health
15. Protect public toilets in town centre
Progress
In progress
In progress
Transport
Top Priorities
Actions
Partners
Progress
Meet with First & FareSaver with local residents to propose
1. Coordinate First and
timetable and route changes to optimize services.
Faresaver buses to provide a Survey to be undertaken of local bus users – if it can have an
user friendly service
impact.
2. Improve train services
through Melksham
3. Improve cycle routes
through town centre
(link to community safety)
4. Encourage walking and
cycling
(link to health/environment)
MCAP, AB
MCAP
Research into how this affects other towns on the same routes to
build a campaign.
MCAP
Increase frequency of trains stopping at Melksham station.
Support Rail Development Group led by Graham Ellis
Trans Wilts Rail
Everyone
Improve land at Melksham Station to develop transport hub and
parking for station
WC – Cabinet &
Area Board
Reroute cycle route by river, Sainsbury's car park and campus to
avoid busy town centre
Link with canal tow paths
Identify cycle path needs across the area
Promote walking/cycling by creating route maps with journey
times.
Provide dog bins where needed – research need
Other Priorities
5. Road safety, especially in villages
6. improve parking in town and villages
7. Ensure people know how to request
highways issues/changes.
8. Improve bus routes to villages
9. Improve bus information
10. Improve/provide pavements in villages
11. Improve footpaths
12. Reduce road works
13. Link bus and train
14. Reduce traffic congestion in town
15. Reduce HGVs in villages
16. Stop deliveries which block access
MCFG, SCOB,
MCAP
Requires
working group
MCAP
AB, MCAP
In progress
Children and Young People
Top Priorities
Actions/ Projects
Details
1. Early intervention at
preschool/early years to
break cycle of deprivation
and lack of educational
attainment.
Support and protect the
mental health of young
people
Set up network of family
mentors working with
children's centres
Addresses all addiction,
anti-social behaviour, crime
etc for future
2. Provide recreational
activities/spaces for young
people
Enhance King George V
Playing Field for sports
Raise publicity and promote
what is already going on
3. Develop emotional
resilience
Coordinate after school
activities
Emotional resilience project in
schools
Partners/ people
Progress
ES, Relate Mid
Wiltshire
ES, Children's Centres
Sports clubs - Canoe,
Skaters, Cricket etc
ES, Splash
Ongoing
Bath Uni, Schools, ES
Other Priorities
4. Maintain and enhance street based youth work
5. Reduce public transport fares for young people
6. Improve rail services to improve access to college/work
7. Publicise what is available for young people to do
8. Help parents with low educational levels
9. Create employment and work experience opportunities
for young people (link to Economy)
10. Support employability of young people
11. Engage and give confidence to NEETS
12. Encourage local support of disadvantaged young
people
13. Ensure convenient and accessible source of advice
14. Make more use of community buses for young people
15. Provide productive outlets for young people's energy
Economy, Education, Jobs and Skills
Top Priorities
Actions
Marketing campaign for Melksham
Find every opportunity to
talk up the town
Celebrate history of Melksham in schools
Requires working group
with flowers/clean signs
Requires working group
Pride of Melksham event
Requires working group
Melksham market
Requires working group
Encourage children to participate in
community activities
Schools
In progress
Improve visual aspect of town and village
centres
With flowers, repairs etc
MIT, MCOC, TC, PCs
Encourage participation in clubs and activities
to increase residents' sense of belonging to
Melksham area
See arts, leisure, culture
section
Everyone
Encourage local people to use town centre
Local employment notice board
MIT, MCOC
To make it more attractive
to retailers
Compile all local jobs into
one board/website
Encourage large employers to the area
Provide training to match employment need
Prevent disability being a barrier to
employment
Provide CV workshops
Progress
MIT, MCOC
Requires working group
Promote events and services unique to
Melksham
2. Increase
employment
Partners
Organise 'Love your town day'
Town/village entrances need improving
1. Celebrate
Melksham
area and
strengthen
identity
Details
MIT, MCOC
Requires working group
Requires working group
Support ex-military/civil
servants
Requires working group
Requires working group
Increase IT skills/ access to internet
Learning Curve
Learning Curve, Library,
WC
Encourage work experience
Requires working group
In progress
3. Create
volunteering
and work
experience
opportunities
for young
people and
unemployed
Offer incentives for employers to take on
interns/work experience/apprenticeships
MIT, MCOC
Work with economic development to promote
internships/work experience/apprenticeships
Economic development,
WC
Set up a Melksham Future Jobs Fund
Requires working group
Ensure businesses explain requirements for work
experience to young people to ensure suitable
match.
Complaints that young
people are not work
ready
MIT, MCOC
Larger employers to work with WC to provide
work experience/ apprenticeships
WC with large employers
Promote volunteering with Wilts & Berks Canal
Trust
Wilts & Berks Canal Trust,
Volunteer Centre
Promote use of Wiltshire Volunteer Centre in
Melksham.
Volunteer display in library
Support young carers
All organisations, MCAP
Carers Support Wiltshire
Provide support for people made redundant
Personal training scheme,
counselling, volunteering
Requires working group
Other Priorities
4. Increase local tourism
5. Encourage starting up of small businesses
6. Increase public transport
7. Ensure public money is spent wisely
8. Support local businesses
9. Protect post offices
10. Increase spending in the area
11. Provide disabled access to shops etc
12. Improve parking/access to town
13. Increase adult education
14. Provide IT/internet access to all
15. Increase parenting skills
In progress
Environment
Top Priorities
1. Reduce
carbon
emissions
(Links to
transport,
young
people,
health)
2. Protect
countryside
and wildlife
3. Emphasise
sustainability
Actions
Details
Partners
Love your Planet day
Celebrated annually
New cycle route from Hazelwood Rd via
campus to avoid town centre. Improve
Countywide roundabout for cyclists
MCFG
Improve cycle routes
Improve and encourage use of
public transport
In progress
MCAP
Requires working group
Encourage careful energy use
Map of footpaths – link to other maps
Insulation, 'The Green Deal,' and
Renewable Heat Initiative etc
Create renewable energy
source for community
Develop hydro power at Melksham Wier
Waterways/Energy
Group
Plug in points for electric cars
In car parks, leisure centres, link with DECC
MCFG, CATG
Plant trees and bushes
Involve schools, funds from supermarkets
Requires working group
Support Wiltshire Ramblers
Resolve issues with rights of way & gates
Requires working group
Protect river wildlife & habitat
Especially dragonflies, reedbeds etc
Improve and link up bridleways
Dialogue on Bridleway problem
Requires working group
Wilts & Berks Canal,
Bridleway Association
Lobby MP to lower water
extraction from river Avon
River over-extraction is threat to
hydropower and canal
Everyone
Requires working group
Other Priorities
4.
5.
6.
7.
8.
9.
10.
11.
12.
In progress
MCFG, CATG
Resolve First/Faresaver issue
Encourage organised walks
Progress
Protect/ enhance parks and green spaces
Prepare for and manage flooding
Provide dog walking area where dogs can be off lead
Address dog fouling – more dog bins
Stop littering
Increase recycling
Reduce waste
Manage noise pollution
Encourage growing local food through allotment provision
Waterways
Top Priorities
Actions
Details
1. Enhance river Avon Use river to generate
electricity
through town
Tidy up river banks
Provide facilities for
tourists
2. Promote river for
leisure/tourism
Enhance riverside walk
Promote water sports
Promote appreciation of
wildlife
Waterways Group,
Energy Group
Especially near bridge - remove trolleys,
tree debris etc
Picnic tables, Restaurant or bistro on the
river, tea shops
Extend riverside walk to Lacock,
improve lighting, cycle path
Fishing, sailing etc
Bird watching facilities
Other Priorities
3. Maintain and promote Kennet and Avon Canal
4. Support the 'Melksham Link' from Kennet and Avon Canal
5. Support the restoration of the Wilts & Berks Canal in general
(wildlife corridor, new walking/cycling routes)
6. Clean up streams/ brooks
Partners
Requires working group
Requires working group
Requires working group
TIC, clubs
Requires working group
Progress
Background
Thank You
The priorities in this community Action Plan are
distilled from various sets of background data,
which are available on the MCAP website,
www.melksham.communityarea.org.uk. The data
was gathered from the following events and
documents:
We would like to thank all the people and groups who have helped gather
the information, as well as the thousands who have filled in surveys and
attended meetings and consultation events.
We would like to especially thank the following people and groups for their
support in 2011, and look forward to working with them in future.
Consultation events
Date
MCAP Innaugural meeting
Core Strategy consultation
Greener living event
Theme dating event
Melksham Party in the park 2010
Seend village fete
Atworth village fete
Melksham organisations fair
MCAP AGM
Extra comments in campus consultation
Melksham food festival
Melksham party in the park 2011
CAYPIG - informal discussions
Community Plan Priorities Survey
Melksham Forward major Community
Planning event
Nov-09
Jan-10
Mar-10
Jul-10
Jul-10
Aug-10
Jul-10
Oct-10
Nov-10
Mar-11
Jul-11
Jul-11
2010-11
Oct-11
Nov 11
Abbi Gutierrez, Wiltshire Council
Andrew Jack, Wiltshire Council
Atworth Parish Council
Avon Print
Bulkington Parish Council
Cleeve House, Seend
Colin Harrison Design
C S Properties
David Stacey
Effie Gale-Sides
Graham Ellis
Henry and Colleen Russell
Keevil Parish Council
Laura Pictor, WfCAP
Lee Emergy
Mavis King
Melksham 1st
Melksham Area Board
Melksham Assembly Hall
Melksham Chamber of Commerce
Melksham Climate Friendly Group
Melksham Community Radio
Melksham Independent News
Melksham Independent Traders
Melksham Oak School
Melksham Police
Melksham Shadow Campus Board
Melksham Tourist Information Centre
Melksham Town Council
Melksham Without Parish Council
Poulshout Parish Council
Relate Mid Wiltshire
Seend Parish Council
Semington Parish Council
Sound Marketing
Steeple Ashton Parish Council
Tim Jalland
Wiltshire Times
Other sources of research
Atworth Parish Plan, 2010
Keevil Village Design Statement, 2007
Melksham Independent News, 2009 - 11
Wiltshire Times, 2010 - 11
WC Joint Strategic Needs Assessment 2010
WC Joint Strategic Assessment 2011
Area Board Issues sheets, 2009 - 11
Melksham online discussion forums, 2011
This document was produced by Miriam Zaccarelli, with support of the Melksham Community Area Partnership Steering Group.
For further copies, or copies in large print, Braille or other languages, please contact Miriam Zaccarelli:
miriam@melksham.communityarea.org.uk, 07865 065925, Melksham Town Hall, Market Place, Melksham, Wiltshire, SN12 6ES.