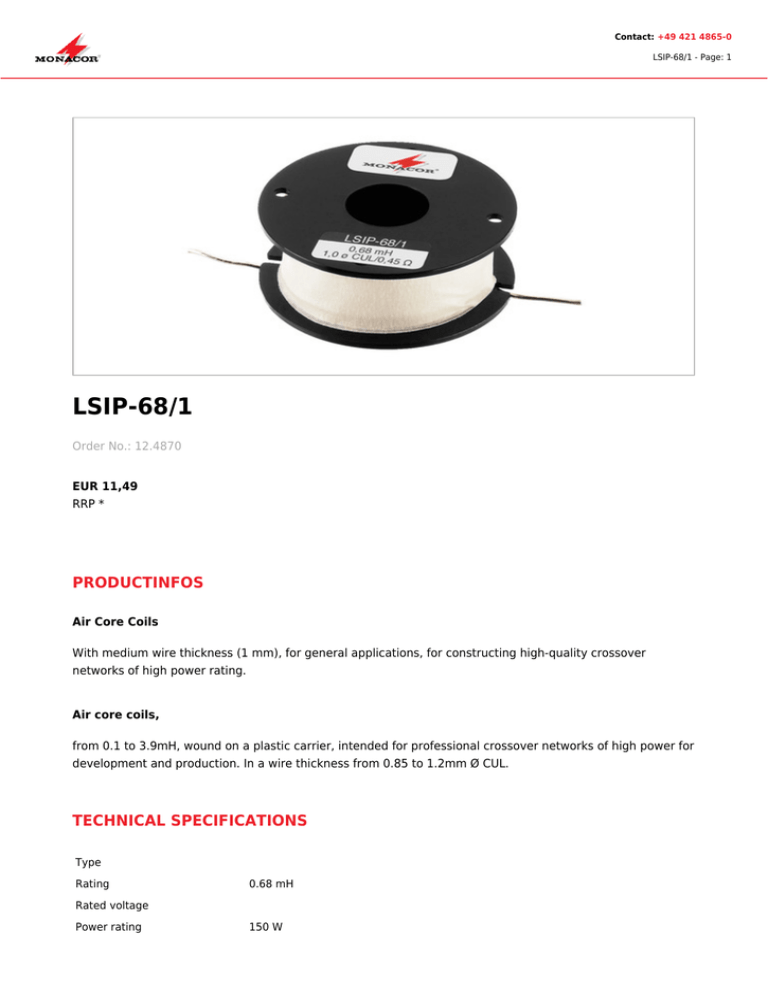 Contact: +49 421 4865-0
LSIP-68/1 - Page: 1
LSIP-68/1
Order No.: 12.4870
EUR 11,49
RRP *
PRODUCTINFOS
Air Core Coils
With medium wire thickness (1 mm), for general applications, for constructing high-quality crossover
networks of high power rating.
Air core coils,
from 0.1 to 3.9mH, wound on a plastic carrier, intended for professional crossover networks of high power for
development and production. In a wire thickness from 0.85 to 1.2mm Ø CUL.
TECHNICAL SPECIFICATIONS
Type
Rating
0.68 mH
Rated voltage
Power rating
150 W
Contact: +49 421 4865-0
LSIP-68/1 - Page: 2
Frequency range
Housing
Colour/colour coding
Enam. copper wire
(CUL)
DC resistance
Ø 1.0 mm
0.45 Ω
Saturation current
(50 Hz)
Pin spacing
Sales unit
Dimensions
Ø 48 mm x 19 mm
Other features
* Important Notice: The retail prices shown here are non-binding recommendations that retailers can charge their customers. They are not
part of any specific offer or advertisement. These prices include all charges as well as VAT, but do not cover any additional delivery and
shipping costs. Our latest price lists for the retail market include all applicable delivery and payment terms for retailers.