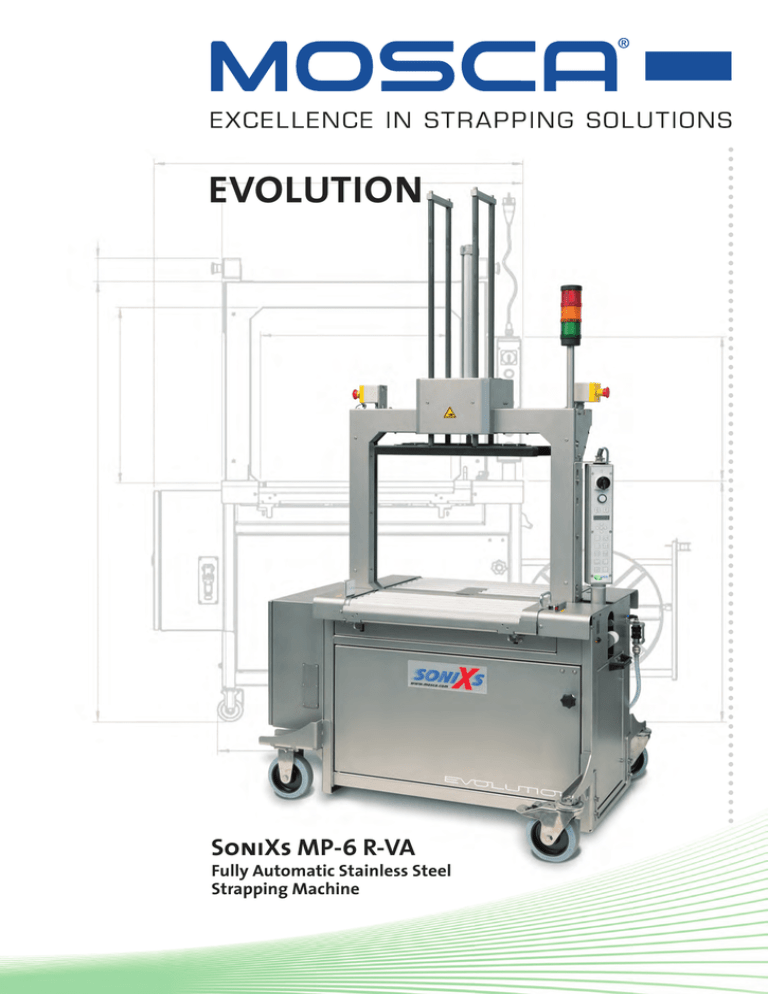 EVOLUTION
SoniXs MP-6 R-VA
Fully Automatic Stainless Steel
Strapping Machine
EXCELLENCE IN STRAPPING SOLUTIONS
SoniXs MP-6 R-VA
Machine Description
Corrosion-free ultrasonic sealing system with electronic
self-calibration
High-end Standard 6 sealing unit
Easy accessibility and tool-free disassembly of strap
path components
Wear-free DC drives with integrated electronics
Stepless turnable control panel for many-sided operation
Adjustable strap tension via potentiometer
Switching from maximum to material-friendly Ecospeed in the control
Quick strap coil change
Strap coil changeable from the front and the side
Automatic strap threading system
Strap end detection with ejection of remaining strap
Automatic strap loop ejection
Extremely low energy consumption
4 castors, 2 of them lockable
CE marking inclusive conformity declaration
Potential-free contacts to upstream and downstream
machines
Signal-regulated conveying speed from 0-1 m/s
Parameter control panel for setting strapping parameters
625
1170
950
295
80
330
Selector switch for pass, single, double or multiple
strapping
Machine completely corrosion-free (use of stainless
steel or corrosion-free materials, for example V2A, V4A
aluminum)
IP 56 protection class design
Sensitive components (e.g. motors) are equipped with
additional covers
Options
Cost-efficient, pneumatic hold-down device
Automatic adjustment of the strap tension by package
height detection
Lowering chassis H = 730 mm – 835 mm
Safety spring-up roll at table in- and outfeed
Product cover identification device (no strapping
without top cover)
Brush guide
Low strap detection with signal in the control panel
Signal light
Emergency stop interface
Technical Data:
Performance:
Up to 35 cycles/
minute
Frame size:
Working height:
Straps:
600 mm x 600 mm
820 mm to 925 mm
Standard machine grade
5, 6, 8, 9, 10 or 12 mm
wide PP straps
Strap coil dispenser:
600
Core diameter:
Core width:
Max. outer diameter:
1045
200 mm
1 90 mm
430 mm
Electricity:
Network data:
480
820 – 925
480
500
1510 – 1615
600
300
Power consumption:
Weight:
230 V, 50/60 Hz , 1 Ph
Schuko plug
approx. 0.25 kW
260 kg
610
04 / 16 Subject to alterations
MOSCA GMBH
Gerd-Mosca-Straße 1
D-69429 Waldbrunn/Germany
Tel.: + 49 6274/932-0
Fax: + 49 6274/932-400 118
Tel. Tech. Service: + 49 62 74 / 9 32-1 46
E-Mail: info@mosca.com
Internet: www.mosca.com
The models of SoniXs MP-6 R-VA are
adjustable to one strap width of 5, 6, 8,
9, 10 or 12 mm quality PP straps. Obtainable directly from Mosca, produced in one
of Europe's most modern manufacturing
plants. Combinable with maintenance
contracts by Mosca – a one-step
solution.