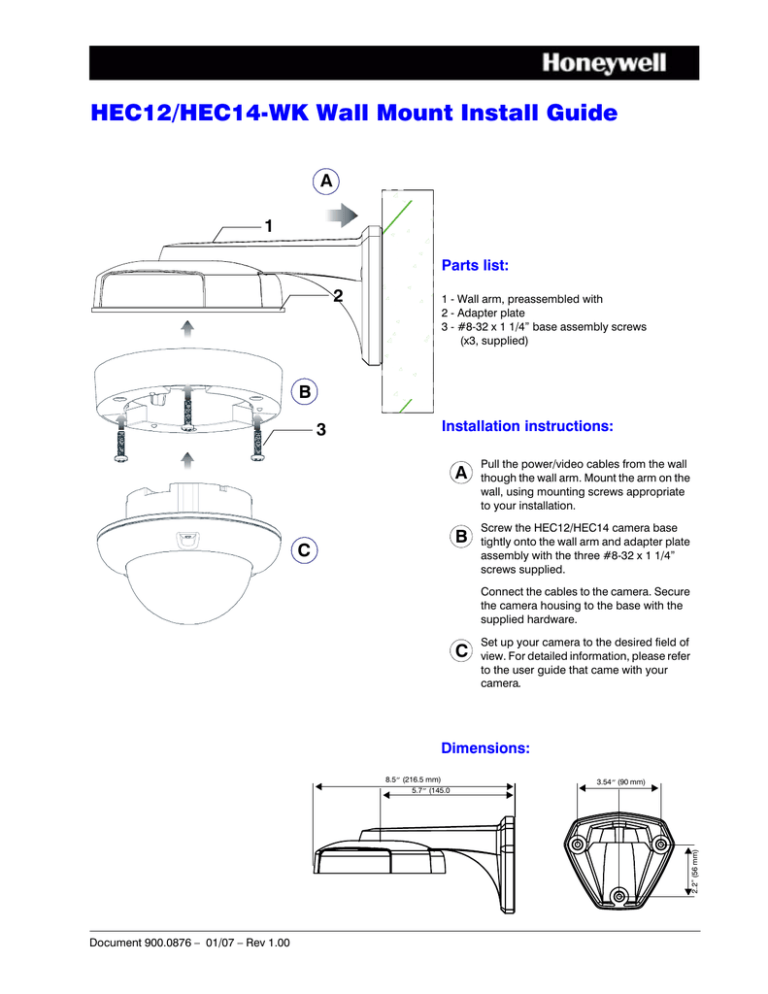 HEC12/HEC14-WK Wall Mount Install Guide
A
1
2
Parts list:
2
3
B
1 - Wall arm, preassembled with
2 - Adapter plate
3 - #8-32 x 1 1/4" base assembly screws
(x3, supplied)
B
4
C3
Installation instructions:
A
B
C
Pull the power/video cables from the wall
though the wall arm. Mount the arm on the
wall, using mounting screws appropriate
to your installation.
Screw the HEC12/HEC14 camera base
tightly onto the wall arm and adapter plate
assembly with the three #8-32 x 1 1/4"
screws supplied.
Connect the cables to the camera. Secure
the camera housing to the base with the
supplied hardware.
C
Set up your camera to the desired field of
view. For detailed information, please refer
to the user guide that came with your
camera.
Dimensions:
3.54" (90 mm)
2.2" (56 mm)
8.5" (216.5 mm)
5.7" (145.0
Document 900.0876 – 01/07 – Rev 1.00
www.honeywellvideo.com
+1.800.796.CCTV (North America only)
HVSsupport@honeywell.com
Document 900.0876 01/07 Rev 1.00
© 2007 Honeywell International Inc. All rights reserved. No part of this publication may be reproduced by any means without written
permission from Honeywell Video Systems. The information in this publication is believed to be accurate in all respects. However,
Honeywell Video Systems cannot assume responsibility for any consequences resulting from the use thereof. The information contained
herein is subject to change without notice. Revisions or new editions to this publication may be issued to incorporate such changes.