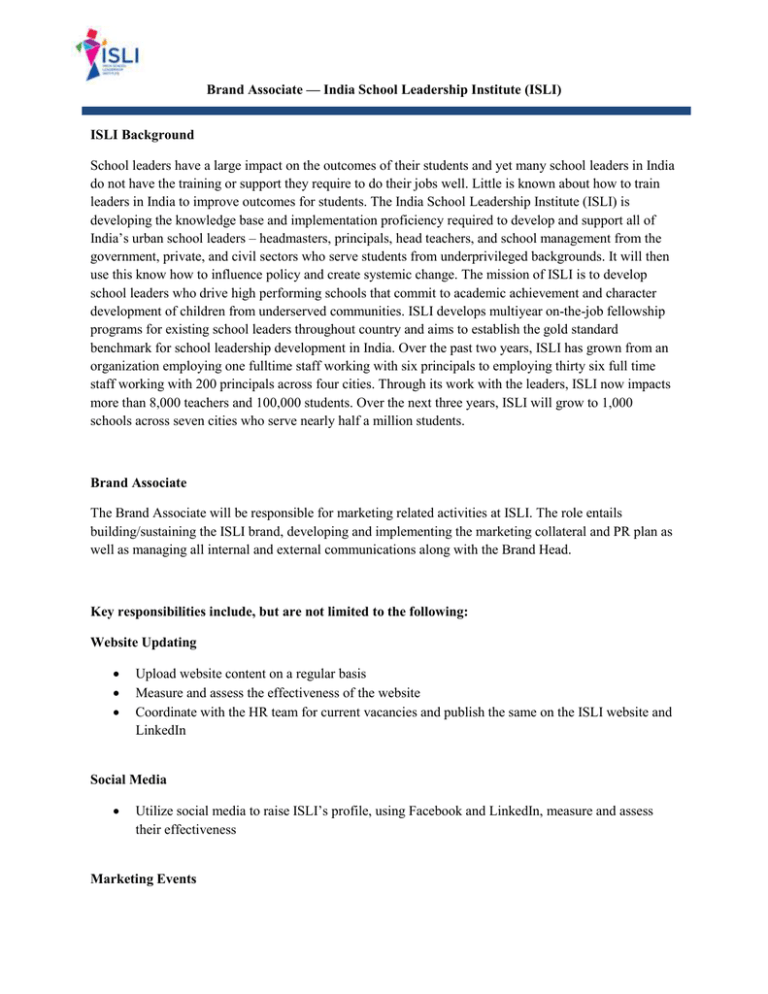 Brand Associate — India School Leadership Institute (ISLI)
ISLI Background
School leaders have a large impact on the outcomes of their students and yet many school leaders in India
do not have the training or support they require to do their jobs well. Little is known about how to train
leaders in India to improve outcomes for students. The India School Leadership Institute (ISLI) is
developing the knowledge base and implementation proficiency required to develop and support all of
India's urban school leaders – headmasters, principals, head teachers, and school management from the
government, private, and civil sectors who serve students from underprivileged backgrounds. It will then
use this know how to influence policy and create systemic change. The mission of ISLI is to develop
school leaders who drive high performing schools that commit to academic achievement and character
development of children from underserved communities. ISLI develops multiyear on-the-job fellowship
programs for existing school leaders throughout country and aims to establish the gold standard
benchmark for school leadership development in India. Over the past two years, ISLI has grown from an
organization employing one fulltime staff working with six principals to employing thirty six full time
staff working with 200 principals across four cities. Through its work with the leaders, ISLI now impacts
more than 8,000 teachers and 100,000 students. Over the next three years, ISLI will grow to 1,000
schools across seven cities who serve nearly half a million students.
Brand Associate
The Brand Associate will be responsible for marketing related activities at ISLI. The role entails
building/sustaining the ISLI brand, developing and implementing the marketing collateral and PR plan as
well as managing all internal and external communications along with the Brand Head.
Key responsibilities include, but are not limited to the following:
Website Updating



Upload website content on a regular basis
Measure and assess the effectiveness of the website
Coordinate with the HR team for current vacancies and publish the same on the ISLI website and
LinkedIn
Social Media

Utilize social media to raise ISLI's profile, using Facebook and LinkedIn, measure and assess
their effectiveness
Marketing Events


Coordinate logistics on all marketing events- eg: launch events
For all these events, coordinate with all associated teams and make the event a success
Public Relations



Develop and implement a comprehensive public relations strategy for ISLI
Measure and assess the effectiveness of ISLI's public relations strategy
Media Relations
1. Compile and publish the monthly newsletter
2. Assist staff to create and edit presentations and other material
3. Make presentations about ISLI to various groups as needed
4. Coordinate the creation of videos, ad films, or print advertisements as required
5. Identifying the different experiences that ISLI employees (school teachers, centre teachers, social
workers,HR and other departments) had in their tenure at ISLI.
6. Coordinating with the city teams to acquire and update information
7. Compile monthly marketing updates about ISLI
8. Produce brochures, annual reports, pamphlets, and other publicity literature as and when required
Candidate Profile
Qualifications

Bachelor's or equivalent degree required

Minimum of two years of work experience

Excellent Microsoft Excel, Word and PowerPoint skills

Comfortable with Google apps for Business, Gmail,Google Drive, Google Calendar etc.
The ideal candidate possesses the following qualities:

Persistence and determination

Strong work ethic

High level of integrity and accountability

Marketing/ communication role experience

Professional demeanor. This role will be primarily external facing, so the candidate mustpresent
his/herself professionally at all times.
Key skills, mindsets, and knowledge to be successful in the role include:

Strong relationship building and networking skills.

Excellent Interpersonal skills

Excellent oral and written communication skills

Strong resourcefulness and a sense of possibility

Strong critical thinking and problem solving skills

Excellent organizational and management skills
ISLI's work environment requires

Ability to thrive in a fast paced environment

Willingness and ability to give and take tough feedback

Ability to deal with varied people and situations
Work Location and Remuneration
Positions are available in Mumbai. Candidate must be comfortable with travel withinthe city. Pay is
competitive with Indian NGO scales.
Interested candidates may send their resume/CV and cover letter to Harmik Singh at
[email protected] with the subject line "Application for Brand Associate".