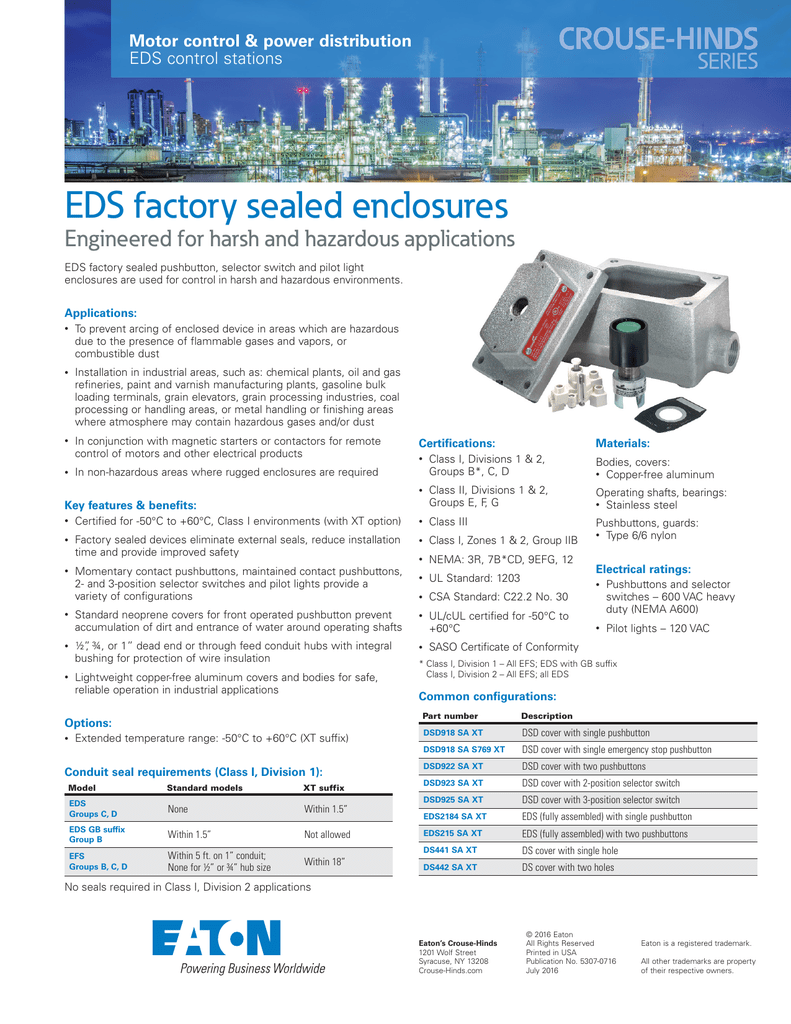 Motor control & power distribution
EDS control stations
EDS factory sealed enclosures
Engineered for harsh and hazardous applications
EDS factory sealed pushbutton, selector switch and pilot light
enclosures are used for control in harsh and hazardous environments.
Applications:
•
To prevent arcing of enclosed device in areas which are hazardous
due to the presence of flammable gases and vapors, or
combustible dust
•
Installation in industrial areas, such as: chemical plants, oil and gas
refineries, paint and varnish manufacturing plants, gasoline bulk
loading terminals, grain elevators, grain processing industries, coal
processing or handling areas, or metal handling or finishing areas
where atmosphere may contain hazardous gases and/or dust
•
In conjunction with magnetic starters or contactors for remote
control of motors and other electrical products
•
Certifications:
Materials:
•
Class I, Divisions 1 & 2,
Groups B*, C, D
Bodies, covers:
• Copper-free aluminum
•
Class II, Divisions 1 & 2,
Groups E, F, G
Operating shafts, bearings:
• Stainless steel
Pushbuttons, guards:
• Type 6/6 nylon
In non-hazardous areas where rugged enclosures are required
Key features & benefits:
•
Certified for -50°C to +60°C, Class I environments (with XT option)
•
Class III
•
Factory sealed devices eliminate external seals, reduce installation
time and provide improved safety
•
Class I, Zones 1 & 2, Group IIB
•
NEMA: 3R, 7B*CD, 9EFG, 12
•
UL Standard: 1203
•
CSA Standard: C22.2 No. 30
•
Momentary contact pushbuttons, maintained contact pushbuttons,
2- and 3-position selector switches and pilot lights provide a
variety of configurations
•
Standard neoprene covers for front operated pushbutton prevent
accumulation of dirt and entrance of water around operating shafts
•
UL/cUL certified for -50°C to
+60°C
•
½", ¾, or 1" dead end or through feed conduit hubs with integral
bushing for protection of wire insulation
•
SASO Certificate of Conformity
•
Lightweight copper-free aluminum covers and bodies for safe,
reliable operation in industrial applications
Options:
•
Extended temperature range: -50°C to +60°C (XT suffix)
Conduit seal requirements (Class I, Division 1):
Model
EDS
Groups C, D
EDS GB suffix
Group B
EFS
Groups B, C, D
Standard models
None
Within 1.5"
Within 5 ft. on 1" conduit;
None for ½" or ¾" hub size
XT suffix
Within 1.5"
Not allowed
Within 18"
Electrical ratings:
•
Pushbuttons and selector
switches – 600 VAC heavy
duty (NEMA A600)
•
Pilot lights – 120 VAC
* Class I, Division 1 – All EFS; EDS with GB suffix
Class I, Division 2 – All EFS; all EDS
Common configurations:
Part number
Description
DSD918 SA XT
DSD cover with single pushbutton
DSD918 SA S769 XT
DSD cover with single emergency stop pushbutton
DSD922 SA XT
DSD cover with two pushbuttons
DSD923 SA XT
DSD cover with 2-position selector switch
DSD925 SA XT
DSD cover with 3-position selector switch
EDS2184 SA XT
EDS (fully assembled) with single pushbutton
EDS215 SA XT
EDS (fully assembled) with two pushbuttons
DS441 SA XT
DS cover with single hole
DS442 SA XT
DS cover with two holes
No seals required in Class I, Division 2 applications
Eaton's Crouse-Hinds
1201 Wolf Street
Syracuse, NY 13208
Crouse-Hinds.com
© 2016 Eaton
All Rights Reserved
Printed in USA
Publication No. 5307-0716
July 2016
Eaton is a registered trademark.
All other trademarks are property
of their respective owners.